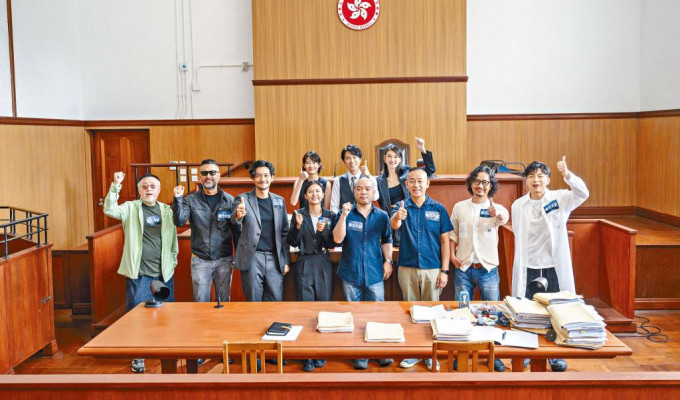 The film about lawyers would naturally has many court scenes
courtesy of singtao.com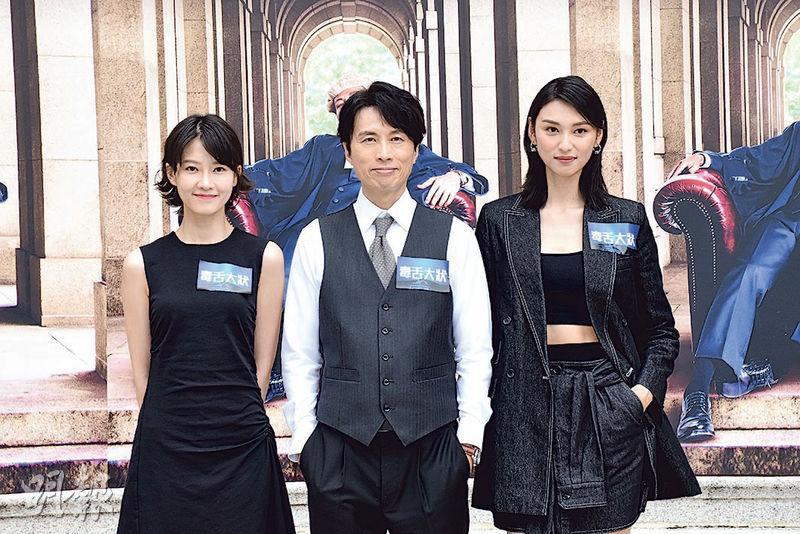 Fish Liew and Louise Wong are very happy to be able to work with Dayo Wong and get the chance to learn from him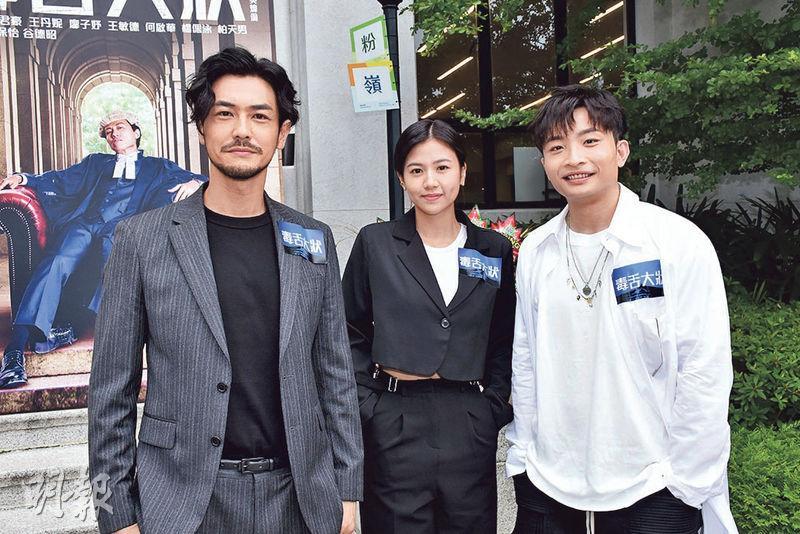 Adam Pak feels stressed about rehearsing with Renci Yeung and Dee Ho and has to do all of his homework before hand.
courtesy of mingpao.com
Dayo Wong Tze Wa, Tse Kwan Ho, Bowie Lam Bo Yi, Michael Wong Man Tak, Louise Wong Dan Nei, Fish Liew Chi Yu, Dee Ho Kai Wa, Renci Yeung Sze Wing, Adam Pak Tin Nam and Vincent Kok Tak Siu yesterday attended the film DUK SIT DAI JONG (POISON TONGUED LAWYER)'s production start ceremony in Fan Lan. Director Ng Wai Lun described the story to be about a jerk against a group of upper class scum. He handed the jerk to Tze Wa to play because Wong has not been seen scolding and jabbing at people in a very long time. Tze Wa said, "I hope to have good box office!"
Tze Wa said that in the film he would play a judge and a lawyer. He would yell at people, make fun and battle brains and brawn. Would he improvise at anytime? He said, "No, the director is also the screenwriter. Earlier he wrote UNBEATABLE (GIK JIN). This story is also very well written, with drama galore. After I took the role, I spent two years to scam the script. It is highly difficult." would he have any action scene in the film? He joked, "This I have avoid a little, the level of upheaval in the drama is already enormous."
Wong Dan Nei said that she was excited to be working with Tze Wa and many elders. She wanted to take advantage of the chance to learn from Tze Wa. Tze Wa also gave a funny tip. "Take one step at a time, when the boat docks it will naturally be straight." Wong Dan Nei and Liew Chi Yu last time played sisters in ANITA. This time they again would have scenes together, and would have a love hate relationship. Liew Chi Yu believed the performance would be a lot of fun.
Yeung Sze Wing in the film would play law partners with Tze Wa and Ah Dee. For the dialogue and legal terms, she would need to do a lot of homework so she appeared nervous. She said, "Tze Wa and Ah Dee have quick wit, with them I am afraid I wouldn't be able to follow. Luckily we constantly see each other lately at table reads. (Would you be worried that Ah Dee would play tricks on you?) I instead would look forward to him taking care of the catering. The last time we worked together, his assistance team brought a lot of delicacies for us to enjoy."
Ah Dee pointed out that his character would carry the comedy load, but Tsz Wa himself was extremely charming so he would need to do his share. "I would have to coordinate, I couldn't steal the spotlight excessively. I would have to consider how to work with other actors and set off spark." Pak Tin Nam said that his Chinese was not great, so he felt pressure from working opposite Ah Dee and Yeung Sze Wing and had to do all of his homework too.