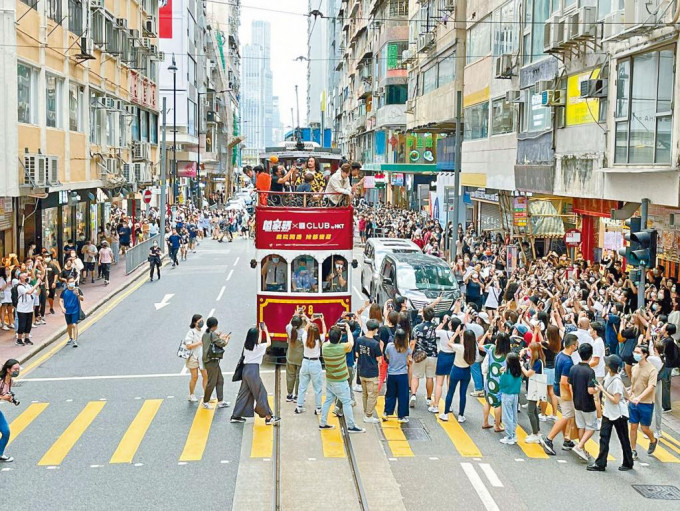 courtesy of singtao.com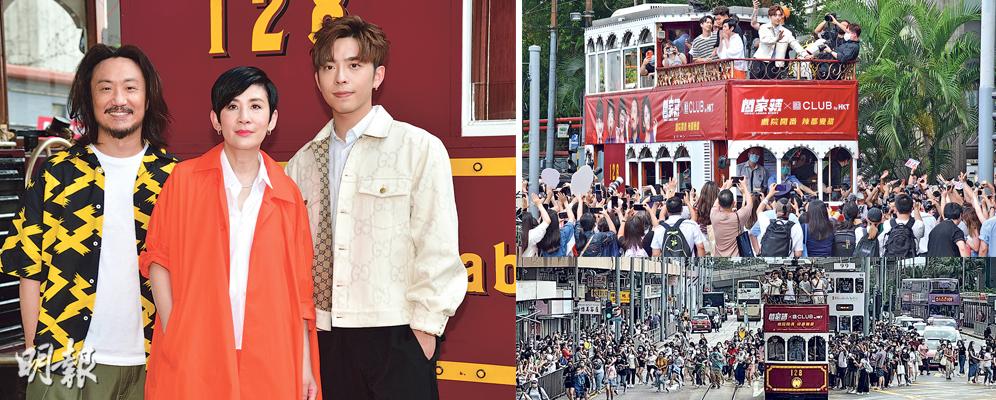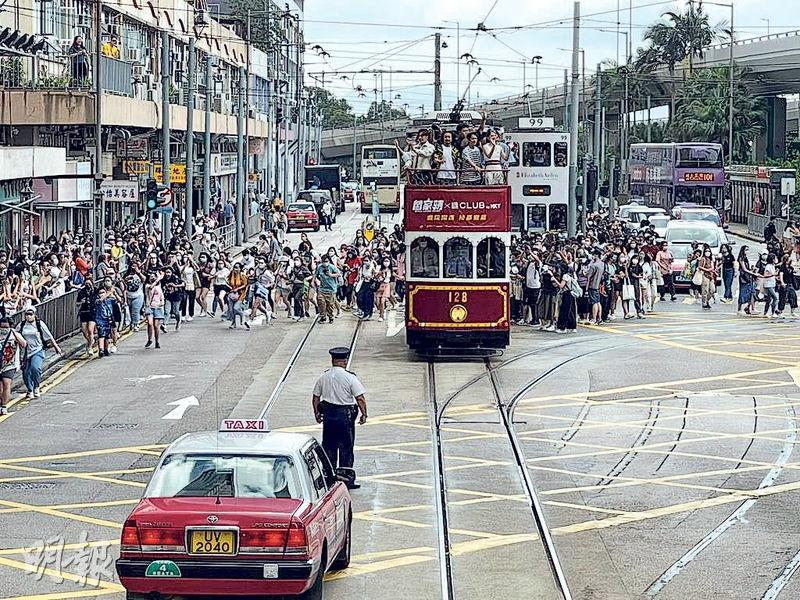 The parade begins at Waterson Street and fans run into traffic for photos. The police is on hand to maintain order.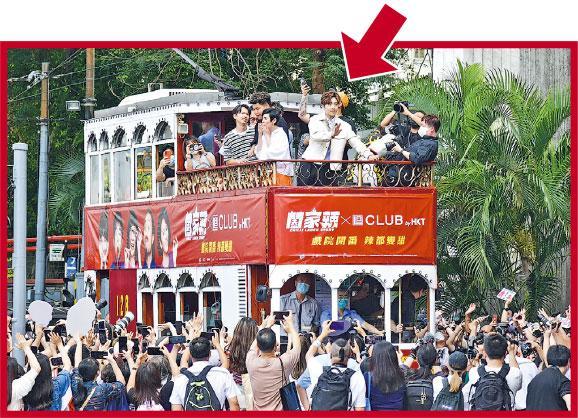 Edan Lui waves to fans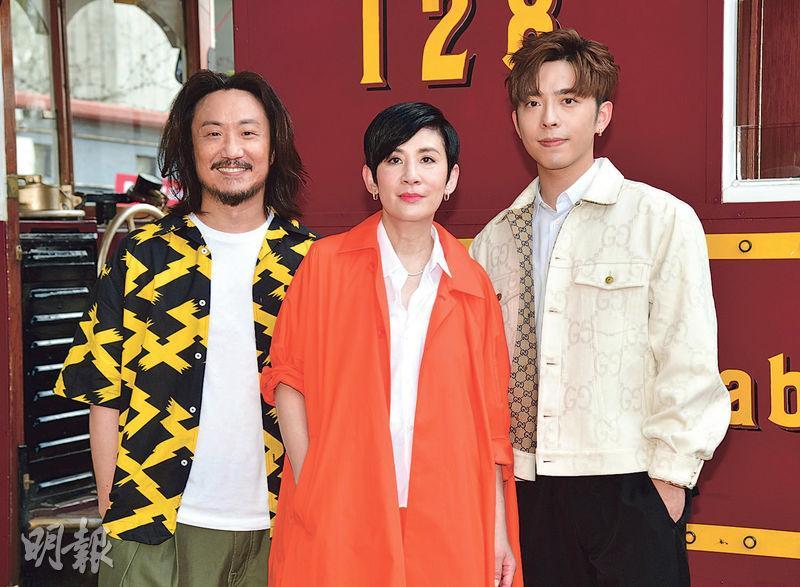 Ronald Cheng, Sandra Ng and Edan Lui are confident about the film's box office success
Sandra Ng's husband Peter Chan (right) and daughter (center)
courtesy of mingpao.com
Sandra Ng Kwan Yu, Ronald Cheng Chung Kei, Edan Lui Cheuk On and others yesterday attended the film CHILLI LAUGH STORY (HOP GA LAT)'s tram parade launch ceremony and attracted over a thousand fans. During the parade, they often waved to the pedestrians. When other trams passed by them, their passengers waved to them. Some fans even jaywalked and forced their way onto the streets to take photos. Originally the tram parade would end at Causeway Bay, but due to the numerous onlookers, in the end the event changed the final stop to be the Happy Valley terminal.
Yesterday Kwan Yu's husband Peter Chan Ho Sun also brought their daughter to show their support. The police were on hand for the road blocks and keeping order. When the tram left the garage, fans shrieked. Due to the fifth wave of the pandemic, CHILLI LAUGH STORY went to the Lunar New Year to the summer vacation slot. Kwan Yu said that she was very happy that the film would finally be released. She never imagined that the world would be this crazy. She joked that after decades of making Lunar New Year films, this would be the first to be released in the summer. Although the summer would be full of blockbusters, Kwan Yu pointed out that the strongest would be CHILLI. "We have Chung Kei and Edan, how can we lose. (How much would you predict it would make?) Several hundred million, if it would be a big hit I would treat everyone to a trip to Japan! This was a pure Hong Kong film, with government assistance. Many people gave discounts on their salaries." Cheng Chung Kei joked that he made the most, so he was confident that CHILLI would make a lot.
Earlier due to the pandemic summer vacation started early. Kwan Yu revealed that their family of three went to Thailand to visit family and vacation for two months. They took a chance to relax. Chung Kei also hoped that he would be able to take his family of four to Japan for a vacation, but he would not want to go with a tour. "I went with a tour before, I couldn't get up. It felt like I was b being dragged around." He also said that after finishing his new film OVER MY DEAD BODY (SEI SI SEI SI SEI SUP SEI) he would prepare for his year end Taiwan concert. First he would need to lose the belly then train his muscles.
Edan said that he has not attended a public event in a very long time. Originally he worried about rain, but luckily they had a good start. He also said that after finishing his new film he would prepare for the MIRROR concert in July. He even revealed that Kwan Yu asked for 100 concert tickets, but he did not know how much he would get yet. Kwan Yu said that she knew Edan and Jer (Lau Ying Ting) of MIRROR's 12 members. If each got her 100 tickets she would have 200. She even pointed out that she has already joined the official fan club and joked that she would become the big MIRROR concert ticket client.