For the week ending Sunday May 29 2022
Photos courtesy of Yahoo! Movies Hong Kong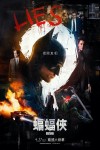 10 THE BATMAN
d. Matt Reeves
Robert Pattinson, Andy Serkis, Jeffrey Wright,
Zoe Kravitz, Colin Farrell, John Turturro,
Paul Dano, Peter Sarsgaard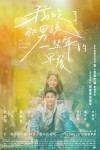 9 MY BEST FRIEND'S BREAKFAST
Can : Ngor Hap Liu Na Nam Hai Yut Jing Nin Dik Jo Chan
d. Ryan Tu
Moon Lee, Eric Chou, Jean Ho, Edison Song
Rating : IIA
Length : 119 mins.
Opening May 11 2022
Trailer :
https://youtu.be/rLfOoLVX_8A
[ BROADWAY CIRCUIT ]
17-year-old sophomore Xiang Wei-xin sees food as the most healing and important thing in life. That's how she meets Tao You-quan: in the convenience store on campus.
When Xiang Wei-xin needs five more bucks to pay for her favorite pineapple bun, Tao You-quan chips in and saves her day. The next day, she witnesses a breakup scene by the pool in school, and it turns out to be You-quan and his cheating girlfriend who refuses to let go. Wei-xin comes up with an idea and uses her best friend/campus belle Fang Qi-ran as an excuse to intervene, ending their relationship. To her, she's returning the favor by helping out.
Since that day, Qi-ran's been receiving two breakfasts, a wooing gesture from two guys. Qi-ran is not interested and gives them to her foodie best friend Wei-xin so they don't go to waste. Wei-xin is strapped for cash, and to be able to eat to her heart's content every day is more than satisfying. Meanwhile, Zhang Yuan-shuo, the president of Guitar Club, uses free milk tea to get Wei-xin to say yes to do a solo show on the school's anniversary. There is only one catch: she can't really play guitar. In a chance encounter on the rooftop, You-quan offers to teach her guitar; therefore to Wei-xin, it doesn't seem like that much of a daunting challenge anymore...
Like most 17-year-old girls, Wei-xin imagines all kinds of scenarios in her future life, and You-quan, Qi-ran and Yuan-shuo do too. At the beginning of the story, they never expect so much can happen in a year and that there will be all kinds of hurdles in life...
The good news is that they eventually find the answers on their way to adulthood.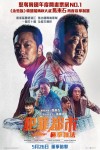 8 THE ROUNDUP
Can : Fan Jui Doh Si Gik Kuen Jup Fat
d. Lee Sang-Yong
Don Lee, Son Sukku, Choi Guy-Hwa, Park Ji-Hwan
Rating : IIB
Length : 105 mins.
Opening May 26 2022
Trailer :
https://youtu.be/o94UJhR2I6I
[ BROADWAY CIRCUIT ]
"You feeling it? We have to get this guy"
4 years after the events of Garibong district round up operation, Geumcheon Police's Major Crimes Unit is given a mission to repatriate a fugitive who fled to Vietnam.
Beast cop Ma Seok-do and Capt. Jeon Il-man intuitively realize that there's something wrong with the suspect's willingness to turn himself in and uncover crimes committed by a terrifying killer named Kang Hae-sang.
Ma and his unit begin their investigation across two countries and follow the bloody breadcrumbs left behind by Kang...
No borders in catching the bad!
Another exciting and tension-filled round up!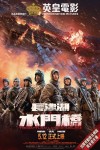 7 THE BATTLE AT LAKE CHANGJIN II
d. Tsui Hark
Wu Jing, Jackson Yee, Duan Yihong, Zhang Hanyu, Zhu Yawen, Li Chen,
Elvis Han, Geng Le, Du Chun
Rating : IIB
Length : 149 mins.
Opening May 12 2022

[ MCL CINEMA ]
During the second battle of the War to Resist U.S. Aggression and Aid Korea, the 9th Corps Command issues an order for the 7th Infantry Company to attack the Sumun Bridge. The 7th Company suffers a tough march to the Sumun Bridge. The soldiers are near their limits, every step forward in the midst of the harsh weather only means another great challenge to the body and mind...

When they inch close to the Sumun Bridge, the 7th Company perseveres with sheer and steel-like willpower. They bomb and destroy every attempt the US Army makes to repair the Bridge. Three grueling clashes – and the 7th Company finally manage to block the US Army's retreat to Xingnan Port.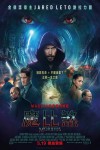 6 MORBIUS
d. Daniel Espinosa
Jared Leto, Matt Smith,
Adria Arjona, Jared Harris, Al Madrigal, Tyrese Gibson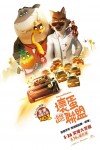 5 THE BAD GUYS
d. Pierre Perifel
Animation
English Voices: Sam Rockwell, Marc Maron, Akwafina,
Craig Robinson, Anthony Ramos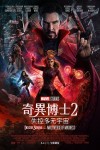 4 DR. STRANGE IN THE MULTIVERSE OF MADNESS
d. Sam Raimi
Benedict Cumberbatch, Elizabeth Olsen, Chiwetel Ejiofor,
Benedict Wong, Xochitl Gomez, Michael Stuhlbarg, Rachel McAdams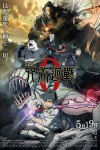 3 JUJUTSU KAISEN: ZERO
d. Park Sunghoo
Japanese Animation
Rating : IIA
Length : 105 mins.
Opening May 19 2022
Teaser :
https://youtu.be/xC-chvgpI9k
[ MCL CINEMA ]
Yuta Okkotsu witnessed the death of his childhood sweetheart in a traffic accident.
"Promise me we'll marry each other when we grow up!"
Rika was turned into a cursed spirit. Haunted by her spirit, Okkotsu wanted to end his life.
But he was taken to the Jujutsu High by the most powerful Jujutsu Sorcerer, Satoru Gojo.
There, Okkotsu met his new classmates: Maki Zen'in, Toge Inumaki, and Panda.
There, he made a decision.
"I want to have the courage to live on!"
"I'll break Rika's curse at Jujutsu High."
On the other hand, a mysterious villain has shown up. He is none other than Suguru Geto, the man banished by Jujutsu High for the massacre of innocent lives in cold blood.
Suguru wants to build a paradise of Jujutsu Sorcerers and eliminate all non-sorcerers.
He will unleash a thousand curses in Shinjuku and Kyoto.
Can Okkotsu stop Suguru before it's too late?
Can he break Rika's curse?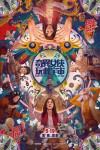 2 EVERYTHING EVERYWHERE ALL AT ONCE
d. Dan Kwan, Daniel Scheinert
Michelle Yeoh (Yeung Chi King), Stephanie Hsu, Ke Huy Quan,
James Hong, Jamie Lee Curtis, Harry Shum Jr.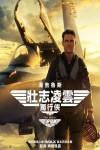 1 TOP GUN MAVERICK
d. Joseph Kosinski
Tom Cruise, Jennifer Connelly, Miles Teller, Monica Barbaro,
Val Kilmer, Lew Pullman, Glen Powell, Jon Hamm, Ed Harris