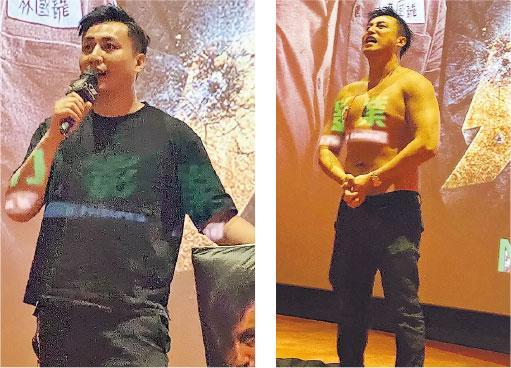 courtesy of mingpao.com
As the fifth pandemic of the pandemic grew severe in Hong Kong, the government tightened social distancing measures, cinemas closed starting January 7th to April 21st when the pandemic eased. BREAKOUT BROTHERS 2 (TOH YUK HING DAI 2), the release of which was postponed due to the pandemic, opened last Thursday (April 28th). Justin Cheung Kin Sing once said that to celebrate BREAKOUT 2's release and the return of cinema, he would make an audience appreciation event appearance and take off his shirt.
Recently Cheung Kin Sing fulfilled his promise as he appeared at a BREAKOUT 2 booked show event and took off his shirt to "pay his bill" and thank the viewers for their support. Cheung Kin Sing on social media shared the audience appreciation experience and hoped that everyone would like this movie. He also said that there would be a BREAKOUT BROTHERS 3. "I promised that I would 'pay the tab', please remember to support BREAKOUT BROTHERS 3 when it opens."