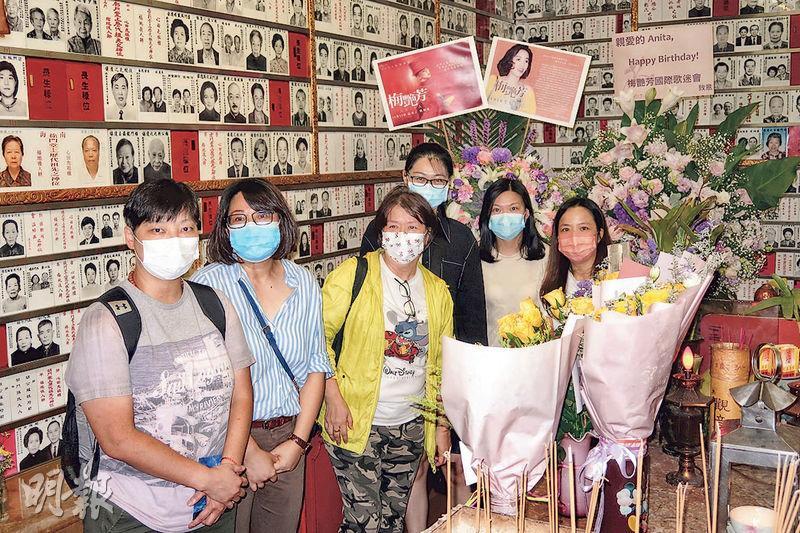 Anita Mui's fans celebrate their idol's birthday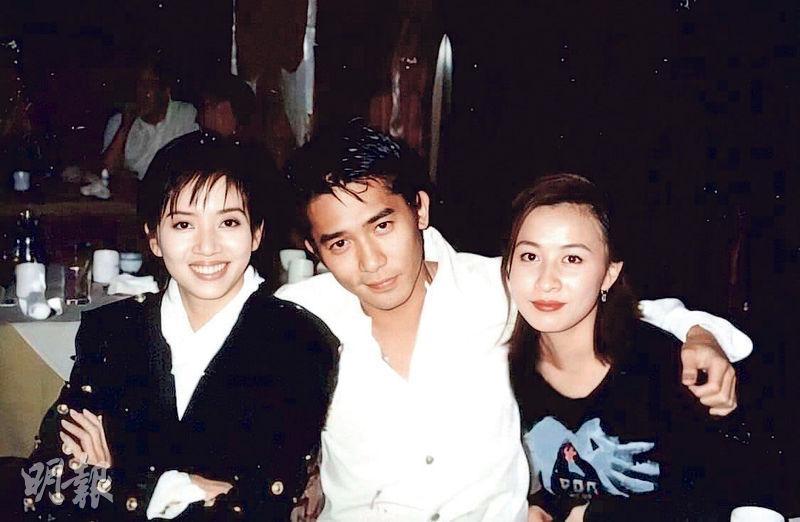 Tony Leung Chiu Wai posted a photo with Anita Mui and Carina Lau
courtesy of mingpao.com
Diva Anita Mui Yim Fong in 2003 tragically passed away from cancer. 18 years have passed, but she stil remained in a group of "Mui fans'" hearts. Yesterday would have been Sister Mui's 58th birthday, aside from her disciples Remus Choy Yat Kit, Denise Ho Wan Si, friends Anita Yuen Wing Yi, Tony Leung Chiu Wai and Josie Ho Chiu Wai posting photos to remember her, a group of loyal Mui fans under the number 3 hurricane signal went to the wax figure museum, the Mui Yim Fong statue on the Avenue of Stars in Tsim Sha Tsui and Shan Sin Chun Tong in Kowloon City to pay their respect and celebrate their idol's birthday.
Sister Mui's long-time loyal fans established "Mui Nation". Vice president Eva Ng yesterday afternoon with several fans prepared offerings like fresh flowers and fruits to pay their respect at Sister Mui's spirit tablet. Eva and friend Connie spoke to the press and revealed that they have followed Sister Mui since she participated in the New Talent singing contest to now -- for almost 40 years. Even though their idol passed away 18 years go, over the years they would celebrate her birthday despite rain and storm. Two days ago a typhoon brought foul weather to Hong Kong, fortunately yesterday the wind and the rain eased and they were able to celebrate their idol's birthday.
Eva said, "Originally everyone would go to the Lautau Island to pay their respect to Sister Mui, finally due to black rain warning the trip was canceled. Luckily today we are blessed today, later we would go to the Avenue of Stars to present flowers to her statue. Some fans originally would have gone to yesterday's advanced screening of the film ANITA, but later due to the number 8 hurricane signal it was postponed to today -- right on Sister Mui's actual birthday. We believe that it was destined." Connie felt that no one would be able to take Sister Mui's place, although some said that model Louise Wong Dan Nei who played Sister Mui in the film performed very convincingly. They hoped that the film ANITA would bring everyone a positive message and even more understanding of Sister Mui's life.
"Mui Nation" members intended to hold an exhibit on the 20th anniversary of Sister Mui's passing, to continue the spirit that Sister Mui urged everyone to "never give up in anything, if you have faith in perseverance then you would achieve it". The plan would wait for the border to open up gain to have exchanges with Mainland Mui fans.