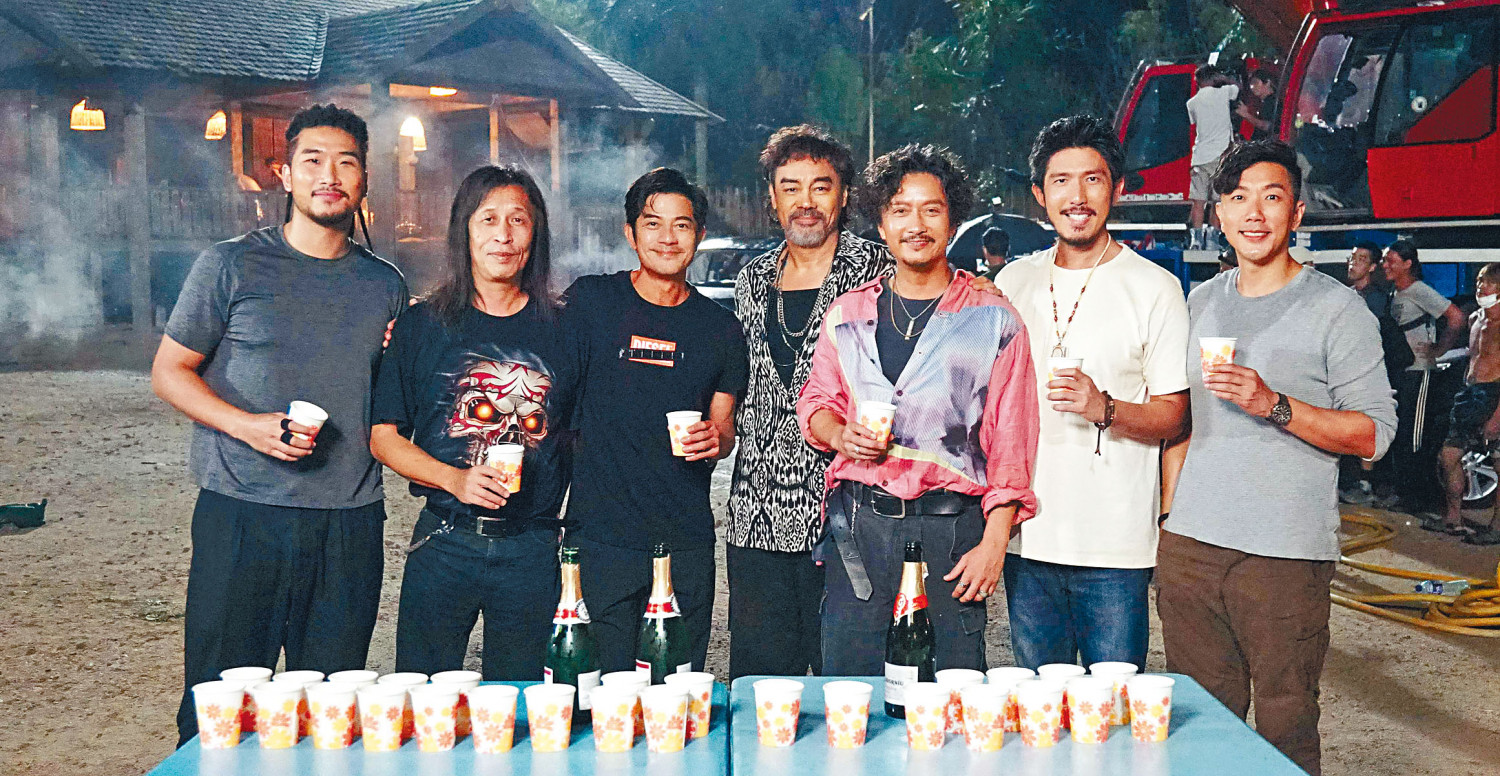 Aaron Kwok and Sean Lau wrap up production and celebrate with Tse Ho Kwan, Wilfred Lau and others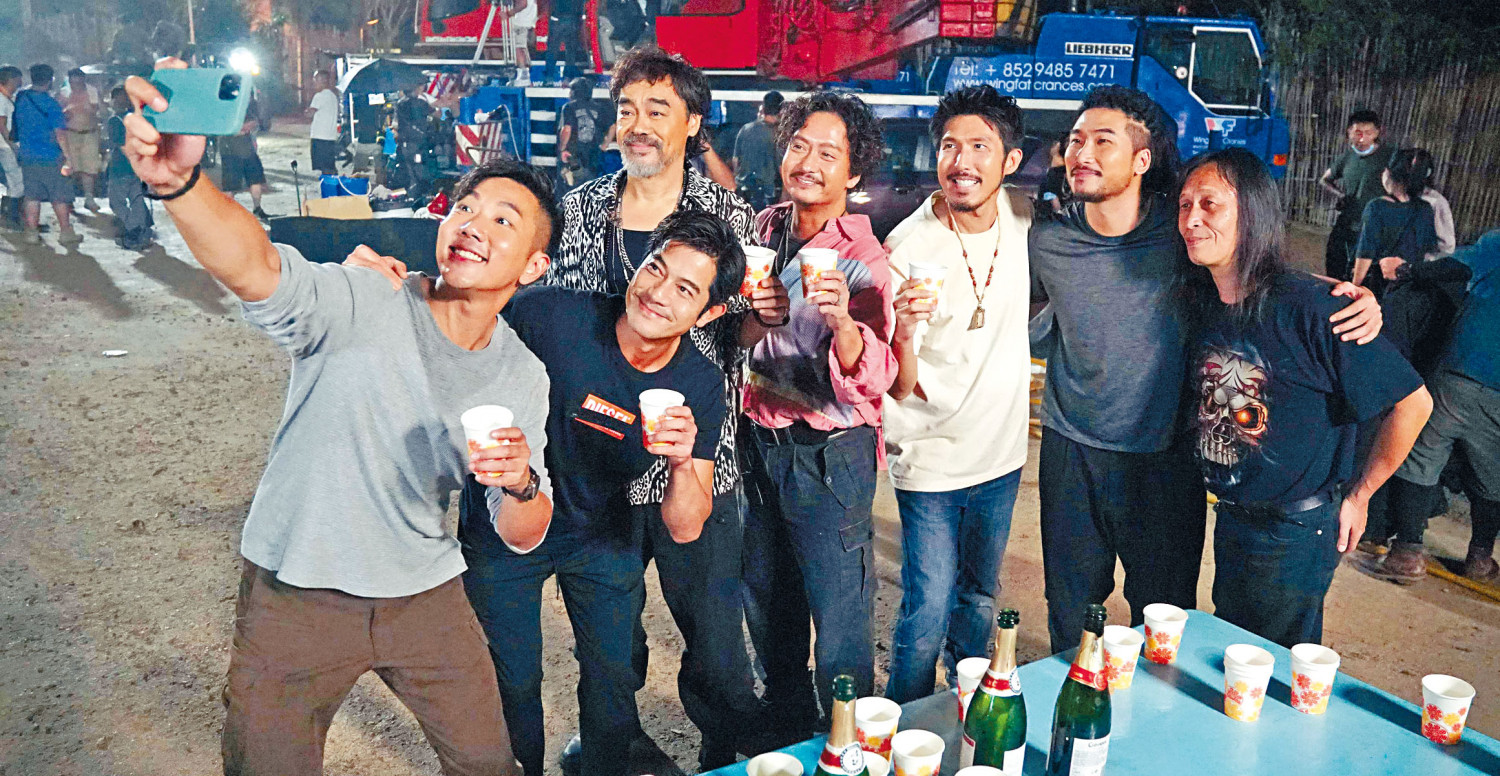 courtesy of singtao.com
Aaron Kwok
Louis Koo
After all the production obstacles, the team of course has to get a selfie together
courtesy of on.cc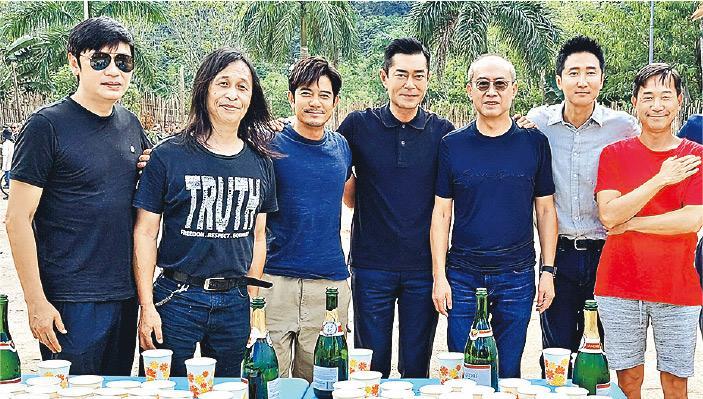 Gallen Lo, director Herman Yau, Aaron Kwok, Louis Koo, Daneil Lam, Timmy Hung, Chan Kwok Bong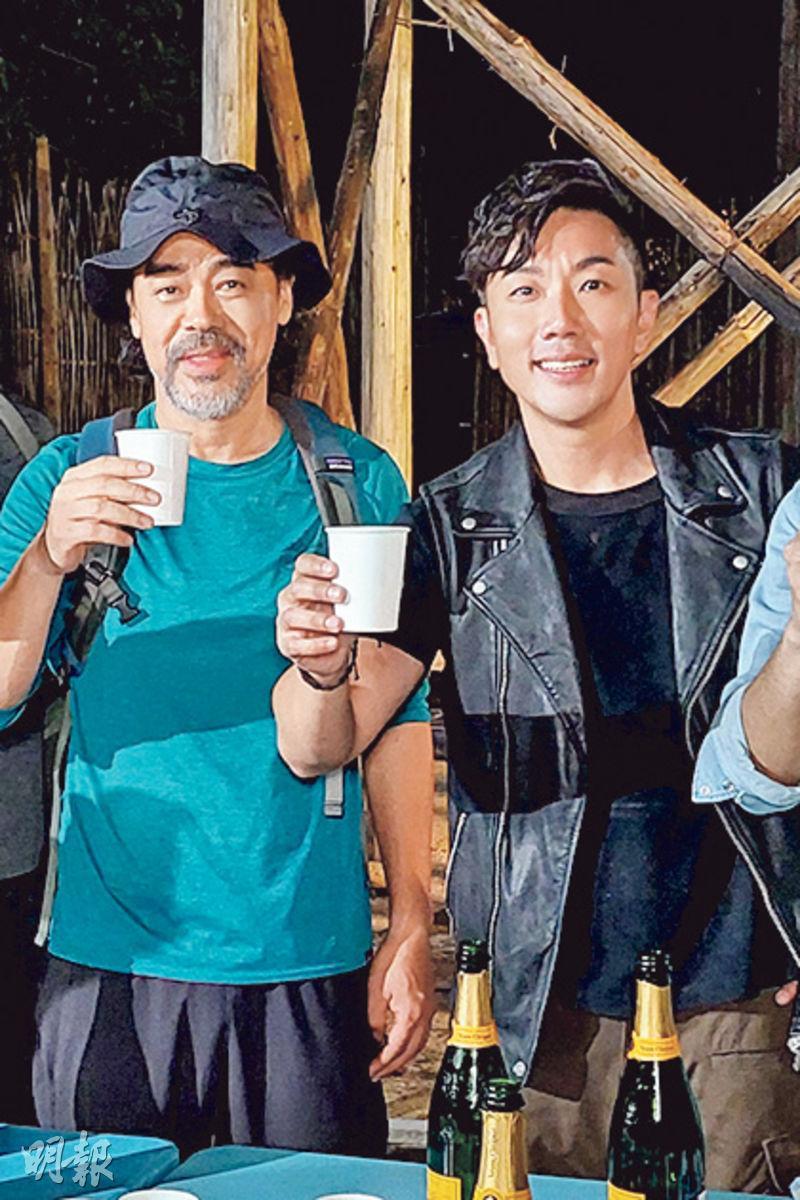 courtesy of mingpao.com
The three Best Actors Aaron Kwok Fu Sing, Sean Lau Ching Wan and Louis Koo Tin Lok starred film THE WHITE STORM 3 (SO DUK 3 TIN DAI DEI DAI) after frequent setbacks finally completed its production. The team went from Xixiangbanna to Shanwei, originally planning to then go to Thailand for a location shoot. Due to the pandemic the trip did not come to fruition, finally the company invested heavily on the construction of an almost 50,000 square meter Thai village in Lau Fau Shan, Hong Kong for production. After months of struggle, the grand scale production process finally came to a smooth completion. Kwok Fu Sing praised the Thai village for its realism, easily enabling people to get into the shoot. Lau Ching Wan on the other hand said that after completing the shoot he could finally shave.
The film THE WHITE STORM 3 on the day when Koo Tin Lok wrapped up production celebrated with a champagne ceremony with director Herman Yau Lai To, actors Kwok Fu Sing, Gallen Lo (Law Ka Leung), Chan Kwok Bong, Timmy Hung Tin Ming, Edward Chui Woei Dong and others at the almost 50,000 square meter Thai set in Lau Fau Shan, Hong Kong. Afterward, Kwok Fu Sing and Lau Ching Wan also wrapped up their production and again celebrated with champagne with Tse Kwan Ho, Wilfred Lau Ho Lung, James Kazama (Yau Jim Fai) and Kumor So (Fui Hung). Director Yau Lai To and Kwok Fu Sing embraced in celebration. Aside from appreciation, they even said that the collaboration has been pleasant. Director Yau stated, "This time working with Aaron has been a great experience. Now we are already starting to plan the next time."
Kwok Fu Sing was very happy about participating in THE WHITE STORM 3 production. "This time the film faced numerous challenges, but the entire team was very united. With the director we persisted with the production, as we resolved difficulties when we ran into them. Although it was tough, the shoot was also very pleasant!" Aaron said that working with Director Yau for the first time, he really admired his cool and adaptability. As for each actor in the film, because of 4 months together everyone built great chemistry and hoped to have the chance to work together again. On the night of the wrap, everyone were reluctant to part. Aaron also praised the team for building the nearly 50,000 square meter Thai drug village in Hong Kong, an awe-inspiring feat. He said, "They even grew trees from the 'Golden Triangle', which made me feel like I was there. It was very realistic, which made getting into the roles easier for everyone. Ultimately working with people who love movies is happiness, I wish THE WHITE STORM 3 would be seen by the audience very soon and for everyone to go to the movies to support it."
On the day of the wrap, Lau Ching Wan prepared many bottles of champagne to share with the cast and the crew. After completing the shoot he changed into casual clothes and appeared to much lighter. Aside from being able to properly rest, he also stated that he would shave the beard he grew for months for the movie. He said, "When I get back I can shave, I am very happy because this movie experienced a lot. We couldn't shoot on the location that we wanted, which instead made everyone constantly dine together. Normal productions very rarely had these times. They just kept shooting, very rarely would they be like this time when everyone constantly saw each other. The advantage was that everyone became familiar and united. I believe that this flavor would seep out from the movie."
Tse Kwan Ho, Wilfred Lau Ho Lung, James Kazama (Yau Jim Fai) and Kumer So (Fui Hung) also rather enjoyed the friends that they made this time. Everyone looked forward to the new film and said that they were ready to participate again in THE WHITE STORM 4.