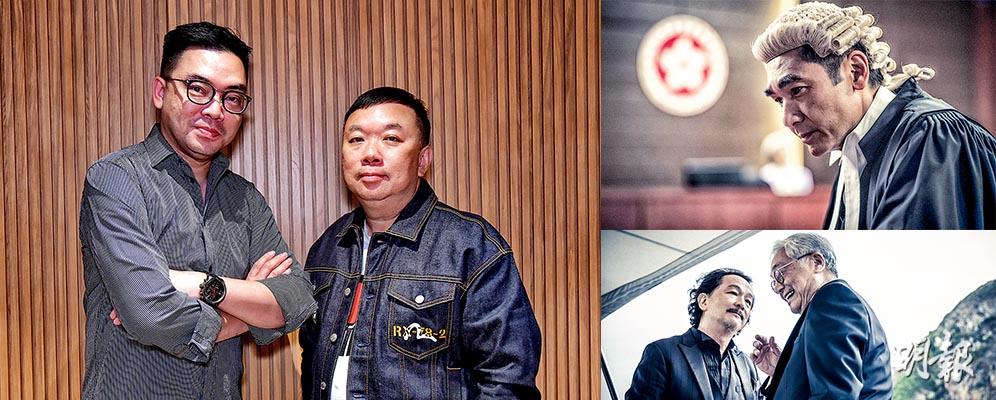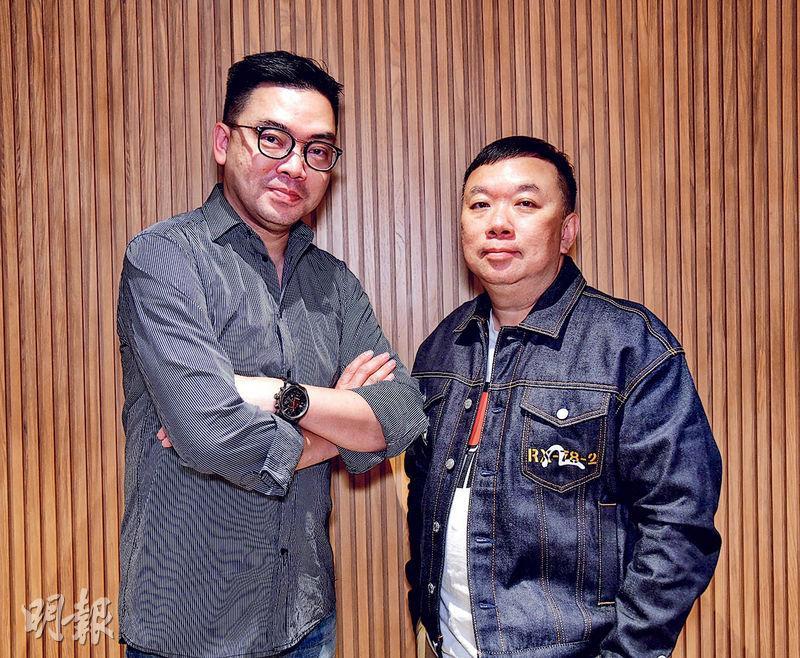 Both started at TVB, screenwriter Pau Wai Chung and director Wong Kwok Fai made the jump to film in recent years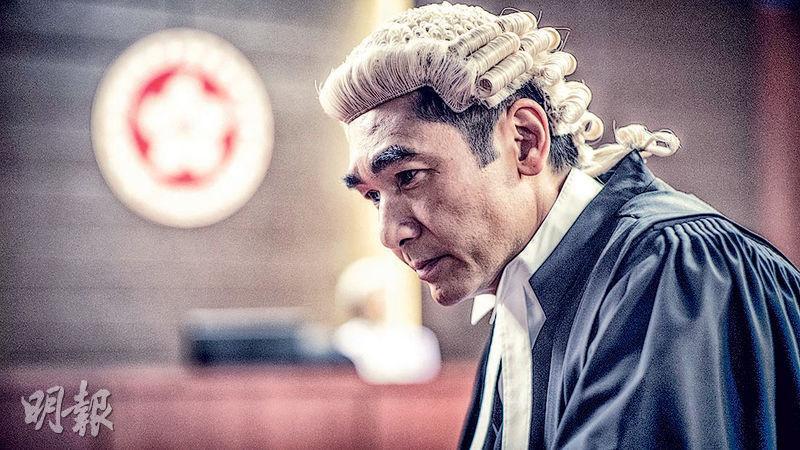 Playing a big time lawyer in the film, Alex Fong Chung Shun receives praises from the writer and the director for bringing the role to life and recognition to compete for Best Actor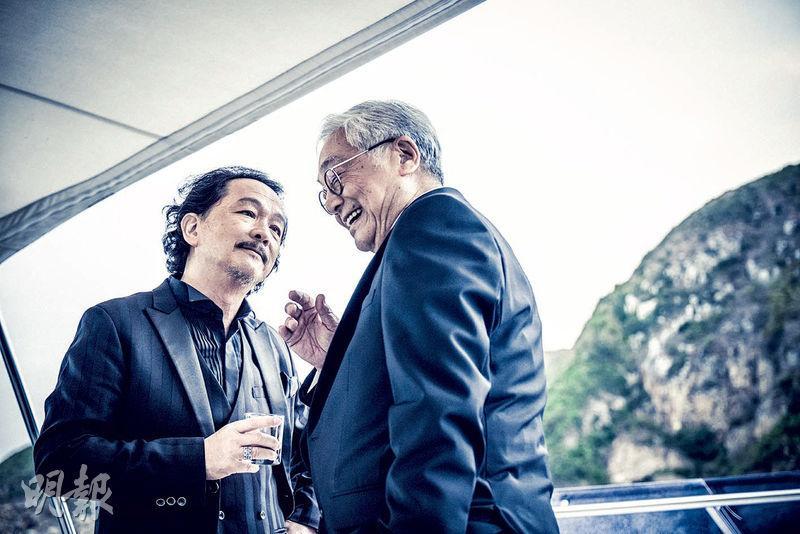 THE ATTORNEY is one of Liu Kai Chi's final films. In it he had many scenes with Kenneth Tsang.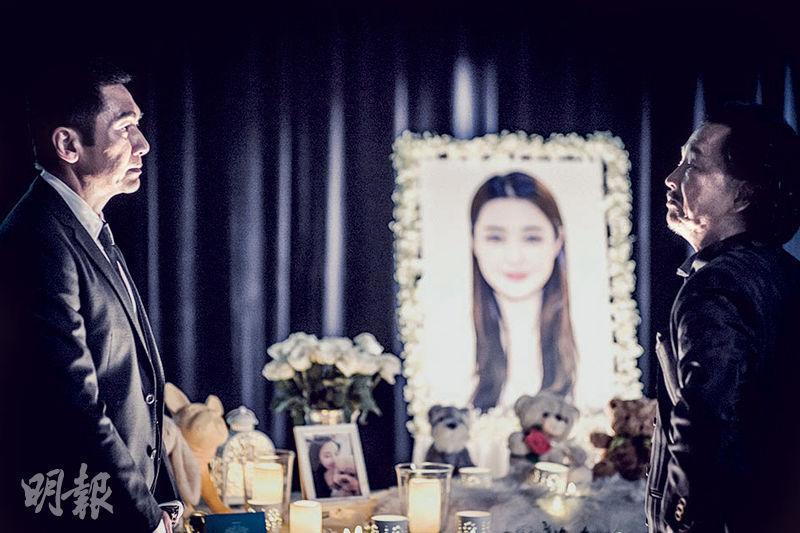 THE ATTORNEY opens with the mysterious death of a rich man's daughter
courtesy of mingpao.com
The Wong Kwok Fai directed, Pau Wai Chung written China Hong Kong co-production film THE ATTORNEY (YUT CUP JI HUNG) ran into numerous obstacles before the release. The film originally was set for a 2018 Hong Kong Asian Film Festival premiere, but due to "technical problem" it was pulled. Later "due to certain reason" it cancelled all of its advanced screenings. At the time it was rumored that due to the sensitive subject it did not pass the Mainland inspection. After three years, finally it was released in early October on Mainland streaming platforms. On October 28th it will open in Hong Kong as well; the day before (October 27th) Hong Kong also welcomed the 2021 film censorship (amendment) bill, film inspectors must considered whether the film release would be harmful to national security. In early October Wong Kwok Fai and Pau Wai Chung spoke to Ming Pao, they were asked whether film inspection would affect creativity. Pau Wai Chung said, "Find the greatest creative freedom within the area." Speaking this is Hong Kong filmmaker's undying spirit.
Director Wong Kwok Fai said that he never worried about THE ATTORNEY being unable to be released, he knew that the film was in line for inspection and could not be rushed. Now the film would be released in its entirety. He said, "Not a single cut!" Screenwriter Pau Wai Chung also disagreed that the subject was sensitive, feeling that overseas this type of subject would be child's play. If Hong Kong needed to improve, it could not limit itself and should create freely. He said, "In other words it would depend on whether restrictions are reasonable or not? With enough explanation or not? Viewers and people would be able to make their own determination."
Speaking of the Hong Kong film censorship rules becoming more restrictive, Pau Wai Chung said, "Knowing what could be made or what couldn't be made with co-production films, we look for the greatest creative freedom within the area. We wouldn't deliberately cross the line." Would that affect film development? He said that this was not just today, as early as 20 years ago Hong Kong people have already begun to head North in search of investors.
Pau Wai Chung is a veteran television creator. TVB's THE FILE OF JUSTICE series was his work. The film THE ATTORNEY is also a law subject. He said that creating film and television series are two different matters, both with their own difficulties. "I have created many series, 40 episodes, 60 episodes, even 80 episodes. For viewers to maintain their emotions from the beginning to the end, it actually is very hard. Film in comparison has less characters, the technique is different."
Pau Wai Chung continued, "Writing a law film requires finding an artistic balance. To be able to give the audience the impression of a lot of research, realism, and satisfy their drama bug, this balance point is the hardest for the law drama and the court drama. THE ATTORNEY has numerous character as well as many veteran actors, like Tsang Kong, Liu Kai Chi and Paw Hee Ching. The main plot falls on the Fong Chung Shun played big time lawyer. The side characters also have to develop, which is difficult. Thus each scene, each line have to be managed deliberately because there is no room to spare."
Pau wai Chung admitted that writing Fong Chung Shun's character took a lot of time and praised Fong Chung Shun for his grasp. "To grasp different stages of psychological changes; talking about it is easy, convincing the viewers to get into his emotional journey's changes is very hard. I personally like Fong Chung Shun the actor, he is my cup of tea. He was very cool in his previous police series, he could also play romantic and charming. I have seen his performance in Mainland series. In general I felt that perhaps he had no role to work with. This time he was able to get into character, demonstrated his real effort. His performance was very moving, very real, real enough to have moral and justice. The film had a line, 'the law isn't a business or a religion'. Everyone has a belief and principles that they insist on. I want to talk about this spirit." he felt that Fong Chung Shun brought life to this character, and hoped that he would be nominated for Best Actor. Wong Kwok Fai also said that this time he saw another Fong Chung Shun.
Wong Kwok Fai started as a TVB director. He worked there for 24 years and has made many classic series like LAW DIS-ORDER, BLOOD Of GOOD AND EVIL, and THE DRIVE OF LIFE. Later he joined HKTV and directed ELECTION. TVB series quality and rating have declined in recent years, would he consider returning to rescue TVB with a series? Wong Kwok Fai was not opposed to the idea and has paid attention to the current television series. He said, "Now perhaps there are comparisons, with different platforms and networks, everyone's television viewing habit is already different. Like SQUID GAMES, I binged it all over two days. Traditional TVB and ViuTV series would only air one episode a day. I can't say whether it is entertaining or not, only the general public's viewing method and the script choices are changing. In the end it still depends on the script and the production method, for example series subjects would repeat in many places, including Korean, Japanese series, but they would have new viewpoints to attract viewers."
Pau Wai Chung joked that as long as someone could afford it, he would work on television, film and internet series. "Now I prefer internet series and films. Because I started in television, film and internet series are new experiences. I am more curious." He has written many TVB series, his favorite was the Louis Koo Tin Lok and Jessica Hester Hsuan starred MAN'S BEST FRIEND. Wong Kwok Fai liked THE HIPPOCRATIC CRUSH. "Saving people has quite a sense of duty, each patient has his or her own story. When I made it I was very moved myself. I cried over a character's death in the series."
Both have experienced the peak of TVB. Seeing this phenomenon now, would their hearts ache? Pau Wai Chung admitted that earlier he has thought, "Why would it be like this?" However now he understood that time was the greatest enemy. Many things would disappear, be no longer important. He said, "Now instead I would accept this change, even would linger on what was done before." Wong Kwok Fai also agreed, "Nostalgia is hopeless, meaningless. Television and film have lives, with different destinies and encounters. No one can control film box office and television rating."
Pau Wai Chung said, "Now there are more choices, other regions have improved. Chinese, Japanese, Korean and Thai television series have improved rapidly. Hong Kong has been overtaken; not only has it not improved, I feel it has regressed. (How would it catch up?) I really can't help, neither can (Eric) Tsang Chi Wai. Perhaps try giving up their more cost effective production methods. We have worked at television stations, know its production method is the cheapest. However it has already been proved it doesn't work; it's not just a script problem, but the entire production line method problem. This method has to change."