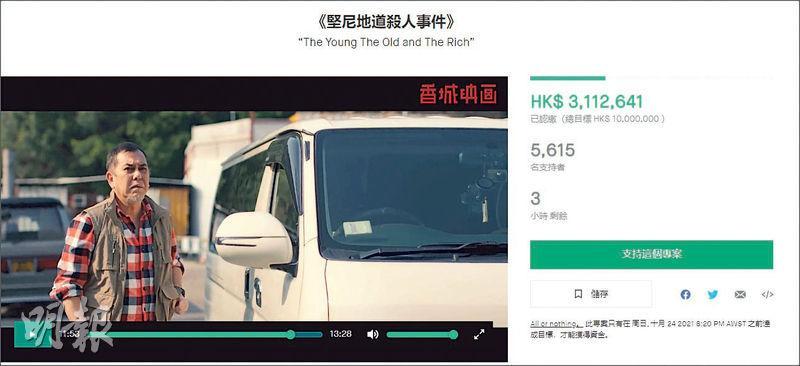 THE YOUNG, THE OLD AND THE RICH misses its target at its crowdfunding deadline
courtesy of mingpao.com
The film THE YOUNG, THE OLD AND THE RICH (GEIN NEI DEI DOH SAT YUN SI GEIN) started a HK$ 10 million crowdfunding project, the goal of which was to make a movie that would be completely funded by the audience. Director Ronnie Chau (Chiu Law Nei) invited Anthony Wong Chau Sun and Zeno Koo Ting Hin to shoot the teaser that introduced the film's content and production style. Yesterday was the deadline but the goal was not reached.
Director Chiu Law Nei chose "all or nothing", no fund would be collected if the goal was not reached; he once explained the reason for setting the goal at HK$ 10 million. He said that if successful, 10% commission would be given to the crowdfunding platform. The rest would be used for building a platform for online broadcast, sending memorabilia and other expenses -- leaving around HK$ 6 million for the film production; as of yesterday's deadline, only 1/3 of the goal was reached.
In the teaser Wong Chau Sun played a driving instructor, and Koo Ting Hin his student. The former's real identity was an underground group mastermind who arranged for a group of young people to commit crimes. Koo Ting Hin's role due to societal oppression became lost and was recruited by Chau Sun to join the underground group.