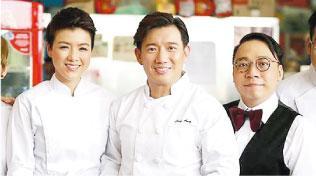 Aimee Chan, Chapman To and C Kwan begin work on LET'S EAT
courtesy of mingpao.com
After two years away on the television screen, Aimee Chan Yan Mei married Moses Chan Ho and had two sons. Her comeback would be a film with Chapman To Man Chak in Malaysia, LET'S EAT (HOI FAN LA!). Yesterday the film started production in Kuala Lumpur, Ah Jat, Chan Yan Mei and C Kwan attended the ceremony. Chan Yan Mei prepared for her comeback and got into shape rapidly after the birth of her younger son Nathan in February. Yesterday she appeared in a chef costume and looked great. To Man Chak played the head chef while Chan Yan Mei was the daughter of the owner, they would be in a happy rivalry. At the event Ah Jat displayed his cooking skill with egg fried rice for the media. He even demonstrated his wok tossing skill.
This would be the longest that Chan Yan Mei will be away from her sons. This film will shoot in Singapore and Malaysia for a month. She said that she will be focused on work and not return to Hong Kong midway. Her husband Chan Ho was very supportive of her work as well.