courtesy of on.cc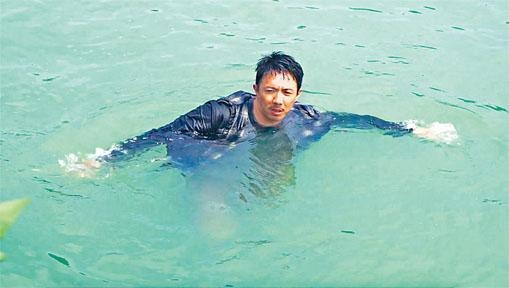 courtesy of singtao.com
courtesy of mingpao.com
Louis Cheung Kai Chung in the film A WITNESS OUT OF THE BLUE (FAN JUI YIN CHEUNG) worked with his idol Louis Koo Tin Lok. Even though Goo Jai "forced" him to dive into the sea, with objects floating by, Ah Chung did not complained at all. To be able to witness Goo Jai's heroics on a speedboat was worth doing anything for!
Goo Jai, Ah Chung, Jessica Hester Hsuan (Suen Huen), Cherry Ngan Cheuk Ling starred in A WITNESS OUT OF THE BLUE, which would open on October 24th in Hong Kong. Ah Chung in one scene was forced "into the sea" by Goo Jai as he did his first diving scene on film. Although the environment was less than hygienic, he said that this was a milestone for his show business career. He even joked that because Goo Jai forced him he was not mad. In addition he was able to admire Goo Jai's heroics up close, which he felt was well worth the effort.
On the day of the shoot the climate was rather "muggy", the water was unusually cloudy and often had object float by. However Ah Chung was very professional, without any complaint he jumped right into the sea. He took a few gulps of the salty and dirty seawater. After returning to land he seriously said, "Today I have conquered the sea in this area, completely soaked in and embraced this natural texture. Thank you Director for arranging a refreshing scene in the water in the scorching summer. Each outstanding actor has performed a diving into the water scene, so I could consider that wish as fulfilled!"
As for a scene with his idol Goo Jai, Ah Chung gave an expression of happiness. "To be able to admire Koo Tin Lok's heroics on a speedboat, I really wanted to dance for joy at that moment. Although he forced me to jump off, I wasn't mad at him." The humorous Ah Chung while in the water hilariously swam rhythmically and cracked up the crew.
About Cheung Kai Chung's "forgiveness", Goo Jai said, "The director wrote for him to jump into the sea in the scene, I didn't tell him to! I only performed according to the script." Goo Jai originally was very concerned with Cheung Kai Chung's safety, but when he recalled the shoot he could not help but laugh. "At first I was worried, but as soon as he jumped in he was able to stand up. The water there actually was very shallow. Most of his body was above water." This scene required Goo Jai to speed away on the boat, which he admitted had certain degree of difficulty and danger. "Because I had to accelerate right away, the boat could be very 'rocky' and there was a chance that Ah Chung would get hit. In addition he had to accommodate the drone camera shot, so it was pretty memorable."