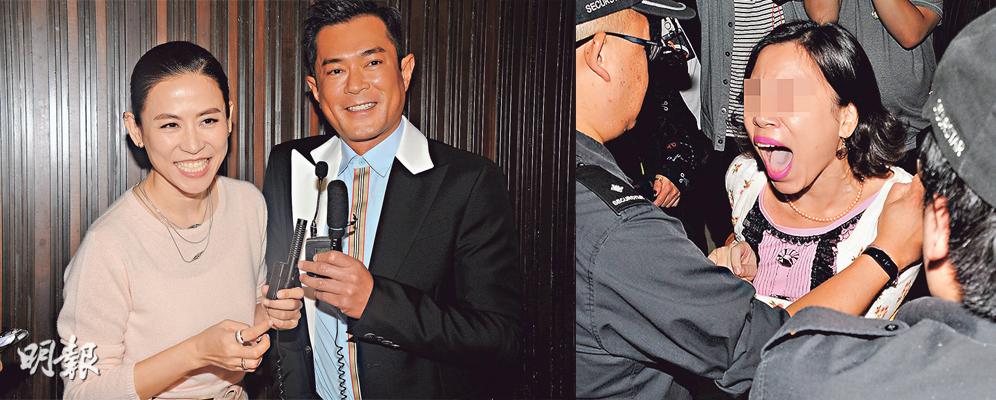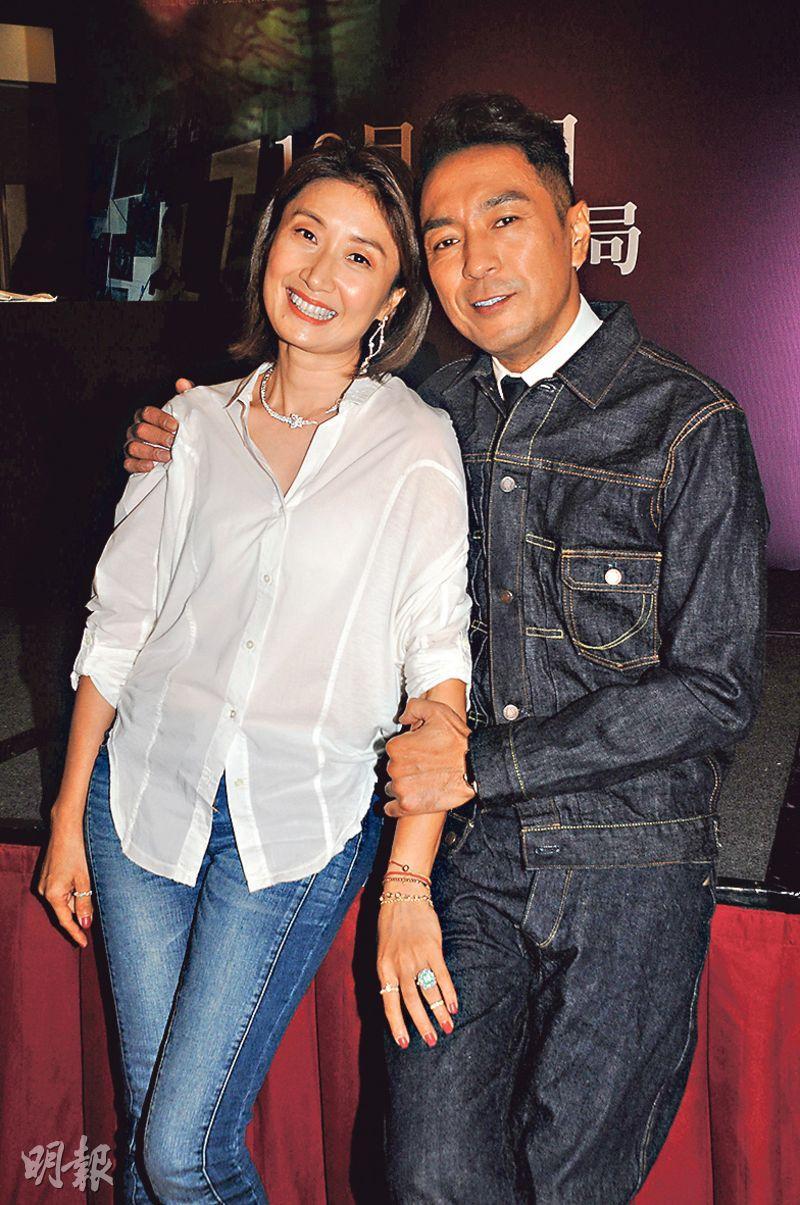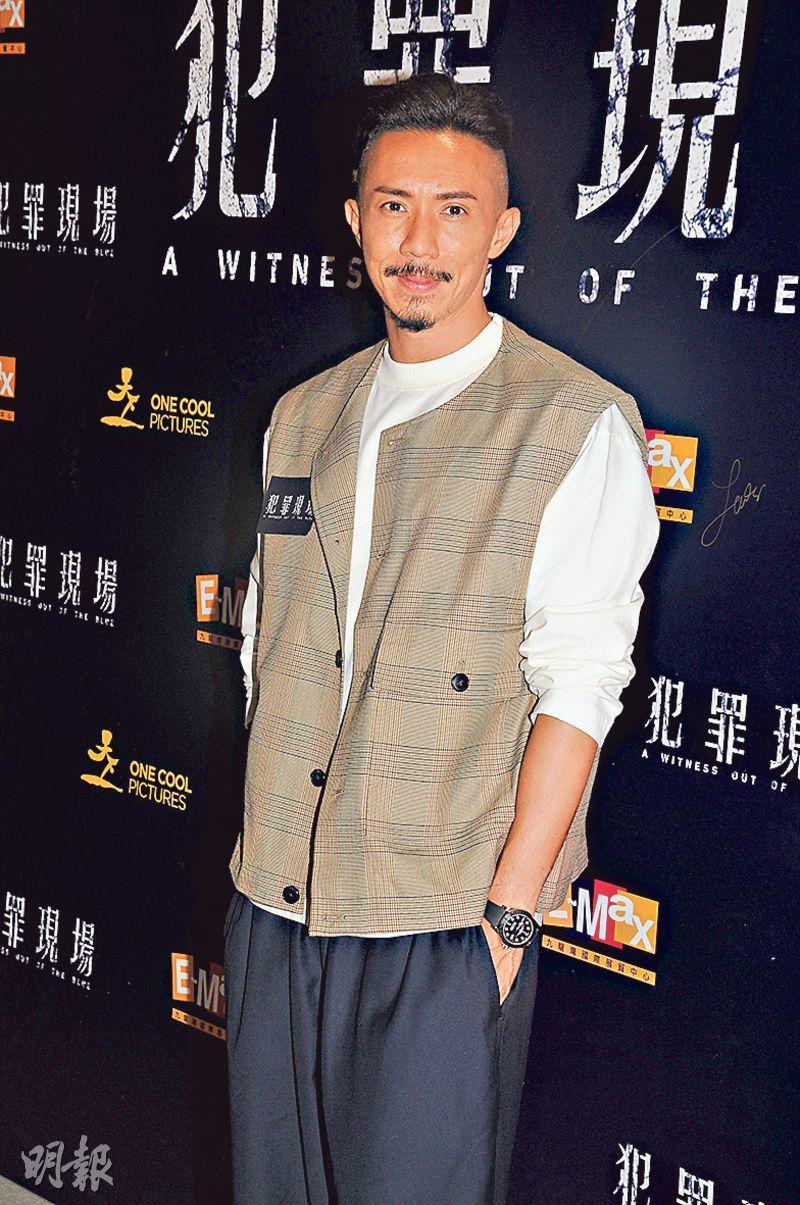 courtesy of mingpao.
A crazed Mainland fan kept screaming, "I am Louis Koo's wife!"
courtesy of on.cc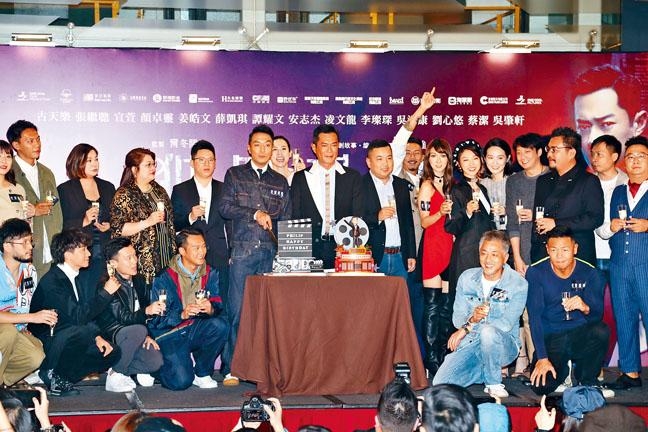 courtesy of singtao.com
The film A WITNESS OUT OF THE BLUE (FAN JUI YIN CHEUNG) two nights ago held a premiere at Kowloon Bay. Actors Louis Koo Tin Lok, Jessica Hester Hsuan (Suen Huen), Louis Cheung Kai Chung, Philip Keung Ho Man, Fiona Sit Hoi Kei and Cherry Ngan Cheuk Ling attended. Since both Koo Tin Lok and Keung Ho Man's birthdays were on October, the crew presented a birthday cake to celebrate with them. That night, a woman claiming to be Goo Jai's wife was also present.
Many industry insiders showed their support, among them was the a recent signee to Goo Jai's company Raymond Wong Ho Yin, as well as Mimi Kung Chi Yan, Chan Kin On, Jennifer Yu Heung Yi and Danny Chan Bing Chuen. During the premiere, a woman who spoke Putonghua kept waving to Goo Jai outside the venue. She called him hubby and claimed to be Goo Jai's wife, then she kept shaking the barricade. When security approached, the woman suddenly screamed. After a few yells when she said a wave of reporters rushing up to take photos, she smiled again and raised a victory sign. Her behavior was odd. Goo Jai was unaffected on the stage as he continued with the ceremony.
Just turned 49 on the 21st, Goo Jai revealed that he wished for good health on his birthday because only with health would he be able to do anything else. This year he had dinner with friends on his birthday. On the actual day he celebrated with his family. In past years Goo Ja would celebrate with fans but this year he cancelled it because he was worried about traffic issues.
Good friend Suen Huen revealed that she gave a birthday present to Goo Jai, but she did not reveal what it was. She said that it was rather suitable for Goo Jai. She said that she would put down her friends' birthdays on her notebook. Each time when she saw the reminder she would text her friends to congratulate them. Her friends would be very happy. Did Goo Jai like Suen Huen's gift? He said that he really did and said that he would remember her birthday. However Suen Huen said, "He was one day late! He should remember it for the rest of his life."
As for box office performance, Goo Jai admitted that he had expectations. As an actor he gave his all to the performance, but the box office was beyond his control. Of course he hoped that everyone would enjoy it. Suen Huen admitted that she felt the box office pressure, ultimately she could not just leave it after she was done. She still had to answer for some things.
When asked whether he and Suen would have further collaborations after BACK TO THE PAST (CHUM CHUN GEI), Goo Jai said, "We would, (what kind of characters would you play?) Suen Huen wants to play a villain, but for now we don't have anything planned." Suen Huen revealed that she has seen an American television series about a doctor with autism. She would like to give that a try since she would have the chance.
This Saturday (the 26th) would Keung Ho Man's 53rd birthday. He said that every October he would be busy with celebrations because his wife's birthday and their wedding anniversary were also close. Thus he would continue to celebrate. After 20 years of marriage, what would he give his wife for her birthday and their anniversary? He said that he asked his wife to get what she liked. In the end she bought jewelry, since his money all went to her anyway. He said, "This year we would have dinner with our family to celebrate. Originally every year my wife and I would go on vacation, but this year I will have to work. However I am very happy that I get to cut cakes at work."
Cheung Kai Chung revealed that in the film he often had to open fire, which made him very nervous and slept wrong on his neck. He also praised many elders like Nick Cheung Ka Fai, Koo Tin Lok and Sean Lau Ching Wan for looking cool with a gun. He in comparison still had a long way to go. He joked that later if he would have another chance to make a crime film he would learn to hold a gun first. Did his wife comfort him over his stiff neck? He joked that each time he had an arm injury he would exaggerate it ten times in hopes for more compassion. His son would also ask about the shoot. He also said, "When my son gets older, I want to take him to the set so he can understand how tough Papa's job is. He can also learn about the different jobs and admire each profession."