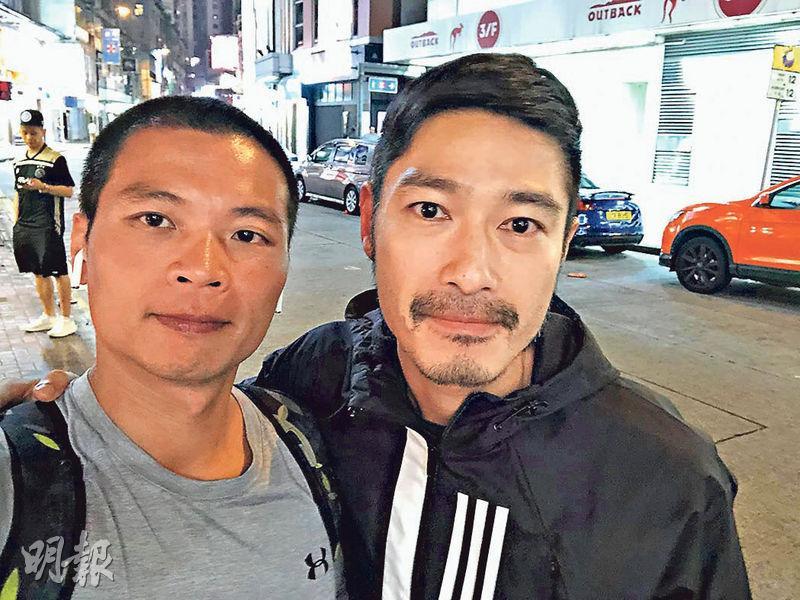 courtesy of mingpao.com
Gregory Wong Chung Hiu on September 30th morning was arrested at home over suspicion of July 1st Legislative Council "attempted criminal damage" and "entering or loitering in the conference hall area" to become the first artist to be arrested over the anti extradition protest. According to the Crime Ordinance, the maximum sentence for criminal damage without involving arson could be a 10 year in prison; according to the Legislative Council (Powers and Privileges) Ordinance, the maximum penalty for the violation of "entering or loitering in the conference hall area" is HK$ 2,000 fine and 3 months in prison.
Today is Wong Chung Hiu's 41st birthday. Two days ago he was held at the Wan Chai police station for 36 hours. Last night around 7:50PM he was released. Last night the Baptist University Journalism department's senior lecturer Lui Bing Kuen posted a photo with Wong Chung Hiu on facebook and said that he happened to run into the just released god in Causeway Bay.
Hong KOng Demosisto's Law Koon Chung later gave an update on Wong Chung Hiu's condition. "Thank you everyone for your concern. Wong Chung Hiu after 36 hours in police custody applied for a personal protection order through his lawyer with the Superior Court. After a hearing, Superior Court judge Lee Hong Leung issued the order. Wong Chung Hiu was already released on October 1st at 7:50 PM. Currently Wong Chung Hiu's case is related to the July 1st LegCo incident and included two charges 1: conspiracy to criminal damage and 2: entering or loitering in the Conference Hall area. Because the matter has already reached judicial procedures, we are not at liberty at reveal other details later. Thus we again thank the lawyer team that is responsible for the case, as they have provided rapid and professional assistance."
According to the police, A 30 year old man named Ma and a 40 year old man named Wong each was charged with "entering or loitering in the conference hall area". The case will be tried on October 3rd morning at the Eastern Magistrates' Court.