courtesy of on.cc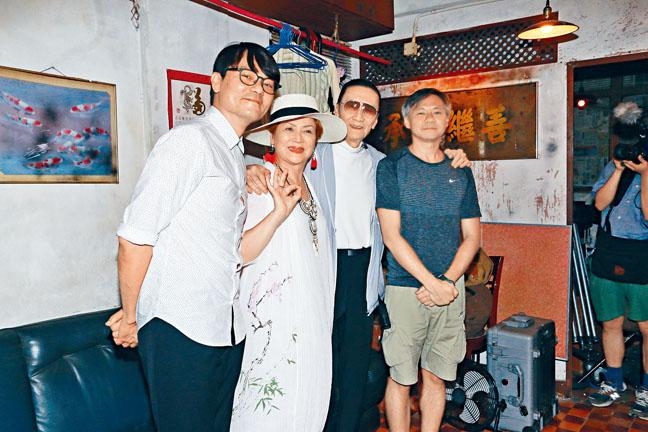 courtesy of singtao.com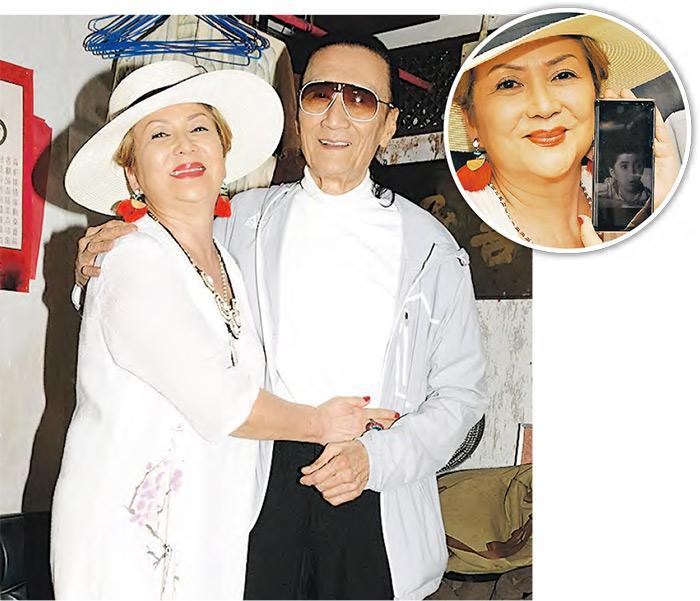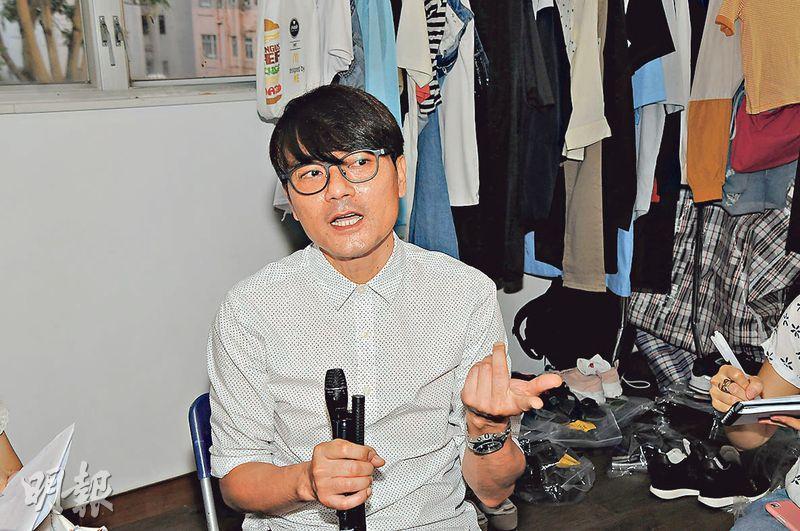 courtesy of mingpao.com
Black comedy SUK CHOOK GOR WONG FUN yesterday shot on location in Sai Wan yesterday. Leads Patrick Tse Yin, Petrina Fung Bo Bo, Lam Suet, producer Gordon Lam Ka Tung and director Ko Chi Bun attended. Sei Gor and Fung Bo Bo worked together again after 60 years. Sister Bo Bo said that at the time she was only 4 and Sei Gor played her father. As soon as she saw him she jumped on his lap and sat. He would carry her in his arms. Now Sei Gor joked that he could no longer carry Sister Bo Bo.
During the group photo, Sister Bo Bo after fixing her make up hug Sei Gor as soon as she saw him. S ei Gor said, "I already carry her in my arms since she was little!" Sister Bo Bo also said, "At the time I was 4 years old and played a boy. The first film together was DEEP IN LOVE (LIN LEI JI), Sister (Patsy) Ka Ling played my Mommy while Sei Gor played my Papa. This time we are playing retired killers. I still call Sei Gor Daddy and show him how to use the phone. However we haven't worked together in 60 years!" She even showed her child star photos that fans sent her on her phone. Sei Gor said, "This daughter, I carried her in my arms. This time as soon as she saw him she hug me tight and gave me a kiss!" Sister Bo Bo whined, "As soon as I saw her I jumped on his lap and sat, but he said not to crush his bones!" Sei Gor joked that he could no longer carry Sister Bo Bo. He also was envious that she had two children and he did not. "My children ignore me. My son is grown and has his own world. However I have a few grandchildren!"
Speaking of his daughter Jennifer Tse Ting Ting's new baby, Sei Gor pointed out that he saw a few times a year ago. Later she probably would bring the baby to see Grandpa. Sei Gor said, "I haven't seen the baby, I only found out in the papers!" Sister Bo Bo said that Sei Gor did not even know how to use WhatsApp. In order to send his photos she taught him how to use it. She would even text him to go to dinner together, but Sei Gor would be too busy with dates. He also had to hike so (Nicholas Tse) Ting Fung was not the one who would not keep him company.
When asked about her earlier accident, Sister Bo Bo said, "When I was at the hospital I had a z shaped bandage on the bridge of my nose to stabilize it. Five days later it was removed. However after resting for a month, I went on stage to present an award to Sammo (Hung Kam Bo). Now I would rely on the make up artist to massage it a little. Once though I got nauseous from it, perhaps the dislocation would also affect the entire head!"
Sister Bo Bo produced producer Gordon Lam Ka Tung took great care of mature actors like them. Although each time they would work 14 hours, but they would get two days off. She was able to get enough sleep and have facial treatment before she returned to work. She even had a driver. "With such great treatment, I wouldn't mind coming to work again next time. I really was scared away previously!" In order to thank Ka Tung, on his birthday Sister Bo Bo made the vegetable juice that she had for breakfast everyday in Malaysia for him. She called it "friendship juice".
Earlier Chen Chen was hospitalized. How was she? Sei Gor jokingly asked which Chen Chen because there were several Chen Chen. Reporters said that they meant his former wife as they heard that she has recovered. He joked, "I have to think about what she looks like. She got better? Really?" Reporters even reminded him when he brought flowers to visit her, she got dizzy. Sei Gor said, "Really? I can't remember. I am calling her now!"
Gordon Lam Ka Tung produced the black comedy SAK CHOOK GOR WONG FUN, but he did not star because everyday he had to take care of elders Tse Yin and Fung Bo Bo. Ka Tung pointed out that when he went to Malaysia to invite Sister Bo Bo, two weeks later Sister Bo Bo's car crush took place. Fortunately she was fine. He was able to invite Sei Gor for this rare team up. "Sei Gor is still very young right now, but this time I prohibited Sei Gor from chok, tilting his head. I want to show the audience an all new Sei Gor. He can be very handsome even without chok." Ka Tung revealed that Sei Gor played a retired killer who excelled in blades, after retirement he became a sliced noodle chef. In the film he had many action scenes, yet when work began he often looked stifled from not being able to chok. As soon as he had a fight scene he was alert and energetic. One day the director asked for a final crying scene from him. Ka Tung asked people to get eye drops but Sei Gor declined. He even shed real tears as soon as he took his mark. "I was worried and asked if he was fine? Sister Bo Bo had 3 types of emotions for one line. So I am very honored to be able to work with these elders." Ka Tung said that he had to go to Xiqiao for Wong Jing's new film and got sick from commuting back and forth. However he still enjoyed the experience.