courtesy of on.cc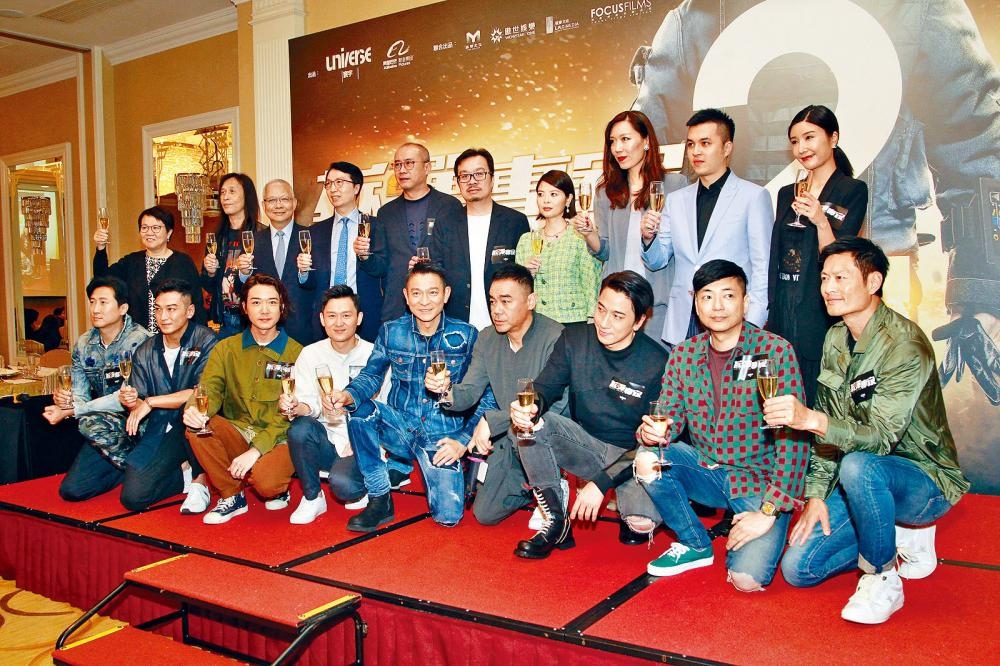 courtesy of singtao.com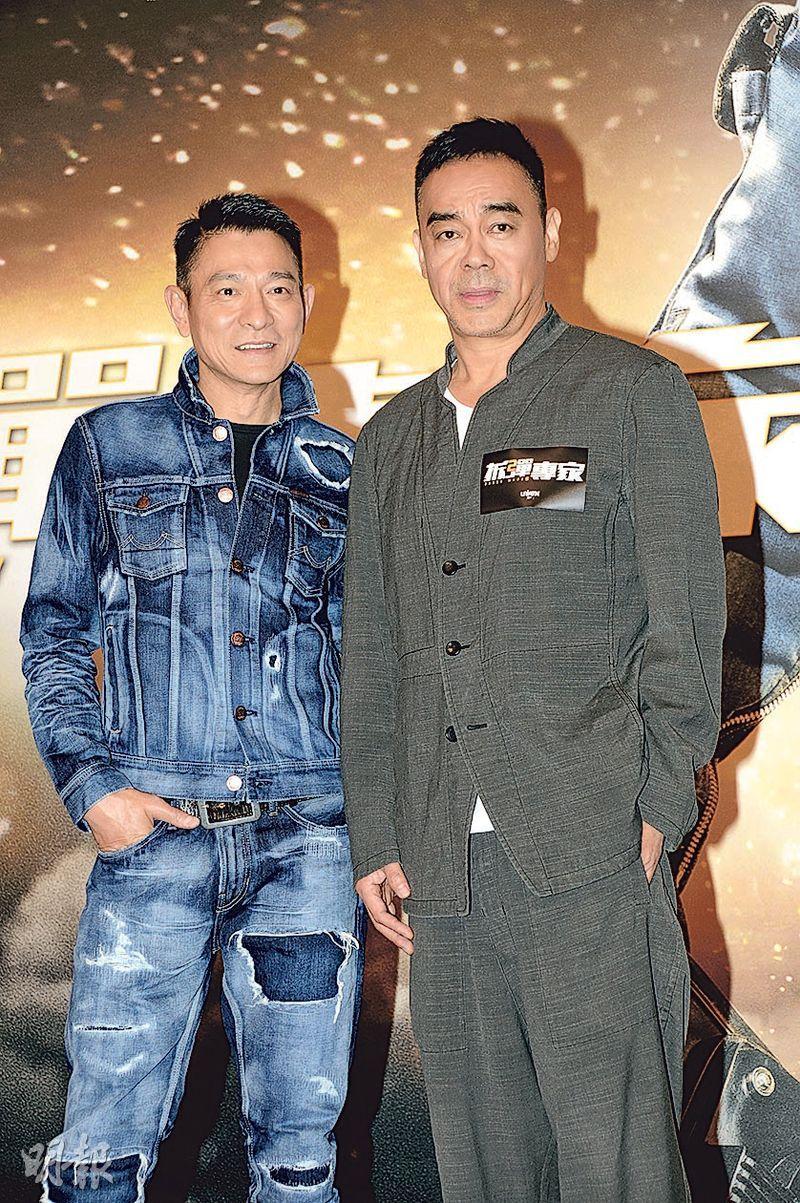 Andy Lau and Sean Lau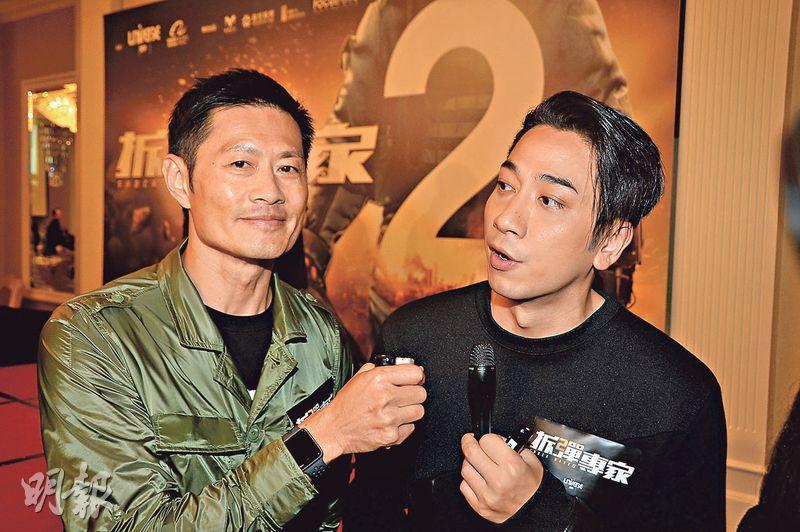 Kenny Wong and Ron Ng
courtesy of mingpao.com
Andy Lau Tak Wa, Sean Lau Ching Wan, Ron Ng Cheuk Hei, Kenny Wong Tak Bun, and director Herman Yau Lai To two nights ago attended the film SHOCK WAVE 2 (CHAK DAN JUEN GA 2) production wrap banquet and conducted a bomb disposal ceremony on the stage. Director Yau Lai To successfully defused a bomb. Wa Jai said, "This bomb didn't explode, but our movie definitely will!" Wa Jai felt that this film was tougher than the last. He was tied up in a mini bus that was seven stories in the air. On the other hand Ching Wan said that it was not too bad. Wa Jai joked that this proved Ching Wan was in better shape than he was.
Working with Wa Jai again, Ching Wan said that this time was very pleasant. Was the shoot difficult? Ching Wan said that it was not too bad because the director made great arrangements. His time evaluation was very accurate and he was very clear about what needed to be shot, thus the production went very smoothly. However Wa Jai said that this time was tougher than the previous film, perhaps because last time was before his injury. It also proved that Ching Wan was in better shape than he was.
Speaking of the production, Wa Jai said that in one scene a helicopter picked up a mini bus. At first they thought they would at least take four days, but they finished it in one. The most interesting was a lot was beyond their expectation. Ching Wan said that during mark testing the director said that the helicopter would rise to the height of one tire for the shoot, but as soon as they started they were seven stories above. Wa Jai said, "At the time we were trapped in seat belts in the mini bus. The crew did that to keep us from climbing out of the mini bus, but they never thought what they would do if the mini bus fell. We would still be in the mini bus. Haha!"
After completing SHOCK, Wa Jai said that he would not have any job until July when he would promote the film WHITE STORM 2 DRUG LORDS (SO DUK 2 TIN DEI DUI KUET). Did he want to reduce his workload? He said that it was close to in the past, as he would make one or two movies a year. In September he will perform a concert in Malaysia. Did he comfort his friend Sammi Cheng Sau Man over the "On Sum affair"? Wa Jai said, "We would talk about that personally." As for Ching Wan, after the shoot he would take a vacation with his wife.
In addition, Anthony Wong Chau Sun earlier at the 21st Udine Far East Film Festival received the Golden Mulberry Award for Outstanding Achievement. Would he take Chau Sun to dinner to celebrate? Ching Wan said, "He should ask us to celebrate." Wa Jai agreed, "You are right, he should treat us. He made so many movies because we kept supporting him. I saw all of his speech. He should take us to dinner." Ching Wan said, "I agree."
Chau Sun said that he would consider changing to a bonus standard. Would Wa Jai use it next time he would work with Chau Sun? Wa Jai said, "I pay the highest salary, you name your price and I pay you! (Chau Sun said that bonus may pay even more?) Don't you believe that, I am not Winnie (film company executive). She can give it to you, but I can't."
As for paying bonus instead, Ching Wan felt tha each person's choice would be different. He would try to be simple and clear. "After I get it I leave. (Is Chau Sun not afraid of people owing him money?) No one should mind money issue, when a script is right people would very naturally step into it."
Ng Cheuk Hei pointed out that this film has been happier than the first film because he had a larger role. Did he get hurt? He said a little. "In one scene I didn't know I have to hurdle a barrier outside IFC until I got there, not to mention several barriers in a row. During the shoot I didn't know. When I got home I realized I was hurt on the calf. In another gun fight I didn't wear additional padding and hurt my hand."
He said that this time he was very happy to have many scenes with Ching Wan and even took the chance to take pictures. He said, "If I can I would like to get (Tony) Leung Chiu Wai another time. Earlier we worked together on WHERE THE WIND BLOWS (FUNG JOI HEI SI). I of course want to collect Fat Gor (Chow Yun Fat) the most."
Wong Tak Bun said that at TVB he never worked with Ching Wan. This time he had many scenes with him. When not in a shot watching him act was a pleasure.