courtesy of on.cc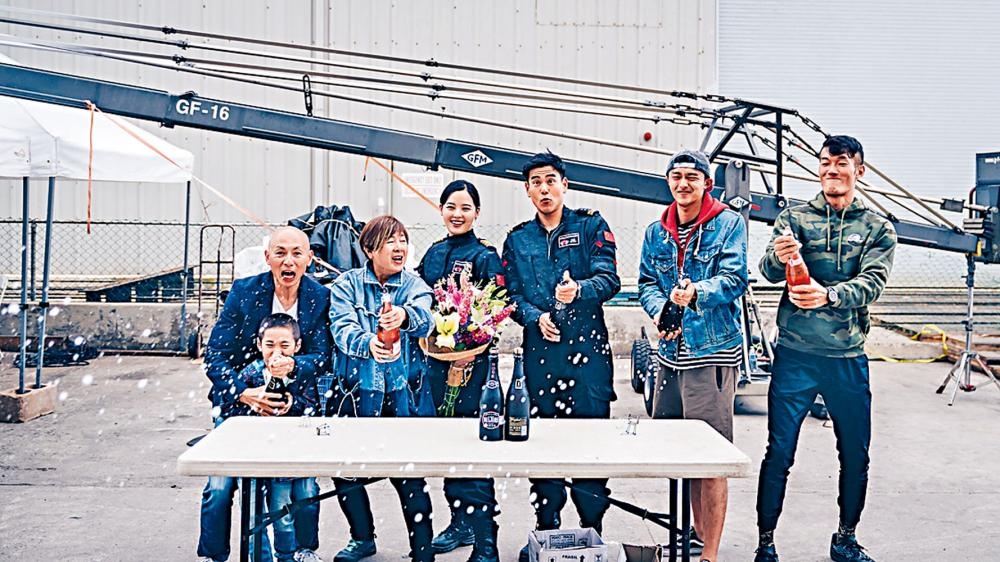 Dante Lam, Candy Leung, Xin Zhilei, Eddie Peng, Xu Yang and Wang Yutian celebrate the wrap
courtesy of singtao.com
Dante Lam Chiu Yin's new film THE RESCUE (GUNG GUP GAU WOON) after 6 months of intense productions yesterday announced its production wrap in Mexico. Lam Chiu Yin even took Eddie Peng Yu-Yan and dove 30 feet below underwater to the "rescue unit"'s daily work location to open bottles of champagne to celebrate the production wrap.
Director Lam Chiu Yin and lead Peng Yu-Yan's underwater champagne celebration left many in awe. This was an unique way to wrap up production and showed the film's mad production condition.
Director Lam Chiu Yin's "Demon Nature" was better than before in THE RESCUE. To meet the story's demands, actors joined the team early before the production began to focus on their training. With a diving certificate already Peng Yu-Yan also specialized in free diving training. Everyday he persisted in physical training with everyone. Ian Wang spent more than in the gym than in bed to get into beyond expectation shape. Xin Zhilei also learned all swimming styles and diving. After the shoot began everyday she still had to continue the 6 hour underwater training.
The military training format of eating, drinking and training together not only provided the "rescue unit" with the physical conditions to meet the demands but also enabled the unit to be filled with the spirit of unity from the start of the shoot. As actors gradually wrapped up productions, Eddie Peng Yu-Yan, Ian Wang, Xin Zhilei, Wang Yutian, Xu Yang, Li Mincheng and others thanked the team and the director on social media and reluctantly bid farewell.
THE RESCUE cost over HK$ 800 million. The team, in order to perfectly bring to life the rescue heroes' daily lives and various dangerous situations, not only constructed a sea rescue command center in Fuzhou but also shot on location in Mexico to achieve the most realistic disaster scenes. This meant that THE RESCUE would be even more international. Lam Chiu Yin gathered the industry's top filmmakers for this film, including the gold label producer Candy Leung Fung Ying, Oscar Best Cinematography award winner Peter Pau Tak Hei, Oscar winner for Best Visual Effects John Frazier, TITANIC artist Martin Laing, OPERATION RED SEA's veteran English special effect make up director Matthew Smith.
The wrap also took place during the Cannes Film Festival, where THE RESCUE landed on the cover of the Variety Cannes edition.