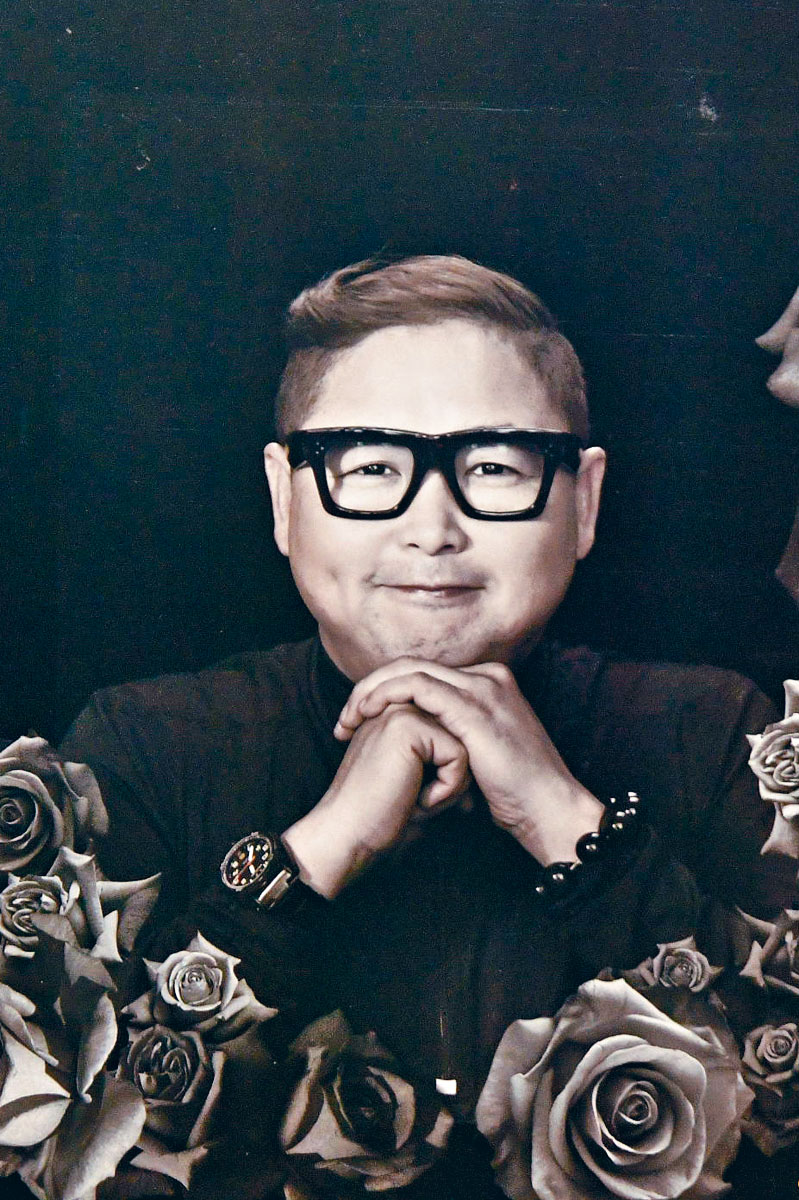 The smiling photo represents Wilson Chin's brilliant life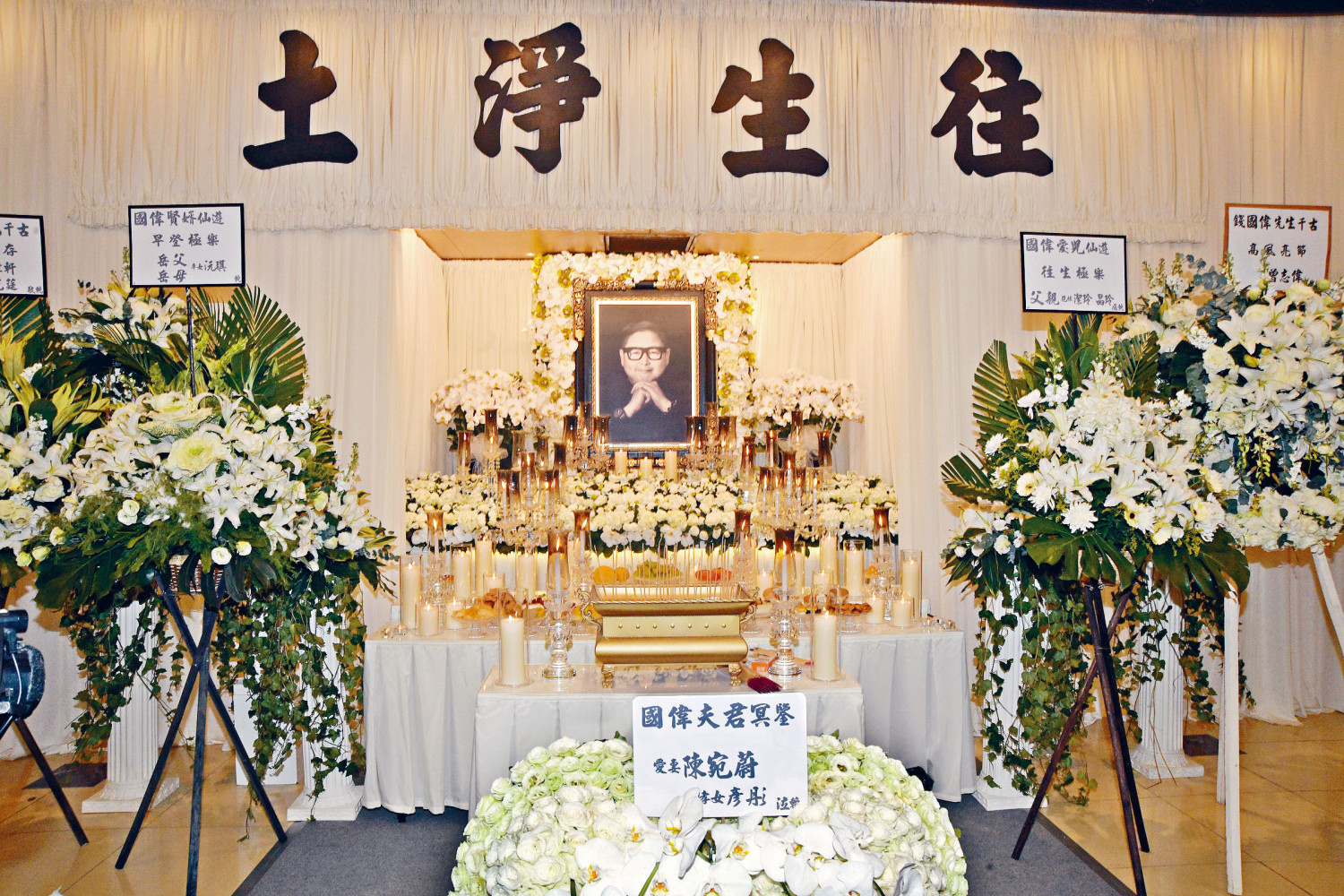 widow Calinda Chan and their daughter's floral arrangement is featured at the center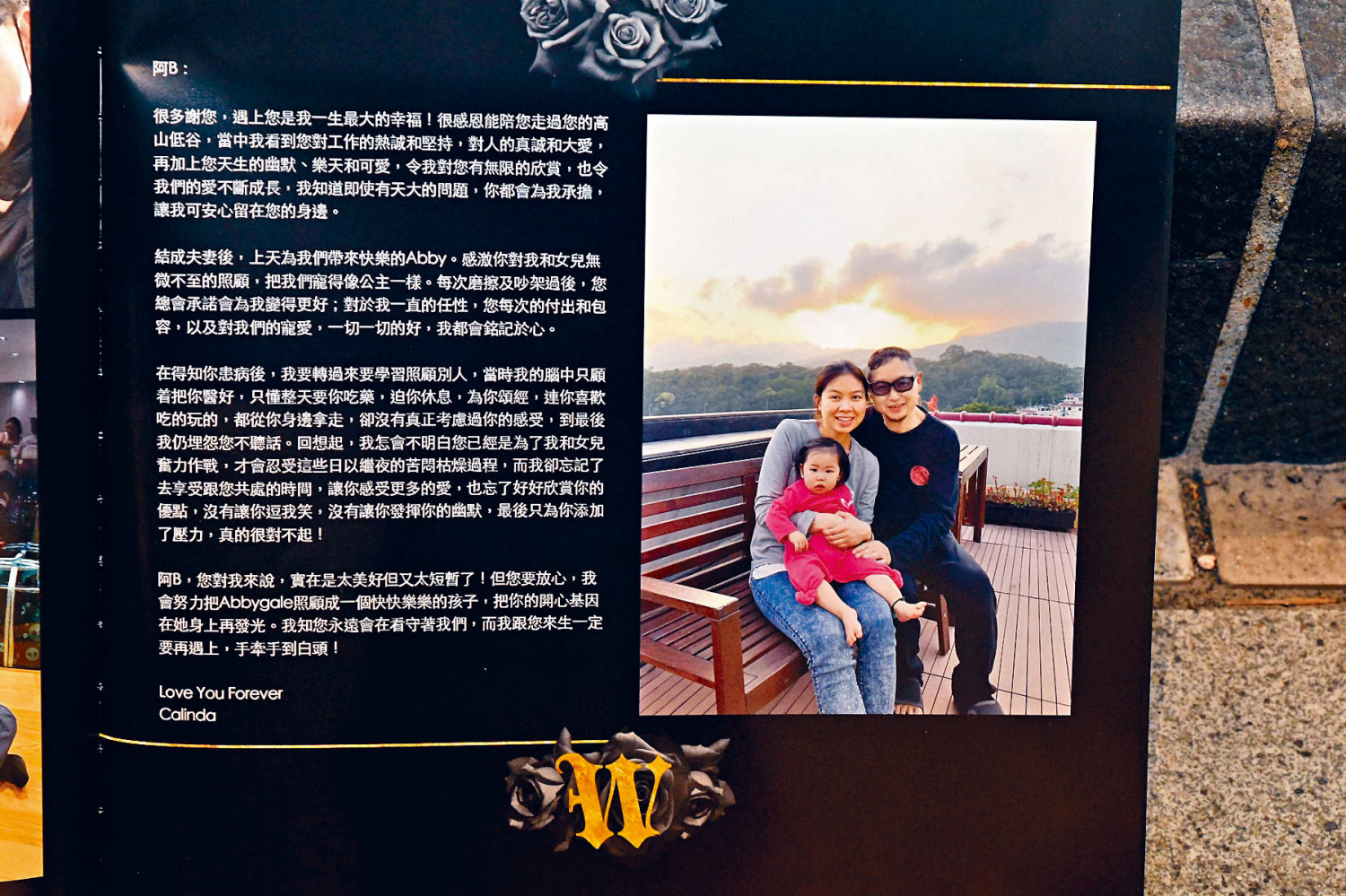 The program has family photos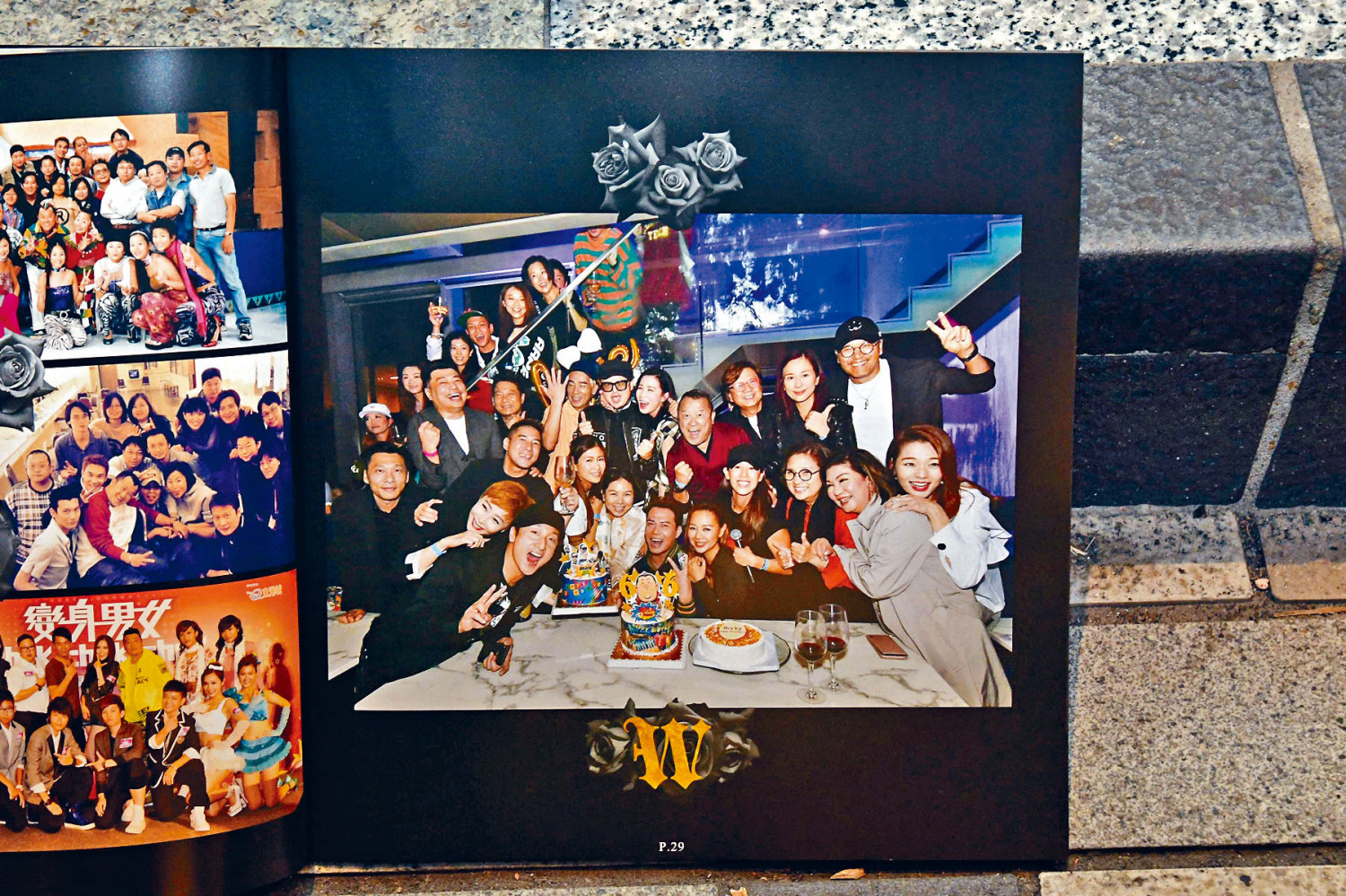 The program has many happy moments
courtesy of singtao.com
(back left) Ekin Cheng, wife Yoyo Mung, Chin Kar Lok (front left) Sandy Lam, Jerry Lam help the family with the affair
Wilson Chin had great luck with people
Calinda Chan promises to work hard and take care of their daughter
Eileen Yiu regrets not properly bidding Wilson Chin farewell
Lily Hong arrives with her two sons
Andy Hui, Dicky Cheung, William So
courtesy of on.cc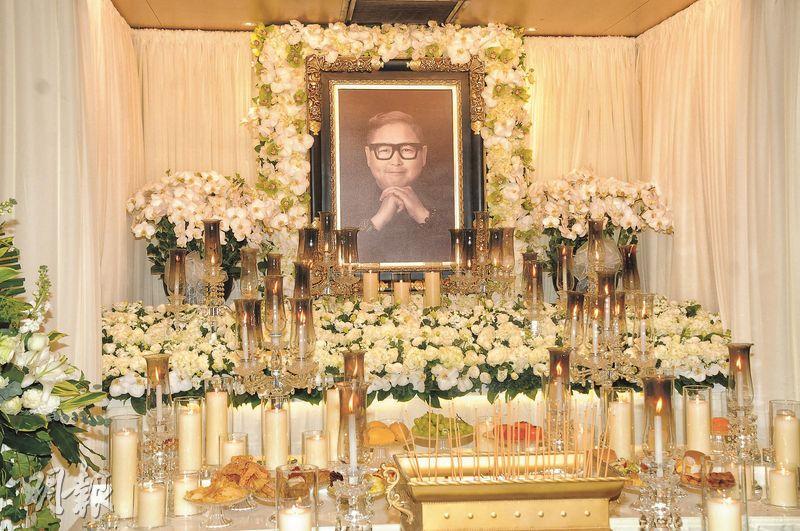 Wilson Chin's photo is surrounded by a sea of flowers and candles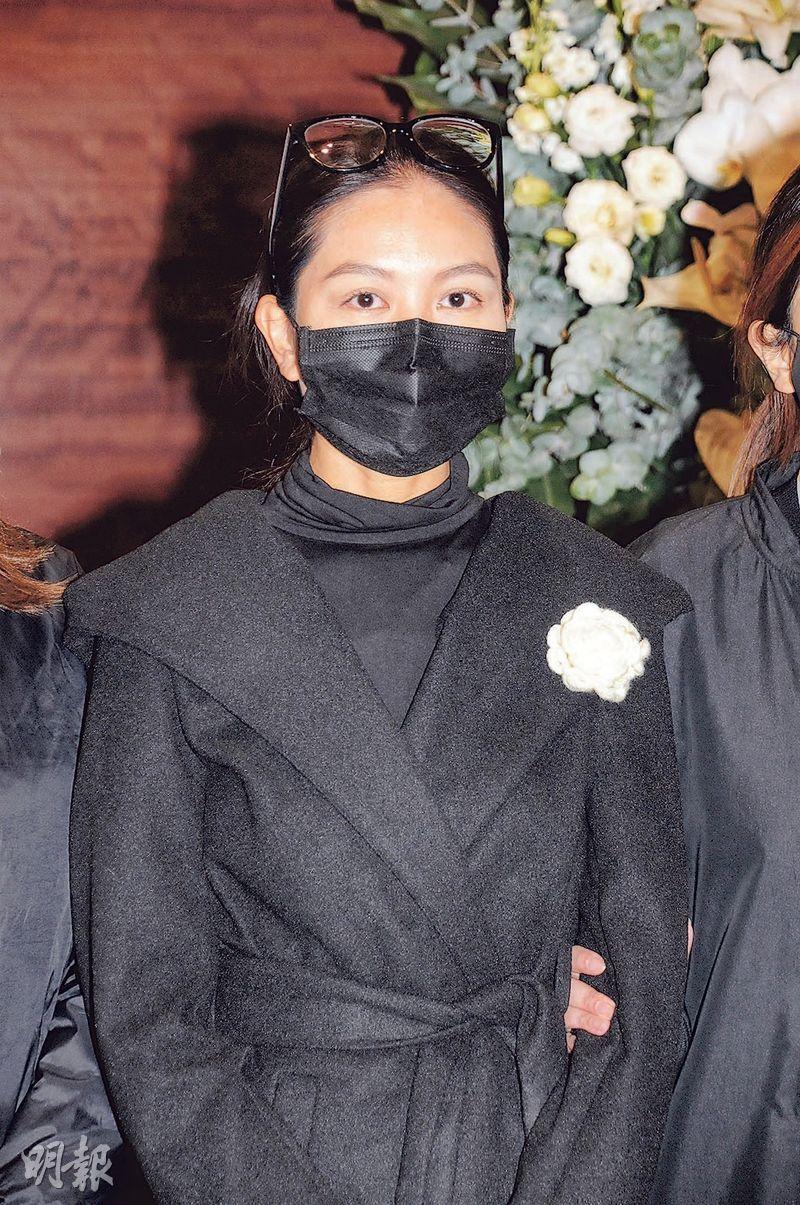 Calinda Chan says that her husband lived life to its fullest and had no final wish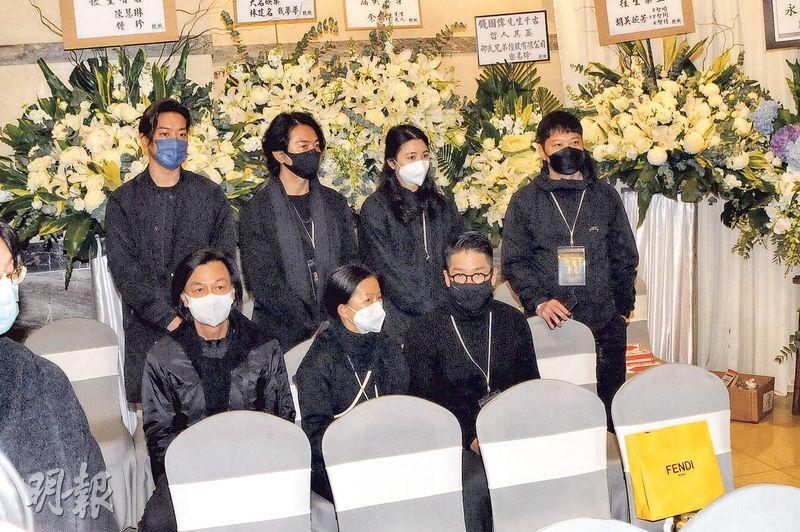 (back left) Lai Lok Yi, Ekin Cheng, Yoyo Mung, Chin Kar Lok (front center) siblings Sandy Lam and Jerry Lamb (front right) sit with Chin's family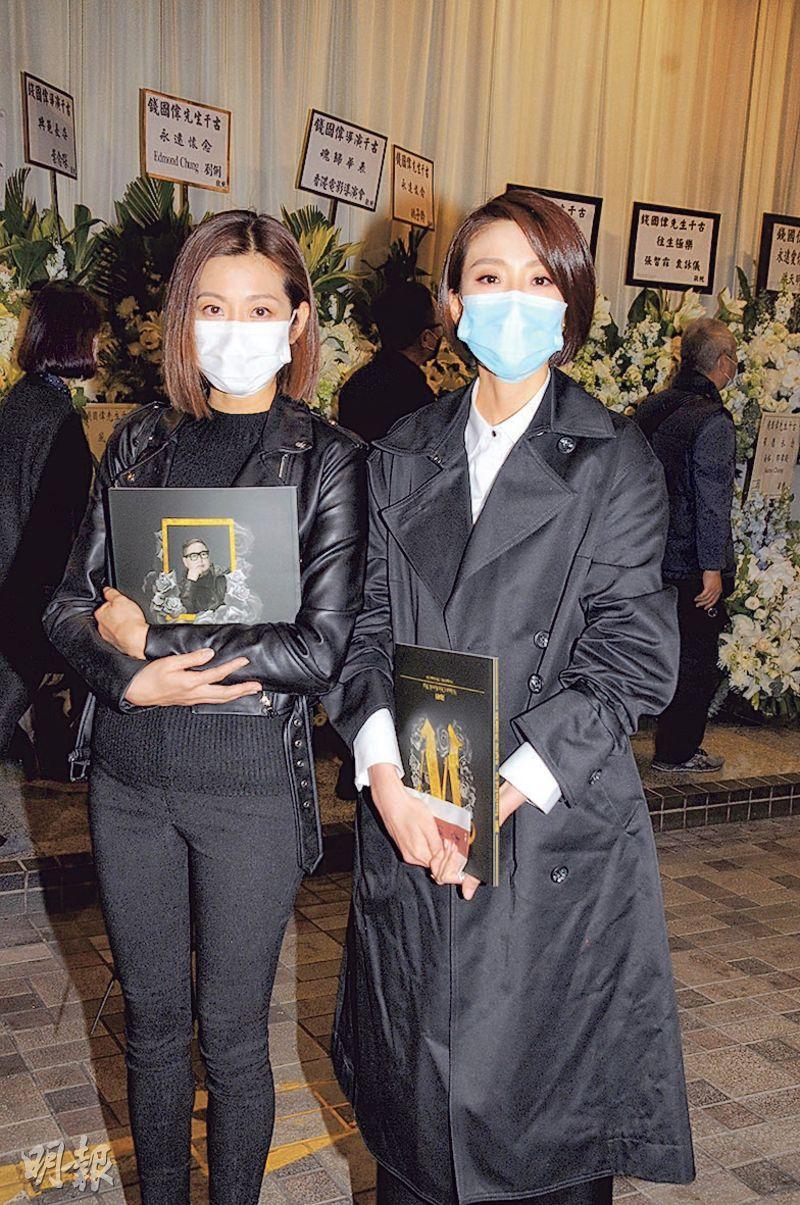 Yoyo Chan and Eileen Yiu bid farewell to Wilson Chin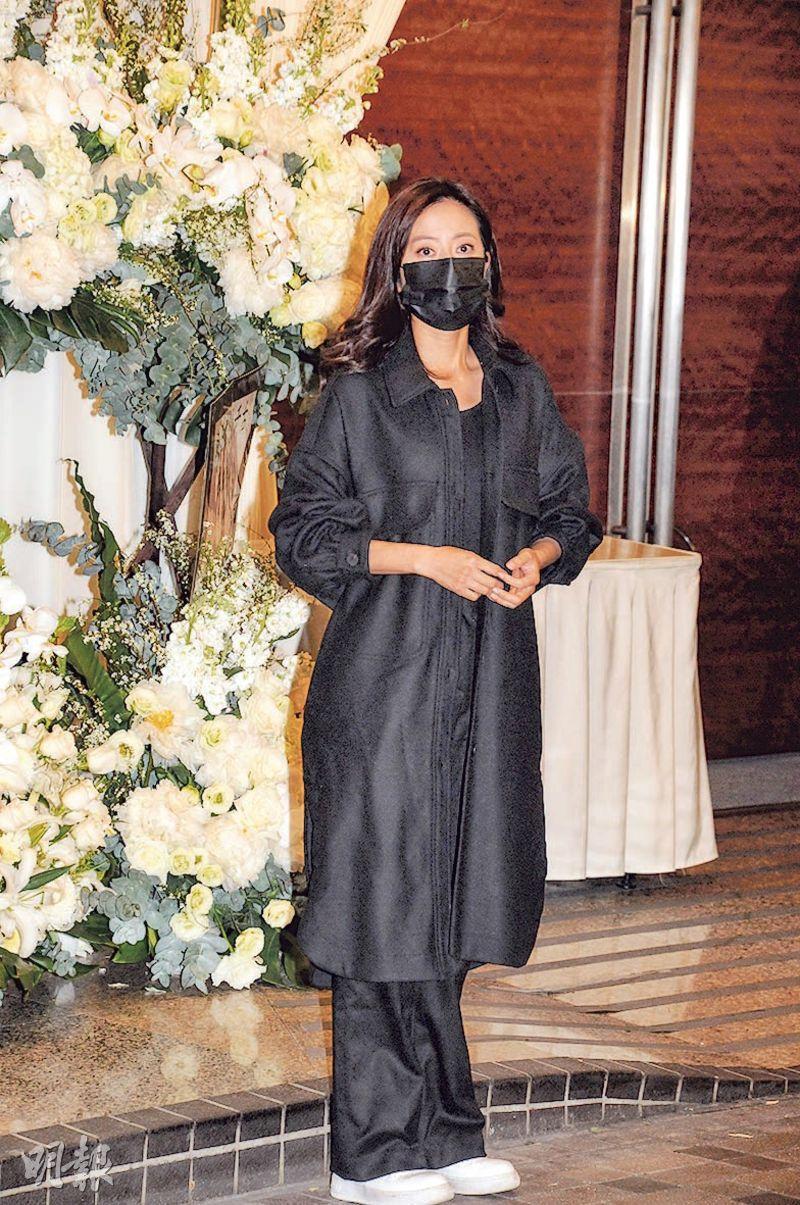 Natalie Tong says Wilson Chin was her benefactor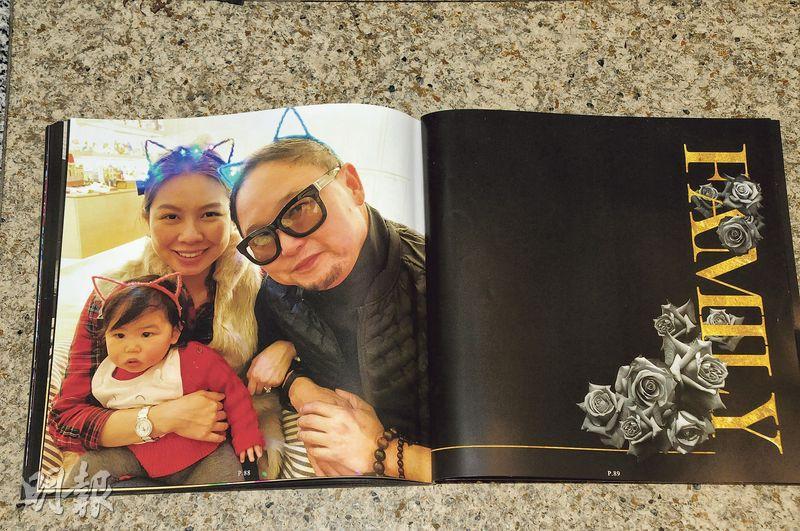 The program has photos from Wilson Chin's life, work and friends, and of course photos with his wife and child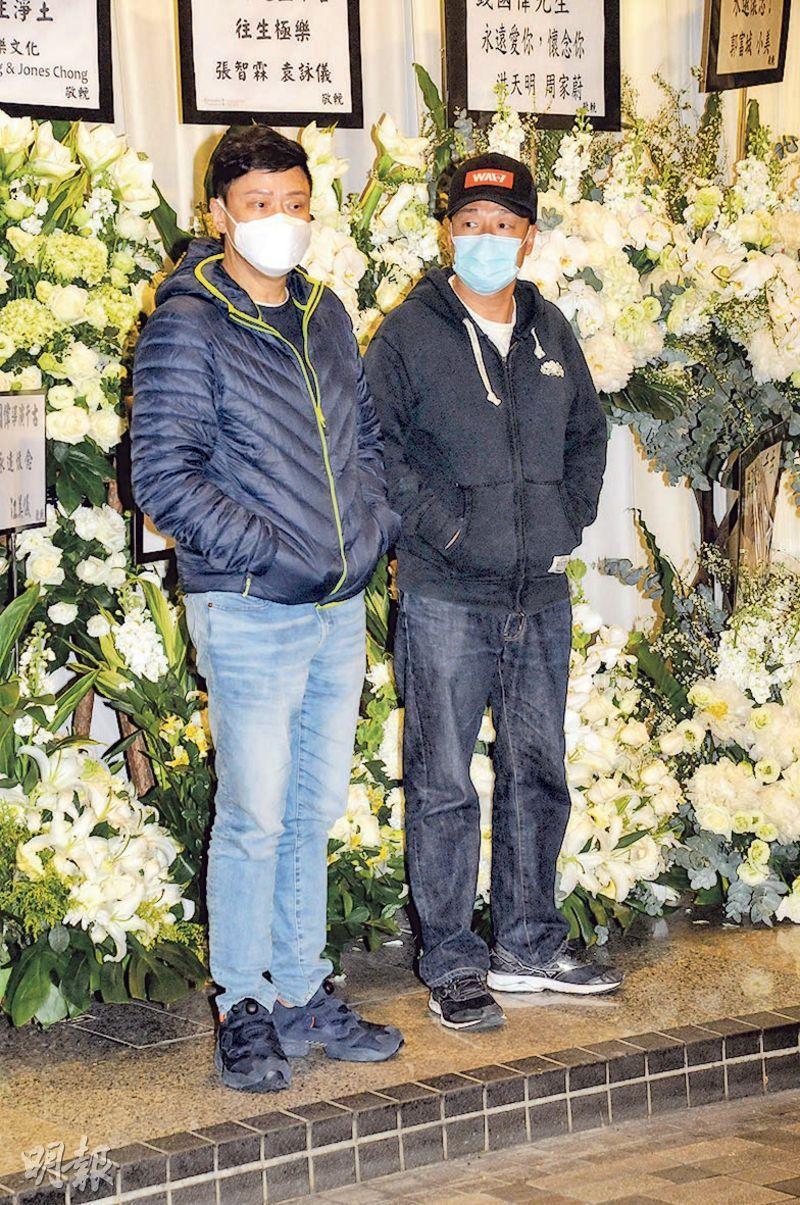 Stephen Chan and Wong Hei, the former wrote the program foreword and praised Wilson Chin as righteous and loyal
Law Kar Ying, Charlene Choi and Jeana Ho pay their respect
courtesy of mingpao.com
Famous producer and director Wilson Chin Kwok Wai on October 27th passed away from cancer at age 59. The family began services for him yesterday at the Po Fook memorial hall in Tai Wai, Sha Tin. The ceremony was Buddhist. After the funeral this morning the remains would be transported to the Fu Shan Crematorium for cremation.
Due to the pandemic, the event made special arrangement as family and friends would have to make reservations. Every 10 minutes they would enter the hall in groups to pay their respect. Masks were required. The hall's original capacity was 250 people, but at most only 150 people was permitted to enter at once. Entrants must obey pandemic prevention regulation. No one showing any symptom would be permitted to enter.
Although Chin Kwok Wai's widow Calinda Chan Yuen Wai urged family and friends to send cash in lieu of floral arrangements, the hall was still filled from them from industry friends inside and out. They came from Andy Lau Tak Wa, Jacky Cheung Hok Yau, Aaron Kwok Fu Sing and Siu Mei, those three was placed outside the hall in the most eye catching place. The two sides of the hall were filled with ones from Eric Tsang Chi Wai, Chin Kar Lok and his wife, Dicky Cheung Wai Kin, William So Wing Hong, Edmond Leung Hon Man, Andy Hui Chi On, Leo Ku Kui Ke, Louis Koo Tin Lok, Andrew Lau Wai Keung, Albert Yeung Sau Sing and others. Others included Jackie Chan, Stephen Chow Sing Chi, Kelly Chen Wai Lam, Nick Cheung Ka Fai, Simon Yam Tat Wa, Alex Fong Chung Shun and his wife, Wong Cho Nam and his wife, Charmaine Sheh Sze Man, Ron Ng Cheuk Hei, Chin Kwok Wai were very well connected in life.
Those who came to pay their respect included Alex Fong Lik Sun, Tam Yuk Ying, So Wing Hong, Kelvin Kwan Chor Yiu, Owen Ng Wan Po, Alex Lam Tak Shun, Chan Kwong Wing, Angela Tong Ying Ying, Janet Chow Ka Wai, Lily Hong Chi Nei and her two sons, Natalie Tong Sze Wing, Ho Lai Chuen, Cheung Wai Kin, Hui Chi On, Ben Wong Chi Yin, Shiga Lin, Joyce Cheng Yun Yi, Yoyo Chan Chi Yiu, Eileen Yiu Chi Ling, Ng Yuen Fong, Law Kar Ying, Charlene Choi Cheuk Yin and others.
The event yesterday afternoon arranged for the media to pay their respect and for photos. Before entering they were subject to a temperature check. The hall was decorated in white. In his photo Chin Kwok Wai had his hands under his chin and smiling. Widow Calinda Chan Yuen Wai and daughter Yin Tung's heart shaped white floral arrangement was placed at the center. Chin Kwok Wai's friends Dior Cheng Yi Kin, Yoyo Mung Ka Wai, Jerry Lamb Hiu Fung, Chin Kar Lok, Lai Lok Yi, Sandy Lam Shan Shan and Lai Chi Shan helped the family with the affair.
The event also distributed programs, in which Chin Kwok Wai's friends and family wrote eulogies. Aside from widow Chan Yuen wai, Leo Ku Kui Ke, Lai Lok Yi, Alex Fong Lik Sun, Nancy Sit Ka Yin, Eileen Yiu Chi Ling, Natalie Tong Sze Wing, Yoyo Chan Chi Yiu, Hacken Lee Hak Kun, Andrew Lau Wai Keung and others also contributed. The program also had many family photos, photos with friends in the industry and on the set photos. SUPER TRIO's leader Eric Tsang Chi Wai was unable to attend the funeral because he was in the Mainland.
Around 5 PM, Chin Kwok Wai's widow Chan Yuen Wai in the company with her younger sisters, along with friends Chin Kar Lok, Lamb Hiu Fung, Lai Chi Shan and others spoke to the press. Chan Yuen Wai appeared to be calm and thanked everyone. However when she spoke of her late husband she got teary eyed. "I still have to face it. I know my husband definitely would have wanted everything to be at its best, so I have to succeed his spirit, properly take care of the family and our daughter. (Does your daughter know that Papa passed away?) I spoke with her. She is between knowing and not knowing. She would need time to adjust. She cried as she looked for Papa, because Wilson really doted on her." When asked about her finances, she strongly smiled and sad, Wilson was the family's financial pillar, but I can sense the care and love from many friends. I will work again, I will work hard and live. I will do my best."
Chin Kar Lok said that of course he would miss his friend, but he still had to face it. Jerry Lamb Hiu Fung would probably miss him the most because he went with Chin Kwok Wai to see the doctor. Natalie Tong Wing Sze started with Chin Kwok Wai's HEART OF FENCING. She praised how great Wilson was and learning to struggle for him. He was her benefactor.
Big Four's Dicky Cheung Wai Kin, William So Wing Hong and Andy Hui Chi On paid their respect. Cheung Wai Kin said that Big Four's concert started from zero with Wilson in charge. Everyone built a very deep friendship. Did their friendship make it like Big Five? So Wing Hong said, "You can say that, he burrowed himself into our hearts long ago. Big Four made a little achievement in music and art, Wilson was the leader and deserved the credit. When we conceived how the Big Four would be like, we all thought of Wilson. You really can say it's Big Five." Cheung Wai Kin agreed, "If Big Four are the four limbs, Wilson would be our brains. I wish all the best for his family."
Eileen Yiu Chi Ling and Yoyo Chan Chi Yiu spoke to the media together. Chi Ling said that she has known Wilson for many years, without him she would not be here today. She thanked him for giving her the opportunity. She said that she was a little regret and then broke donw. "Because before Wilson passed away I didn't properly bid him farewell. Knowing that he went elsewhere would make everyone happy."