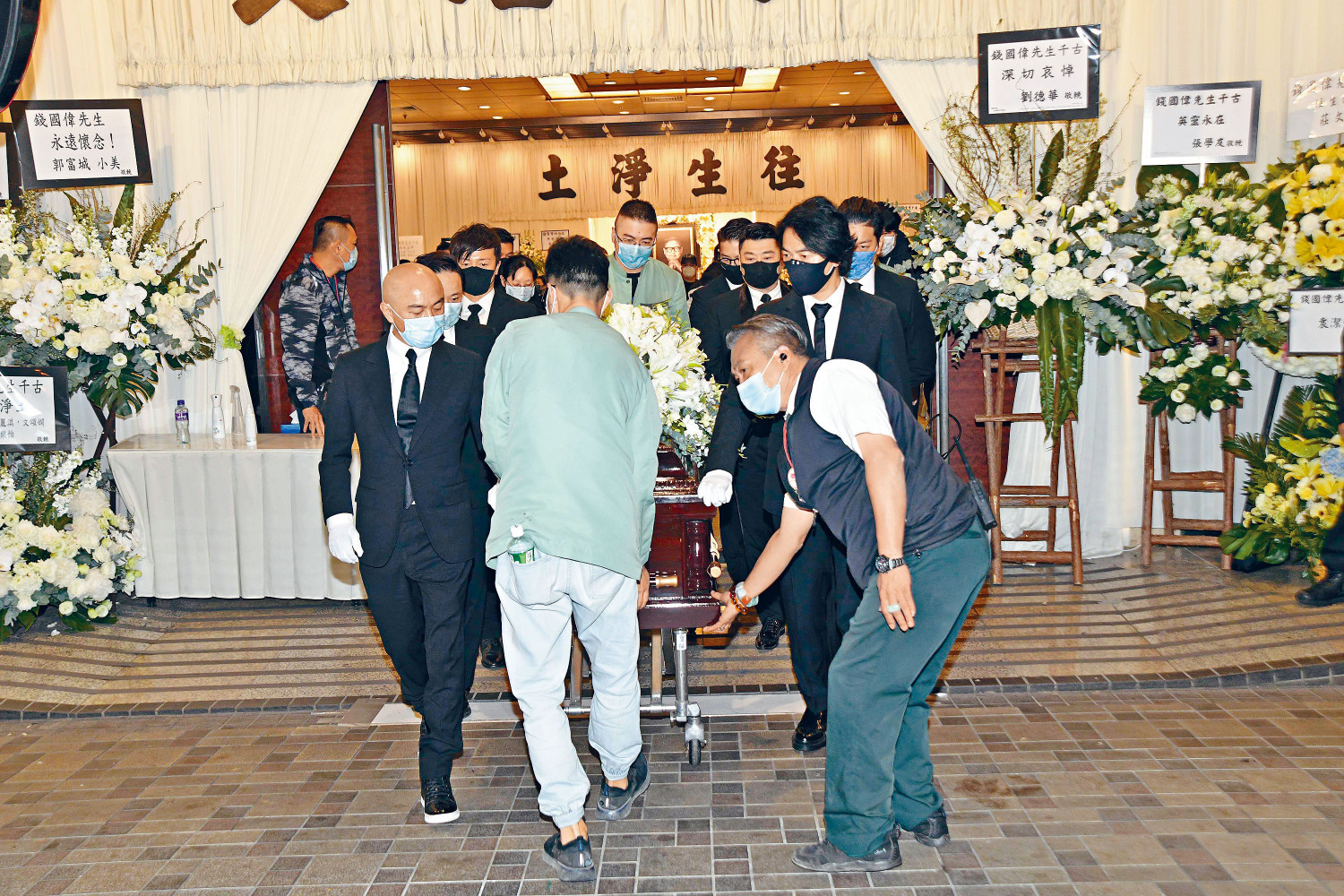 Dicky Cheung and Ekin Cheng were among the eight pallbearers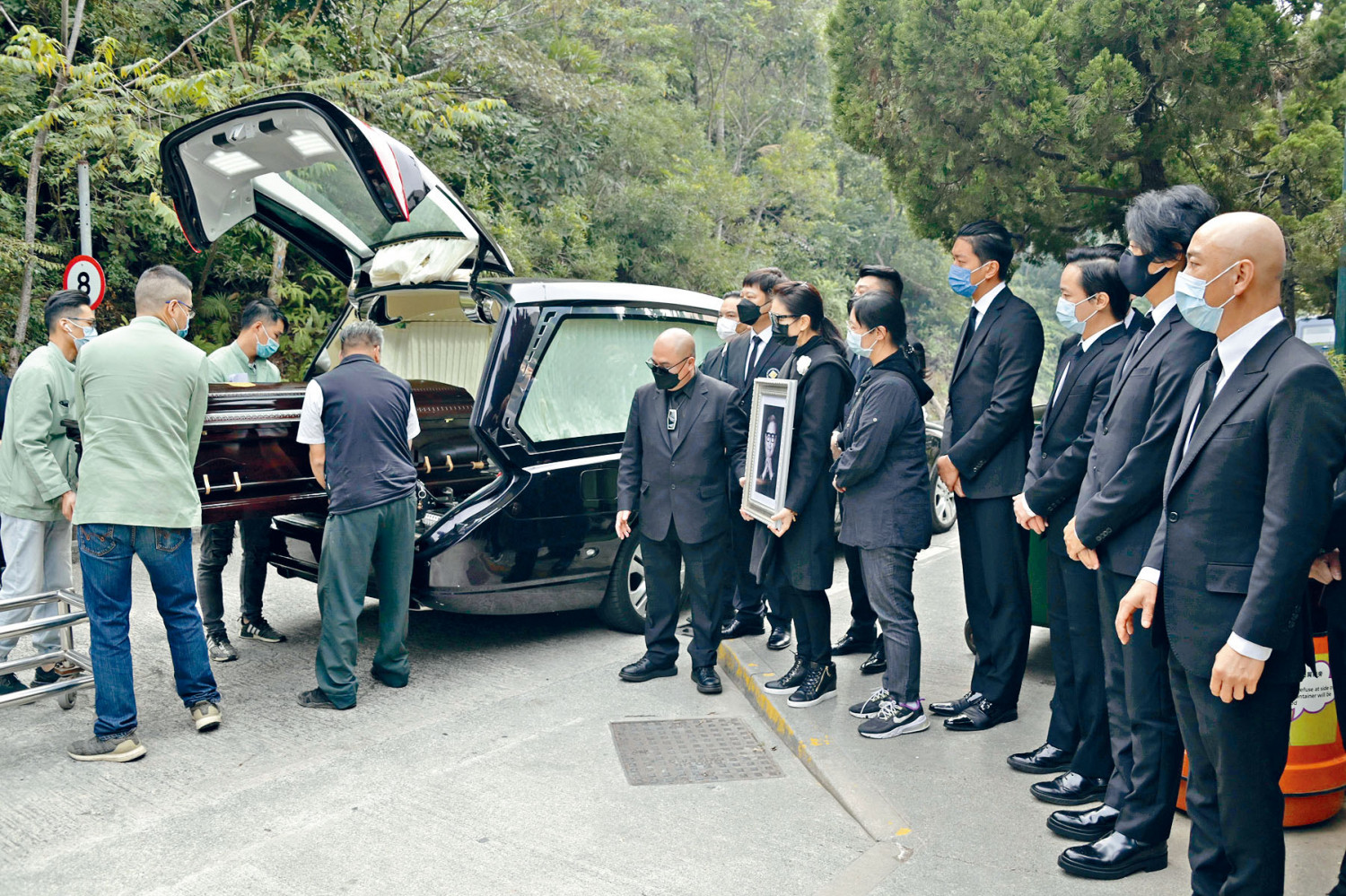 Everyone witness the coffin being transported to the crematorium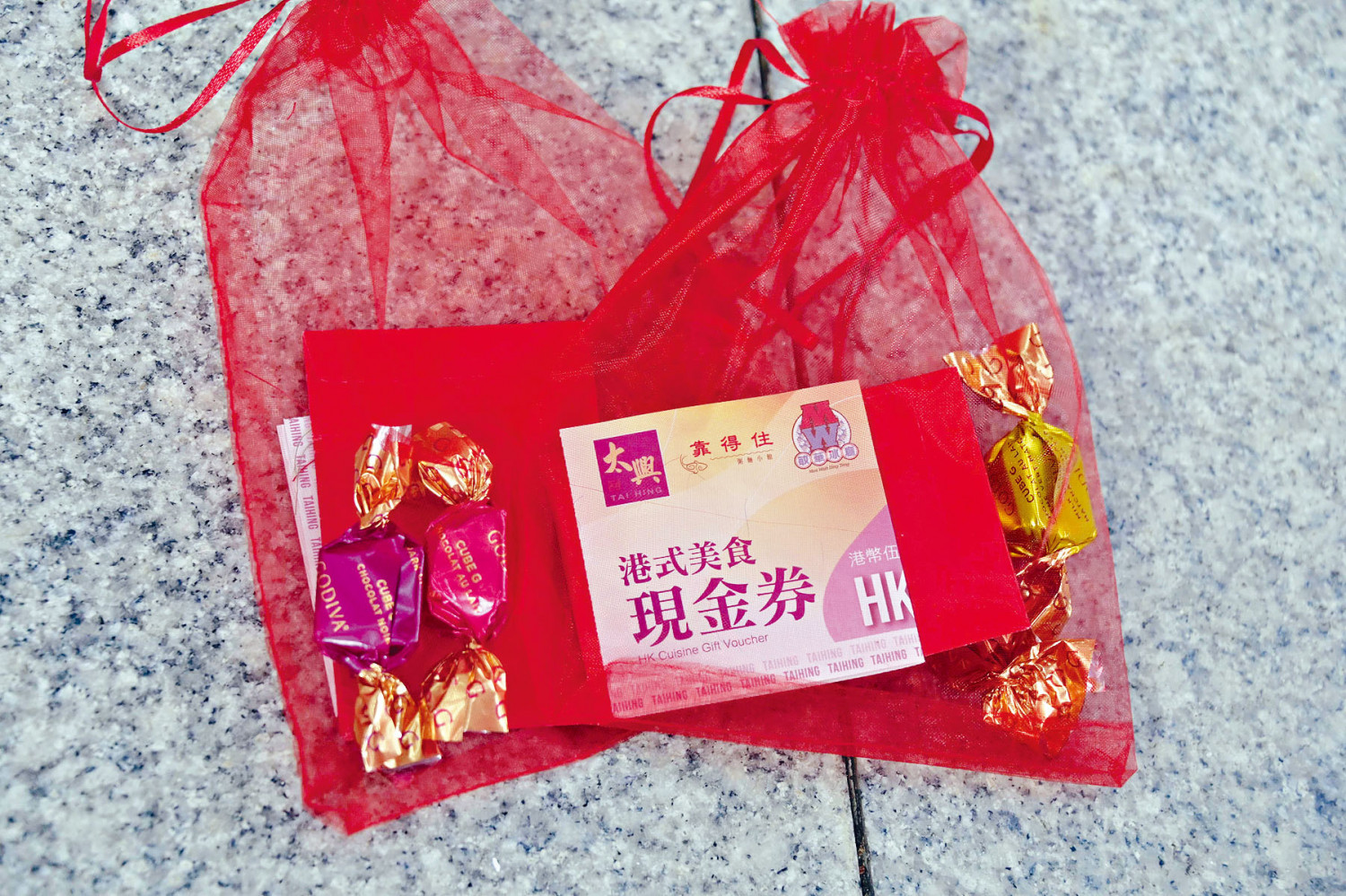 food coupon and lai see were distributed in lieu of a cleansing banquet
courtesy of singtao.com
Widow Calinda Chan sorrowfully carries Wilson Chin's photo
The pallbearers carry the coffin out of the hall
Chin Kar Lok, Alex Fong Lik Sun
courtesy of on.cc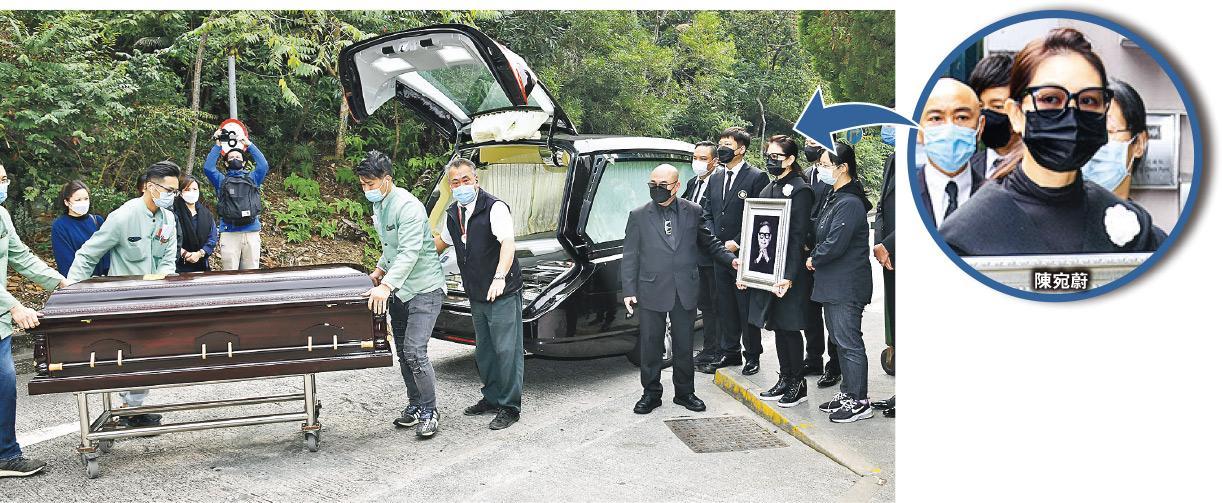 Calinda Chan's final words to Wilson Chin: "No hurry, take your time."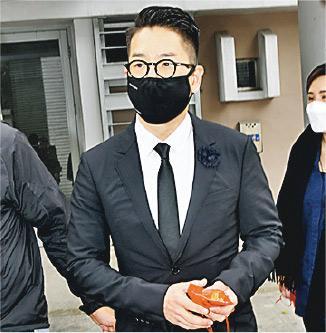 Jerry Lamb picked out the hearse in hopes of Wilson Chin would go in style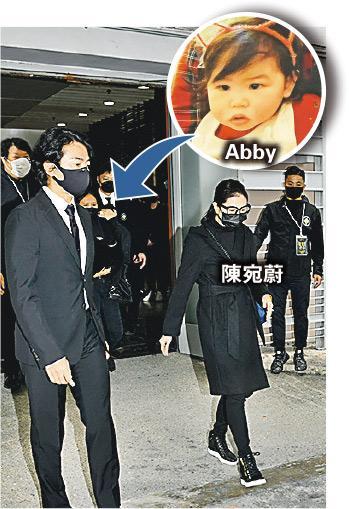 Calinda Chan thanked the media for their thoughts as the maid quickly carries Abby to the vehicle
courtesy of mingpao.com
Gold label producer and director Wilson Chin Kwok Wai on October 27th passed away from pancreatic cancer at age 59. Yesterday the funeral took place at the Po Fook memorial hall in Tai Wai. The remains were transported to the Fu Shan Crematorium. Widow Calinda Chan Yuen Wai's final words to bid her late husband farewell were "No rush, take your time". Friends Dior Cheng Yi Kin, Dicky Cheung Wai Kin, Alex Fong Lik Sun, Jerry Lamb Hiu Fung, Chin Kar Lok, Lai Lok Yi and others were pallbearers. Due to the pandemic, after the pandemic no banquet was held and instead food coupon and lai see were distributed.
Around 10AM, Cheng Yi Kin and wife Yoyo Mung Ka Wai, Lai Lok Yi arrived together at the funeral parlor. Lam Hiu Fung followed with Wilson's widow Chan Yuen Wai, who appeared to be calm and revealed that their 2 year old daughter Abby would come later. Then other friends who came to bid farewell included Tam Yuk Ying, Lai Chi Shan, Sandy Lam Shan Shan and her two daughters, Chin Kar Lok, Cheung Wai Kin, Michael Tse Tin Wa, William So Wing Hong, Ng Yuen Fong, Ben Wong Chi Yin, Mak Cheung Ching, Chan Kwong Wing, Sunny Wong and others.
The funeral took place in a closed door Buddhist ceremony. Around noon 8 pallbearers stepped out of the hall with the coffin. Cheung Wai Kin and Cheng Yi Kin were solemn in the front. Chan Yuen Wai carried her late husband's photo. Everyone witnessed the coffin being transported into the hearse. Chan Yuen Wai then entered the hearse and headed toward the crematorium. Other friends and family followed in two buses. Before the coffin was pushed into the crematorium, workers indicated that Chan Yuen Wai could say a few words to her husband. Chan Yuen Wai whispered, "No rush, take your time."
After the cremation ceremony, Chin Kwok Wai's daughter Abby was covered in a black coat and in the arms of a maid as she and Chan Yuen Wai rushed onto the vehicle. Chan Yuen Wai was in such a hurry that she forgot the hand washing ceremony. Chin Kar Lok immediately gave her a basin of water to wash her hands in the vehicle.
Chan Yuen Wai and friends wanted to let Wilson go in peace, so they were very calm at the hall and were not too sad. Lam Hiu Fung said, "The funeral has been completed, everyone happily accompanied Wilson on his final journey. Everyone would miss him. in the video Wilson was very determined, constantly brough happiness to friends around him. So today everyone wishes he would have a great ending.'
Chan Yuen Wai said that she would return to work. Would Lam Hiu Fung give her a hand? He said, "Wilson gave us the brilliant life, we were all in Wilson's brilliant life. Between friends we would take one step at all time. When she would be ready emotionally, she would welcome future challenges. Right now everyone wish good health to everyone, may everything go smoothly and successfully.'
He also revealed that photos of Wilson and his colleagues were shown in the hall, and interviews at work. The background music was Wilson's favorite Wang Leehom's FALLEN LEAVES RETURN TO THE ROOTS. "It represents our perfect relationship with Wilson. The hearse was a little something for Wilson from his friends, we hope that he would go in a very pretty and great way."