Gregory Wong and owner Tam Man Ho greeted customers and no one's photo request was turned down.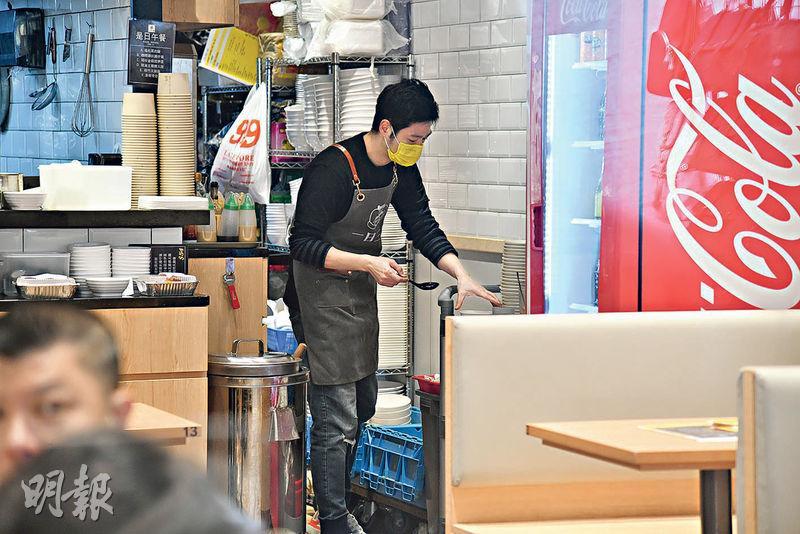 Gregory Wong works as a manager for a day to its fullest from clearing tables to preparing take out orders.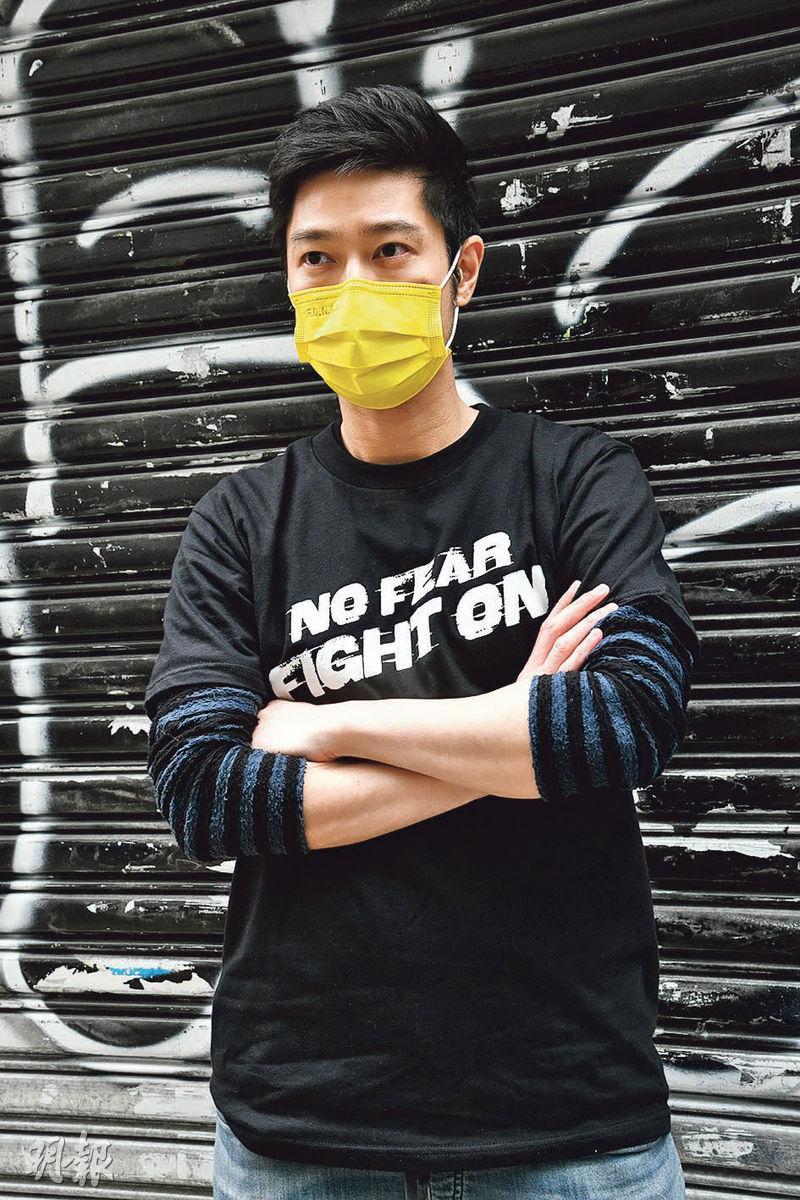 Gregory Wong tearfully thanks people for their enthusiastic help despite the hard times.
courtesy of mingpao.com
Gregory Wong Chung Hiu in July last year stormed the Legislative Council and was charged with "entering or remaining in the precincts of Chamber" and rioting. The case was still being tried. Two days ago he posted on social media that he would have to withstand an enormous legal costs, so he pleaded with everyone to provide job opportunities to help strongly "punish" him. He also declined any crowd funding suggestion. Since Wong Chung Hiu's post went viral, in less than 24 hour he received the invitation from former Legislative Council member Tam Man Ho to be a manager for a day at his Mongkok cafe. He worked for about 4 hours and received 5 figures in salary.
Wong Chung Hu at noon appeared at the cafe and helped with greeting customers, preparing take out bags and clearing tables. Many fans came to ask for photos and he did not turn anyone away. At lunch around 60 to 70 people waited outside. Wong Chung Hiu said, "In less than 24 hours after the post someone already approached me. I knew Tam Man Ho but we weren't close, we made contact through friends. For now I don't know whether I would continue to help out. The matter is rather urgent, I would first take care of my stuff first. Actually other people ask me to talk about different collaboration projects and want to make different attempts."
Tam Man Ho thanked Wong Chung Hiu and the people for their support. The promotional effect achieved drastically increased business rate. Some of the proceeds will be donated to assist the yellow economic circle, from which they would be able to help each other. Thus he insisted on paying the 5 figure salary to Wong Chung Hiu to help him through the difficult time.
Faced with enormous legal cost, Wong Chung Hiu already had an amount in mind. He admitted that he had heavy pressure to use his savings for now. He stressed that he would not crowd fund. Some was about to make a donation, which he rejected on he spot. "Crowd funding is very dangerous. In the past people have donated to education, legal aid or living expenses, each would run into a lot of suppression. I only want to use my dignity to make salary, to make money to do what I want to do. I would work as much as I can, I don't want to rely on people."
He said that he was not worried due to his personal political belief and stance his performing art job would be affected. Even if he lost job opportunities over them he would not blame anyone. Tam Man Ho felt that no business should oppress or alienate people with a difference of opinions. Since he supported strongly Wong Chung Hiu as a professional actor he had nothing to be afraid of.
Wong Chung Hiu tomorrow (the 18th) would need to appear at the Western Magistracy Building for the hearing. He described his mood as a little anxious, panic and down. Luckily many people cared and left messages of support, which snapped him out it. Tears suddenly welled up in his eyes as he said, "Under the pandemic everyone's burden has been heavy, this Christmas no one can celebrate and gather like they did previously. Everyone is in a tough time. I wish everyone a safe Christmas. I would continue to work on Christmas, but I know that some yellow shops are having difficulties with operation. If I can help I would. I understand that during this period everyone has to tough it out. I hope they can endure and still see them after the pandemic." He held back tears and thanked everyone for still enthusiastically helping during this difficult time. He wished that all people who have been oppressed or experienced unfair treatment would be able to find a little warm as he cheered for them.
Among the people in line, Ms. Han brought her son. They waited outside the shop for 30 minutes without any complaint. She said that she noticed Wong Chung Hiu's post online and came to show her support.
Ms. Mak and friends waited for about 15 minutes, stating that they came to support a yellow shop and hope to help Wong Chung Hiu with his troubles. They wish Hong Kong people would keep go and persist.