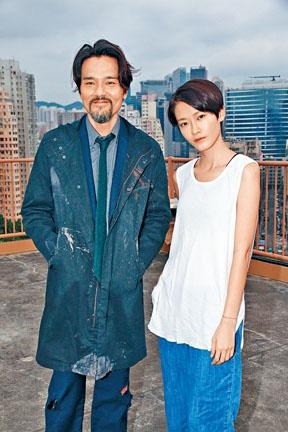 Gordon Lam, Fish Liew
courtesy of singtao.com
Gordon Lam, Hideyuki Ikeuchi
courtesy of mingpao.com
Gordon Lam Ka Tung, Fish Liew Chi Yu, Sammy Sum Chun Hin, Cya Liu, Mason Lee and Hiroyuki Ikeuchi yesterday worked on the Soi Cheang Po Shui directed mystery WISDOM TOOTH (JI CHI) on a rooftop parking lot in Kowloon Bay. Ka Tung pointed out that even on his birthday the director "abused" him as he had to go through trash in the gutter.
Speaking of the film, Lam Ka Tung immediately revealed that the pain of the production. Aside from often shooting in the refuse room and places with a lot of cockroaches and rats where he even had to shoot for over 19 hours, he even had to shoot a water scene for a dozen days or so. Ka Tung said, "The director likes to shoot in the refuse room, he sent 15 vehicles worth of garbage to an old building to To Kwa Wan. Everyday he also had ten six ton water trucks for rain scenes. I even had fight scenes. I didn't know how to hold back so I am swollen all over. The Japanese actor I fought with was also sick. I am coughing and swollen, luckily my skin hasn't had any reaction yet."
Ka Tung also said that earlier on his birthday he even had to go through trash next to a gutter. He could only tell the team no bad take. In the end everyone was able to finish it in one take. This has been the most difficult time in his acting scenes. Was his birthday wish not to have to go through trash again? He said, "No, if Director Cheang likes to I would."
Japanese actor Hiroyuki Ikeuchi played a waste picker and caught the flu because of this film. He said that because he had to work winter clothing in the heat, the shoot has been very tough. Has he been scared off from working with Cheang Po Shui again? Ikeuchi said, "No, I would follow the director." He lost 30 pounds for the film. He ran in the morning and had salad. After the shoot he would ask the director to take him to dinner.
Playing a drug dealer, Liu Chi Yu revealed that in one scene she would be thrown to the ground. At the time she felt like being sandblasted. She said, "When I got home my face felt very 'detailed'." She also praised Ang Lee's son Mason Lee as very cute and very polite. When she chatted with him he would listen very attentively.