courtesy of on.cc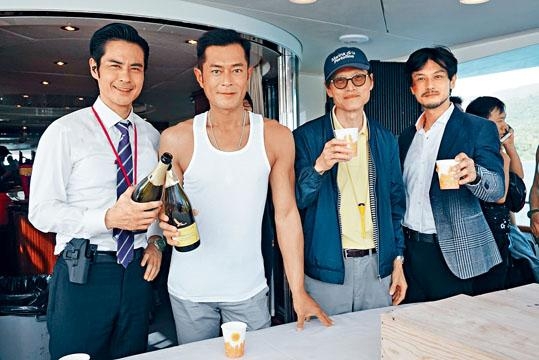 courtesy of singtao.com
The Raymond Wong Pak Ming produced, David Lam Tak Luk directed, Louis Koo Tin Lok, Julian Cheung Chi Lam and Kevin Cheng Ka Wing starred film L STORM (L FUNG BO) earlier officially wrapped up production. The 21st was Koo Tin Lok's birthday. Boss Wong Pak Ming, director Lam Tak Luk and the team prepared two cakes to celebrate Goo Jai as a surprise. That day they shot a scene in which ICAC Goo Jai and the Independent Commission Against Corruption L Team (internal order investigation team)'s Ka Wing and Adam fought on a yacht and chase at sea. Goo Jai and Ka Wing went after a criminal on a speedboat. Although it was a morning shoot, everyone was energetic at the shoot and not tired at all. Each actor personally performed the numerous dangerous stunts.
At lunch birthday boy Goo Jai was invited to cut the cake with he boss, the director and the actors on the yacht and celebrate with red wine. The team even sang the birthday song for Goo Jai. Due to the strong wind, the team could not light the candles and finally Goo Jai had to light them himself. As for his birthday wish, Goo Jai said, "Good health! In addition everyone shouldn't just donate money but help even more people in need with action!" The boss said hat he wished for the film to be a big box office hit and treated the entire team to afternoon tea.
When all the shoot was done, everyone celebrated with champagne. This was already the third STORM film for Goo Jai and thus he and the team had great chemistry. When he took photos with the team he even expressed hope for a reunion in the fourth film. When he took the speedboat back to the pier he kept waving farewell. Ka Wing looked forward to the film release. Just this chase at sea scene took four days to shoot and used seven vessels to assist with the shoot.