courtesy of on.cc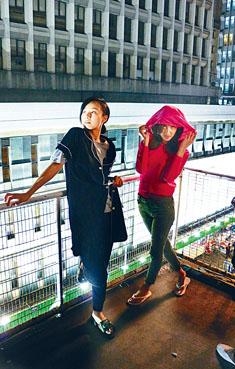 courtesy of singtao.com
courtesy of mingpao.com
Adapted from the case of money falling out of an armored car on the streets, the film KEYBOARD WARRIORS (HEI DAI JO) starred Stephy Tang La Yun, Grace Chan Hoi Lam, Lam Yiu Sing, Yau Hawk Sau, Larine Tang Yueping and others. The film yesterday officially wrapped up production. Playing sisters in the film, Stephy and Grace after months of working together developed a relationship. At the wrap they were reluctant to part as the photographer spray champagne at them. They immediately teamed up and struck back.
Most of the film was shot on location in Tsim Sha Tsui. Two days ago in the wrap scene the sisters were on a roof in Tsim Sha Tsui. When they learned that the "Golden Kid" joined in the search for the missing money they were surprised. The sisters basically used only two takes for every shot. Stephy said, "Working with Grace the production became smoother and smoother, and faster and faster. Everyone had great chemistry."
Off camera the two still worked together. Seeing Stephy posing like model on he roof, Grace rapidly joined in. After the shoot they cracked up together. Grace said, "This time is my first movie. I am very happy to have a co-star like Stephy, who made me feel very comfortable in my performance. I very naturally got into character."
When the director announced the wrap, Stephy, Grace and the team cheered and celebrated with producer Ng Kin Hung, director Sit Ho Ching and the cinematographer. Stephy and Grace carefully opened their bottles of champagne, but was still frightened by the champagne's strong spray as they shrieked. The cinematographer even spray champagne at the two. Stephy immediately struck back and Grace joined in the fray as they teamed up against the cinematographer. Other crew members ran for cover.