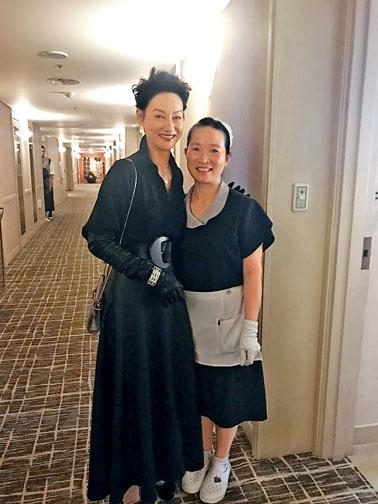 courtesy of singtao.com
Kara Wai Ying Hung and Stephy Tang Lai Yan two days ago promoted their new film at the Busan Film Festival. Sister Siu Hung thought that the jewelry she brought from Hong Kong vanished. As she was about to "report" it to the sponsors and discuss compensation, she discovered that she threw it into the hotel trash can.
Best Actress Wai Ying Hung two nights ago attended the new film THE BOLD, THE CORRUPT AND THE BEAUTIFUL's Busan Film Festival world premiere. Although she has won countless awards, Sister Siu Hung was absent minded. She looked all over for the jewelry that she brought from Hong Kong. She not only turned her luggage over but also called the airline to ask if she left it on the plane. As she was planning to discuss compensation with the sponsor, her door bell rang. A hotel service clerk said, "There was a bag of jewelry in the trash can, we are confirming if the client discarded it?"
She said, "This trip has been tightly scheduled, in two short days I had to be interviewed nonstop all over. In my mind was only fast, fast, fast......I would only mess up like this in a moment of chaos! Haha!" In the past film festival guests have stayed at this hotel. The clerk might have often run into such incidents and thus confirmed this bag of "trash". Sister Siu Hung thanked this dutiful clerk with a pair of hand crafted earrings that she bought in Hong Kong.
Hong Kong Film Award winning new director Cheung King Wai's first feature film SOMEWHERE BEYOND THE MIST (LAN TIN BAK WON) also held a premiere there on the same day. Two days ago was lead actress Stephy Tang Lai Yan's birthday. Director Cheung prepared a Korean seafood feast and a birthday cake to celebrate. Stephy revealed that it was her first birthday at Busan and she was both excited and fulfilled. "To be able to watch a movie that I have looked forward to for a long time on my birthday, my feelings are very complicated -- like blue sky doesn't necessarily have white clouds, but after white clouds is definitely a blue sky. This is the best birthday present this year!"