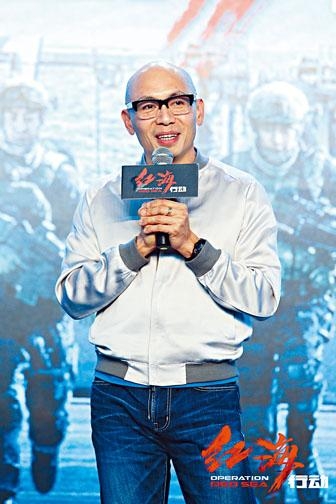 courtesy of singtao.com
Bosses like Yu Dong and Albert Yeung have a lot of confidence in Dante Lam
Eddie Peng says that the new film is elevated from OPERATION MEKONG
Zhang Yi reveals that Dante Lam risks his own life for the film
courtesy of on.cc
The film OPERATION RED SEA yesterday held a Beijing press conference. The production cost reached 500 million yuan RMB. Director Dante Lam Chiu Yin even admitted that this was the most difficult time n his 20 year film career. Director Lam said, "At sea we had to find helicopters, our battleship. No matter how you shoot it, you would run into difficulties that you would never imagine."
Yesterday Director Lam Chiu Yin and the "Dragon Strike Team" members Zhang Yi, Du Jiang, Huang Jingyu, Jiang Luxia, In Fang, Guo Jiahao, Wang Yutian, Henry Mak, Hai Qing, Wang Qiang and screen writer Feng Ji attended.
The film was about the Chinese navy's strike team when it received an order to evacuate Chinese nationals overseas. After OPERATION MEKONG, Bona and director Lam Chiu Yin worked together again on OPERATION RED SEA to display the modern navy of China.
Lam Chiu Yin jokingly complained about how tough his life has been, as he would always run into very difficult film productions. "I have been making movies for 20 years and I have never suffered so much. It's true, maybe it was the first time for you but it was the first time for me too. Actually when we shot there, I felt that I faced some difficulties that we would never imagined. My producer in particular truly risked his life, as he almost collapsed there. So this is truly a very memorable film in my life."
OPERATION RED SEA cost 500 million yuan RMB. He said, "I believe everyone can see from the video and completely sense the difference between OPERATION RED SEA and OPERATION MEKONG. The last time I felt OPERATION MEKONG was a story that was told on land. This time I truly saw how great the sea was. At sea we had to look for helicopters, our battleship. However you wanted to shoot it, you would run into difficulties that you would never imagine. Everyone had to spend a lot of energy to be able to shoot many great visuals. The team used 6 battleships at sea. Everyone departed from different ports to be together, then we had to arrange how to use the helicopter to shoot these scenes. We had no experience at all . I have something important to tell the several bosses, although we spent a lot of money I didn't go over budget."
The host then invited the strike team members to discuss the production. They admitted that the process was rather painful, but because of that they became even stronger and were thankful for this valuable and memorable experience. Huang Jingyu revealed that while shooting in Morocco life was particularly "simple". He said, "All the dishes tasted the same, leading everyone to cook for themselves. After the shoot my culinary skills improved."