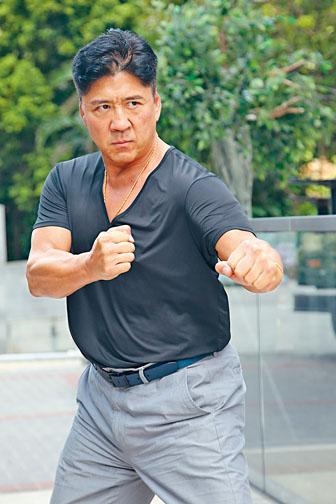 courtesy of singtao.com
Martial art actor Conan Lee Yuen Ba retired from film and returned to the U.S. after his mother was diagnosed with scleroderma with only a few months to live. He took care of her and even studied medical nutrition therapy, but his mother in the end passed away in an accident.
Lee Yuen Ba had no regret. Because he was close to his mother, he would even give all the money he made from his movies to her. Although he took care of his mother for 17 years, he stated that he cherished this very valuable period of time together. He also said that he never thought about returning to film because he would be even happier if he had 10 more years to be with his mother. Yet he believed that Heaven brought her in so she did not need to suffer anymore. Thus he was determined to return to China and Hong Kong to make movies. He also wrote a script about his mother. After Feng Xiaogang's wife Xu Fan read it she asked to play his mother. He said, "I feel she is suitable for the Mama role. She also helped me a lot. I am very grateful. This time this film will be shot in Hollywood, it will be the first film of my comeback. I will produce, write, star and direct. It will be about the process of Mama's treatment and my study of medicine. However the resulting positive energy has to let the entire world know that Mama is the most important. I also wrote a lot of scripts. Because I want to be fully prepared for my return, if anyone want to work together I can."
Speaking of many film industry action actors like Donnie Yen Chi Tan and Max Zhang Jin, Lee Yuen Ba admitted that now few actors could fight. Thus he was very happy to still have this group of outstanding action actors. He hoped to have a chance to work with everyone.
He recently participated in the Juno Mak Chun Lung new film SONS OF THE NEON NIGHT (FUNG FOR SAN LAM), he praised him for how serious and attentive he was at work. Despite his young age he was very talented, humble and friendly. Thus the collaboration has been very pleasant.