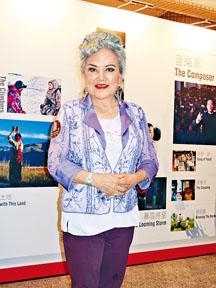 courtesy of singtao.com
The China Film Panorama 2019 will take place between September 3rd to October 13th at the Tsim Sha Tsui Cultural Center. Yesterday an opening ceremony was held. Veteran actress Susan Shaw Yam Yam attended. Did she have any film in the event? She said, "It would be great if I did! It would be a dream come true if I had a part in the films. I won't get to watch the film, I would have to wait until tomorrow because later I will attend the UNDERCOVER PUNCH AND GUN (CHUM HUNG JEH) premiere."
Shaw Yam Yam lamented that lately she did not dare to go out. "I am afraid someone would hit me! The psychological pressure is enormous, as I would keep thinking about the wrong stuff. If anything happens and I get hit, I wouldn't know who would have done it." Sister Yam yam said that mahjong was no long a stress relieve; because she lived in Tai Po she could not take the MTR, and if she took the bus she was afraid that it would stop running. Has her work been affected? She said, "I have 5 that are on hold, the bosses say due to environmental influence. Everyone is taking a break, after I do I would be dead!"