courtesy of on.cc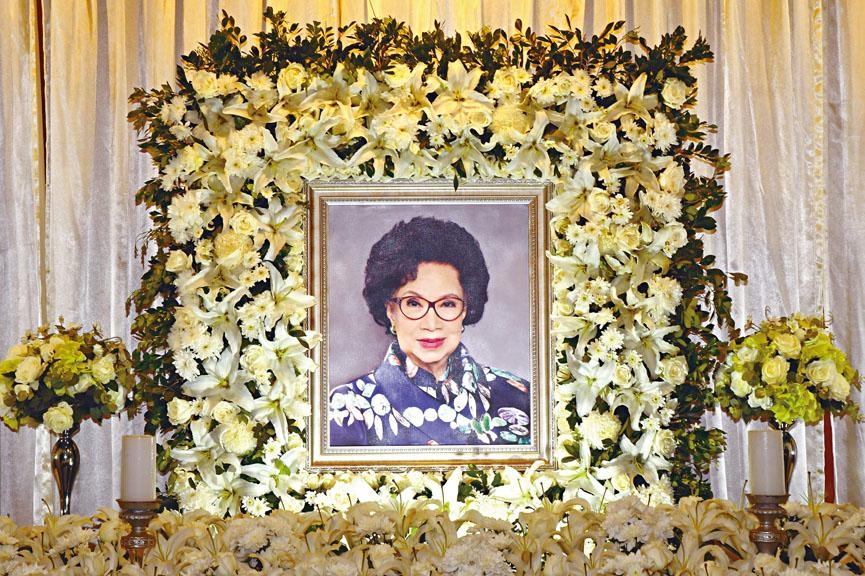 courtesy of singtao.com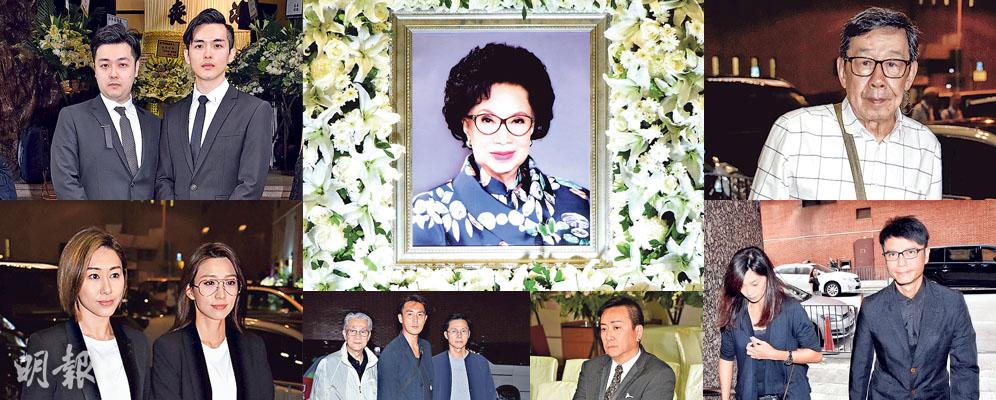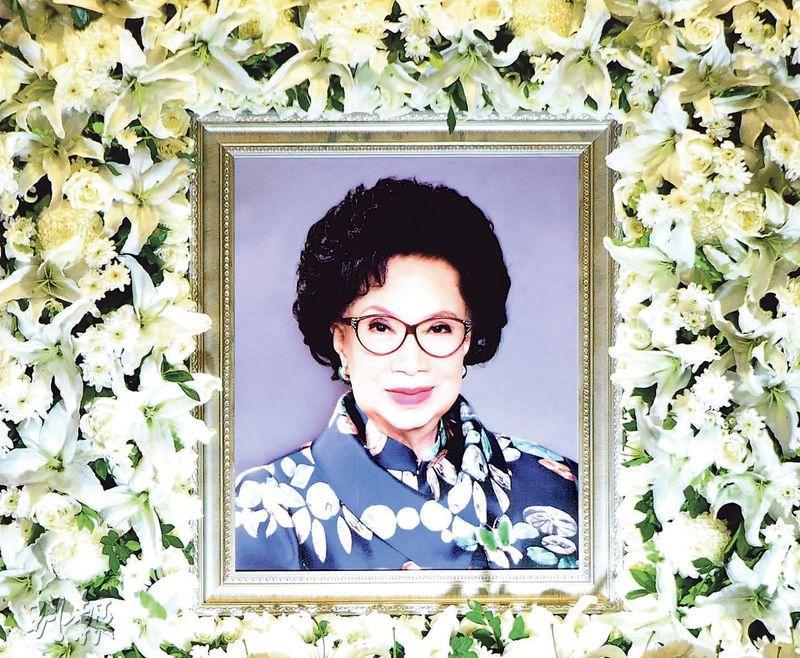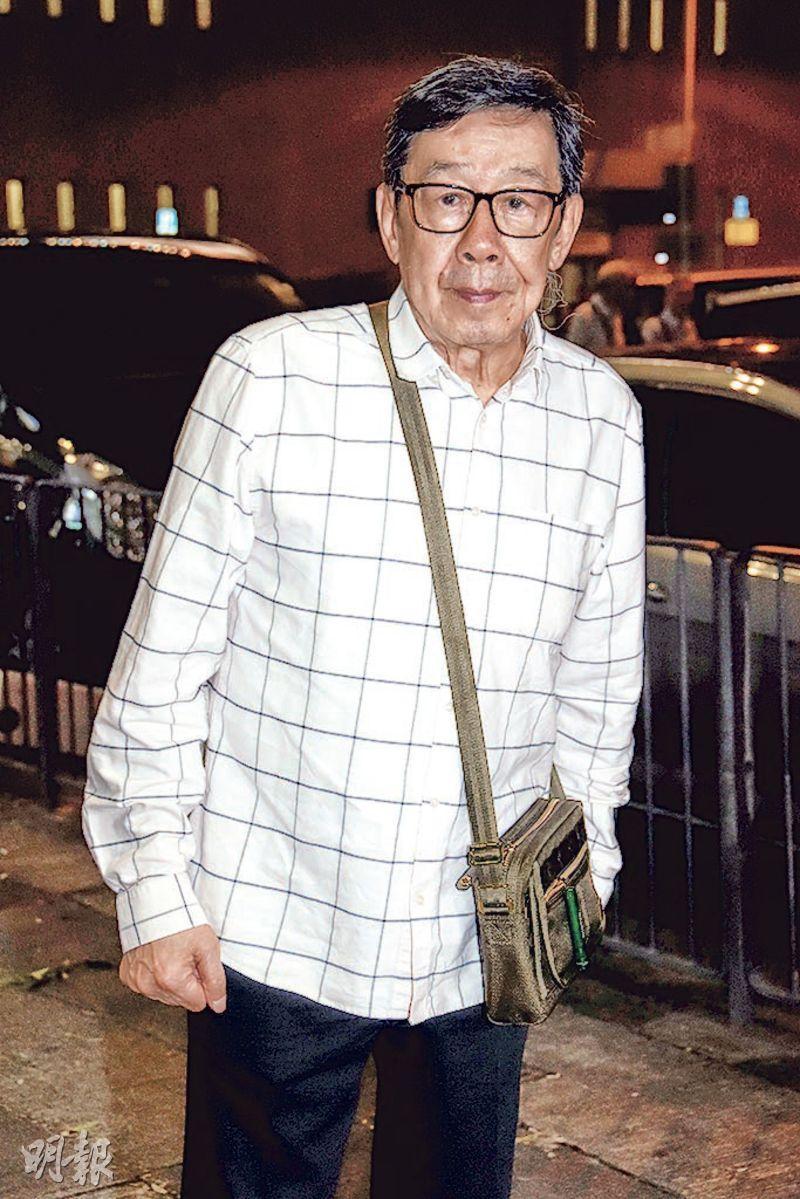 Wu Fung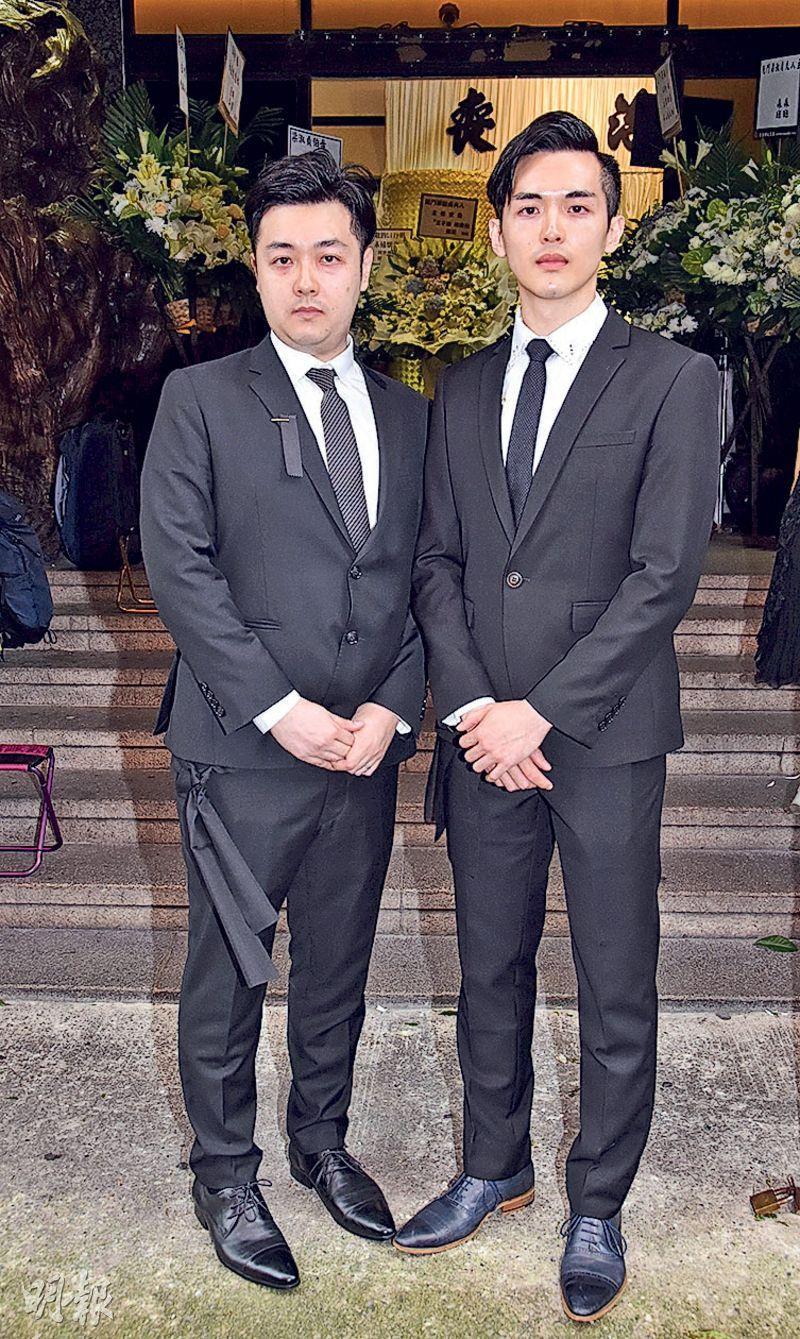 Grandsons Yuen Ho Fung and Yuen Ho Chung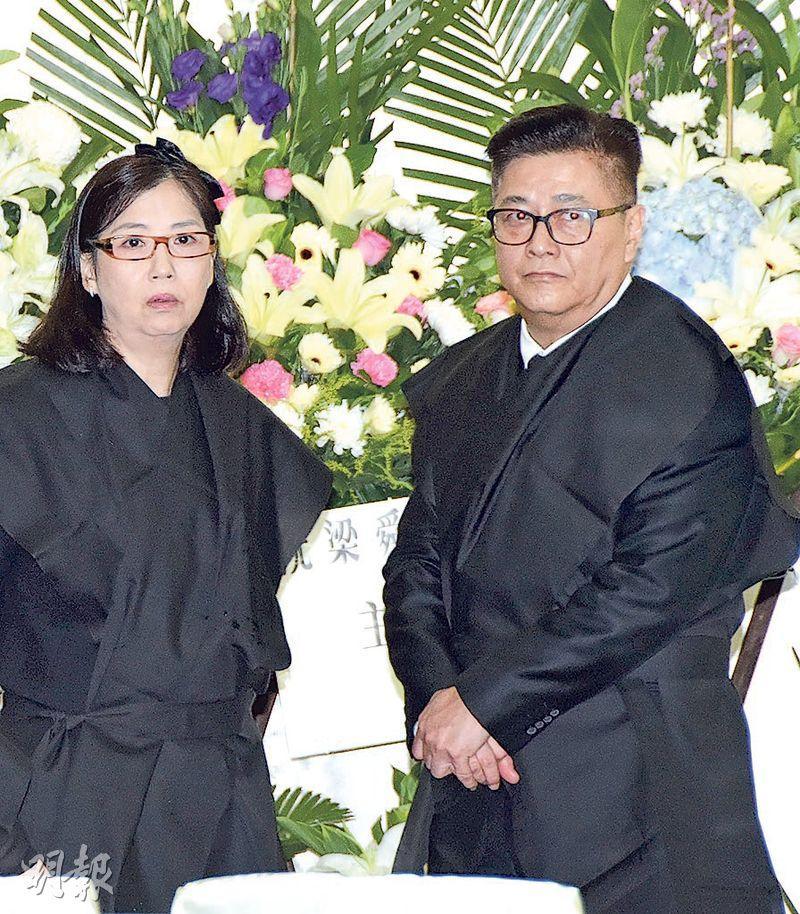 Emily Lo and Hacken Lee
Hacken Lee
Nancy Wu, Elaine Yiu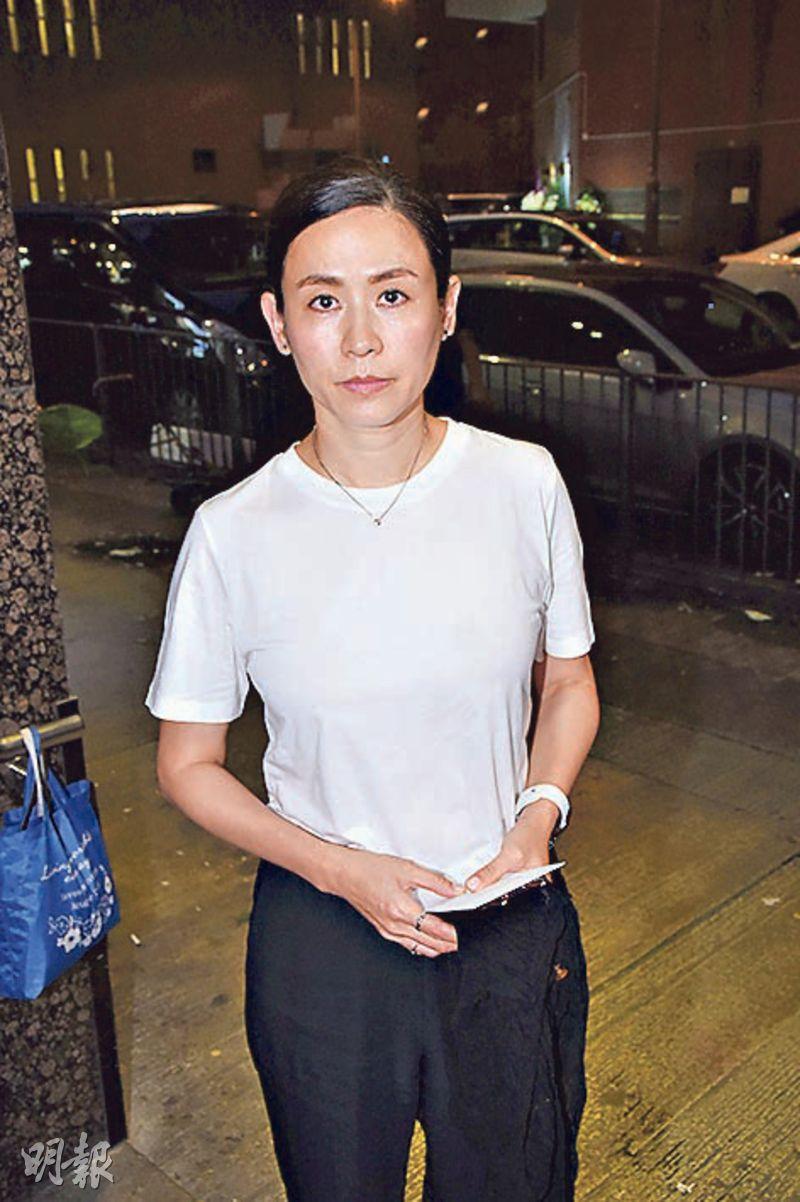 Jessica Hester Hsuan
Liza Wang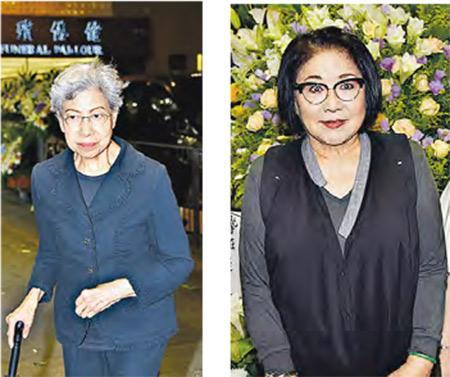 Helena Law, Louise Lee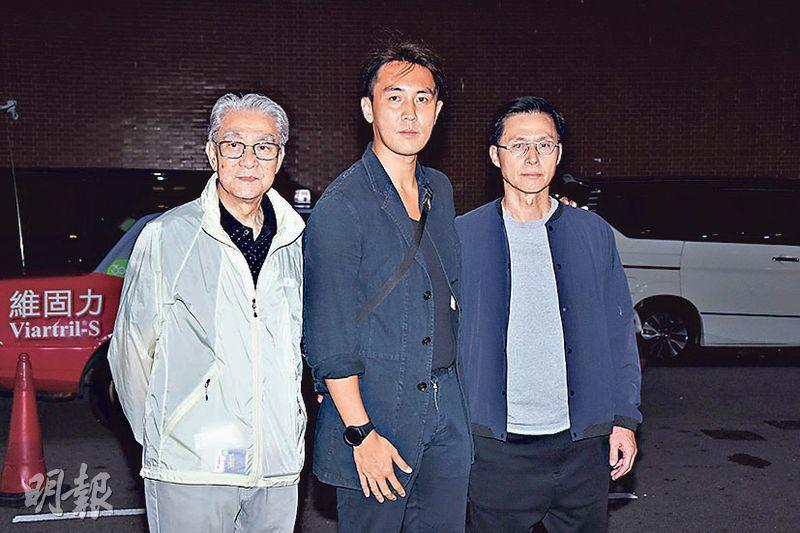 Chow Chung, Shaun Tam, Cheung Kwok Keung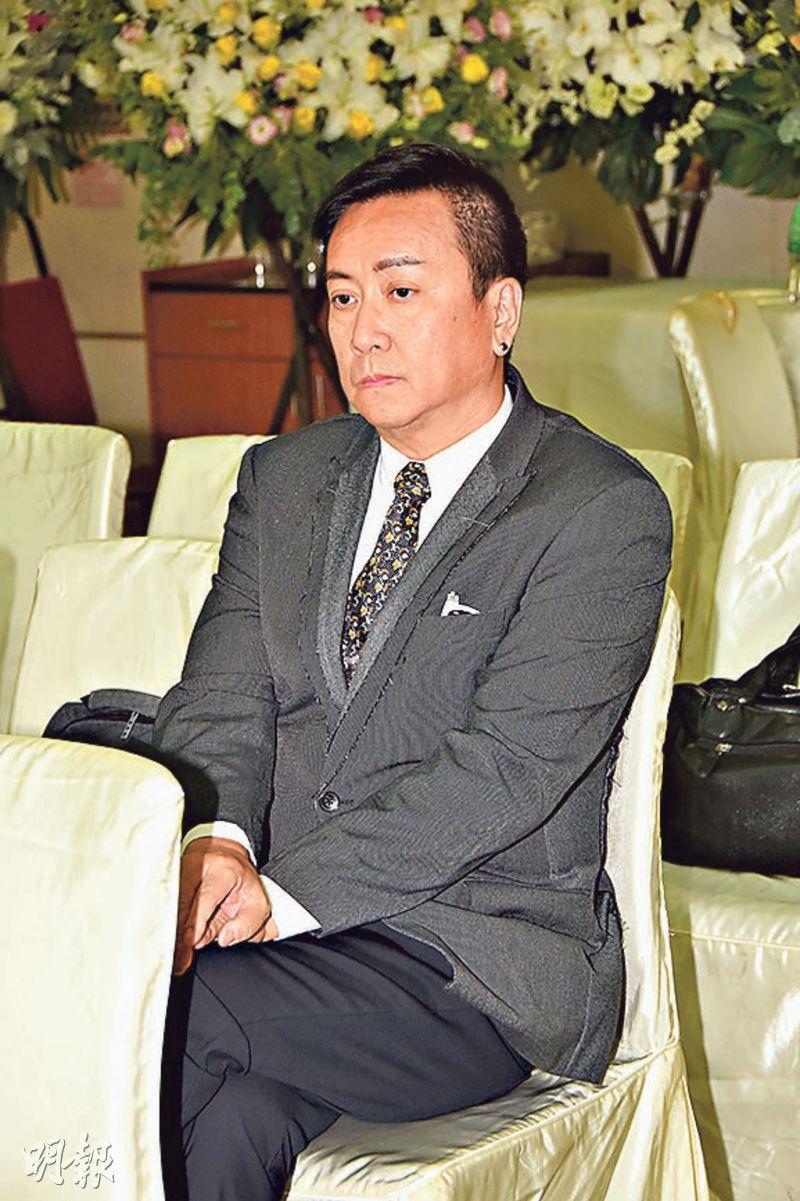 Lau Siu Kwan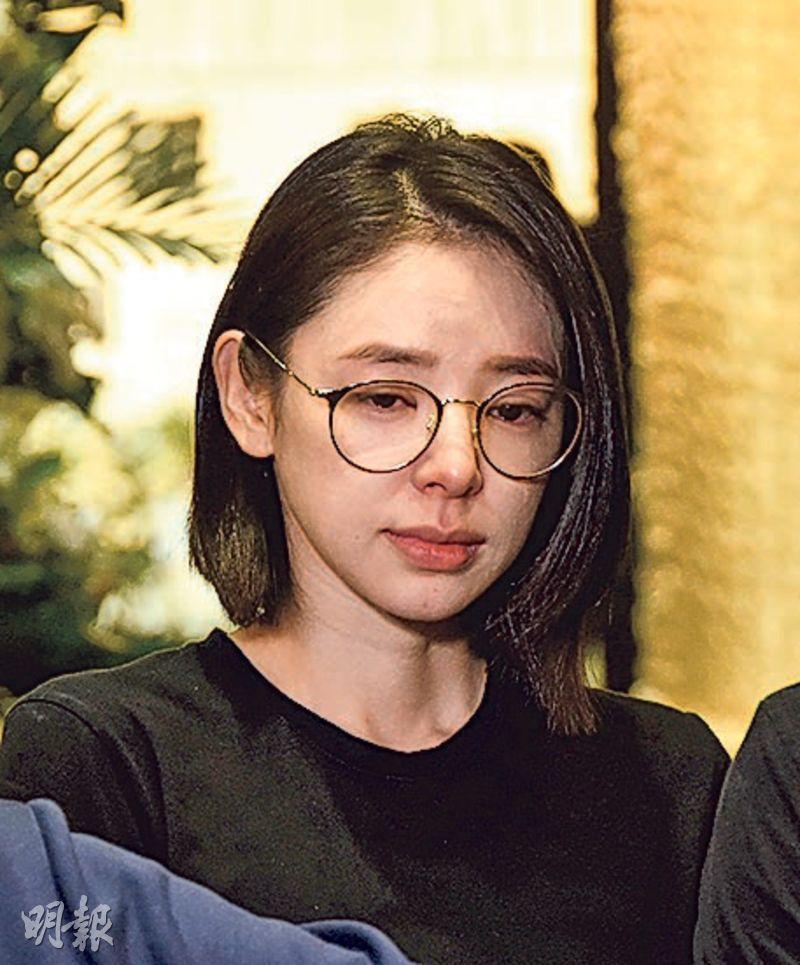 courtesy of mingpao.com
Veteran actress Lily Leung Shun Yin (Originally named Leung Suk Ching) passed away at age 90 at the hospital last month. Sister Lily was a devout Catholic. Services began yesterday at the Universal Funeral Parlor with the funeral taking place tomorrow. Sister Lily's remains will be cremated at the Cape Collinson crematorium and her ashes will be buried with her late husband's.
Yesterday around 3PM, Sister Lily's grandson Yuen Ho Chung and her family arrived at the venue. The hall was decorated simply and cleanly in beige and white, with a banner that said "soul returns to Heaven". The photo was in color with Sister Lily with her glasses. In front of the altar were seven floral arrangements from her closest family. In the center were her children's heart shaped floral arrangements. Floral arrangements from godson Hacken Lee Hak Kun's family and goddaughter Wong Yee Lin's family flanked the left and right sides.
Sister Lily's grandsons, Yuen Ho Fung and Nic Yuen Ho Chung spoke to the media around 5:15 PM. Ho Chung first thanked the media for coming. "Grandma's life was exciting as she received floral arrangements from many friends. I represent my family in thanking everyone for their concern." He pointed out that because Grandma was very vain, they asked TVB for Grandma's color still photo from her series OF GREED AND ANTS for the funeral. As for Grandma's final wish, he said that Grandma had no regret. Only when she was in bed rest, she still hoped to be able to keep making series. Unfortunately she was unable to. Other than that she had no regret. All of her family and overseas friends came to bid her farewell. Grandma's ashes will be in Hong Kong and buried with Grandpa's.
Ho Fung revealed that Grandma was called Sister Lily because she liked the flower. Thus she asked for the hall to be decorated with lilies and other flowers. However she did not ask for family and friends to send lily floral arrangements.
Godson Lee Hak Kun and his wife Emily Lo Suk Yi arrived around 5PM. They were dressed in black and looked solemn, but they still stopped for media photos. Then they put their hands together and entered the hall. After bowing they consoled Sister Lily's family, then stayed for a hour and a half and left. When reporters asked for an interview, the heartbroken Hacken again put his hands together and declined to speak. He then left with his wife in a vehicle.
Wu Fung came to send his friend on her final journey. He got teary eyed when he stared at his late friend's photo. He praised Sister Lily for being great with people and could be called women's role model. Everyone respected her very much. He believed that each friend felt very saddened by her passing.
Brother Sau said that he was very upset and even felt guilty about Sister Lily. He said, "When we worked together on movies early on, Lily heard that I was humming ONE DAY WHEN WE WERE YOUNG and sang it with me. We felt that we were very compatible, she even wished for us to see this song together on television. At the time I said fine but in the end we weren't able to fulfill that wish. I feel very guilty about that. Luckily when Sister Lily was pregnant we were able to sing together, may she rest in peace in Heaven." At this time Brother Sau stared at Sister Lily's photo and got teary eyed. He said that he and Sister Lily often had dinner together. After work he would give her a ride home, but she would always be thank you this and thank you that. She was very polite and was a great person.
Other mourners included Liza Wang Ming Chuen, Lau Siu Kwan, Louise Lee Si Ke, Yu Mo Lin, Wen Lau Mei, Lily Ng Lai Chu, Bob Cheung Yin Pok, Zoie Tam Hoi Kei, Yu Miu, Tsang Lai Chun, Cheung Kwok Keung, Chow Chung, Shaun Tam Chun Yin, Nina Paw Hee Ching, Jessica Hester Hsuan (Suen Huen), Emily Kwan Bo Wai, Nancy Wu Ting Yan, Elaine Yiu Tse Ling, Jonathan Wong Chee Hynn, Money Lo Man Yi and her husband Suen King On, Justina Shih Yau Shan, Tam Sin Hung and Elaine Lok Yi Ling.
Sister Lily worked with many in the industry in her lifetime and was great with people. Many insiders sent floral arrangements that filled the hall and outside the doors. Chow Yun Fat and his wife, Andy Lau Tak Wa, Wang Ming Chuen, Law Kar Ying, Nancy Sit Ka Yin and her older daughter Shih Yau Shan, Wayne Lai Yiu Cheung and his wife, Wu Fung, Lau Siu Kwan, Gallen Lo (Law Ka Leung) and his wife, Ha Yu, Lee Si Kei, Alice Chan Wai, Gordon Lam Ka Tung, Wu Ting Yan, Myolie Wu Hung Yi and Yiu Tse Ling's "sisterhood", Melvin Wong Kam Sun's family, Sylvia Lai (Sum Sum), Betty Lai (Ban Ban), RTV second artist training class all sent floral arrangements.