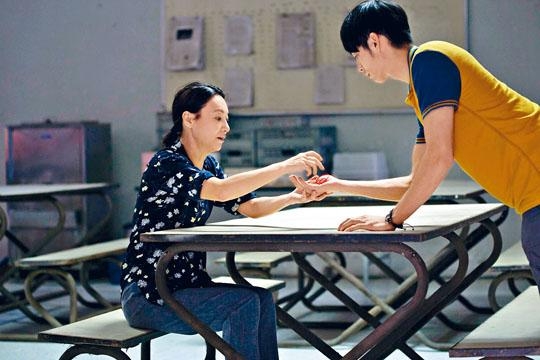 courtesy of singtao.com
Kara Wai Ying Hung, Carlos Chan Ka Lok and Tsao Yu-Ning worked together on the horror film BINDING SOULS (BONG LING). Ka Ling and Tsao Yu-Ning also said that they were in awe of "Ghost Queen" Sister Hung's presence. Sister Hung said that she was very pleased with the two "fresh meat"'s performance. In particular Ka Lok's acting was a pleasant surprise. Sister Hung praised Ka Lok for being smart and he finally got it in terms of his acting.
In the past Sister Hung and Ka Lok have worked together many time. Ka Lok pointed out that one look from Sister Hung would keep him from looking at her again, because it was very easy for her presence to scare him from being able to speak at all. As for Ka Lok's onscreen performance, Sister Hung said that on the first day of work she already heard the director's praising him. Ka Lok's performance was much more mature than before. Yu-Ning pointed out that when he saw Sister Hung's eyes for the first time, he already sensed a very strong presence. However after awhile together he felt that she was very friendly.