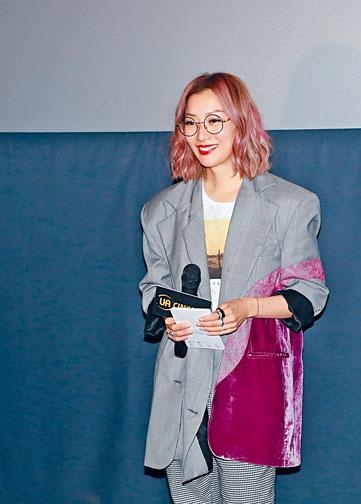 courtesy of singtao.com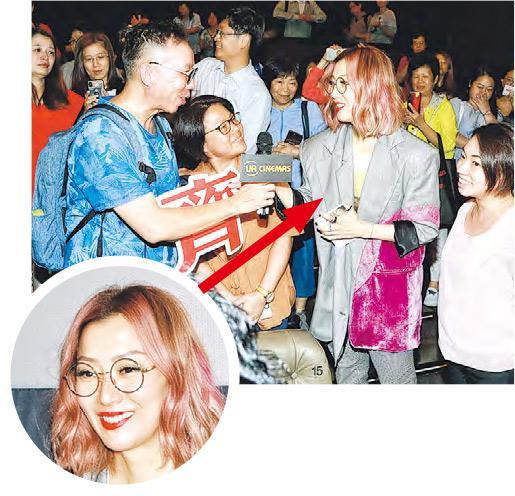 courtesy of mingpao.com
The Sammi Cheng Sau Man starred Media Asia film FAGARA (FA JIU JI MEI) officially opened on Mid Autumn's Festival (the 13th) and became this year's top Hong Kong film opening. Sammi thanked everyone for their support and earlier made a surprise appearance at the movie for audience appreciation and shared the audience's experience after the screening. The story moved many viewers to tears, as they tearfully said that they wanted to love and cherish their family. Sammi hoped that after watching the film everyone would take some consideration and love home and properly love their families.
Earlier Sammi along with her onscreen hot pot shop fresh meat employees "Yam" Bryant Mak Chi Lok and "Radish" Lo Chun Yip suddenly appeared at the movies for audience appreciation. This pleasant surprise made the still tearful audience break out of laughter, as they enthusiastically rushed up and surrounded Sammi. Yam Yin Chai's fans booked another show, although Siu Chai was not present the "Chai" fans all carried the word "Chai" to show their support and praised loudly to Sammi "very entertaining". Sammi promised that she would relay the message to Siu Chai so he would share the joy as well.
Sammi gladly visited many cinemas and even played host. She could not wait to ask the audience about the movie. One male viewers admitted that he cried as he watched. "I was reminded of myself and Papa and my family. You really have to be like what the movie says, you have to say what is in your heart to your family more." A female viewers tearfully said, "As I watched I thought back to when my Papa passed away, I still have a lot that I haven't told him......" Sammi patted her on the shoulder and sad, "This movie is like saying what is in your heart for you, it can warm people's hearts. I hope everyone would bring love, more understand for their family, to have a proper talk. Through the movie everyone's heart would be filled with even more love and positive energy." Another viewer said that the most memorable was when Sammi finally forgave her father. A viewer also stated that it was a second viewing but the movie still was touching.
Sammi felt that this film was very suitable for the whole family to see. The movie had many parts that were worth considering. With anything a family should hold "have a proper talk". The most important message was to forgive and let go. All wre the most important lesson of our lives. She hoped that after watching the movie everyone would bring some consideration and love home and properly love the family around them.