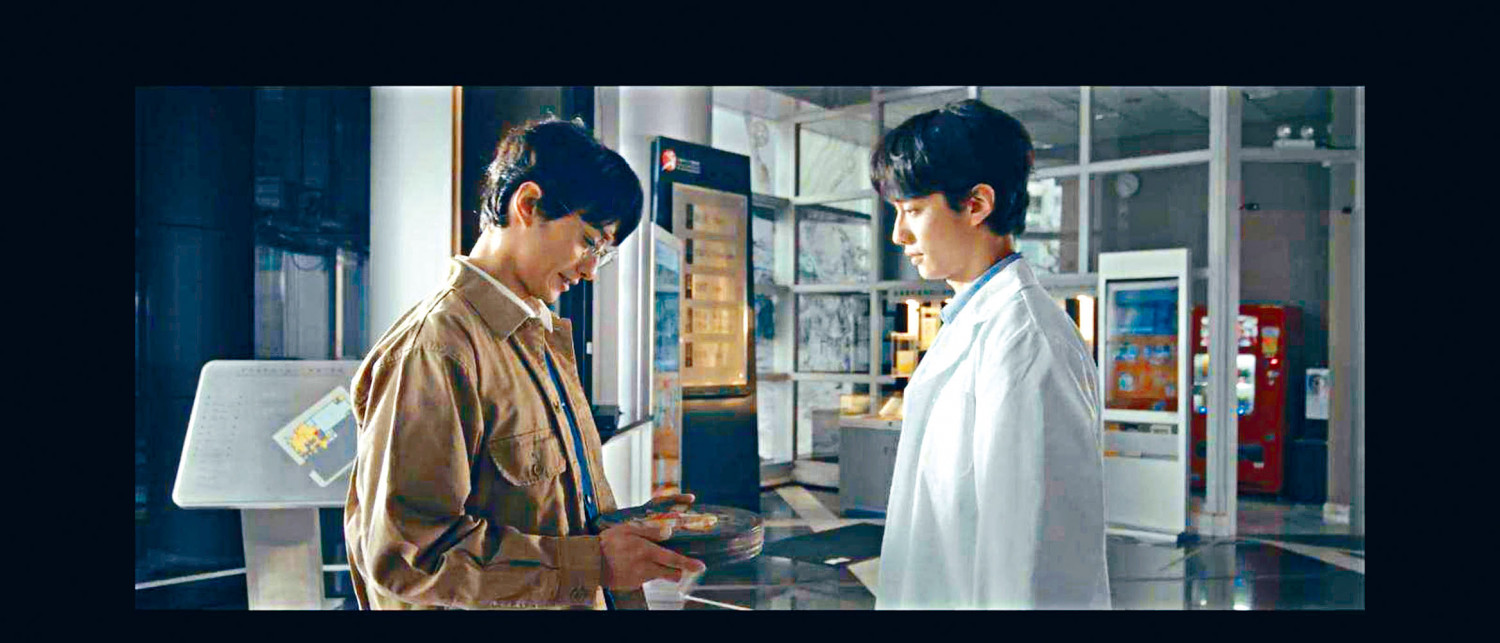 Terrance Lau plays two characters in the Hong Kong Film Archives' 20th Anniversary celebration video
courtesy of singtao.com
Terence Lau Chun Him worked on a Hong Kong Film Archives 20th Anniversary celebration promotional short film. In it he recited classic lines from films that the audience savored. He had the chance to enter the Hong Kong Film Archives work space, which deepen his understanding of his film knowledge and he benefit a lot from it.
Ah Him in the short film played two roles, himself and film archivist. He "worked" with many film elders like Ng Chor Fan, Bruce Lee, Leslie Cheung Kwok Wing, Sylvia Chang and others to interpret their Hong Kong classic film lines anew. In a story format he brought out what the Hong Kong Film Archives does to the public.
The 4 minute long short film had scenes after scenes of Hong Kong film classic lines, bringing back everyone's exciting memory of Hong Kong films. The classic lines included IN THE FACE OF DEMOLITION's "All for one, one for all.", DAYS OF BEING WILD's "From now on we are a minute friends, this is a fact. You can't chase after it because it is already in the past." INFERNAL AFFAIRS' "Three years then three years again, three years later there will be another three years!" UNBEATABLE's "If you are in the ring, you can't be scared. If you are scared, you would lose all your life!" Ah Him said, "Many classic lines have been heard numerous times. To interpret these lines anew to bring out the everyday job of the Hong Kong Film Archives, the director and I both thought it would be a lot of fun!"
Through this production, he had the chance to enter departments at the Hong Kong Film Archives that ordinary people would not be able to enter normally. "The most memorable is the film storage department. The room is enormous, the temperature is very low, and masters are restoring films frame by frame, from film to digital format. I got more understanding of Hong Kong film, which had a lot to do with me. I really wanted to understand where films came from. I felt that looking at the past we could look ahead to the future. I was even more able to know where I was at, what actors of our eras needed." Ah Him even said, "My contact with the Hong Kong Film Archives was a very in depth experience. I saw many very valuable films, books, awards, some jobs that few in the public would be familiar with but very meaningful. If no one deliberately preserves them, actually these visuals would vanish!"