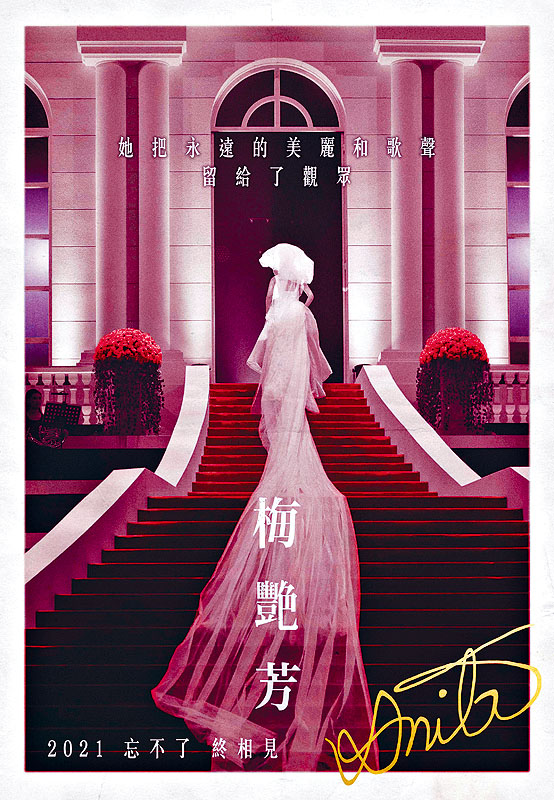 courtesy of singtao.com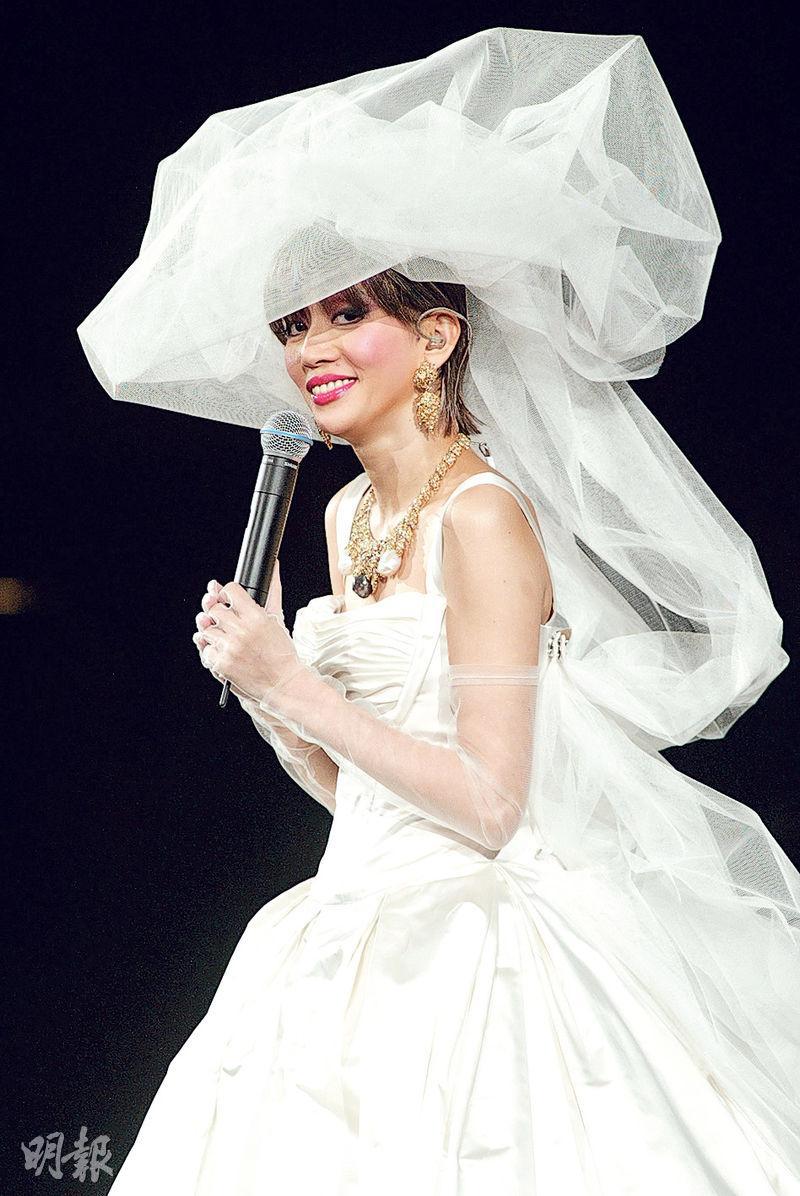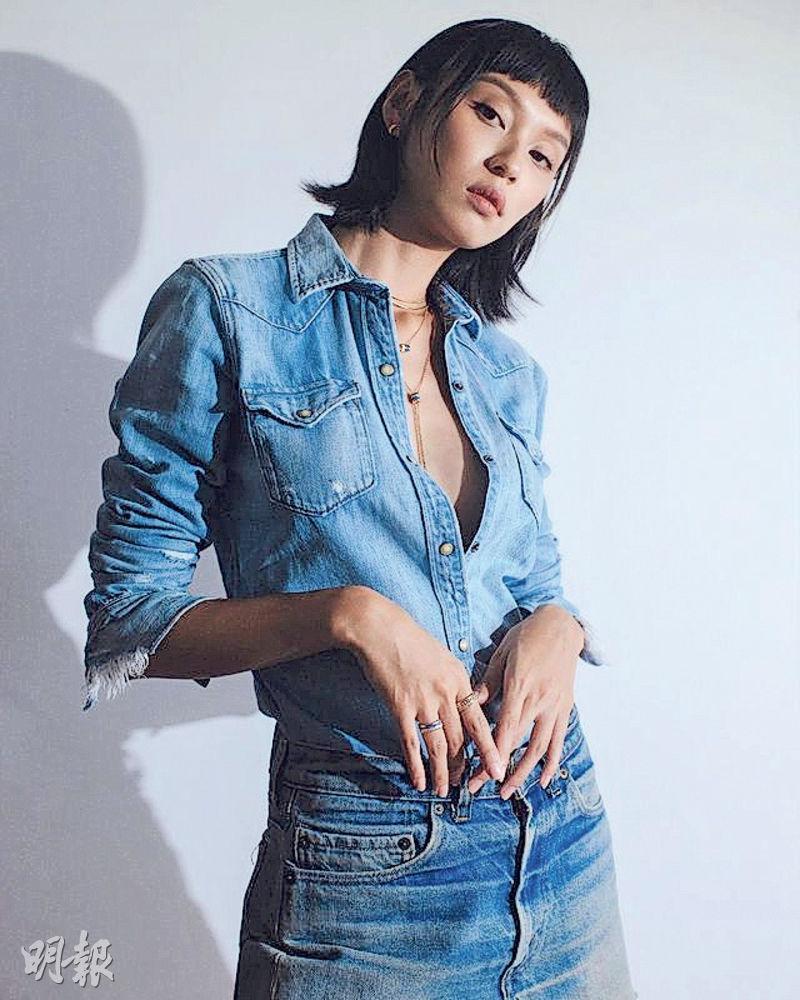 Model Louise Wong is rumored to be the lead actress
courtesy of mingpao.com
This year would be the 18th anniversary of the music diva Anita Mui Yim Fong's passing. The Longman Leung directed and written film ANITA's first trailer has also been released. In it the camera closed in on the Hong Kong Coliseum and entered the dream stage of many. Under the cheer of the audience, a tune that everyone was familiar arose. In an elegant white wedding gown, the shadow that everyone missed in a crowd of workers slowly elevated onto the stage. Everyone through the silver screen would be able to reminisce about this daughter of the Hong Kong people, Anita Mui Yim Fong. Edko Film's Bill Kong Chi Keung revealed how the idea of making this biography for Sister Mui: to make up for the regret of unable to work together on THE HOUSE OF FLYING DAGGERS. In order to find the right lead actress, he spent three years' time.
Edko Film's Bill Kong Chi Keung revealed that when he first had the idea of making this film, it was due to a promise to Sister Mui. He recalled, "When Edko Film was still a small film company, Sister Mui was already was popular singer. However she did not mind that we were a small company and agreed to promote for one of the film we distributed CASTLE IN THE SKY, to this day I am still grateful for her heroic assistance. Years later, on a certain day in 2003, Sister Mui asked me to meet with her. She hoped that I would be able to make a movie for her to leave the world. At the time director Zhang Yimou and I deliberately designed a character for her in THE HOUSE OF FLYING DAGGERS (SUP MIN MAI FOOK); unfortunately in the end because her passing we were unable to fulfill her final wish. For years I still remember her unfulfilled dream; because of my relationship with Sister Mui I still hope to fulfill her final wish and to make up for the regret of unable to work together on THE HOUSE OF FLYING DAGGERS! Thus it became my first intention to make the movie ANITA."
In order to fulfill Sister Mui's remaining wish, Kong Chi Keung around 3 years go finally found the suitable actors, director and screenplay. He said, "Over the years we have been waiting for a good script, a good director, and even more importantly an actor with the spirit of Sister Mui to appear. We spent over 3 years to find for the suitable choice all over Asia, finally we were able to find this newcomer who played Mui Yim Fong in the film. Without her, we couldn't make this film. To our entire film it was not only luck but also a type of destiny. In the same manner without this thoughtful director Longman Leung, we wouldn't be able to finish ANITA either." Kong Chi Keung also praised Sister Mui as absolutely the daughter of Hong Kong people. He admired Sister Mui's professionalism and respect for the profession. Rising from a child singer at the Lai Chi Kok Amusement Park to a Heavenly Queen, her spirit of struggle to the final moment, her belief in never giving up exactly represented the spirit of Hong Kong people. He hoped that more Hong Kong people would be able to see this film and receive this message of positive energy, especially during hard times. The film will be able to cheer for Hong Kong!
Director Longman Leung recalled when COLD WAR 2 (HONG JIN 2) was still in the post production editing phase he met with Kong Chi Kong. "He told me that he has always wanted to make a Sister Mui biography and asked if I would be able to direct it. I told him, 'Since you chose today to tell me about this wish, it is very hard for me to turn it down.' Because that day was December 30th, the day Sister Mui left us. I was fortunate enough to have run into ANITA in my screenwriting and directing career. From research, script confirmation, casting, production, editing to post production, my biggest impression is Mui Yim Fong once appeared in Hong Kong; we were lucky to have her."
He also said that the film would not only chronicle Sister Mui but also Hong Kong's 80s. Sister Mui meant the typical child of Hong Kong to him. "Although she started in a lowly place, with her hard work she made a career for herself; she never let the fame go to her head, often would put her family and friends in her heart; whenever the community was in need she would never turn away; no matter what hardship she ran into, she never gave up. Sister Mui's life on a certain level represented the story of us Hong Kongers' struggle."