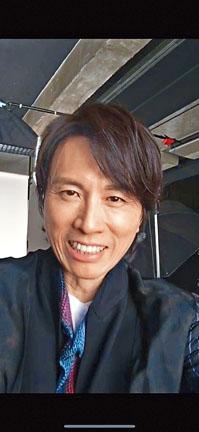 courtesy of singtao.com
Dayo Wong thanks friends of their helping hands and jokes that he cannot help Miriam Yeung why
courtesy of on.cc
The Dayo Wong Tze Wah and Charmaine Sheh Sze Man starred Lunar New Year comedy AGENT MR. CHAN (DUNG DUK DUT GUNG) will open on the 15th. In the film Tze Wah of course showed off his humorous style, Ah Sheh also had a different "bad looking" performance. Aside from the leads and key actors C Kwan, Cecilia So Lai Shan and others, guest stars were super and surprising. Among them were Best Actors, Best Actress, Heavenly Queen, Television Best Actress and other popular actors. The rarest was that each appearance was special and sharp!
The self proclaimed "box office poison" Tze Wah truly could say nothing but thanks to all his superstar friends for their guest appearance. Thus Tze Wah made an almost 8 minute thank you video series to thank each and every one of the 28 superstars for their help. The list included Sammi Cheng Sau Man, Miriam Yeung Chin Wa, Michael Hui Koon Man, Alan Tam Wing Lun, Julian Cheung Chi Lam, Ada Choi Siu Fun, Lawrence Cheng Tan Shui, Sandra Ng Kwan Yu, Grasshoppers, Michael Wong Man Tak, Tang Siu Chuen, Louis Cheung Kai Chung, Cheung Tat Ming, Kingdom Yuen King Tan, Lo Hoi Pang, Benz Hui Siu Hung, Lam Suet, Helena Law Lan, Joyce Cheng Yun Yi, Jazz Lam Tsz Sin, Cheung Kwok Keung, Jim Tsim Shui Man, Tong Chun Yip, Ken Low Wai Kwong and Michael Ning (Bak Ji).
Tze Wah in the video said, "This AGENT MR. CHAN production broke my lifetime record. I have never owed so many people so much all at once. Today please be patient with me as I thank all the friends who have friends once. To friends who received no reward and sincerely rescued me, this box office poison, thank you all." Tze Wah thanked Sammi for setting her own hairstyle and costume. "When she lent us a helping hand, she didn't just come and help. She did her own hair and costume before coming to play our superstar in the film, Cheng Sau Man herself, thank you." As for Yeung Chi Wa, Tze Wa even stated that she did not know her originally. "I didn't know Chin Wa, when she came I really couldn't help but ask, why would you help us? I remember what she said, because it's a lot fun. Such people and such a world really exist? Thank you very much for having people who still like to have fun so much in this world, thank you, Chin Wa."