Dada Chan shares some vacation photos to celebrate the Lunar New Year's Eve
courtesy of on.cc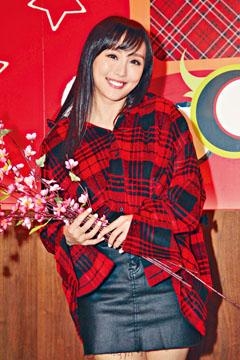 Dada Chan spends several hours for a few lines of animation voice work
courtesy of singtao.com
Dada Chan Jing in the Lunar New Year animation film OZZY provided her voice for the first time as the leader of a group of dogs. This prison boss was actually a chihuahua. She even had to perform in a masculine voice. Dada said that at first she thought she only had a few lines, she did not expect to dub for five hours. She said, "For the first time at voice work the hardest is to synchronize with the lips. In addition I had to deepen my voice as much as I could to speak. Luckily the director gave me a lot of suggestions and it felt pretty fun."
Today is the Lunar New Year's Eve, Dada said that this year she would celebrate with a family vacation to enjoy the sun and the sand. She prepared many swimsuits in various style. Would she shoot a photo book? She said that she would only take photos for herself to enjoy. This trip would be all girls with her mother and sisters. Was she afraid of more photobooks at her age? Dada said, "No, sometimes when I took photos on small islands I would share them on IG. However work would be a little boring with more of that. I hope to be able to choose even more new challenges. I don't want to repeat or just give sexy performance so I have turned down a lot of opportunities." She stated that she did not mind giving up the chance to make money. Actually she could make less and spend less, since she did not spend a lot anyway.
In June Dada would have a new challenge as she would gain 20 pounds for a woman film. She would have to drop back to her original weight in a month to continue the shoot. She said, "Because it's very hard for me to get thin, the director didn't shoot the skinny transformation scenes in advance. Instead I would have to lose 20 pounds to return to my original work." Was she worried that she would become depressed from such a drastic weight loss in such a short time? Dada admitted that she has considered this problem. The team's advanced explanation already prepared her mentally, but it still would be a great challenge.