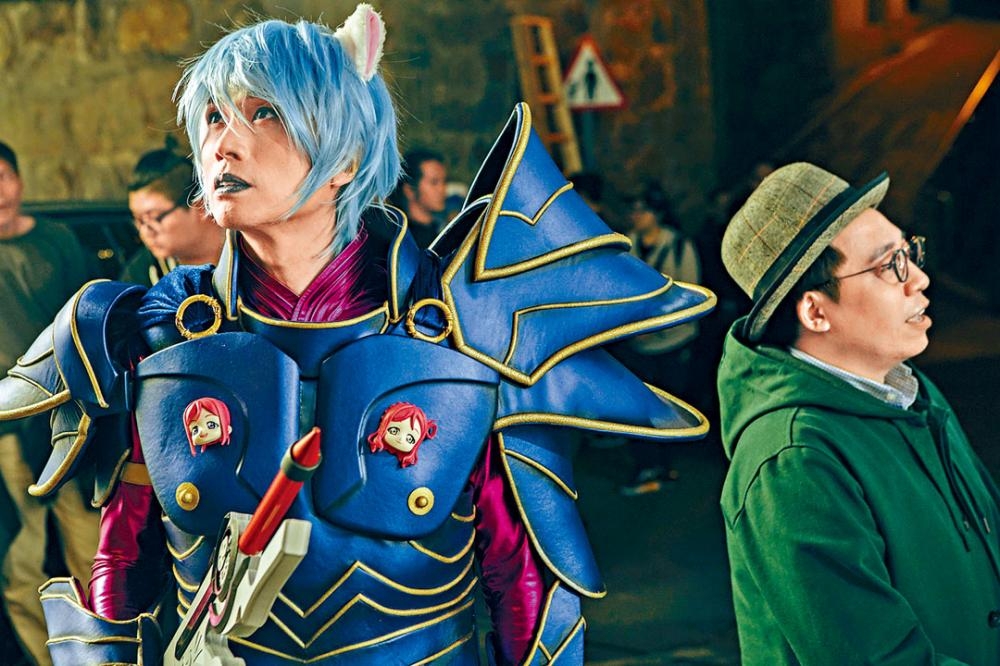 courtesy of singtao.com
Dayo Wong Tze Wah played cosplay for the Lunar New Year film AGENT MR. CHAN (DUNG DUK DUT GUNG), his ultimate look has been officially revealed. Aside from racking his brain to design the costume, Tze Wah even pulled up his eyebrows for the look. For two days he had a headache and a numb face but he did not complain!
Wong Tze Wah in the Lunar New Year AGENT MR. Chan played the title character. In the trailer he had many different looks, with the geek look receiving the most attention online. However, the best was yet to come as the ultimate funny look was officially revealed!
Tze Wah in the film had many highly difficult special agent missions. In one scene he had to put on a cosplay costume to investigate in a maid theme restaurant. This ultimate look was called he "darkness black feather armor saint", which Tze Wah designed with a costume designer from the color matching, hairstyle to even the dolls on the chest.
The armor itself had certain weight and with the weapon those with a little less energy would not be able to handle them. However, the most difficult was the cosplay make up. It took two hours before and after. Tze Wah had to "pull up his eye brows" with tape to display the spirit of the cosplay make up. Yet after two days he had a headache and numb face. Even Tze Wah's assistant C Kwan felt bad for him. However Tze Wa was a professional and had no complaint. Instead he was excited about this ultimate funny look.
Aside from design, Tze Wah also had a part in writing the AGENT MR. CHAN script. He revealed that when the producer asked him to play this special agent role, at first he thought it would be very easy. He did not expect to have to write the scrip with the entire screenwriting team. Actually writing a script that was suitable for the entire cast was not easy. No detail could be overlooked. Thus it took two years. With over 5,000 hours of group creativity, the final draft was the tenth one.
Special agent films have always been Tze Wah's favorite. He said that this time his character was rather different. In the film for world peace and high ideals he was willing to sacrifice anyone, especially with women he would swindle love and money. He expected that he would start a lot of discussions among the viewers.
AGENT MR. CHAN will open on February 15th, one of the Year of the Dog Lunar New Year films. However, Tze Wah's original intent was not to make a Lunar New Year. He stated that he only wanted to make an entertaining comedy. The boss after watching it felt that it had Lunar New Year film potential and scheduled its for a Lunar New Year release. This year it would have many Hong Kong film competition. Tze Wah said that his film had no boring scene from the beginning to the end. He was full of confidence in AGENT MR. CHAN.