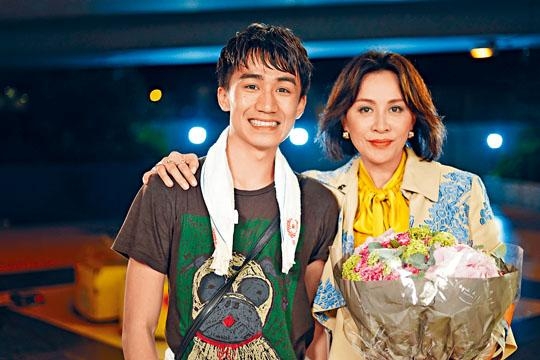 courtesy of singtao.com
Ng Siu Hin worked on his first Lunar New Year film A BEAUTIFUL MOMENT (NGOR DIK CHING DIK NUI SAI). Aside from working with Carina Lau Ka Ling again, he even had scenes with guest star Joey Yung Tso Yi. In the film Hin Jai played a fish ball vendor, who ran into music diva Yung Tso Yi. He even sang Joey's classic song with a group of vendor friends to express his love for her. Hin Jai said, "My first Lunar New Year film was a lot of fun because the most primary mission was for a group of people to create a cheerful atmosphere. I only found out about the mystery guest would be Joey on the set. My friend really likes her, and I almost express love to her for my friend!"
In addition, the set also had many different street snacks like egg waffle. However Hin Jai actually said that he was still hungry. He said that luckily Sister Ka Ling was there to save him. "When I got to the set I greeted Sister Ka Ling, someone just happened to buy a big tray of snacks for Sister Ka Ling."