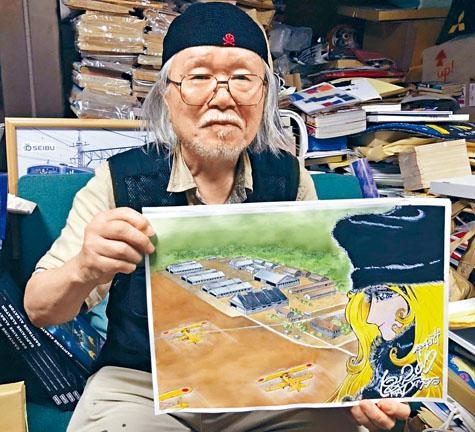 courtesy of singtao.com
Most Post 70 Hong Kong people grew up with the Japanese national treasure class anime manga master Leiji Matsumoto's classic work like GALAXY EXPRESS 999, QUEEN MILLENNIA, SPACE BATTLESHIP YAMATO, QUEEN EMERALDS and SPACE PIRATE CAPTAIN HARLOCK. Recently Leiji Matsumoto went to Italy for an anniversary event. When he arrived at the screening venue he felt ill and was sent to the hospital. He was once rumored to be in critical condition after a stroke. The Japanese media yesterday afternoon revealed that Leiji Matsumoto's condition has improved but he was still under observation in the Intensive Care Unit.
Leiji Matsumoto was born in January 1938 in Kurume, Fukuoka. He also has knowledge in various subjects like astronomy, archaeology, weapon and military history, thus he is greatly inspired in his creation. His work also influenced many other mangaka. Two years ago, Leiji Matsumoto visited Hong Kong and met with a group of Hong Kong manga fans. At the time he had morning tea and dim sum with fans. During an interview, he joked that now that he is old, he starts to resist birthday celebrations.