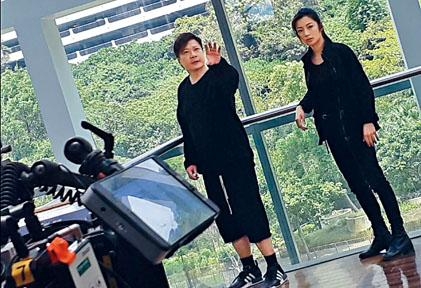 courtesy of singtao.com
"New generation action actress" Wiyona Yeung Lau Ching played a sexy secretary in the television series THE MAN WHO KILLS TROUBLES (GAI KUET SI). Most recently in her new film GUILT BY DESIGN (CHUI MIN CHOI KUET) she put away her sultry side to play a professional killer. In the film she had her share of physical combat and gun play scenes.
Actually despite all of her action scenes, this was Yeung Lau Ching's first gun play scene. She said, "During the performance I couldn't help but blink. I also didn't know how to hold a gun. Luckily this time the action director was Chin Kar Lok. Although it was the first time we worked together, from him I benefit a lot. He taught me gun holding and a lot of action scene skills, which kept me from being embarrassed even with bad takes. He truly has become my idol." Yeung Lau Ching also said that her action scenes have always been very smooth, but a simply "smoking" scene caught her in frequent bad takes. Because she did not smoke herself, she ended up smoking half a pack before completing the scene. Her voice became hoarse as she felt nauseous from the smoke all over her. Thus she still wanted to keep being an "action actress", hoping that after Sharon Yang Pan Pan, Michelle Yeoh (Yeung Chi King) and Cynthia Khan (Yeung Lai Ching) everyone would think of Yeung Lau Ching.