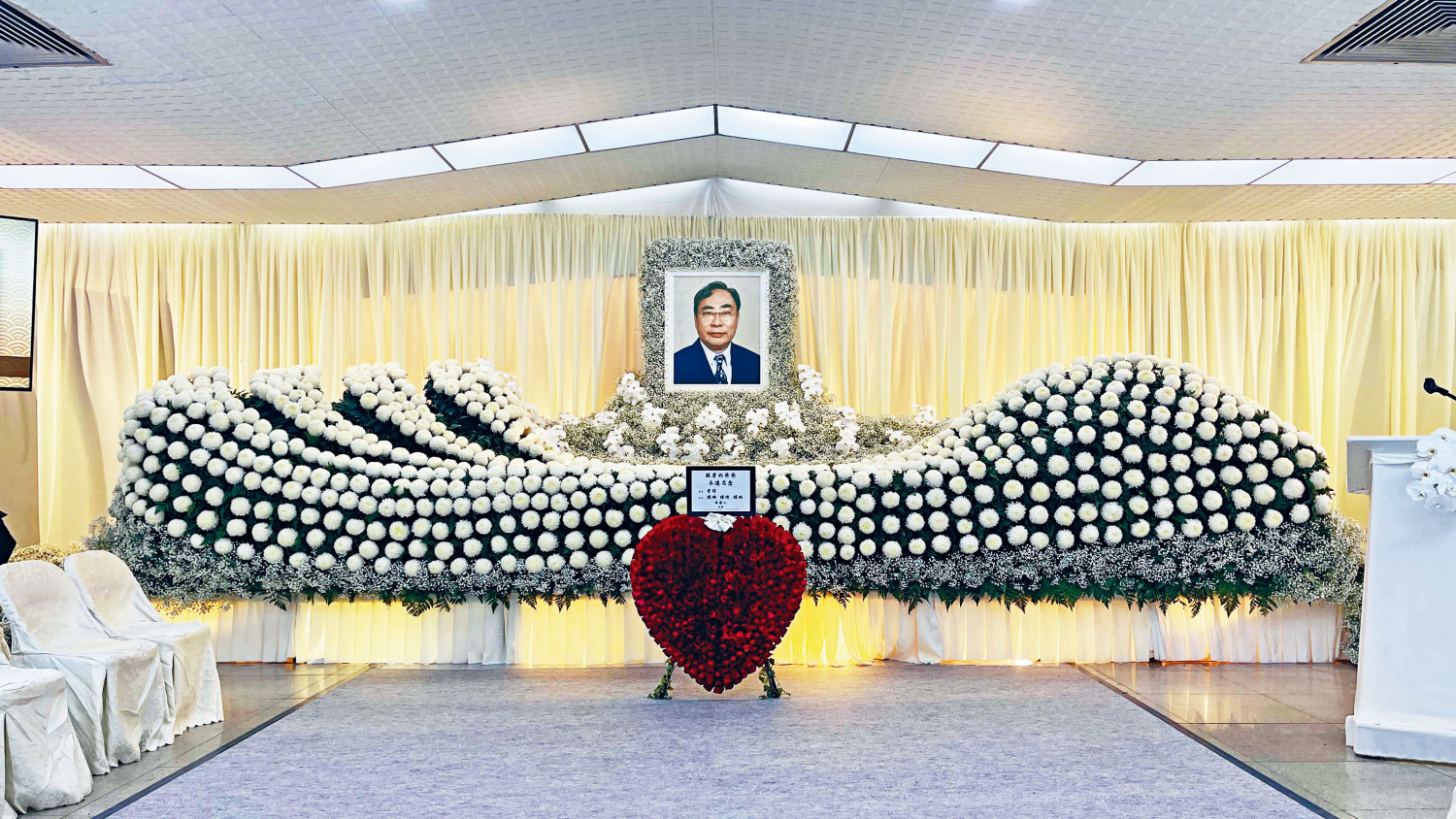 courtesy of singtao.com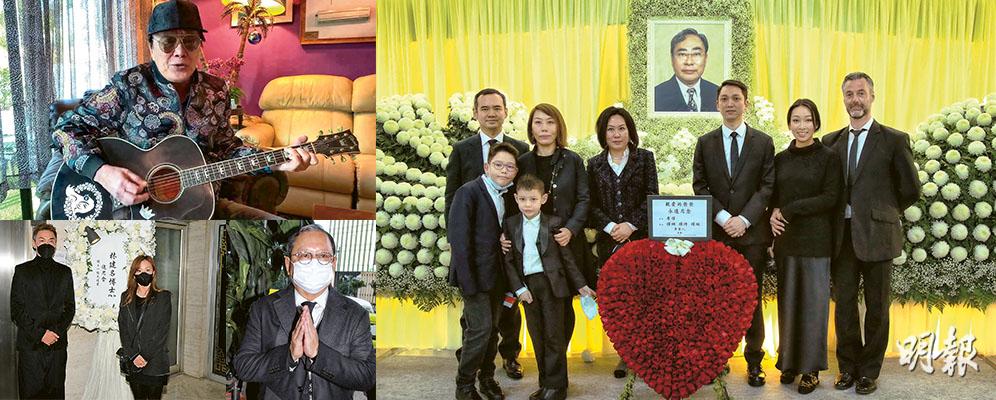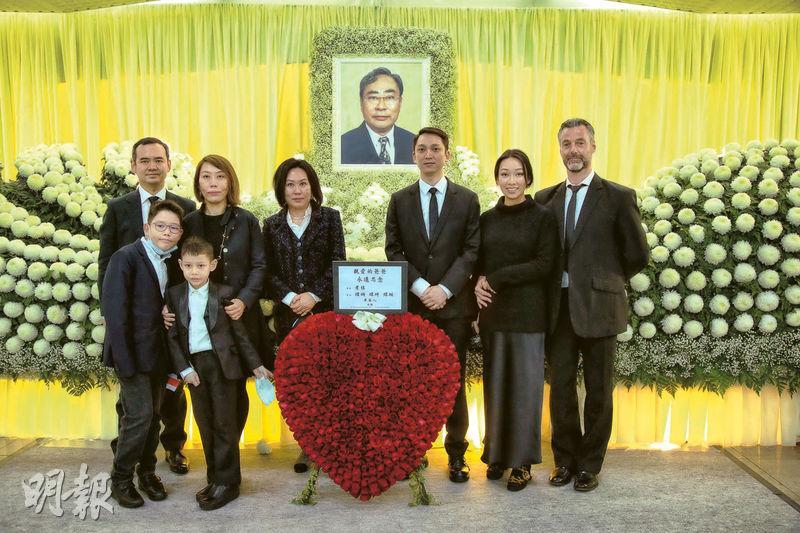 Vanessa Lam's husband, Vicky Lam and her two sons, Vanessa Lam, Howard Lam, Veronica Lam and her husband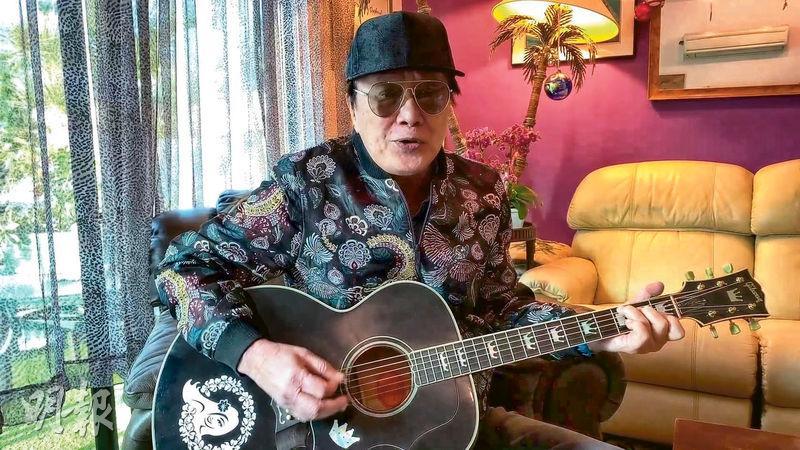 Sam Hui performs THIS SONG IS FOR YOU in appreciation of Lam Kin Ming taking care of him over the years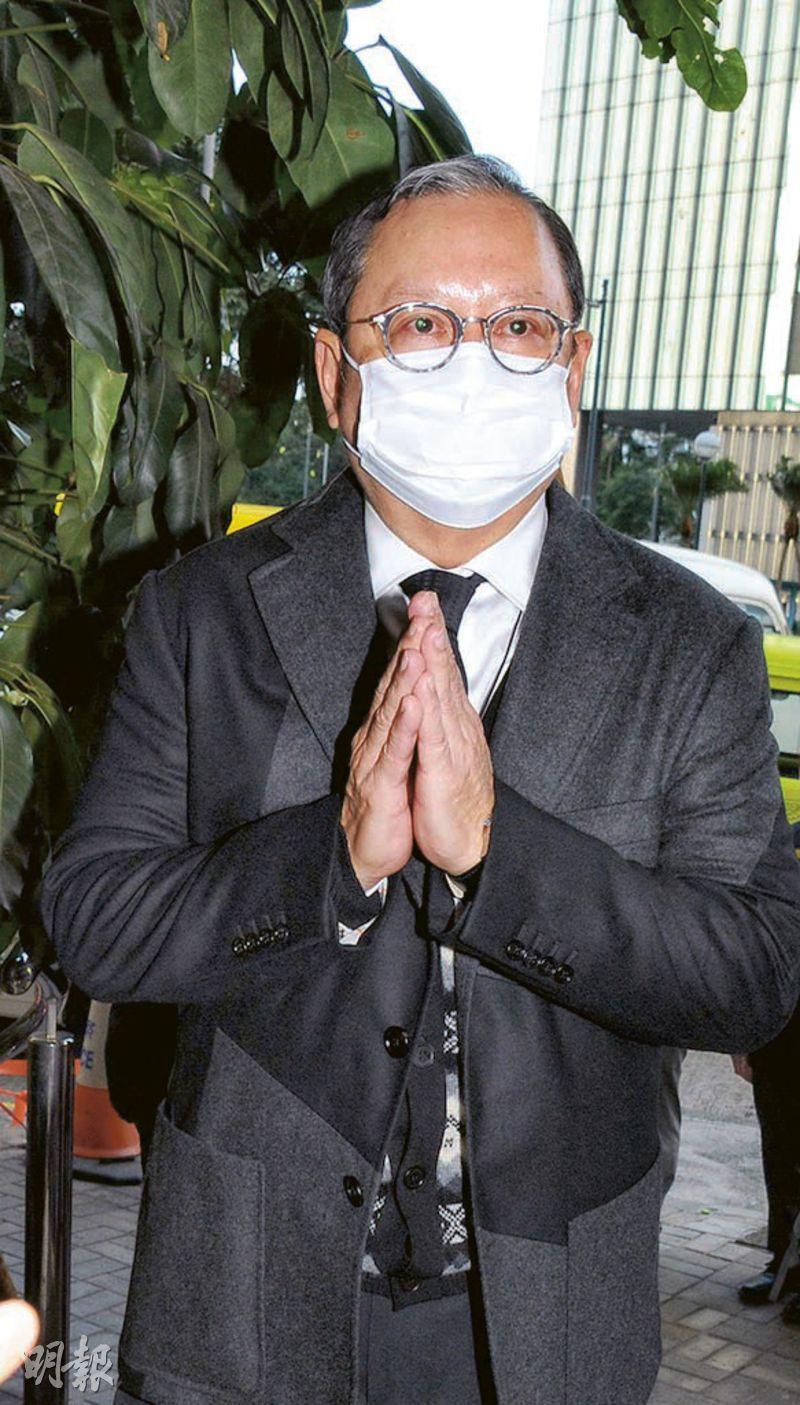 Peter Lam sorrowfully says that he really misses his brother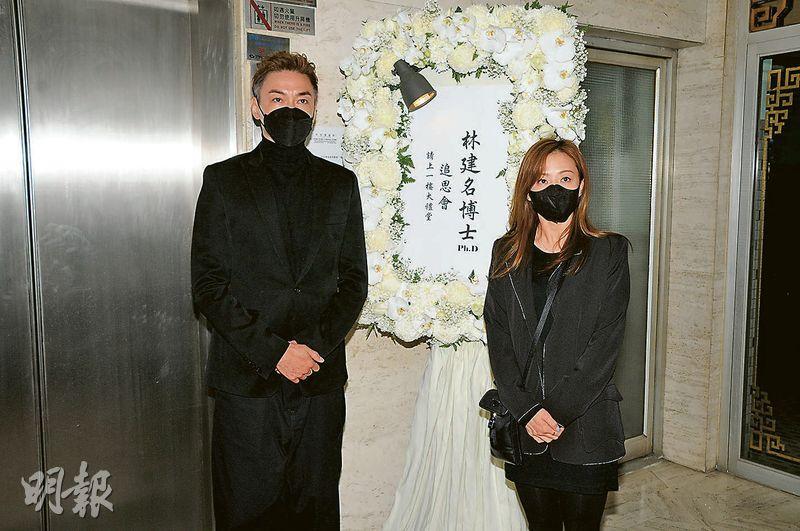 William Hu and Renee Dai attends the memorial to bid farewell to godfather Lam Kin Ming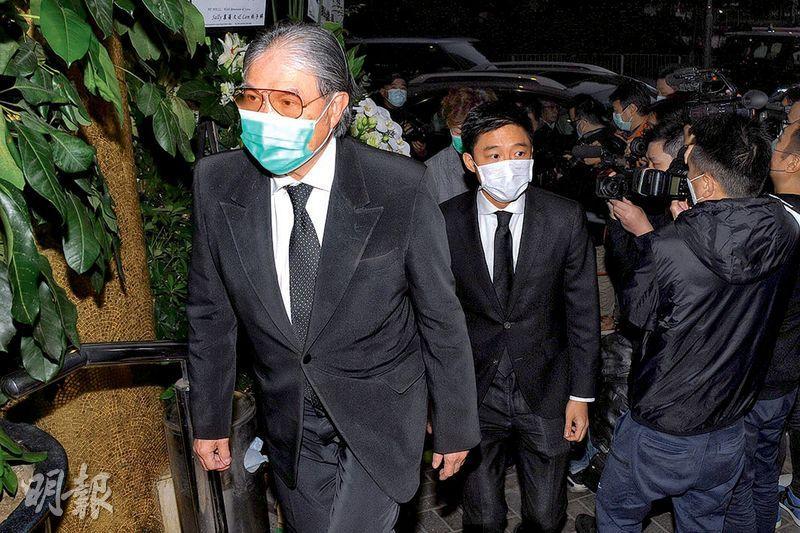 Timothy Fok and his son Eric Fok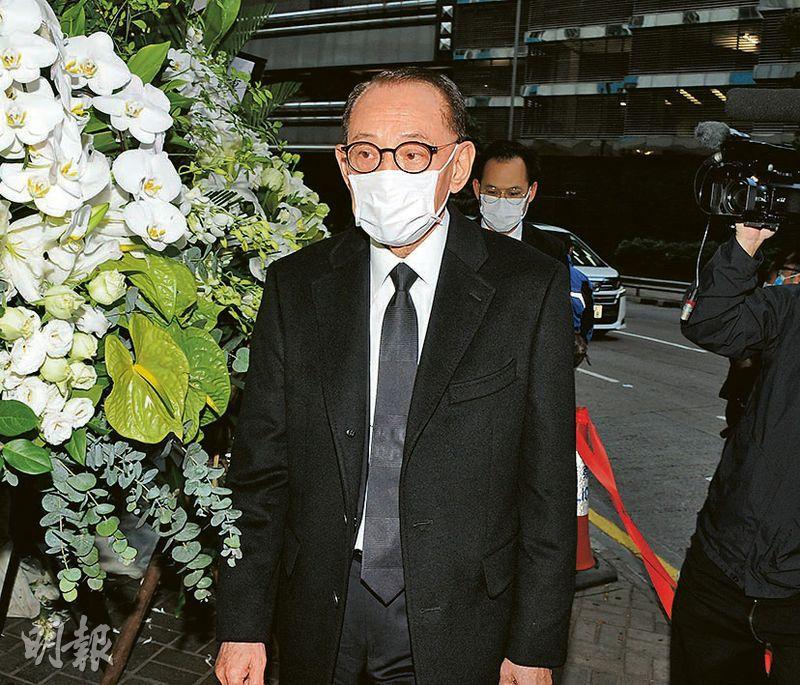 Albert Yeung gives an eulogy and remembers his time with Lam Kin Ming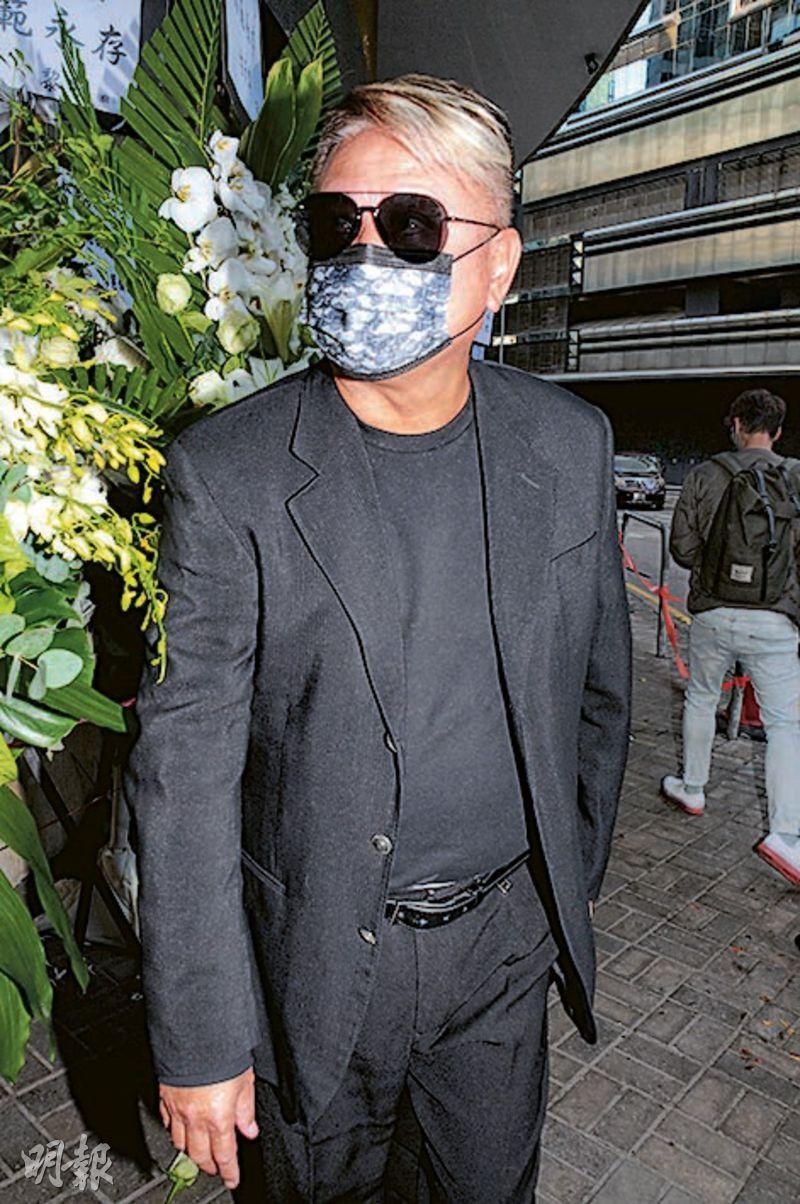 Nat Chan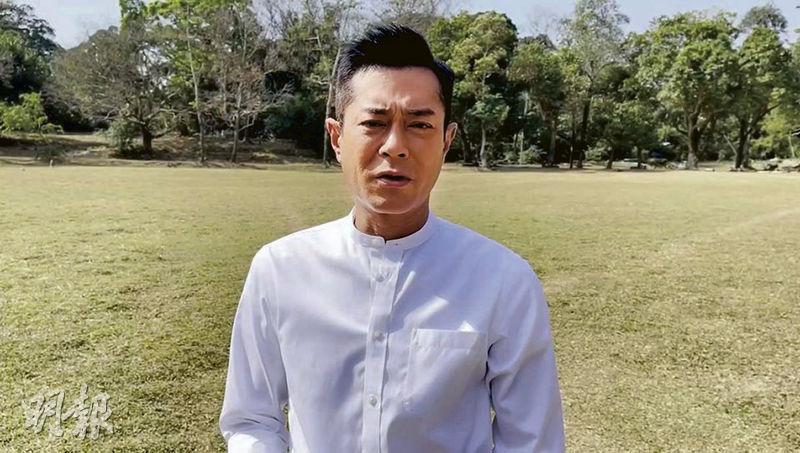 Louis Koo sends a video to remember Lam Kin Ming
courtesy of mingpao.com
Big Honor Entertainment's boss Dr. Lam Kin Ming passed away from Lymphoma on the 8th at age 84. His funeral already took place on the 19th in a low key matter. Yesterday a memorial was held at the Hong Kong Funeral Parlor for family and friends to remember this "Happy Young Master" one more time. Stars recorded eulogy videos, among them "Song God" Sam Hui Koon Kit performed in his video to bid "Young Master" farewell with a song.
Yesterday the hall was decorated elegantly and simply with orchids, chrysanthemums and baby's breath. The memorial's theme was "LAUGH AT THE SEA". Because "Young Master" in life hoped to bring joy to everyone, the event took place in a lighter atmosphere. At the memorial, "Young Master"'s four children Vanessa Lam Wai Shan, Vicky Lam Wai Kei, Veronica Lam Wai Ting and Howard Lam Hau Shun remembered their good Papa, then invited his friends like Albert Yeung Sau Sing, Timothy Fok Tsun Ting, Tommy Cheung Yu Yan and Alice Chiu Tsang Hok Wan to share details about Lam Kin Ming's life.
Family and friends who attended the memorial included Peter Lam Kin Ngok, Evelyn Lam King Yi (formerly Lam Oi Yi), Eleanor Lam Sum Yi, Lucas Lam Hau Lung and Lyann Lam Lei Yi, artists and celebrities like Nat Chan Pak Cheung, Alex Lam Tak Shun, Linda Wong Hing Ping, Anderson Junior, Alice Chiu Tsang Hok Wan, Cheng Yim Lai, the Eastern Long Lion football team, Albert Yeung Sau Sing and son Alex Yeung Ching Lung, Lawrence Yu Kam Kei, Tai Chi's Joey Tang, Gary Tong, Ho Lai Chuen, Tommy Cheung Yu Yan, Karene Mak Bui Yi, James Shing and wife Michelle Chua, Timonthy Fok Tsun Ting and son Eric Fok Kai Shan, Candy Cheung (Man Suet Yi), Suzan Guterres (So Shan), Mr. and Mrs. Ricky Fan Chun Fung, Suen King On and wife Money Lo Man Yi, Wu Fung and others. Once linked in gossip with Lam Kin Ming, Lily ho Tin Yee neither made an apperance nor send flowers.
"Song God" Sam Hui Koon Kit and some artists and celebrities were unable to attend the memorial but thoughtfully prepared videos to bid Young Master Lam a final farewell. They included Louis Koo Tin Lok, George Lam Chi Cheung, Raymond Wong Pak Ming, Chrissie Chau Sau Na, Law Lan, Remus Choy Yat Chi, Mandy Wong Chi Man, Chin Kar Lok, Kitman Mak, Albert Au Shui Keung and others. The memorial in the end bid "Young Master" farewell with Hui Koon Kit's performance of THIS SONG IS FOR YOU.
Lam Kin Ming was great with people in life. Many artists and celebrities all sent flowers, which filled the entire hall and extended outside the doors. They were from artists like Andy Lau Tak Wa, Jacky Cheung Hok Yau, Leon Lai Ming, George Lam Chi Cheung, Sally Yeh (Yip Sin Man), Jackie Chan, Alan Tam Wing Lun, Priscilla Chan Wai Han, Louis Koo Tin Lok, Raymond Wong Pak Ming, Chrissie Chau Sau Na, Adam Cheng Siu Chau, Vivian Chow Wai Man, Joe Ngai Chun, Lee Kwok Bo, Elaine Lok Yi Ling, Winnie Lau Siu Wai, Edmond So Chi Wai, Mr. and Mrs. Remus Choy Yat Chi, Calvin Choy Yat Kit, Linda Wong Hing Ping, Vivian Lai Shui Yan and others. The event also published a program that documented "Young Master's" life and ended with the James Wong Jim written lyrics to LAUGH AT THE SEA.
Around 4PM, family and friends from politics and business came to pay their respect. Firs came Yu Kam Kei, then came "Young Master's" half brother Peter Lam Kin Ngok. Reporters asked if he could say a few words. He said, "Can we do that later?" Would he miss him very much? He said, "Of course!" When asked whether his emotions have settled, he put his hands together without replying and thanked the media. He also stopped for the media to take photos.
Around 4:15PM, "Young Master's" eldest daughter Vanessa Lam Wai Shan and youngest daughter Veronica Lam Wai Ting came out to speak to the media. Lam Wai Shan was rather saddened, as soon as she opened her mouth she was already choked up. "First thank you friends in the media, so many of you have come to Papa's memorial under the pandemic. Papa's passing was very heartbreaking for us." She said that Papa was someone who would gladly perform charity work, contribute to the community, full positive energy. She got choked up as she said, "I hope everyone would always remember he was a happy Young Master!' Why would they keep Papa's funeral and memorial separate? Lam Wai Shan answered, "Because Papa has many friends, in addition the funeral has too many ceremonies and is hard to control. Due to the pandemic we want to divide the traffic flow, so we separate it into two events."
When asked whether Papa was already buried at the family cemetery? Lam Wai Shan said, "That's right!" She also revealed that they have completed many of Papa's wishes but did not want to talk about them one by one. As for Papa's business, would the sisters take care of it? She said that it would be maintained. Lam Wai Ting said, "I would keep entertainment, it would keep going. The company's artists wouldn't be too greatly affected. They will still keep working in Hong Kong and the Mainland." Speaking of their impression of the "Happy Young Master", Lam Wai Shan said, "He would be very happy over anything that was good for him, but he would still gladly accept anything that wasn't good for him."
In addition speaking of Sam's video to Papa, she said that normally they would dine with Sam. She never thought that he would sing a song for Papa. The program ended with lyrics from LAUGH AT THE SEA. She said that this song's lyrics would be very suitable for Papa's life, which was also the memorial's theme. The flowers at the hall was also shaped like waves. "Today's theme was LAUGH AT THE SEA, symbolizing looking at life with laughter. It was also the concept from us, his children." As for what they gave to Papa, she said that they gave a lot but did not want to go into details. The red heart shaped floral arrangement was made for Papa. The photo was selected because Papa really liked this photo. In it he looked like he ate himself fat, letting people know that he could really eat. She even revealed that Papa's children and grandchildren were all present at the funeral earlier. Yesterday they received 400 floral arrangement but they did not make any actual count of people there.
Lam Kin Ming's four children left at 7:40PM last night, before leaving they took a photo together at the lobby and thanked the media for their hard work.
William Hu (Wu Wai Hong) yesterday was the master of ceremony at the memorial. God daughter Renee Dai Mung Mung tearfully said that Lam Kin Ming had a video chat with her before passing. In the end she performed FRIENDS for her godfather, because she performed the song for her godfather before for his birthday. "At the time when he heard this song his reaction was more overwhelming, so I knew he heard it. I also know that Boss really liked to listen to music and songs, so I chose to dedicate it to him."
Wu Wai Hong said that he had a habit of using the name "Young Master" for charity donation. Mainly he felt that he had everything, but he might not have time to take care of even more people. Thus aside from donating money in his money, he would also take seniors to dinner on their birthdays. How would Big Honor Entertainment operate in the future? Mung Mung said that "Young Master" really liked this company, so it would continue on with Godfather's spirit. Wu Wai Hong said that earlier some colleagues promised to say a seat for "Young Master" at their concerts, feeling that he made many great contributions to the entertainment world.
Would they hold a memorial concert to remember the boss? Mung Mung said, "Of course we can, but it would depend how the pandemic turns out." Wu Wai Hong said that Hui Koo Kit yesterday shot a video to remember the boss, which was like a mini concert for him in advance. As for the boss's lessons in life, he said, "He had many, he told us to be happy in life, eat, drink and have fun, give back to the community." Mung Mung said, "He told me to be happier, more optimistic, not to be so stubborn, laugh it off, I would always remember him in my heart. I have too many unforgettable memories, because I have known Godfather since age 16. On and off screen he always supported me and treated me like his family. Whether professionally or personally he supported me in every decision." She also revealed that the last stage performance "Young Master" saw was his own company's production LET'S HUNT FOR A "TIGER" TONIGHT, he watched 4 out of the 6 shows. How was his health at the time? Mung Mung said, "He was always very optimistic, when I asked how he was, he would say, 'I am fine but you are not'. He was always very optimistic, very amazing."