Pakho Chau says that winning the Most Popular Male Singer Award with friend Hubert Wu is something to be happy about. He does not feel it is splitting up the honor.
Benjamin Yuen values online criticisms and thus responds seriously
Karen Mok's BREATHING IS HARMFUL sweeps up all four station's song award. She says that she is happier about people relating to the song than any award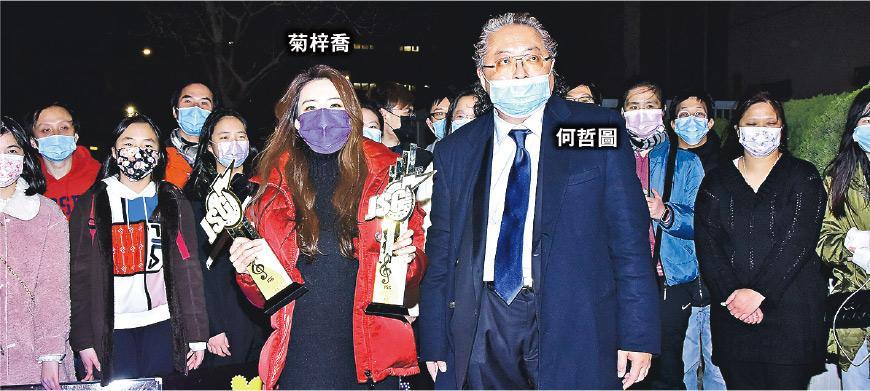 Hana Kuk celebrates with fans outside Television City. Boss Herman Ho also goes to get some air with her and help with the champagne bottle.
courtesy of mingpao.com
Hana Kuk's fans and boss Herman Ho are happy for her numerous awards
courtesy of on.cc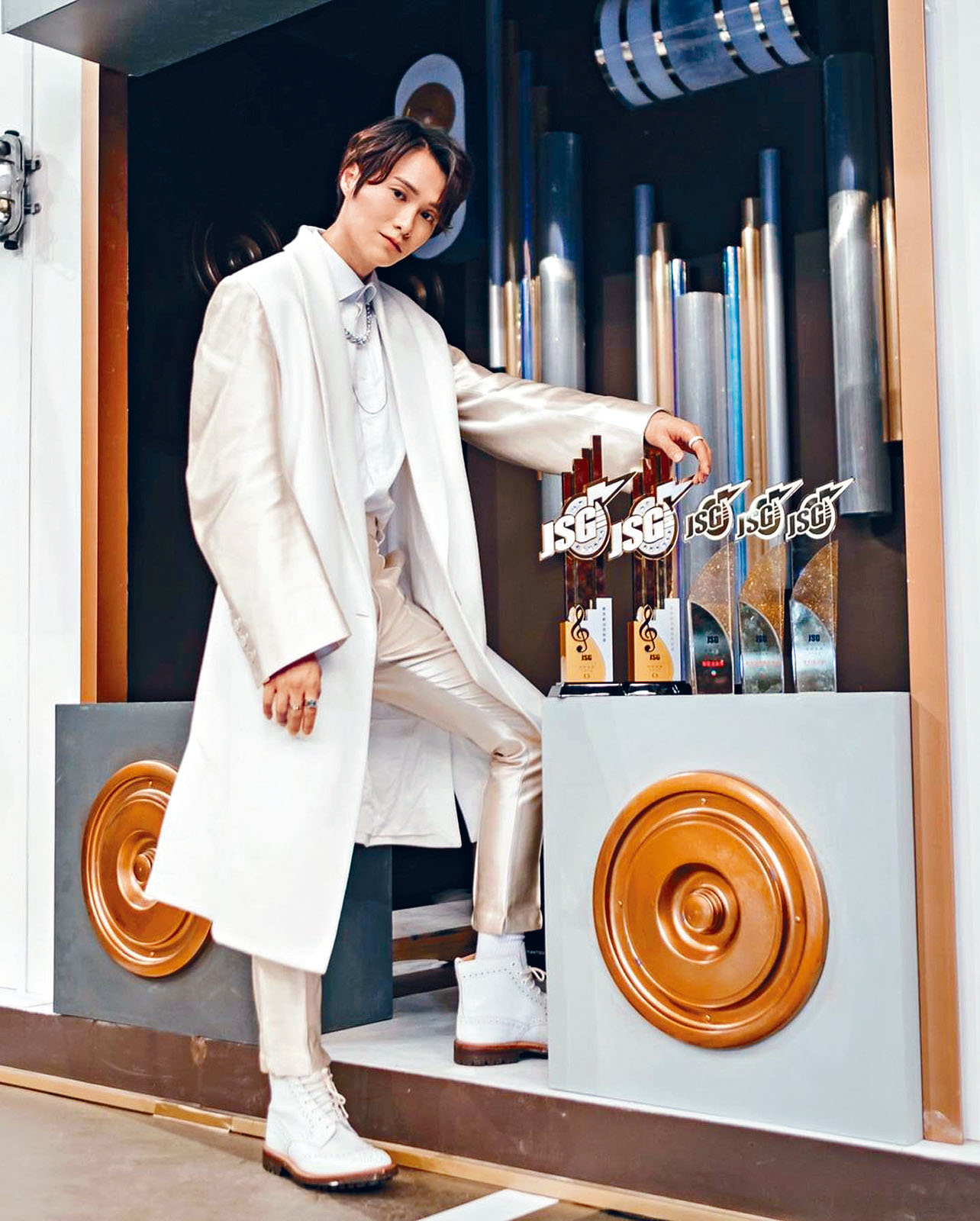 Hubert Wu takes five awards all at once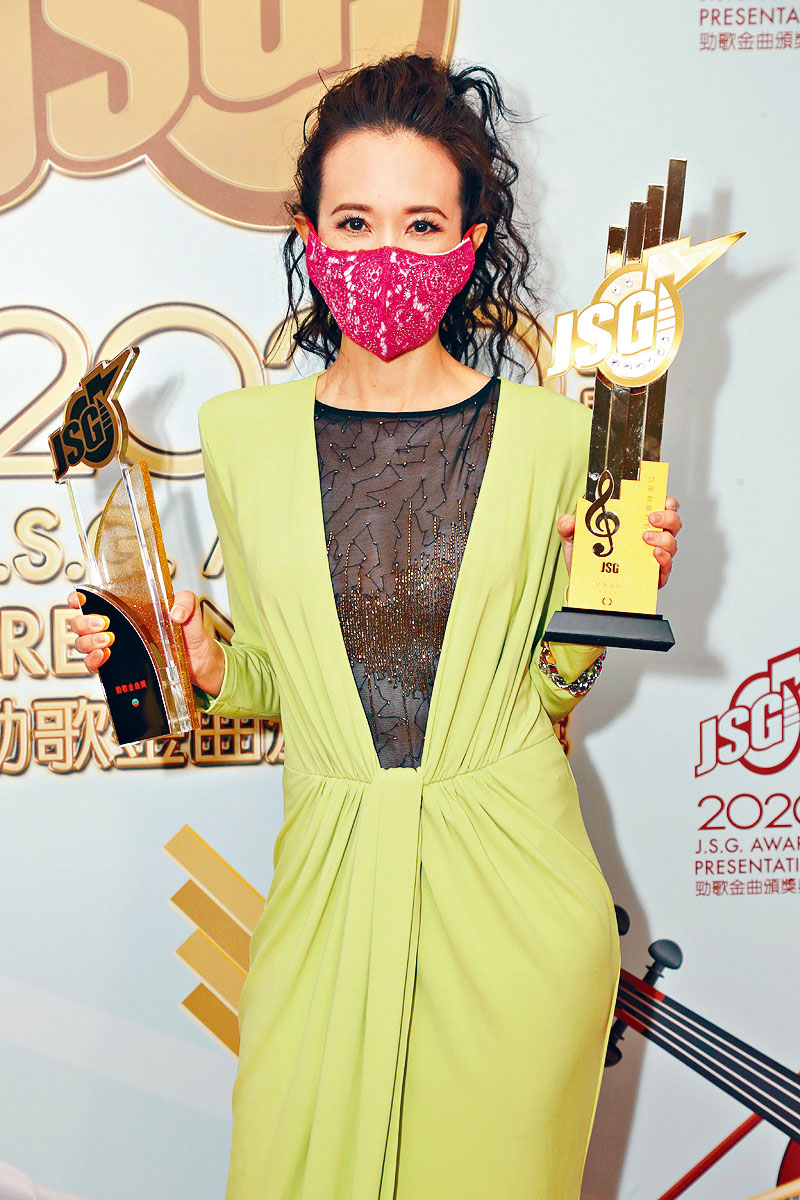 Karen Mok thinks Hong Kong is safer and hopes her husband would come to Hong Kong as well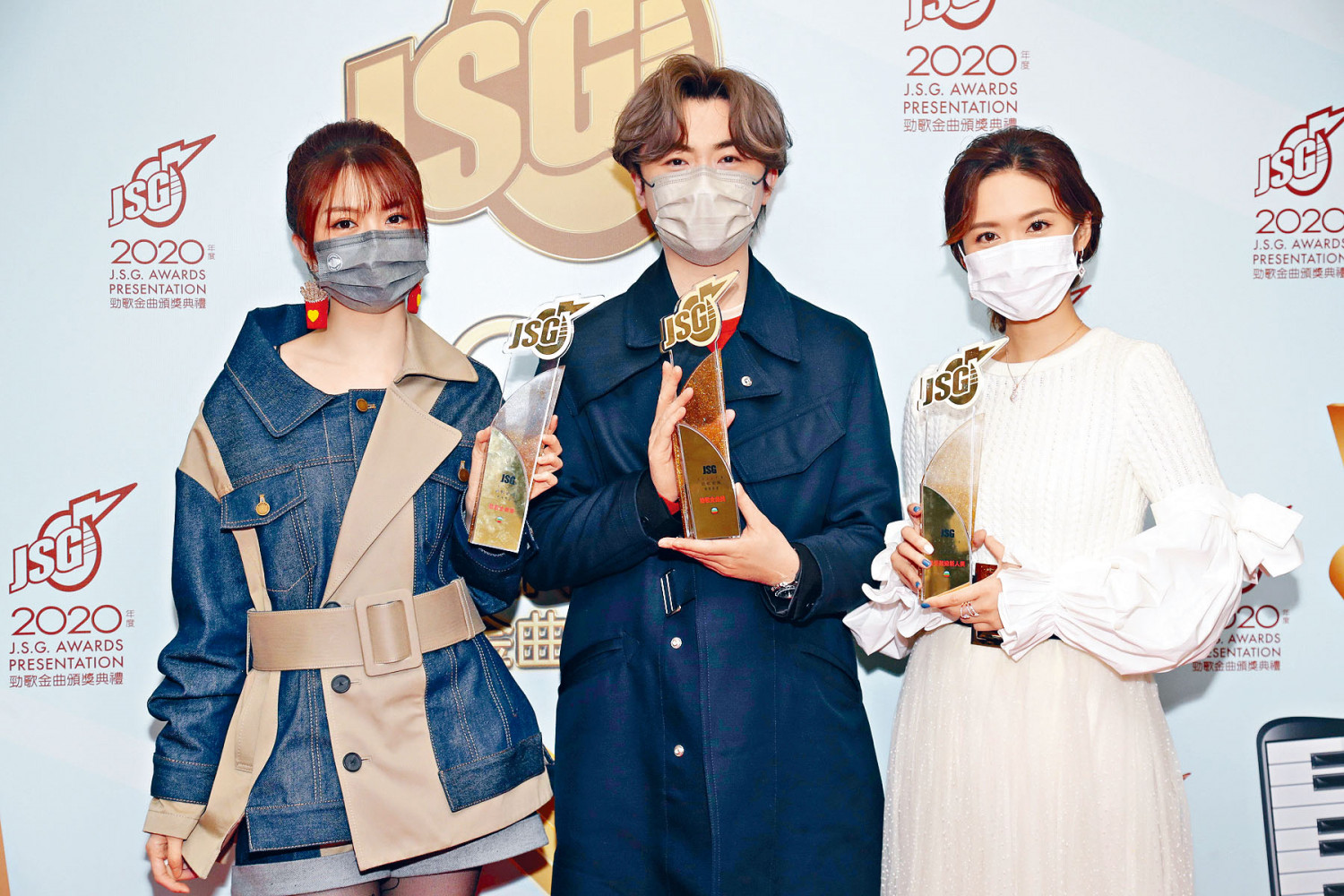 Ken Hung speaks to the media with his two junior colleagues
courtesy of singtao.com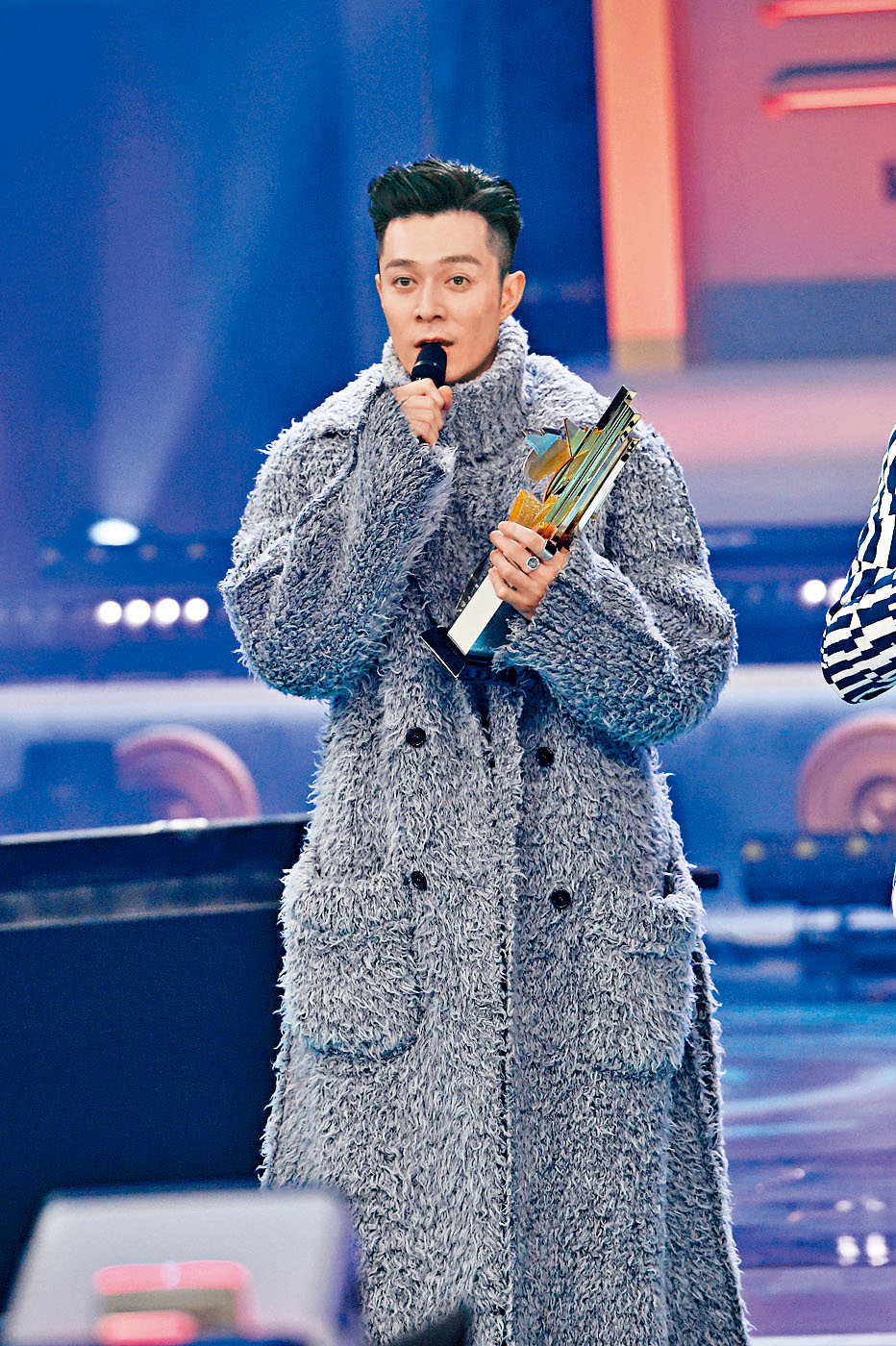 Pakho Chau wins the Best Performance for Male Singer and shares Most Popular Male Singer with Hubert Wu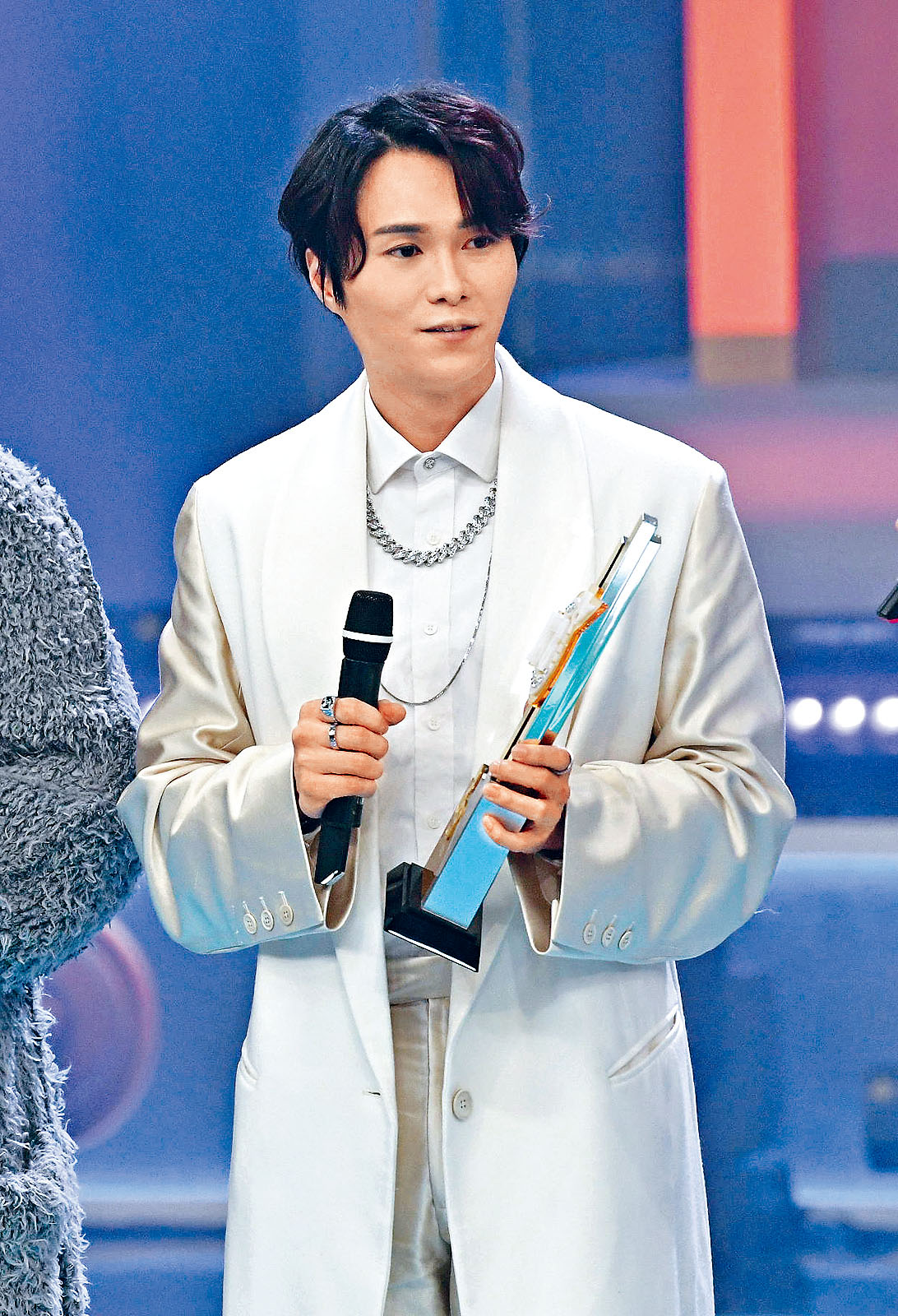 Hubert Wu wins Most Popular Male Singer, Most Popular Internet Male Singer and a gold song award
courtesy of singtao.com
Pakho Chau and Hubert Wu compete against each other all yet, but both end up with the crown and set a record
Hana Kuk solidifies her position as the Voice Entertainment's top diva with the Most Popular Female Singer award for the third year in a row
Onscreen couple Katy Kung and Joey Law cannot be sweeter during their duet
Joey Thye and Brian Tse win a gold song award with a duet
Gladys Li
Vincy Chan
Karen Mok's brainwashing masterpiece BREATHING IS HARMFUL wins the Gold Song Gold Prize as the favorite
Kayee Tam gets emotional when she accepts her award
Grace Wong gets moving with her performance
Shiga Lin braves the cold with her trademark long legs
Vincent Wong
Former gossip couple Bella Lam and Alvin Ng continue to have zero exchange, with Vivian Koo in the middle
courtesy of on.cc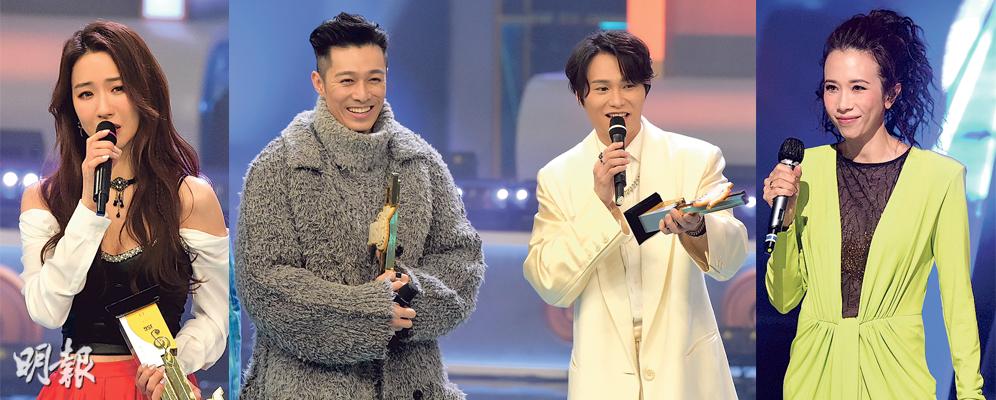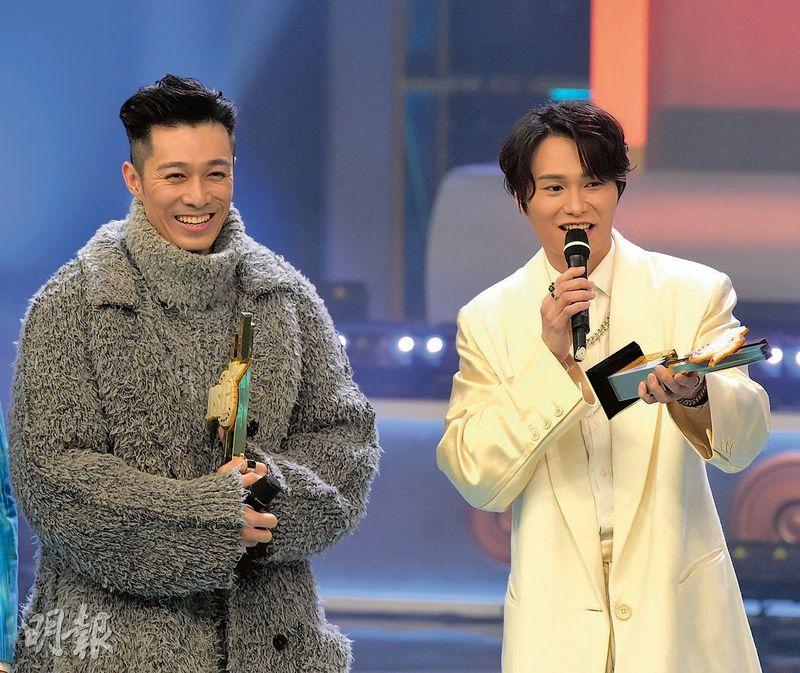 Pakho Chau and Brian Tse set a TVB Jade Solid Gold record as the Most Popular Male Singer award has two winners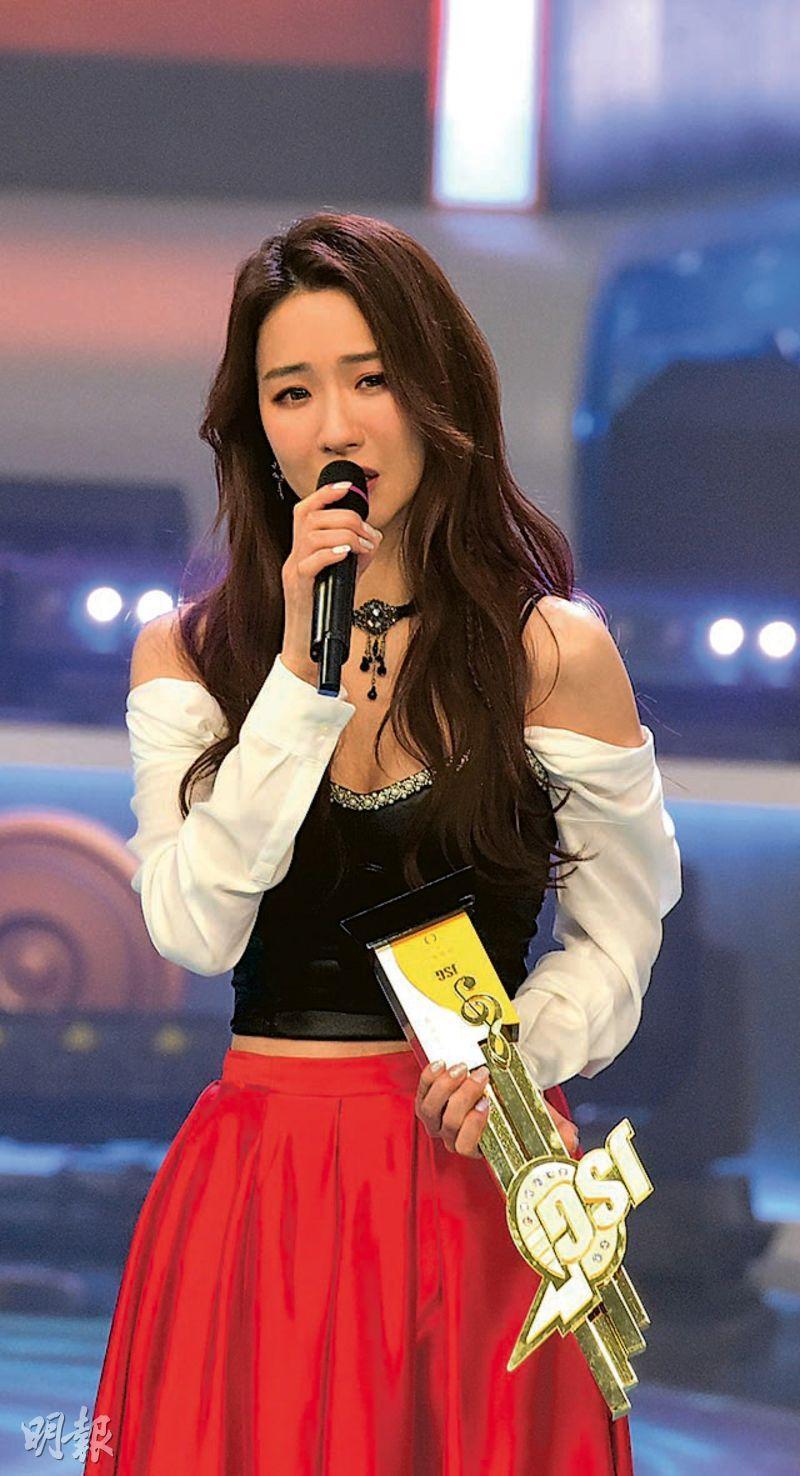 Hana Kuk wins her third Most Popular Female Singer, saying that losing on the starting line does not necessarily mean certain defeat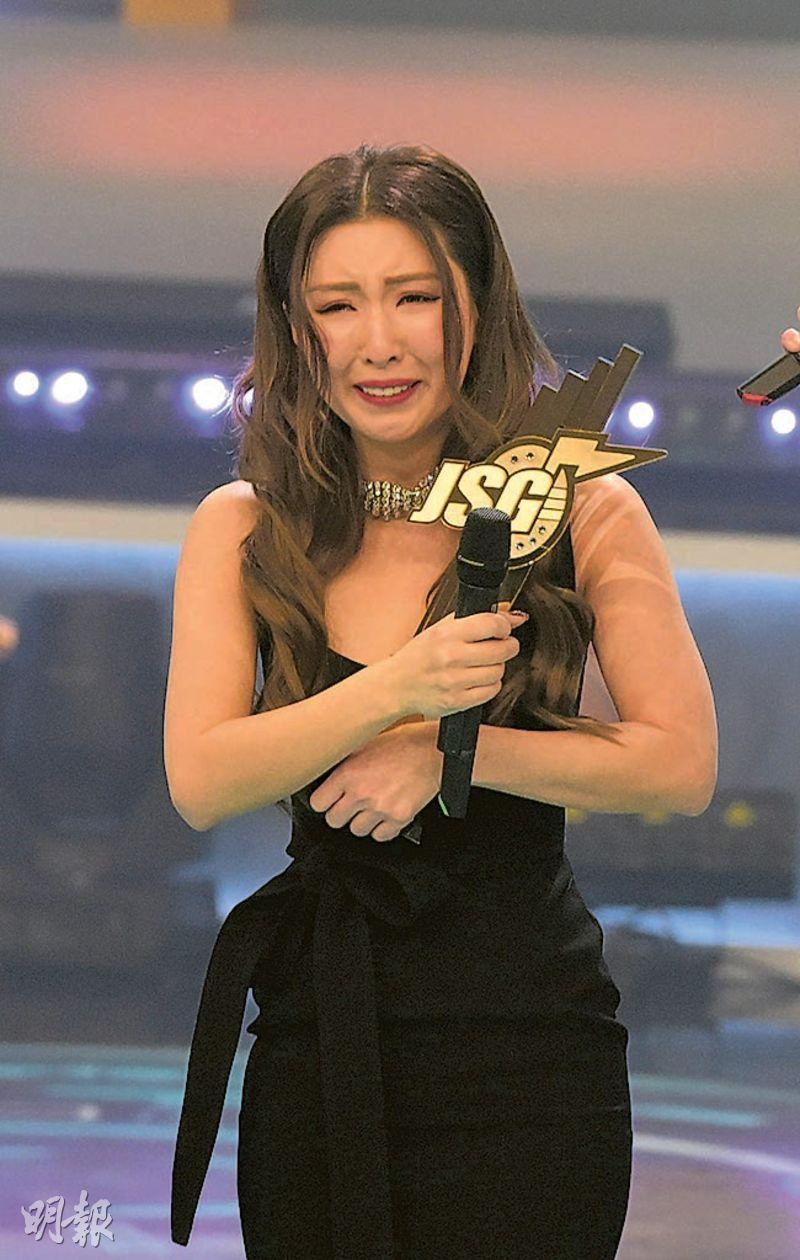 Kayee Tam breaks down after winning Outstanding Performance for Female Singer, hoping that her fahter in Heaven would be able to see it.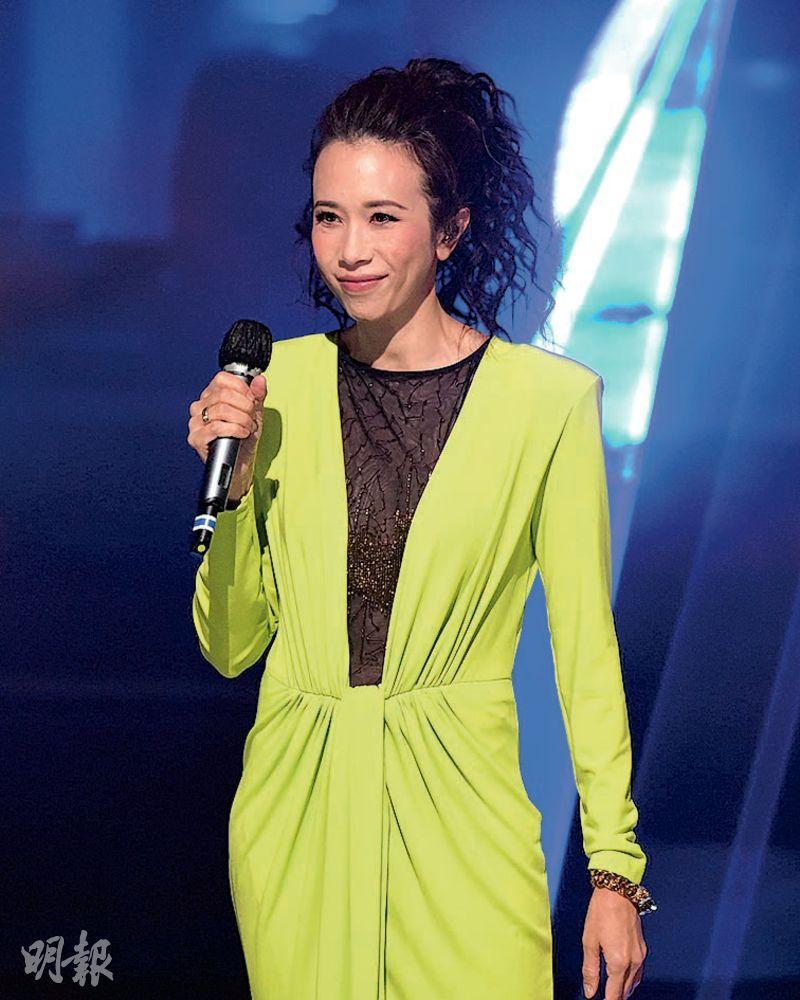 Karen Mok's hit BREATHING IS HARMFUL wins Gold Song Gold Prize and she is excited to accept the award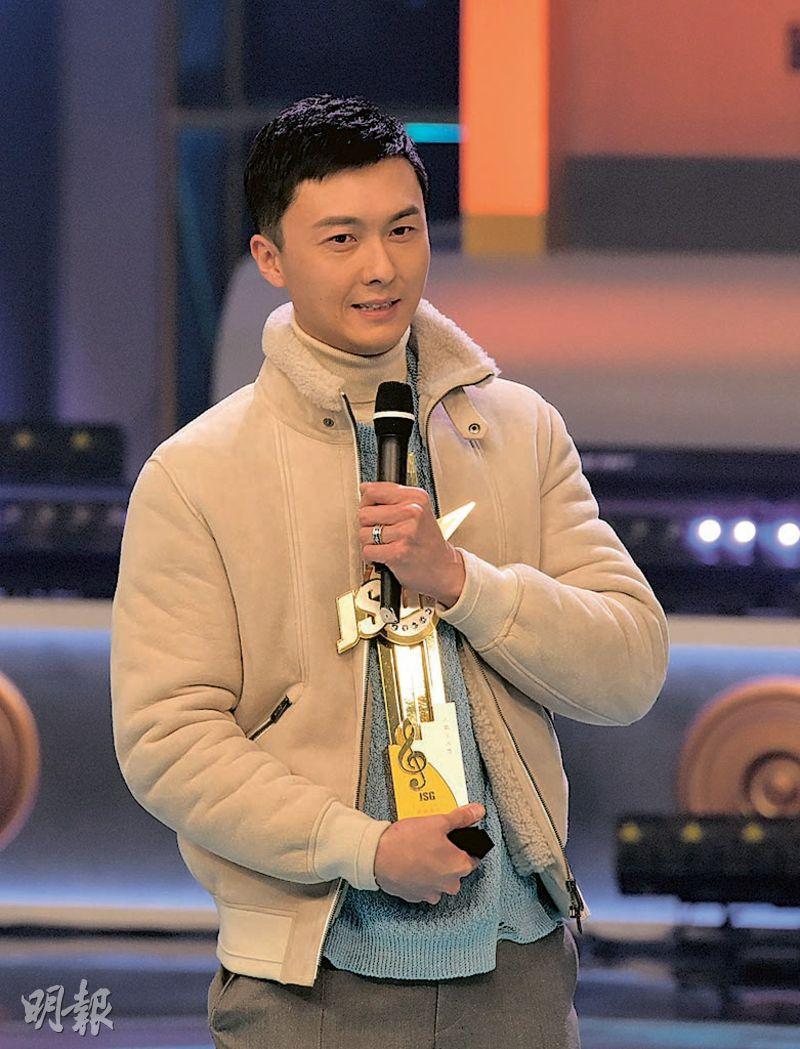 Television Best Actor Vincent Wong wins Popularity King and the Best Adapted Song gold prize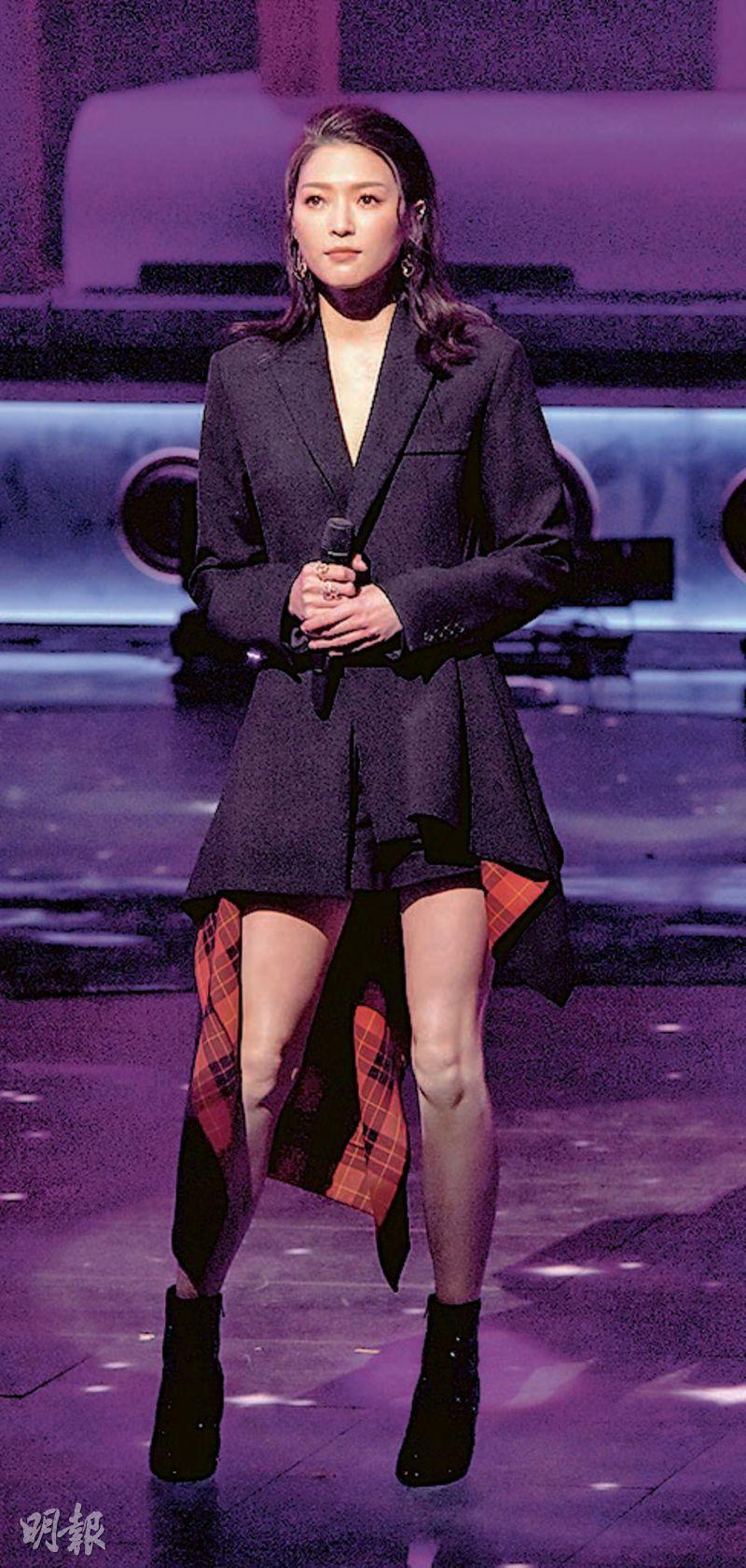 Shiga Lin is happy to receive two gold song awards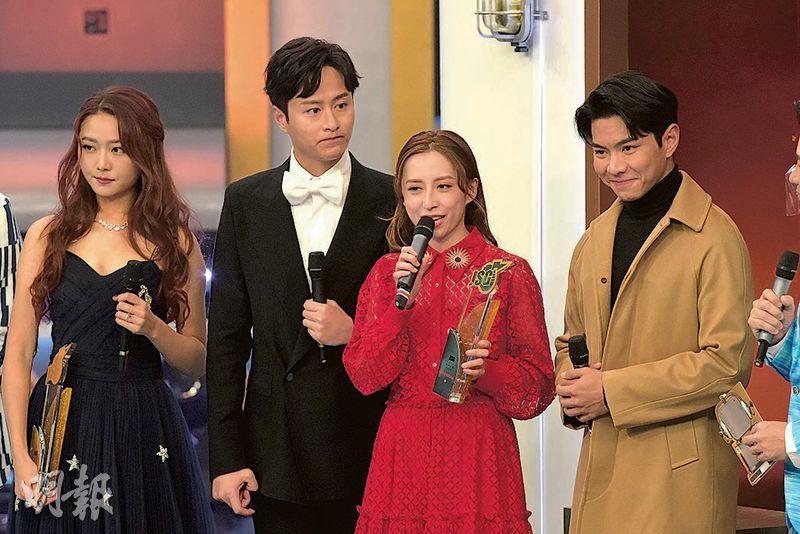 Joey Thye, Brian Tse, Katy Kung and Joey Law share the joy as they win the Best Duet gold prize
Grace Wong performs her Chinese Gold Song winner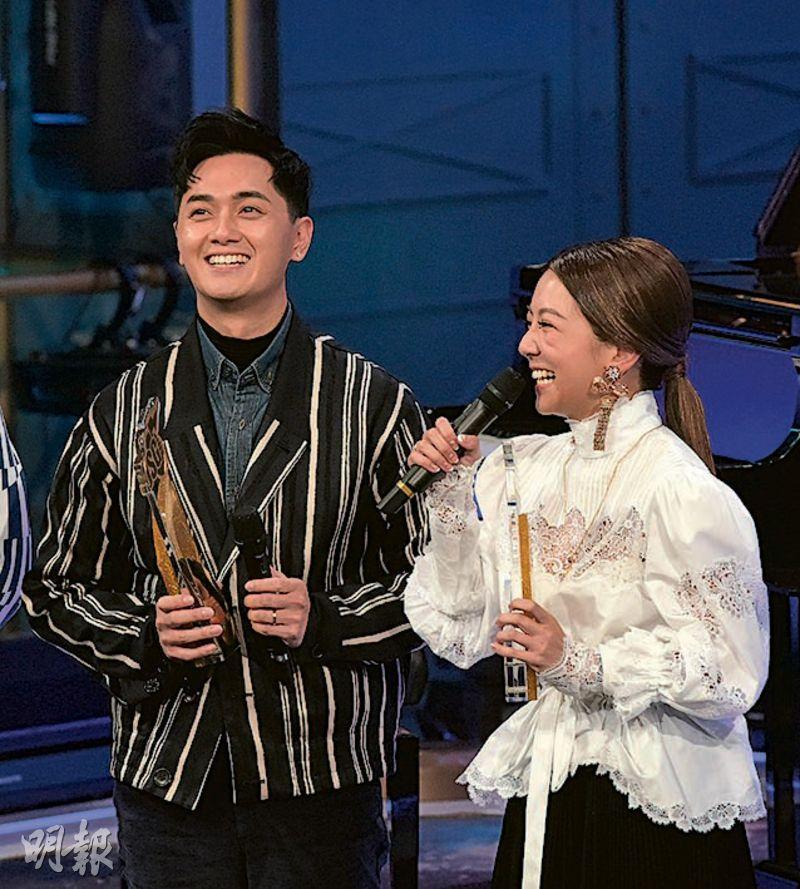 Fred Cheng and Stephanie Ho are arranged to receive their awards together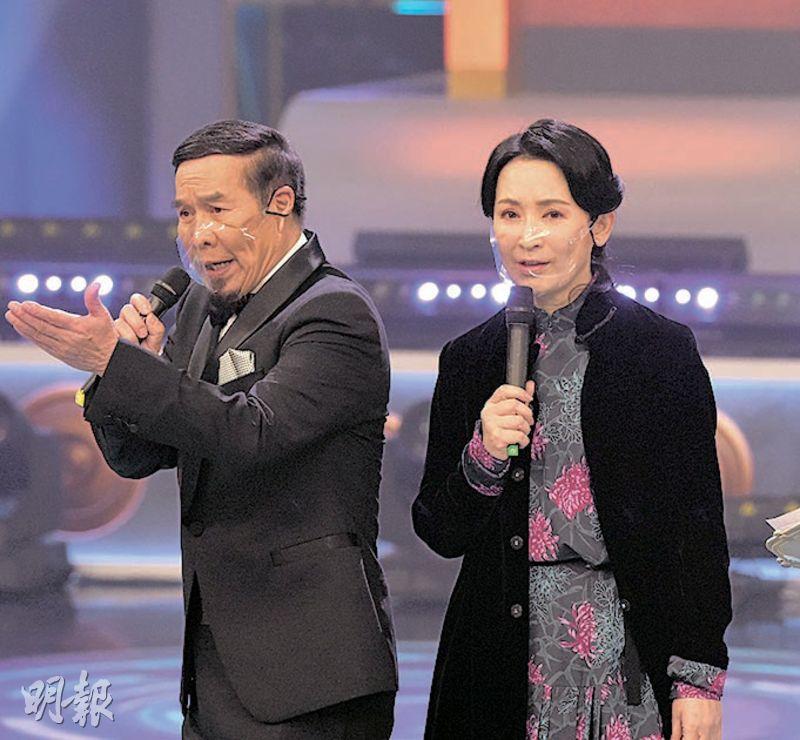 Whether accepting an award previously or presenting one with Mimi Kung, Jason Pai continues to keep on talking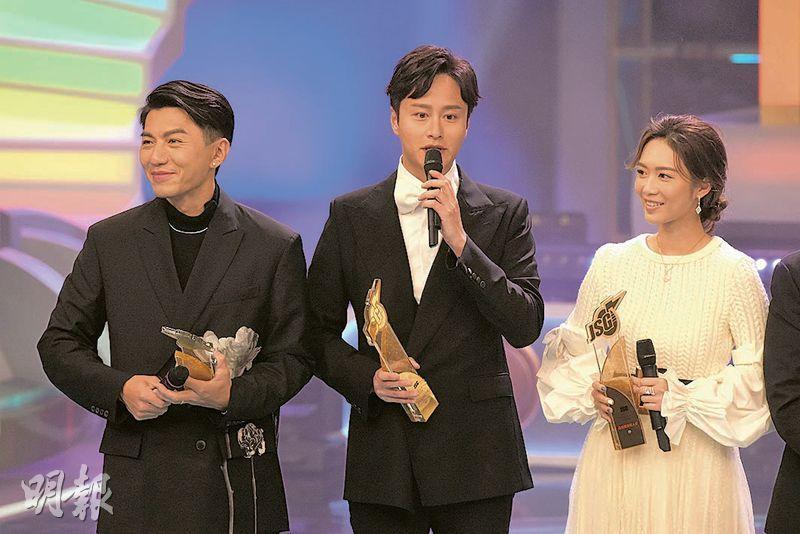 Benjamin Yuen, Brian Tse and Elly win Most Popular Newcomer
courtesy of mingpao.com
The final music award show of 2020, the 2020 TVB Jade Solid Gold Awards took place last night at the Television City. 50 awards were presented. Hana Kuk Chi Kiu for the third year in a row won the Most Popular Female Singer. Pakho Chau received the Best Performance for Male Singer, the Most Popular Male Singer and a gold song award. The Most Popular Male Singer had "twin winners" for the first time in history as both Pakho Chau and Hubert Wu Hung Kwan won. In summation, this year Hana Kuk Chi Kiu won five and a half awards, Pakho Chau won three and Wu Hung Kwan won five. Karen Mok Man Wai's BREATHING IS HARMFUL swept all four major music awards' song award as the Solid Gold Gold Song.
The award show started with a group of young singers Kayee Tam, Vivian Koo, Birds of Paradise, Joey Thye, Tsang Lok Tung, Zaina Sze Hon Kiu, Simon On Chun Ho and others' performance of OVER THE RAINBOW. From the singer seating positions, Hana Kuk Chi Kiu, Pakho Chau, Hubert Wu Hung Kwan, Vincent Wong Ho Shun, Shiga Lin, JW and others were seated in the first row. Fred Cheng Chun Won who received full support in past years was seated in the second row with his wife Stephanie Ho Ngan Si. Rumored to be busy with her son, Jinny Ng Yeuk Hei in the end did not appear at the award show.
The first award presented was the "Popularity King" award, which went to Vincent Wong Ho Shun for the second year in a row. He at the same time with WILLING TO REPLACE YOU received the "Adapted Song Gold Song" award. Wong Ho Shun thanked the Voice's CEO Herman Ho Jik To for adapting WILLING. Because he only sang it acappella in AL CAPPUCCINO, under Ho Jik To's encouragement he adapted the song. He also thanked friends who always supported him but he did not thank his wife Yoyo Chan Chi Yiu. Kuk Chi Kiu won two gold song awards in a row with CAN'T LET GO and I FAILED TO FORGET YOU. She thanked her boss for choosing excellent songs for her and hoped that in the future she would be able to continue to sing good songs.
Hubert Wu Hung Kwan with NO RIGHT TO BE JEALOUS won a gold song award. He was dubbed the "Love Song Prince", and the song was his first original plug song last year. He thanked fans for their support and not forgetting this song. The "Most Improved Award of the Year" went to all female singers, the gold prize winner Aka Chio Wai Shan thanked the company for still releasing her new songs under the pandemic as nothing came easy.
Deep Ng Ho Hong's LOVE WITHOUT SUSPICION victory was the first shot fired by Emperor Entertainment. Joey Thye Cho Yee and Brian Tse Tung Man's DREAM FLIGHT was the first duet to win the gold song award. The music video online had over 1.8 million hits. Vivian Koo (Kuk Ah Mei)'s hit song WAILING WALL also won an award. Because earlier Crystal Fung Ying Ying misread Kuk Ah Mei as Tam Ka Yee, the event made special arrangement for Kayee Tam to announce the result. Next to her Kuk Ah Mei was even more excited.
Jason Pai Piao and Mimi Kung Chi Yan presented the "Most Popular Newcomer Award". Before the award Pai Piao first evaluated the nominees. He joked that Tse Tung Man was unfaithful, aside from working on television series and entertainment programs now he is hooking up with singing. Pai Piao made fun of Benjamin Yuen Wai Ho for still being a newcomer after years in the business. The camera immediately caught Benjamin showing off his wedding ring. Pai Piao said that Ben wanted to use the wedding to bring luck for the award. Finally the newcomer award wen to Tse Tung Man, Yuen Wai Ho and Elly.
Married last year, Fred Cheng Chun Won and Stephanie Ho Ngan Si were arranged to accept their awards together. Cheng Chun Won's award winning song was TRIBULATION OF BLOOD AND TEAR, while Ho Ngan Si's was OPPONENT. Right before performing the song she realized that she did not thank her husband and rushed to make up for it. Grace Wong Kwan Hing's CASADA and Kuk Ah Mei's HOW TO GIVE UP ON LOVE won "Chinese Gold Song" awards. Kwan Hing thanked her husband for encouraging her not to give up on her dream, but joked that her husband did not understand Cantonese so he probably was not watching her on television. Kayee Tam also won her first gold song award with ACTUALLY HAVE LOVE. When she also won the "Best Performance for Female Singer" award she cried. With ten years in the business she admitted that at first she did not have too many opportunities to sing. She thanked the company for giving her the chance to and her family for their support. She dedicated the award to her late father.
The "Best Duet" gold prize was STRAIGHT UPSTREAM, silver prize was Raymond Lam Fung and Hana's TROUGH HEAVEN. Hana joked that from recording to making the music video she has never seen Lam Fung. She hoped to have a chance to sing the duet face to face. The bronze prize was Gabriel Harrison (Hoi Chun Kit) and Selena Li Sze Wa's duet SECOND DESTINY. Hoi Chun Kit also tripped when he accepted the award, and joked that the stage was full of traps.
Emperor singers Tsang Lok Tung, Ken Hung Cheuk Lap and Gladys Li Ching Kwan won three gold song awards for FINDING SOMEONE, WE ALL WANT TO TRAVEL and ONE THOUSAND AND ONE PAGE respectively. Last year's newcomer award winner Gladys Li even received her first gold song award. "Best Creative Singer Gold Prize" had three winners: Hubert Wu Hung Kwan, Deep Ng Ho Hong and Terence Lam Ka Him. Lam Ka Him at the same time with SOLITUDE received the "Best Original Song" gold prize. Joining the Voice Entertainment last year, JW with LIGHT MATURE WOMAN also won her first gold song award.
Winning awards nonstop, Hana again received the "Most Popular Internet Female Singer Award". The "Most Popular Internet Male Singer Award" was Wu Hung Kwan. He was the only singer with over 10 million hits, well deserving the award. Kuk Chiu Kiu won her third the Most Popular Female Singer. She said that losing at the starting line does not mean that you would definitely lose. She gave special thanks to her younger sister for always supporting her.
The Joey Law Tin Yu and Katy Kung Ka Yan starred series HONG KONG LOVE STORIES was not only popular but also made the Brian Tse Tung Man and Joey Thye Cho Yee sung series song STRAIGHT UPSTREAM popular. In the series Law Tin Yu and Kung Ka Yan also sang this song, so last night all four received awards. Rumored couple Law Tin Yu and Joey Thye appeared somewhat embarrassed. After the award they separated into two pairs and sang. Joey and Tse Tung Man were on one team. Joey after the performance got her dress caught on the stage, and Tse Tung Man had to lend a helping hand.
In addition, Alfred Hui Ting Hung recently on a radio program interview revealed that the reason he left the Voice Entertainment in 2017 was a financial issue with a colleague. The Voice Entertainment CEO Herman Ho Chit To yesterday said that actually 5 years ago he asked the colleague involved. Indeed the colleague had some difficulties at home and asked Hui Ting Hung as a friend to lend him money. However at the time Hui Ting Hung did not lend any and that colleague never accepted any money. Afterward he asked everyone in the company again, that colleague never borrowed any money. Thus for now he said that no one lent any money and no one took any money. This was only a minor issue.
Would he feel that someone was making news? He said, "Actually everyone should put the focus back on their own music. Music really needs the singers' effort, helping Hong Kong music is very important. You can see our own company and all other singers have worked very hard on their own music." Has he asked the colleague not to have further financial connections? He said, "At the time the colleague already knew, I have explained it to him and he understood. This was already 4 to 5 years ago. I knew about it. Before Hui Ting Hung left I have asked him about it. (Why would Hui only talk about it now?) I don't know what he is thinking." He also stressed that in this matter no one borrowed money, and no one accepted anyone's money. Would it affect the company colleague? He said that he already explained it once 5 years ago and everyone understood very well. That colleague currently is still working very hard at the company.
THE 2020 TVB JADE SOLID GOLD AWARDS

GOLD SONG GOLD PRIZE:
BREATHING IS HARMFUL (Karen Mok)
MOST POPULAR MALE SINGER:
Pakho Chau, Hubert Wu
MOST POPULAR FEMALE SINGER:
Hana Kuk
MOST POPULAR INTERNET FEMALE SINGER:
Hana Kuk
MOST POPULAR INTERNET MALE SINGER:
Hubert Wu
BEST PERFORMANCE MALE SINGER
: Pakho Chau
BEST PERFORMANCE FEMALE SINGER:
Kayee Tam
EXCELLENT SINGER OF THE YEAR:
Vincy Chan
POPULARITY KING:
Vincent Wong
BEST ADAPTED SONG GOLD PRIZE
WILLING TO REPLACE YOU (Vincent Wong)
MOST IMPROVED OF THE YEAR
GOLD:
Aka Chio
SILVER:
Ally Tse
BRONZE:
Zaina Sze
BEST STAGE PERFORMANCE:
Birds Of Paradise
MOST POPULAR NEWCOMER:
Brian Tse, Benjamin Yuen, Elly
CREATIVE NEWCOMER:
Ying Chi Yuet
BEST DUET:
GOLD:
STRAIGHT UPSTREAM (Joey Law, Katy Kung/Brian Tse, Joey Thye)
SILVER:
TROUGH HEAVEN (Raymond Lam, Hana Kuk)
BRONZE:
SECOND DESTINY (Harrison Gabriel, Selena Li)
CHINESE GOLD SONG:
HOW TO GIVE UP ON LOVE (Vivian Koo)
CASADA (Grace Wong)
OUTSTANDING PERFORMANCE
GOLD:
Bella Lam
SILVER:
Kandy Wong
BRONZE:
Alvin Ng
BEST CREATIVE SINGER GOLD PRIZE:
Hubert Wu, Deep Ng, Terence Lam
BEST ORIGINAL SONG GOLD PRIZE:
SOLITUDE (Terence Lam)
JADE SOLID GOLD SONGS
CAN'T LET GO (Hana Kuk)
I FAILED TO FORGET YOU (Hana Kuk)
NO RIGHT TO BE JEALOUS (Hubert Wu)
LITTLE LIE (Shiga Lin)
LOVE AFFAIRS (Shiga Lin)
LOVE WITHOUT SUSPICION (Deep Ng)
DREAM FLIGHT (Joey Thye, Brian Tse)
WAILING WALL (Vivian Koo)
ACTUALLY HAVE LOVE (Kayee Tam)
TRIBULATION OF BLOOD AND TEARS (Fred Cheng)
OPPONENT (Stephanie Ho)
FINDING SOMEONE (Tsang Lok Tung)
WE ALL WANT TO TRAVEL (Ken Hung)
ONE THOUSAND AND ONE PAGE (Glayds Li)
LIGHT MATURE WOMAN (JW)
I CAN'T AFFORD TO LOSE (Hana Kuk)
MORTALS DON'T KNOW HOW TO LOVE (Hubert Wu)
GUTTERS (Vincy Chan)
AFTERMATH (Pakho Chau)
BREATHING IS HARMFUL (Karen Mok)