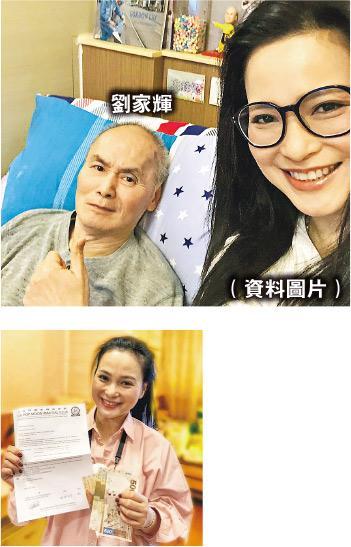 Amy Fan displays the pocket money foreign fans have raised for Gordon Liu (lower), and stresses that Gordon Liu's nursing home stay has no financial isse
courtesy of mingpao.com
The 65 year old martial art film star Gordon Liu (Lau Ka Fai) after a stroke in 2011 became less than mobile and speech impaired. With his wife fighting over his assets and former assistant embezzling his over HK$ 1 million in assets, he fell into a low point in life. Fortunately with the care of good friend Amy Fan Yik Man, who also fought for his assets on his behalf, Lau Ka Fai was able to accept recovery therapy at a nursing home. However recently Lau Ka Fai was again rumored to have financial problems and required fans to raise fund for him. Amy clarified the matter to the media and said that it was a misunderstanding. One of Lau Ka Fai's overseas fans sold a tee of his idol's image and would donate the proceeds to him for pocket money. It was not any fund raising event. Amy said, "The expenses of Brother Ka Fai's stay absolutely has no problem. No one needs to worry. I have taken care of him for 8 years. He is spending his recovery days very peacefully, often watching television. Nurses would keep him company and chat with him to keep him from getting bored. Lately he has been in great spirit and much fatter."
Lau Ka Fai earlier received a Lifetime Achievement Award in Copenhagen, Denmark for his contribution to performing art. Amy mentioned that due to the pandemic the award presentation ceremony was cancelled and the award would be shipped directly to Hong Kong. Since the nursing home temporarily halted visits, she gave the good news over video chat and Lau Ka Fai was very happy.