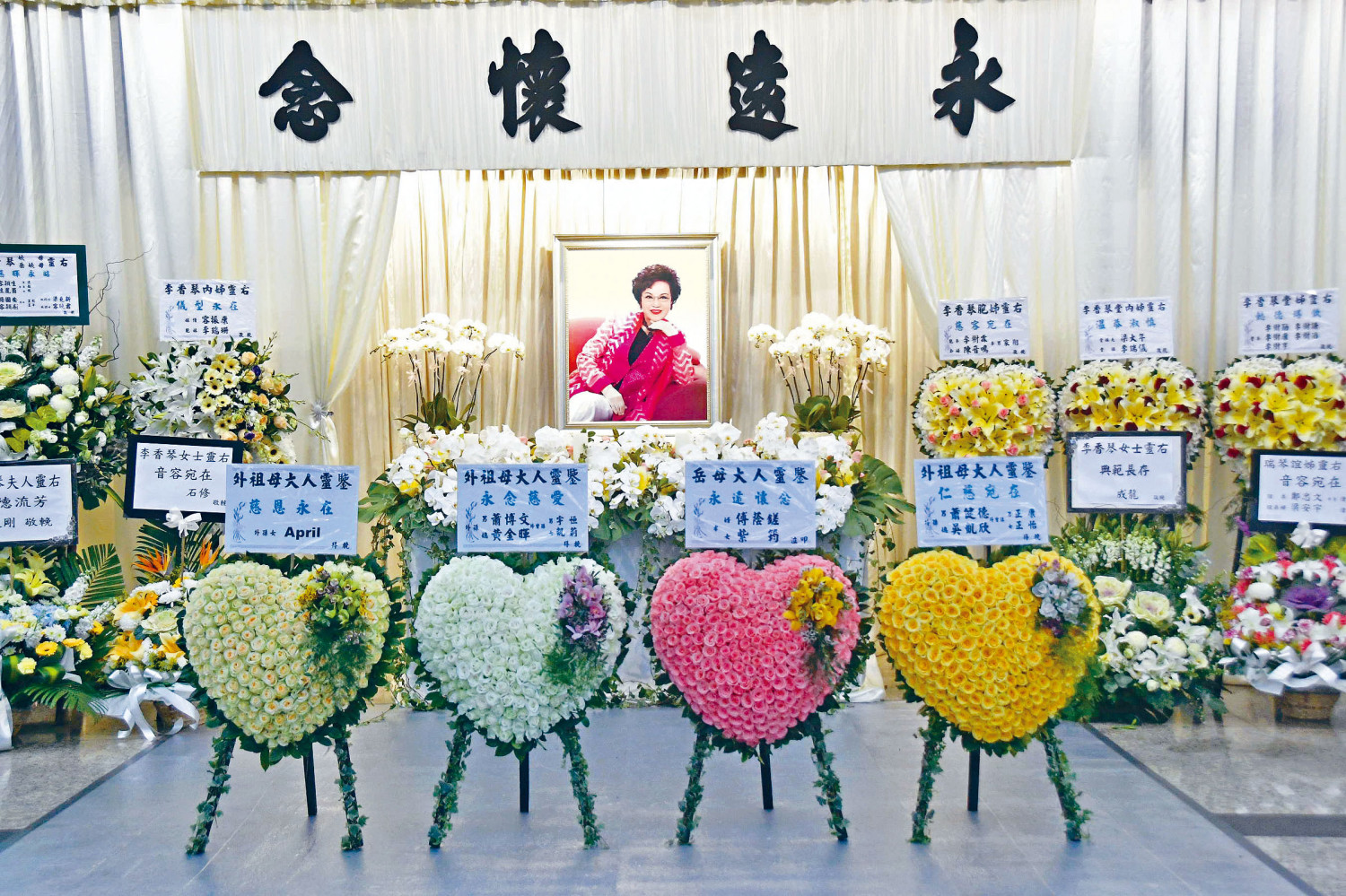 courtesy of singtao.com
Lee Heung Kam was passionate about helping the younger generation and was held in a high esteem in the industry
Louisa Lee gets teary eyed during her interview
Margie Tsang and Felix Wong bid farewll to Lee Heung Kam
Michael Miu and Jaime Chik
Siu Chi Kwan says that her mother had no regret in life
Law Kar Ying and Liza Wang respect Lee Heung Kam very much
courtesy of on.cc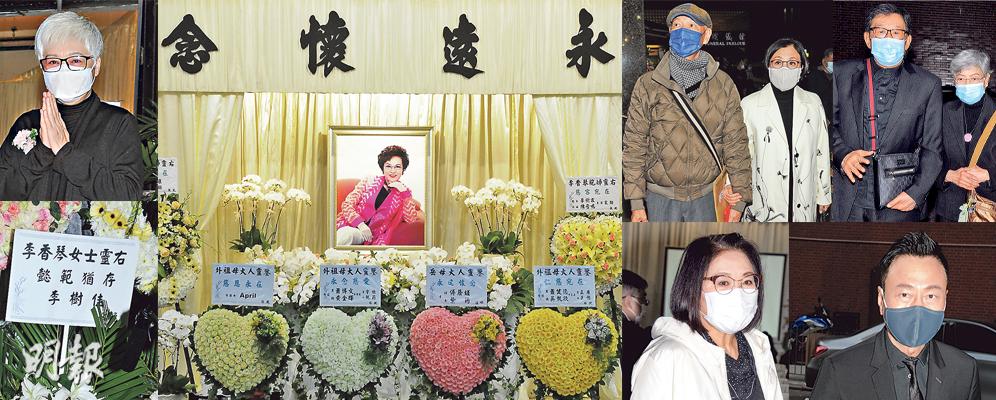 Lee Heung Kam's daughter Siu Chi Kwan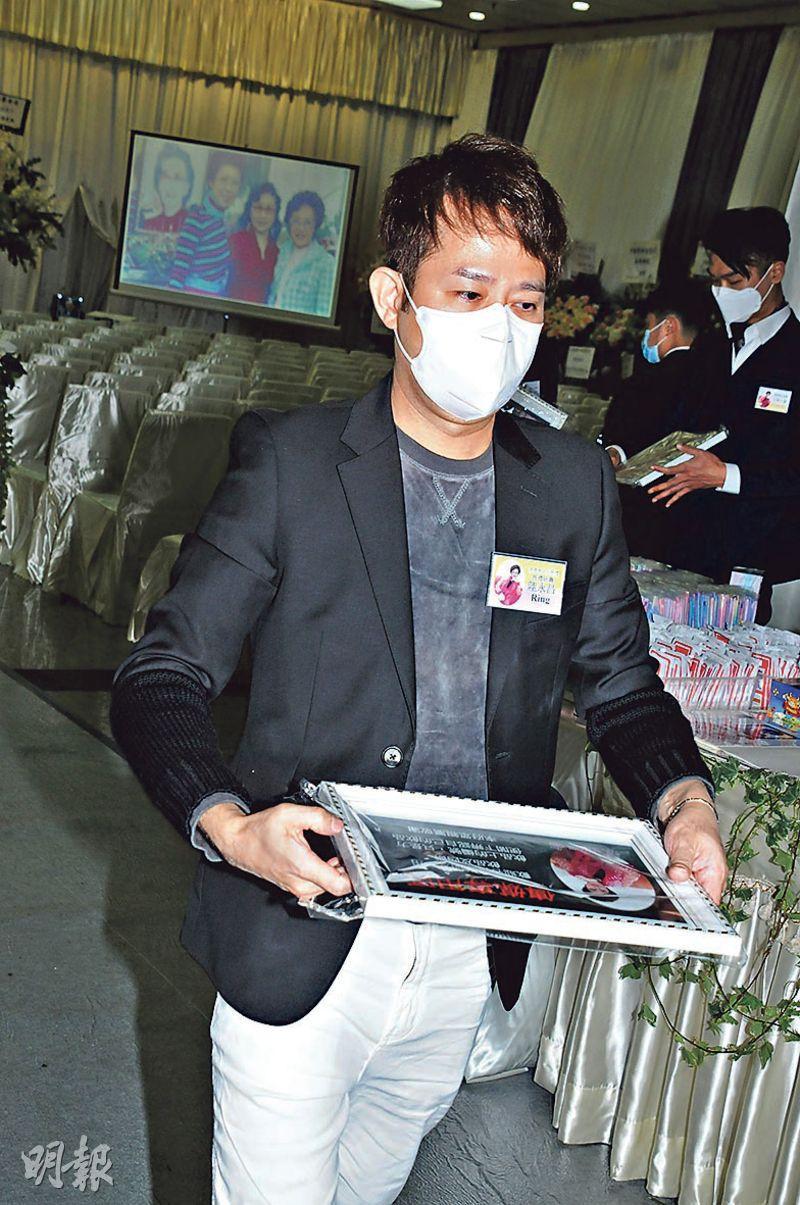 Lee Heung Kam's god son Lok Wing Cheung is responsible for the video shown at the funeral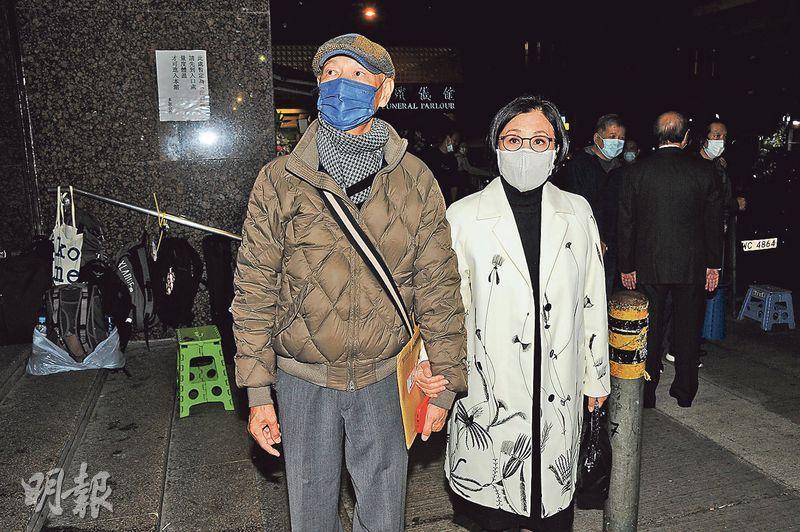 Law Kar Ying and Liza Wang have known Lee Heung Kam for years. The latter even delivers the eulogy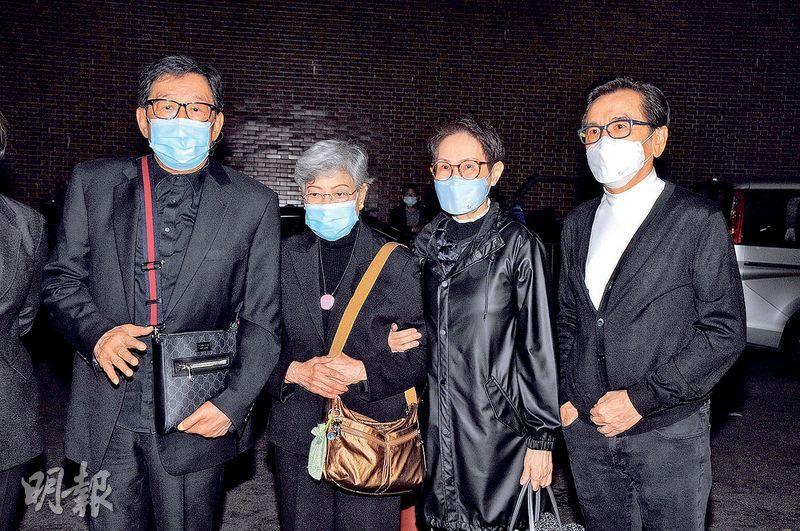 Wu Fung, Law Lan, Lee Lam Lam and John Chiang
Tam Bing Man's daughter Tam Suk Ying bids farewell to Sister Kam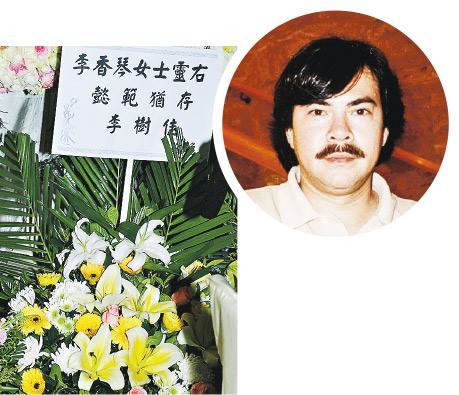 Lee Heung Kam publicly disowned brother Lee Shu Kai. He sent flowers and Siu Chi Kwan says that she would welcome him to pay his respect to her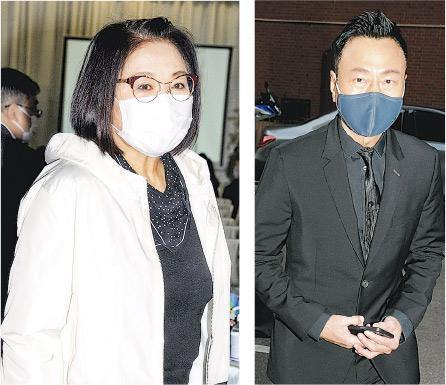 Louisa Lee last saw Lee Heung Kam years ago, by then she could no longer recognize her. Wayne Lai says that Lee Heung Kam paid attention to details and took great care of people.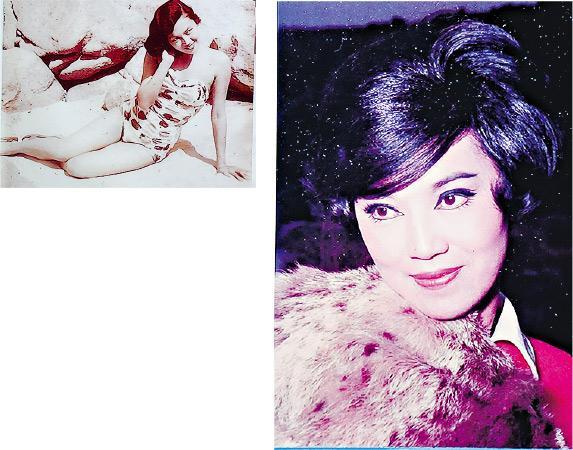 Sister Kam's family does not provide a funeral program but displays her photos, which showed that she was beautiful and ahead of her time in her youth.
The tribute includes photos of her with Chow Yun Fat and Leslie Cheung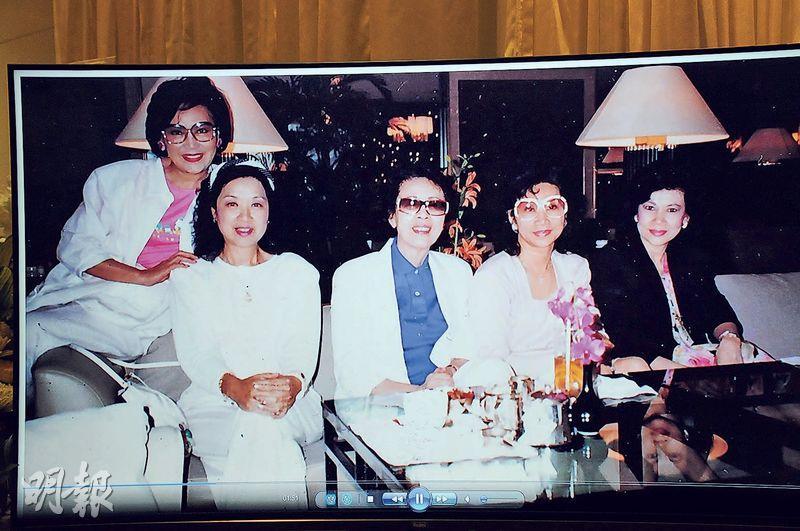 Sister Kam's foot prints could be found in Cantonese Opera, Cantonese film, film and television, with her in photos with Nam Hung, Yam Kim Fai, Pak Suet Sin among others.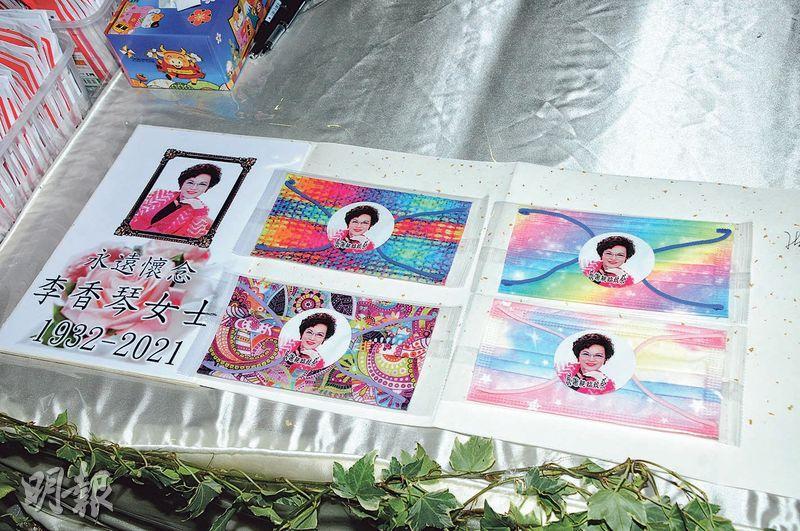 The family provides colorful masks for guests
courtesy of mingpao.com
Sister Kam Lee Heung Kam (originally named Lee Shui Kam) passed away on the 4th at age 88. Her funeral and memorial took place yesterday at the Universal Funeral Parlor in Hung Hom. The memorial began last night at 7PM with Anderson Junior as the host. Liza Wang Ming Chuen and Yu Tsz Ming gave eulogies. Then daughter Siu Chi Kwan shared memories of Sister Kam's life, and a viewing took place for family and friends. The family would donate all monetary gifts to the Chinese Artists Association of Hong Kong (Bar Wo), so the final deed of Sister Kam's life was charity. Guests who came to pay their respect received a colorful mask that symbolized Sister Kam's exciting life and hopefully everyone's lives would be just as exciting! This morning at 11AM the funeral began, after which the remains would be transported to Cape Collinson Crematorium in Chan Wai. Sister Kam's pallbearers were Raymond Wong Pak Ming, Law Kar Ying, Yuen Siu Fai, Lee Lung, Michael Miu Kiu Wai, Clifton Ko Chi Sum, Ng Wing Hei and Lo Sai Cheung.
The hall was decorated with flowers from everywhere, and in simply yet elegant beign. In Sister Kam's photo she displayed a warm smile. At the center of the hall was a heart shaped floral arrangement with the banner "Forever Missed" overhead. On both sides and outside the doors were giant televisions, with Sister Kam's songs in the background as Sister Kam's past life photos were displayed. They included swimsuit photos, work photos, family photos and artist photos with Best Partner Tam Bing Man, Pak Suet Sin, Connie Chan Bo Chu, Chow Yun Fat, Sean Lau Ching Wan, Susanna Kwan Kuk Ying, Lydia Shum Din Ha, Wu Fung, Ray Lui Leung Wai, Deborah Li, Barbara Yung Mei Ling, Leslie Cheung Kwok Wing, Anita Mui Yim Fong, Simon Yam Tat Wa, Paula Tsui Siu Fung, Nancy Sit Ka Yin and Louis Koo Tin Lok.
As for family and friends who came to pay their respect, the guest book area had hand sanitizer as well as colorful masks with Sister Kam's image. Also cake and water were provided for the media. Sister Kam's godson Lok Wing Cheung (Ring) revealed that the special colorful mask was not only made to fight the pandemic but also symbolized Godmother's colorful life. He wished that everyone who came to send Godmother on her final journey would have lives as colorful as Godmother's. He also said that no funeral program was made, mainly because many Godmother's photos and footage were already online. Everyone would be able to remember her online. This was done according to the wishes of Sister Kam's family. Sister Kam's daughter Siu Chi Kwan around 3:45PM arrived with family and friends. She politely gave a nod to the waiting media. The hall opened for family and friends to pay their respect around 5PM. Patrick Tse Yin and Tam Bing Man's daughter Tam Suk Ying came to pay their respect very early on.
Yesterday celebrities who went to the funeral parlor included Helena Law Lan, Wu Fung, Chin Han, Ivy Ling Po, Wayne Lai Yiu Cheung, Michael Miu Kiu Wai and Jaime Chik Mei Chun, Felix Wong Yat Wa, Margie Tsang Wa Sin, Louisa Lee Si Kei, Yu Tsz Ming, Sharon Kwok Sau Wan, Candice Chiu and her mother Leung Siu Ling, Liza Wang Ming Chuen and Law Kar Ying, Ting Yu, Franco Yuen Siu Fai and Tang Kung Pik, Maggie Chan Mei Kei and others.
Siu Chi Kwan and Lok Wing Cheung around 4PM came outside the hall to speak to the media. They said that Sister Kam did not have any religious belief in life, so the funeral did not have any special ceremony. Inside the hall was a large television that displayed Sister Kam's life photos. Lok Wing Cheung said that these photos were very valuable memories. Because Godmother had many friends inside and outside the industry, he hoped that this funeral would be as perfect as it could be. Siu Chi Kwan very calmly said, "Seeing the photos, I would be reminded of Mommy and her family's loving memories." Speaking of Sister Kam's final wish, Siu Chi Kwan said, "Mommy didn't have any, because Mommy had everything. She was very satisfied!" As for burial goods, she said that they included Mommy's favorite glasses, Mommy's red concert tour dress and red wrap. All were her favorites." Lok Wing Cheung added, "Godmother wore them very elegantly!"
Sister Kam had many god children, but Siu Chi Kwan said that due to the pandemic Man Chi Leung, Lui Leung Wai and Susanna Kwan Kuk Ying were not in Hong Kong. Even granddaughter April was overseas and unable to return to Hong Kong to pay her respect. Any monetary gift from family and friends would be donated to charity. Mommy started in Cantonese Opera, so the donation would be made to the Chinese Artists Association of Hong Kong (Bar Wo). "With the Lunar New Year on the way, it would be like giving laisee to a group of Bar Wo seniors for the New Year." When asked if Lee Shu Kai sent his condolences, Siu Chi Kwan said that he did not have her number but yesterday the flowers from him could be seen at the hall. She said, "The newspaper published it, he definitely knows. I also know that he has contact with my friends. I also told him, 'If you think of Mommy you should come'. Thus if he came to the hall today, I would still welcome him." However she admitted that they have not seen each other for years. Since Mommy announced on television that he was disowned they have not seen each other.
Because Sister Kam in life had great connection wiht people and was well respected, she had particularly many god children in the industry. Although due to the pandemic some family and friends were unable to pay their respect in person, yesterday the hall and outside the funeral parlor were filled with flowers from everywhere, including god son Alex Man Chi Leung, Mr. and Mrs. Ray Lui Leung Wai, Pak Suet Sin, Jackie Chan, Chow Yun Fat, Paula Tsui Siu Fung, Andy Lau Tak Wa, Leon Lai Ming, Michael Miu Kiu Wai, Adam Cheng Siu Chau, Sylvia Lai (Sum Sum), Betty Lai (Ban Ban), Kent Cheng Juk Si, Patrick Tse Yin, Louisa Lee Si Kei, Chor Yuen, Nam Hung, Alan Tam Wing Lun, George Lam Chi Cheung and Sally Yeh (Yip Sin Man), Mui Suet Sze, Helena Law Lan, John Chiang Dai Wai and Lee Lam Lam, Simon Yam Tat Wa and Qi Qi, Raymond Lam Fung, Nancy Sit Ka Yin, Tse Suet Sum, Philip Keung Ho Man, Damien Lau Chung Yan, Fala Chen, Bernice Liu Bik Yi, Ng Man Tat, Wayne Lai Yiu Cheung, Margie Tsang Wa Sin, Sharon Kwok Sau Wan, Andrew Pong King Fung, Amy Chan Sau Man, Johnny Yip Chun Tong, Lai Suk Yin, Alex Fong Chung Shun and Mok Ho Yan, Tse Kwan Ho, Yu Ming, Ng See Yuen, Frankie Chan Fun Kei, Tony Au Ting Ping and Teresa Mo Shun Kwan, Mr. and Mrs. Gallen Lo Ka Leung, Yeung Yuk Mui, Gordon Lam Ka Tung, Yuen Siu Fai, Clifton Ko Chi Sum, Joyce Cheng Yun Yi, Friends of EYT, Lam Ka Shing charity fund, Barbara Yung Chinese fan club, Radio and Television Hong Kong, Yammie Nam Kit Ying fan club and her disowned brother Lee Shu Kai.
Around 5PM, Patrick Tse Yin arrived alone and stayed for half a hour. When he boarded his vehicle he tripped, fortunately he did not fall.
Lai Yiu Cheung worked on series with Sister Kam and went on an U.S. concert tour with her. He remembered that once he ran into Sister Kam at the TVB canteen. She fought to pay the bill, but stuff like this should be done by the younger generation as he felt that her attention to details were very rare. Acting wise, they did not have many scenes together. The last time he saw Sister Kam was very long time ago because Sister Kam did not come out for a long time. Yesterday he saw photos from Sister Kam's life inside the hall. Lai Yiu Cheung said, "They really make people miss her. Ultimately several generations of us all grew up watching Sister Kam's acting, from elders like her we learned the character of being human, ethics, how to treat people and things, Sister Kam was our role model."
Currently in Hong Kong Ivy Ling Po and Chin Han arrived together, they had quite a history with Sister Kam. Ling Po said, "Her daughter and son in law are our good friends. Her son in law played ball with us for several decades." As for her impression of Sister Kam, she said, "I saw her many years ago, she already was ailing but she still remembered us."
Lee Si Kei tearfully said tha she has not seen Sister Kam in years. Earlier when she visited her Sister Kam did not recognize her at all. "I keep saying to her, "Grandma is in the living room, Grandma is in the living room', but Sister Kam didn't know what I was saying. Only her eyes widened. I felt very sorry for her." Speaking of the recent re-run of MOONLIGHT RESONANCE, Sister Si Kei said that she would occasionally watch and remembered that at the time at work she would really want to see Sister Kam. She really cared about others and treated everyone very well. Whenever she had time she would have tea with people and could not be friendlier. Thus she really missed Sister Kam. Sister Si Kei said, "This is a very upsetting event, I should properly remember her!"
Law Lan, Wu Fung and god daughter Christine Fong Kwok Shan came to pay their respect together. Sister Law Lan said that she and Sister Kam have known each other for over 40 to 50 years, Sister Kam always took great care of her. The final time they saw each was two years ago at Sister Kam's home, but at the time Sister Kam already could not recognize her. Brother Sau said that he and Sister Kam have known each other for 60 years, worked together on countless films and series. "My impression of Ah Kam is she is very pretty, she also was a favorite with directors and producers because she was able to play hero or villain."
In addition, a 70 something Grandma Kwan brought her hand made offering to the hall to pay her respect to her idol. She said that she made the offering without any sleep or rest. She also said that she really liked Sister Kam's acting, feeling that she was capable to play both good and bad. Later workers due to the pandemic did not permit Grandma Kwan to enter the hall, the offering was only able to be placed outside the hall.
Wang Ming Chuen at the memorial event was responsible for giving an eulogy to Sister Kam. Ah Jeh and Law Kar Ying shared their experience of working with Sister Kam in their media interview. Ah Jeh said that Sister Kam was the "prodigal daughter" in her acting journey, from the Cantonese feature's "evil concubine" to changing her role on television. She praised Sister Kam as a multi-talented artist. "Sister Kam was very willing to help others, passionate too, took great care of everyone and younger generation. Everyone knew, she was cheap with herself and generous with others."
Brother Ka Ying has known Sister Kam since he was little and for several decades. Mainly his father and Sister Kam were good friends, often going on tour overseas. He said, "I am very lucky to be able to perform two Cantonese Opera songs with Sister Kam. Everyone can find them online to listen to." He also praised Sister Kam as a great person, very willing to help the Cantonese Opera world and never forgot where she came from. Speaking of Sister Kam's family donating all monetary gifts to the Chinese Artist Association of Hong Kong (Bar Wo), Ah Jeh said, "That's right, Sister Kam was very grateful to the Cantonese Opera world so she paid them back." As of her impression of Sister Kam, Brother Kar Ying pointed out that Sister Kam was a workaholic and would never give up any job because he heard from Sister Kam's daughter that her expense was enormous. Ah Jeh also said, "That's right, Sister Kam had to raise an entire family, take care of her parents and younger siblings."