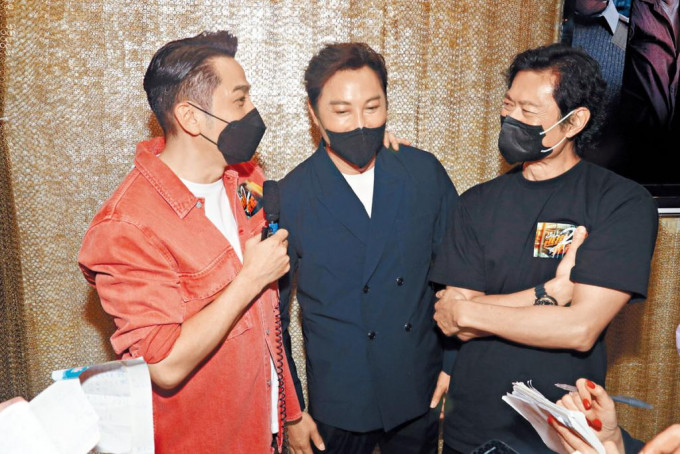 courtesy of singtao.com
courtesy of on.cc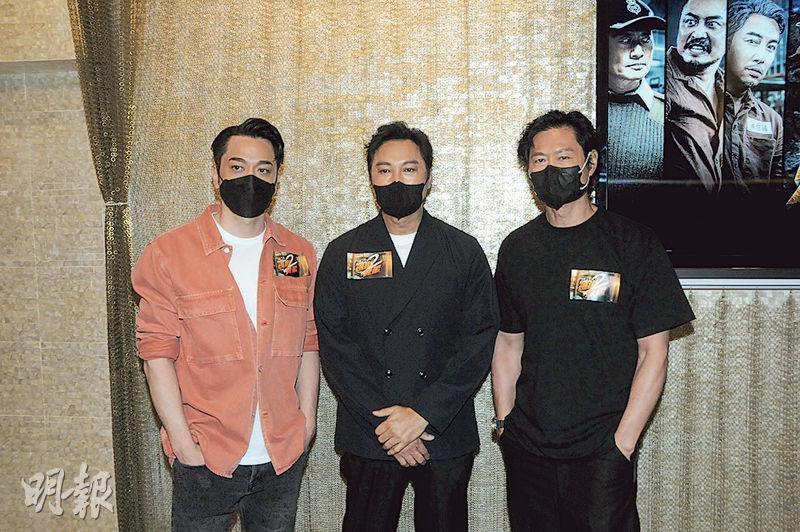 Ron Ng, Patrick Tam, Ken Wong
courtesy of mingpao.com
Cinemas returned when the government eased social distancing measures. The film BREAKOUT BROTHERS 2 (TOH YUK HING DAI 2) finally was able to be scheduled for a release on April 28th. Yesterday an advanced screening was held. A group of actors including Patrick Tam Yiu Man, Louis Cheung Kai Chung, Ron Ng Cheuk Hei, Adam Pak Tin Nam and Ken Wong Tak Bun attended the audience appreciation event.
BREAKOUT BROTHERS 2 waited for months before it could be released. Tam Yiu Man said that this promotion was the best attended by the cast among the BREAKOUT series. He was very happy to see people to be able to have more normal entertainment and hoped that everyone would go to the movies to support it. He also pointed out that when the pandemic closed cinemas the last time, some watched the film on illegal platforms. Now the cinemas opened up gain, he hoped that viewers who have seen it would go to the movies again to support it. Speaking of the film company's arrangement for BREAKOUT BROTHERS 3 to be released soon after, Wong Tak Bun said that to be able to do it in one breath was a good thing. After watching the second film the audience would follow with the third. In addition this time each character was very distinct and the roles were evenly split. "I hope everyone would officially go to the movies and watch it. I am happy to be able to return to the movies too!"
Tam Yiu Man praised Ng Cheuk Hei for breaking out with the addition of his character. Wong Tak Bun praised that he fought well and would be an action star in the future. Ng Cheuk Hei joked that he was no spring chicken, actually in the film he was a troublemaker who turned the prison upside down and even played the big villain. However his acting bug was able to get its fill. Would he worried that his fans would not like him as the villain? Ng Cheuk Hei said that would be good as it would prove that the audience really got into the movie. Would he bring his rumored girlfriend Hana Kuk Chi Kiu to see the film? He answered, "Anyone who like me should go and see it, I don't care if she would like me or not after watching it. Ultimately anyone who likes me now should go to the movies and see it!" However Kuk Chi Kiu reportedly visited his home at night and never left. Would bring her home to watch be a little more comfortable? Ng Cheuk Hei clarified, "Actually you should investigate further, that's not my home and we aren't living there together! It's all wrong, since it's not a fact I am not responding to it!" Tam Yiu Man joked that in front of his brothers he had to tell the truth? Ng Cheuk Hei said, "Everything I said is true, thank you!" Was he single or dating? He said that talking about the movies would be better. He did not want to get too far off topic. Tam Yiu Man chimed in that actually life was like film. Ng Cheuk Hei joked in an exaggerated way, "That's enough Brother Tam, I thought you came to help me. I didn't think......thanks a lot!" Would Ng Cheuk Hei be a good boyfriend and a good husband? Tam Yiu Man joked, "Since he fought so well he certainly could protect people!" Ng Cheuk Hei helplessly chuckled, "Me again, anyway the movie is great!"