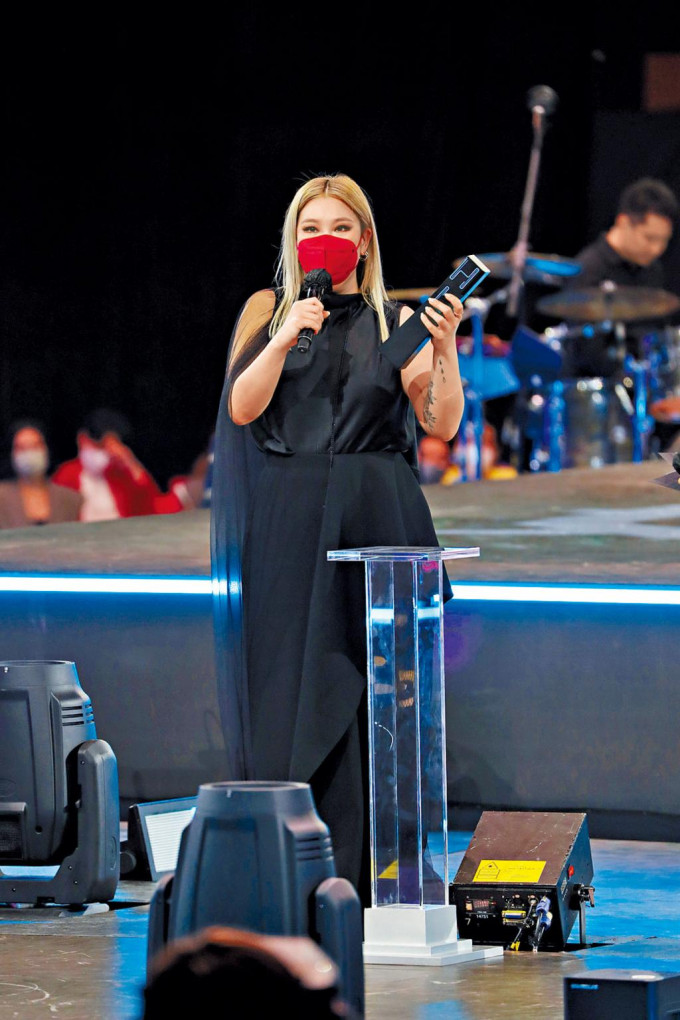 Joyce Cheng wins Female Singer of the Year Gold Prize and refers to herself as a "middle aged woman"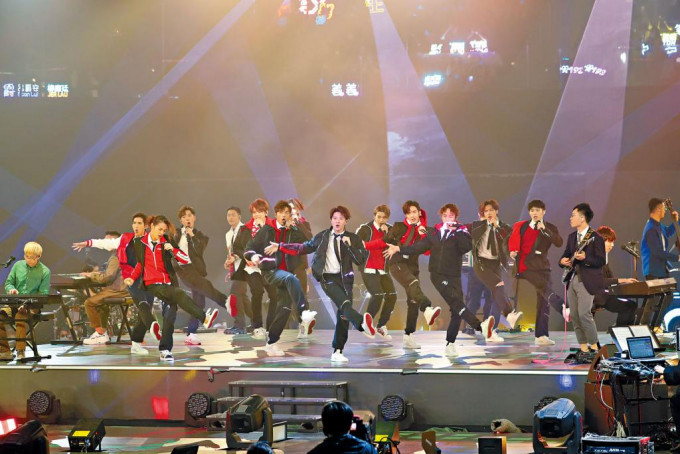 MIRROR's 12 members appear and bring the show to its climax. They even win the Group of the Year gold prize.
courtesy of singtao.com
MIRROR performs as a group but its members also take turns to take the stage
Vincy Chan makes a sexy appearance
Award show frequent flyer Hins Cheung continues to sweep up awards
courtesy of on.cc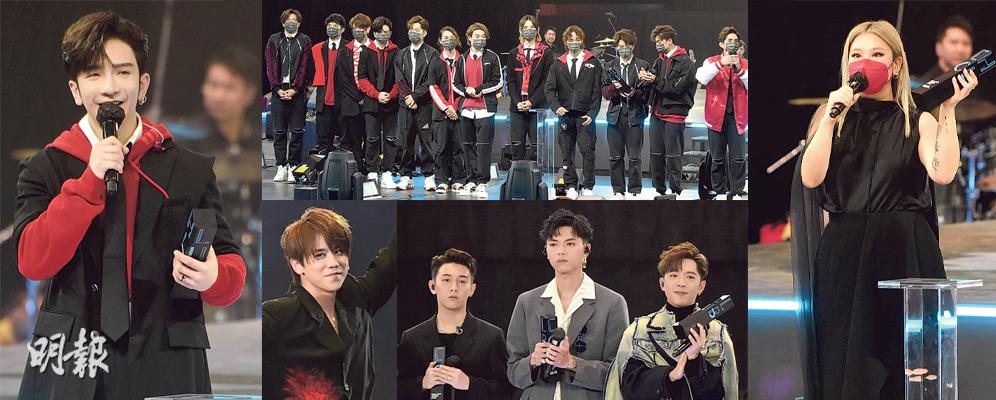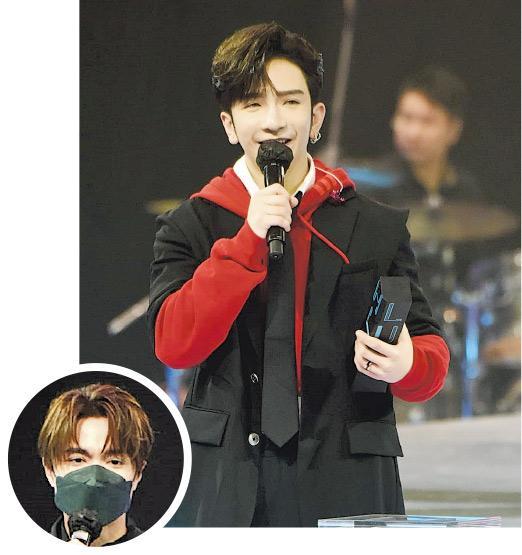 Anson Lo not only wins Male Singer of the Year gold prize but also Song of the Year with MEGAHIT. Many online feel that Hins Cheung only winning fifth place Song of the Year is unreasonable
MIRROR wins Group of the Year gold prize as expected, with its members' individual awards the group take 9 awards home. Keung To this year loses to group mate Anson Lo and repeats with the silver prize in the category
Joyce Cheng is pleasantly surprised to win the Female Singer of the Year gold prize
MC Cheung won gold, 193 bronze and Edan Lui silver in the Rookie of the Year category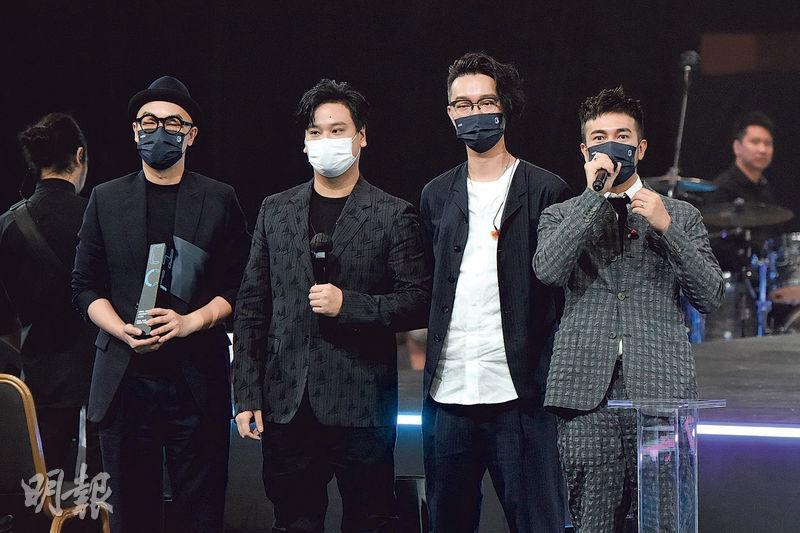 Dear Jane wins the Band of the Year gold prize. Lead singer Tim speaks too fast and makes a mistake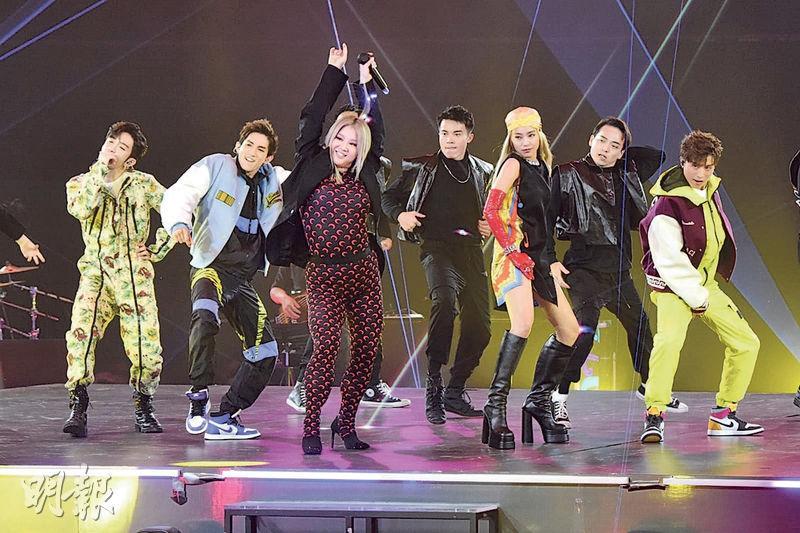 Joyce Cheng performs with members of MIRROR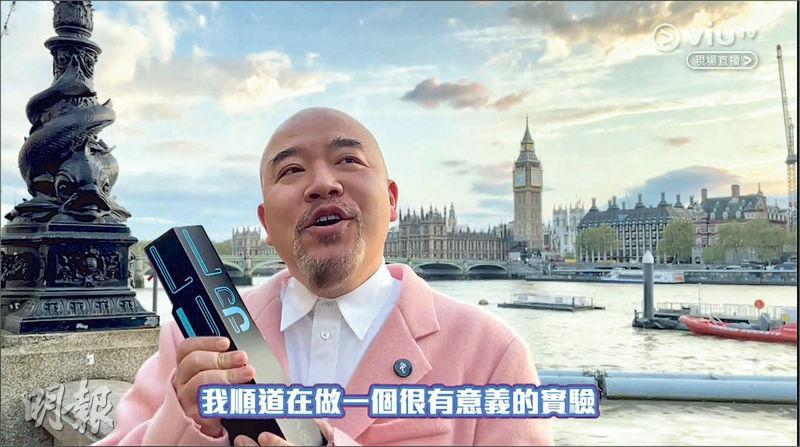 Wyman Wong sends a video speech from Europe
courtesy of mingpao.com
ViuTV's second annual CHILL CLUB AWARDS 21/22 last night took place at Kowloon Bay International Trade and Exhibition Center's Star Hall. This year the music competition has been fierce, several awards went from originally one to gold, silver and bronze prizes. In particular this year the "Band" and "Group" Award categories were split and divided into gold, silver and bronze prizes to increase award opportunities for singers. Each awards were voted for online, with over 1.38 million people participating in the vote. An average of 170,000 people voted for each award. Anson Lo Hon Ting and Joyce Cheng Yun Yi won their first "Singer of the Year" gold prize. MIRROR as the favorite repeated with the "Group of the Year" gold prize. Anson Lo with MEGAHIT won "Song of the Year". The 12 members of MIRROR swept up a total of 9 awards.
As the first award show to take place under Hong Kong's fifth wave of the pandemic, CHILL CLUB AWARDS 21/22 last night welcomed around 1,200 live viewers, less than the 50% admission restriction. The stage was different from last year as it was four sided. At the same time the attending singers' seats were a little more separated to maintain social distance. MIRROR's 12 members were seated in several rows in the singer section. Whenever MIRROR fans saw any movement from their idols in their seats, they would scream their idols' names out of excitement as cheers followed one after another. Aside from the "Song of the Year" winner being able to perform the award winning song, the event arranged for different award nominees to perform together in teams. During the show's opening number, MIRROR member Edan Lui Cheuk On led a medley with a performance of MR. E SERIES OF UNFORTUNATE EVENTS and the live audience immediately shrieked. Then Janice Vidal (Wai Lan), Jay Fung Won Him, Phil Lam Yik Hon, C AllStar, Vincy Chan (Wing Yi), Keung To and behind the scenes music makers appeared and continued the medley with MISS SOMEBODY, FOR THOSE WHO STAY, FOR THOSE WHO HAD LEFT and other songs. Keung sang and danced with MASTER CLASS. Vincy Chan (Wing Yi) appeared in a provocative look. MIRROR even received stage firework effects when they appeared and performed their song BOSS, leading to cheers all around.
Due to this year's fierce music competition, several awards were split into gold, silver and bronze prizes, and the "Band of the Year" category was added. Dear Jane rose from the "bronze prize band" of the past to win the gold prize. MIRROR as the favorite with 117,997 votes repeated with the "Group of the Year" gold prize victory. MIRROR and its members' 5 nominated songs all won, as the group swept up 9 awards -- one more than last year.
Anson Lo with 101,028 votes won his first "Male Singer of the Year" Gold Prize. His MEGAHIT also with 91,219 votes won "Song of the Year". When the award was announced he was pleasantly surprised. Anson Lo were teary eyed and stuttered, saying that looking back at his start four years ago without the appearance of MIROR no one would notice or know him. He even pointed out that no matter how tired the 12 of them were they would not mind. He was happy that he was able to something he liked everyday and promised that MIRROR would keep working hard. When he accepted the Song of the Year Award, Anson Lo said, "I won't give up making dance songs that I like." Keung To with MASTER CLASS won CHILL CLUB Top Ten Songs of the Year third place. He jokingly thanked "Kam Lo Fa" as he merged the company's three high ranking executives into one nickname. He admitted that last year on the stage he said that he believed they would be able to become Asia's number one. After a year, everyone was Asia's number one in his heart . He really loved this place. As long as no one would give up on them, he would always sing for everyone here.
Cheng Yun Yi with 84,691 votes won her first "Female Singer of the Year" gold prize. She jokingly thanked everyone for voting for this "middle aged woman". She thought that she had no chance at winning because she was not a trendy person. CHILL CLUB was a very CHILL place. She told stories that she was afraid to tell here. Sweeping up 6 awards as the big winner last year, Terence Lam Ka Him this year only won 3 but still was the singer with the most individual awards.
Lam Ka Him won the Creative Singer award last year. This year with the gold, silver and bronze prize split, Lam Ka Him as the favorite won gold with 112,592 votes. Fung Won Him and Serrini won silver and bronze respectively. As for group and band this year the categories were divided into two. Dear Jane with 89,523 votes defeated RubberBand for the Band gold prize. Lead singer Tim Wong Tin Ngo spoke too fast and mistakenly said, "With you there is no us" instead of "without you there is no us." Member Howie Yung Hau Leung joked that they joked that they often were the bronze winners. They were happy to have everyone's support.
In addition, Rookie of the Year also added gold, silver and bronze prizes. MC Cheung Tin Fu and Edan Lui Cheuk On again competed after the "Ultimate Music Rookie Male Singer" award. Finally MC with 112,929 votes won the CHILL CLUB Rookie of the Year gold prize. When MC learned that he won his mouth was wide open, then said that he was very happy. He said that after he started he learned the importance of the behind the scene team and hoped that everyone would value the production team. Edan and 193 (Denis Kwok Ka Chun) won silver and bronze respectively. Edan said that he was both happy and conflicted. "I have been very lucky, I had a great start. I had both the support of the company and was a member of MIRROR. With my series and program performances, many people noticed me. I have to live up this attention." The chance was rare but also very needed, he hoped that everyone would pay attention to music makers with heart in the music scene. Only then would it fully bloom. ERROR's 193 on the stage continued to display his dare to speak nature. When he accepted the award 193 asked as if he knew he did not have enough substance, "Was there a vote? If it wasn't for voting I wouldn't be here." He thanked the fans for their support and hoped that next year his ERROR group band Poki Ng would win the Rookie of the Year prize while Dee Ho Kai Wa would win Best Television Actor.
Behind the scenes award winners were "Song Writer of the Year" Wilson Ng Lam Fung, "Lyricist of the Year" Wyman Wong Wai Man, "Song Arrangement of the Year" Ariel Lai and "Producer of the Year" Edward Chan. Ng Lam Fung was shocked when he was announced the winner. He said that once he hoped everyone would not only remembered that his name was "Lam Fung". He believed that after his night, everyone would remember to call him "Ng Lam Fung".
Currently in Europe, Wong Wai Man sent a video speech and revealed that aside from work he also began an experiment. "If you want to write something that would breathe together with Hong Kong people, would you need to be present? If the experience would be successful, it would be able to provide even more possibilities for Cantonese songs and many other Hong Kong style artistic creations. From now on no matter which corner of the universe we are in, as long as we continue to make Cantonese songs, continue to listen to Cantonese songs, we would be able to build a Cantonese song metaverse that would self sustain without any interference." Wong Wai Man reminded everyone: if they wanted to support him, from now on they could just continue to pay attention to his work; they would not need to nominate him for awards like the "The 100 Most Beautiful Men Around the World".
Meanwhile, when Alfred Hui Ting Hung performed PANDEMONIUM, someone might have forgotten to turn off the microphone as a male voice kept saying "the whole thing is great", "the whole thing is perfect". The online discussion got heated as some felt that such mistakes should not happen.
CHILL CLUB AWARDS 21/22

SONG OF THE YEAR:
MEGAHIT (Anson Lo)
MALE SINGER OF THE YEAR
Gold:
Anson Lo Hon Ting
Silver:
Keung To
Bronze:
Terence Lam Ka Him
FEMALE SINGER OF THE YEAR
Gold:
Joyce Cheng Yun Yi
Silver:
Serrini
Bronze:
Panther Chan Lei
GROUP OF THE YEAR
Gold:
MIRROR
Silver:
C AllStar
Bronze:
ERROR
BAND OF THE YEAR
Gold:
Dear Jane
Silver:
RubberBnd
Bronze:
ToNick
CREATIVE SINGER OF THE YEAR
Gold:
Terence Lam Ka Him
Silver:
Jay Fung Won Him
Bronze:
Serrini
ROOKIE OF THE YEAR
Gold
: MC Cheung Tin Fu
Silver:
Edan Lui Cheuk On
Bronze:
193 (Denis Kwok Ka Chun)
CHILL CLUB TOP TEN SONGS
10
CIAO (RubberBand)
9
THE WONDERFUL MAGIC POTION OF CONFUSION (Terence Lam)
8
PILLOW TALK (MC Cheung)
7
FOR THOSE WHO STAY, FOR THOSE WHO HAD LEFT (C AllStar)
6
MADMAN DIARY (Jer Lau)
5
THE WAY WE WERE (Hins Cheung)
4
MR. E A SERIES OF UNFORTUNATE EVENTS (Edan Lui)
3
MASTER CLASS (Keung To)
2
BOSS (MIRROR)
1
MEGAHIT (Anson Lo)
SONG WRITER OF THE YEAR
Wilson Ng Lam Fung
LYRICS OF THE YEAR
Wyman Wong Wai Man
SONG ARRANGEMENT OF THE YEAR
Ariel Lai
PRODUCER OF THE YEAR
Edward Chan