Edward Ma and Stephy Tang wish for overseas success for their film TWELVE DAYS
courtesy of on.cc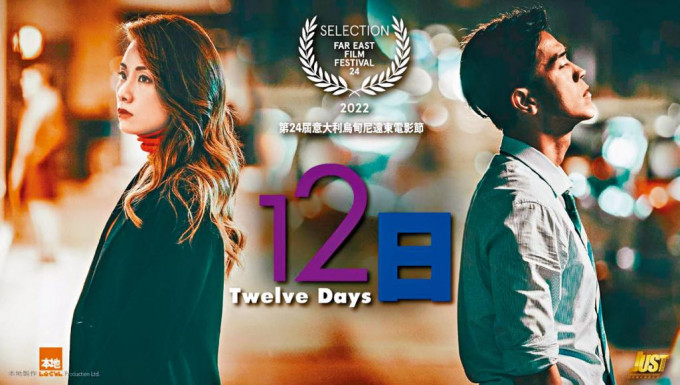 courtesy of singtao.com
The 24th Udine Far East Film Festival announced its selections yesterday. The Ng Kin Hung produced, Aubrey Lam Oi Wa directed, Stephy Tang Lai Yan and Edward Ma Chi Wai starred film TWELVE DAYS (12 YUT) was selected to compete for the "Mulberry Award For Best Screenplay", bringing excitement to the cast and the crew. Stephy and Edward said that if permitted they hope to be able to attend the film festival, have exchanges with film viewers there and share their views on love.
Stephy said, "I hope through this film, TWELVE DAYS, we would be able to give overseas viewers an understanding of why in a place with more people than space like Hong Kong would be able to complete a relationship's sorrow, joy, separation and union." Edward also said, "Viewers through the silver screen would catch a glimpse of our romantic format and attitude, I believe they would get an unexpected impact but at the same time also be able to find something they can relate to."
The new director Judy Chu Fung Han directed SUNSHINE OF MY LIFE (YUT LO TUNG HUNG) received the Udine Far East Film Festival's invitation to participate and hold a world premiere. The cast and the crew could not be more excited about the good news. The film starred Best Actress Kara Wai Ying Hung and Hugo Goh (Ng Toi Yung) as a blind couple, Karena Ng Chin Yu as their daughter in a heart warming story. Based on the director Chu Fung Han's family, the story was about blind parents who gave birth to a sighted daughter. As an adult the daughter feels that she is nothing more than her parent's guiding cane and has a love hate relationship with her family.
SUNSHINE OF MY LIFE was Chu Fung Han's writing and directing feature film debut. She said, "I am grateful that SUNSHINE OF MY LIFE is able to break out of Asia, to be shared and have exchanges with the audience on the other side of the globe. SUNSHINE OF MY LIFE is my writing and directing debut. The story is about 'family'. I hope through the protagonist's experience the audience would be able to relate, understand and accept the various imperfections of life but still be able to maintain hope! I would like to thank my actors for their hard work and contribution, the entire team for their participation, the film company for their support and belief in my story! Finally, thank you Udine Film Festival for giving my work the chance to participate!"
SUNSHINE OF MY LIFE last year already had over 100 screenings. Sister Hung played the blind mother, viewers who have seen the film had nothing but praise for her performance. Sister Hung was also very grateful for the film's international film festival selection. "I am very happy to be able to work with such an outstanding director, and happy for such a good movie to be able to participate in this year's Udine Film Festival. The story is based on the director's story with her parents. I feel it is very meaningful to be able to introduce the handicapped to even more people. Actually they have an independent and kind heart to help others too. I feel honored to have played this role in my life."