After learning that Nicholas Tse would be the action director, Jacky Cheung was at ease
courtesy of singtao.com
Jacky Cheung and Nicholas Tse look intense in a gun fight
In front of Song God Jacky Cheung, Nicholas Tse does not dare to claim to be a singer
Cya Liu keeps studying the details with the crew
Albert Yeung hosts the ceremony and poses for pictures with the cast
Carlos Chan, Michelle Wai, Kenny Wkan and Angus Yeung take turn praising Ting Fung
Francis Ng again performs in an uniform
courtesy of on.cc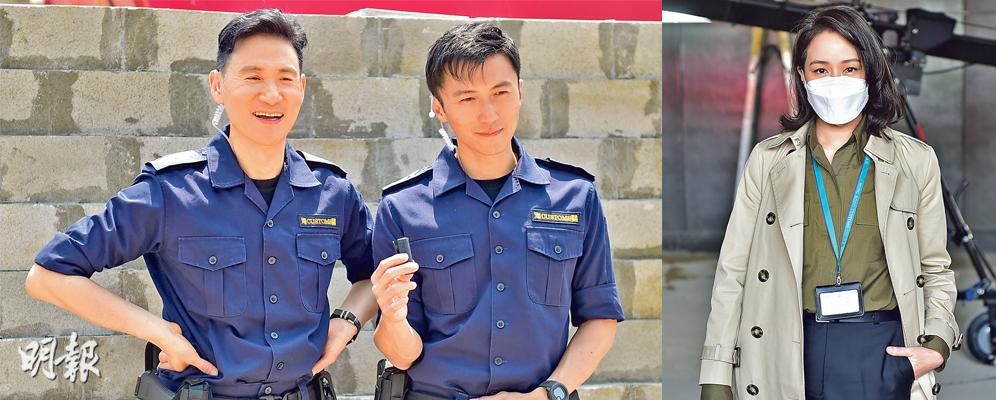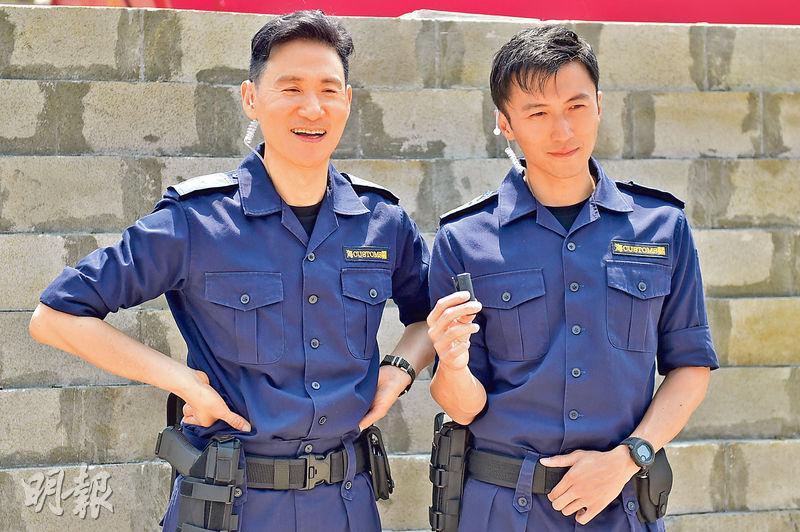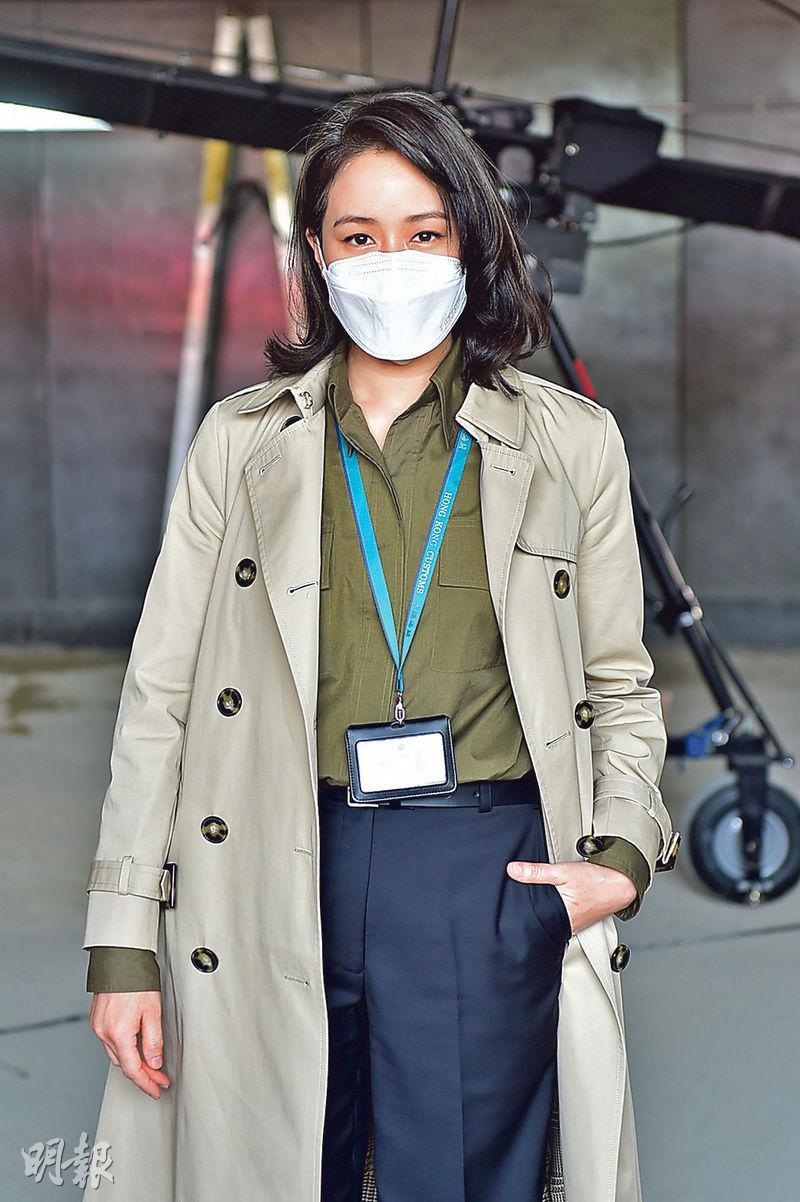 Karena Lam on the first day of work already has to jump hurdles and ends up with bruises all over
Francis Ng plays the Customs Commissioner
The 26th Hong Kong Film Critic Society Awards Best Actress Cya Liu is a part of the film
courtesy of mingpao.com
The Emperor Motion Picture HOI GUAN JIN SIN (CUSTOMS FRONT LINE) will be Herman Yau Lai To directed, Siu Kim Chau produced, Erica Li Man written, Jacky Cheung Hok Yau, Nicholas Tse Ting Fung, Karena Lam Ka Yan, Cya Liu, Francis Ng Chun Yu, Kenny Kwan Chi Bun, Michelle Wai Sze Nga, Carlos Chan Ka Lok, Angus Yeung Tin Yue, Michelle Yim (Mai Suet), Shek Sau, Amanda S. and others starred. As soon as the news of its production hit the film already became the focus of the entire city. Yesterday a worship ceremony was held, the Emperor Group chief Dr. Albert Yeung Sau Sing personally host the event as he led the cast and the crew to faithfully pray for a smooth production, box office and critical success. This time Ting Fung would star as well as direct the action. Hok Yau expected the production to test his physical abilities, but he was relaxed in the hands of this new partner.
Working on a new film after 6 years, Cheung Hok Yau would work with action director and star Tse Ting Fung. Hok Yau joked that Ting Fung constantly made movies so he did not need to make any special preparation. Hok Yau said, "I haven't made a movie in too long, I don't know how to prepare." Ting Fung said, "I haven't played a good guy in very long time. In the last one (RAGING FIRE) the character was rather bad, this time in HOI GUAN JIN SIN the character would be more serious. I hope to be able to make a little adjustment." Ting Fung would be the action director for the first time, would he tailor a series of stunts for Hok Yau? Tng Fung said, "I really like to watch Hok Yau Gor Gor act, he acts too well. Most recently I started to watch his work again starting with BULLET IN THE HEAD!" Hok Yau happily responded, "When I knew Ting Fung would design the action I was very relaxed, I have never had any physical training. This time I am just going to take a risk, when I take my mark if I get hurt I get hurt, if I don't I am lucky. I m the elder so he definitely would treat me well. I am relaxed with Ting Fung. Earlier Director Yau Lai To told me, 'Last time with Wa Jai (Andy Lau Tak Wa) it was only a few shots, the fighting ended up to be very powerful!' So I really am very relaxed!"
Would Hok Yau and Ting Fung have the chance to sing the theme song together? Ting Fung sad, "In front of Hok Yau how can I say I am a singer?" Hok Yau added, "You are, actually since I have been making movies I would very rarely suggest it (singing theme songs). Mostly only when other people ask would I sing. If Ting Fung sings, I would save it for him and not sing."
After JULY RHAPSODY (NAM YUN SEI SUP) in 2001 and HEAVEN IN THE DARK (UM SIK TIN TONG) in 2016, Hok Yau and Lam Ka Yan would work together for a third time this time; Ting Fung and Ka Yan worked together last time on TIRAMISU (LUEN OI HUNG SING) 21 years ago. Hok Yau said that he watched Ting Fung and Ka Yan grow up and did not feel like strangers at all. Before the shoot, Hok Yau and Ka Yan held hands and chatted. Hok Yau joked that the director asked me to be ambiguous, so off screen they were still holding hands to foster the emotions. However later the director said it was useless so they did not continue.
Ka Yan hinted that the love with Hok Yau in the film would not have a happy ending. It would be very heart breaking. She said that each time she worked with Hok Yau on a movie they would not have a happy ending. Playing the Customs Deputy Commissioner in the film, Ka Yan on the first day of work already had a gun fight scene. Ting Fung arranged for her to jump a hurdle. "I had to jump and shoot. It looked simple. After work when I got home I realized that I had bruises all over. During the shoot I seriously listened to instructions, I didn't notice that my leg was swollen. I really need to exercise more." For the gun fight scenes, she went to practice at the gun club.
Cya Liu in the film played a Thai intelligence agent. She said, "Ting Fung said that he would arrange some stunts for me, some of which would be scenes of getting hit. I would see what arrangements would he make. We haven't gotten to the action scenes yet, he hasn't asked anything of me yet. Later he definitely would be very strict." Cya said that she looked forward to the difficult stunts that Ting Fung would arrange for. To be able to work with a group of elders, she excitedly said that it had a very wonderful feeling because she grew up on Hong Kong movies.
Although Ng Chun Yu was unable to attend the production start worship ceremony, he has begun working days ago. Chun Yu already recorded an interview. Playing a high ranking Customs agent in the film, Chun Yu has not worn an uniform for a performance in a very long time; seeing the pandemic becoming steady, Chun Yu believed that they would be able to tough out this pandemic and perform successfully. Since Ting Fung would be the action director, would he hope that Ting Fung would design stunts for him? Chun Yu joked, "No thank you, those who started in art films like us really wouldn't be able to handle it. However I really want to watch what Ting Fung's action direction would be like. Unfortunately I wouldn't have a chance to show my skills, I would have to wait for next time."
Kwan Chi Bun, Chan Ka Lok, Wai Sze Nga and Yeung Tin Yue would participate in the film. Aside from Chan Ka Lok, the other three would play Customs officers. The actors had nothing but praise for Action Director Ting Fung. Kenny said, "Earlier when we worked on action scenes, Ting Fung really would personally teach us a lot of different action, especially how to hold the gun. One day he even brought us to try real guns. We kept shooting, kept burning money." Wai Sze Nga said, "Ting Fung really is great, he not only taught us how to hold the gun and look cooler, he even advised us on what we would need to be careful with. I had an explosion scene. He really worried about us getting hurt, so he reminded me to cover my face." Kenny also revealed that because of all the numerous stunts, he tore four pairs of pants in a day!
Wai Sze Nga and Chan Ka Lok this time did not need to play a couple again. Sze Nga instead would have romantic scenes with Ting Fung. Wai Sze Nga said, "I really am very happy, I feel the company treat me great. I should probably return to the film salary to the company! Now even when I am waiting for my mark, I would stay on the set to wipe away Ting Fung's sweat." Chan Ka Lok broken heartedly said, "Why when you work with me on a movie, you don't treat me like this? The contrast is really too much!"
Shek Sau in the film played Customs Commissioner, leading his Customs colleagues in an armed trafficking case investigation. Mai Suet and Melvin Wong Kam Sun in the film played a couple. Wong Kam Sun joked that for years he has longed to play a couple with Mai Suet, now his dream has finally come true. Playing a businessman in the film, Wong Kam Sun assisted Shek Sau in solving the case. Mai Suet said that she would participate in the film's exciting car chase. She was really looking forward to it.