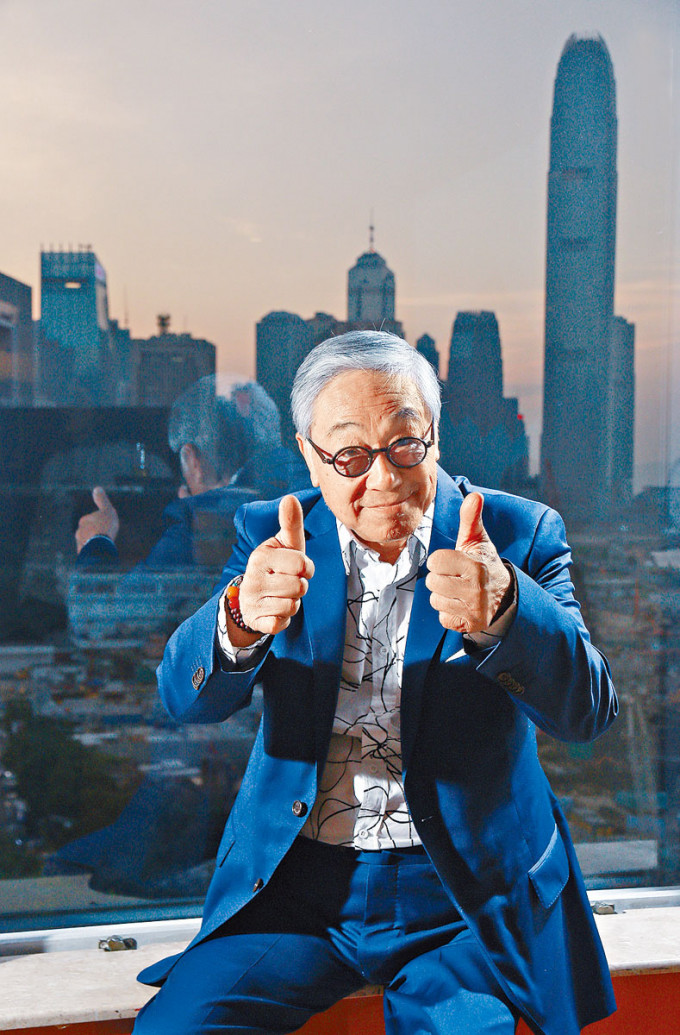 courtesy of singtao.com
Kenneth Tsang won the Hong Kong Film Award Best Supporting Actor. His acting has been recognized.
The Police arrives at the hotel to investigate
The remains are transported to the morgue
courtesy of on.cc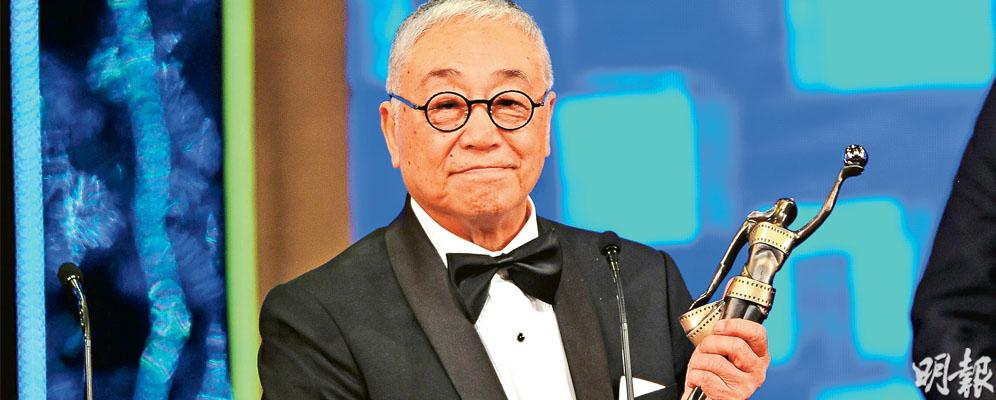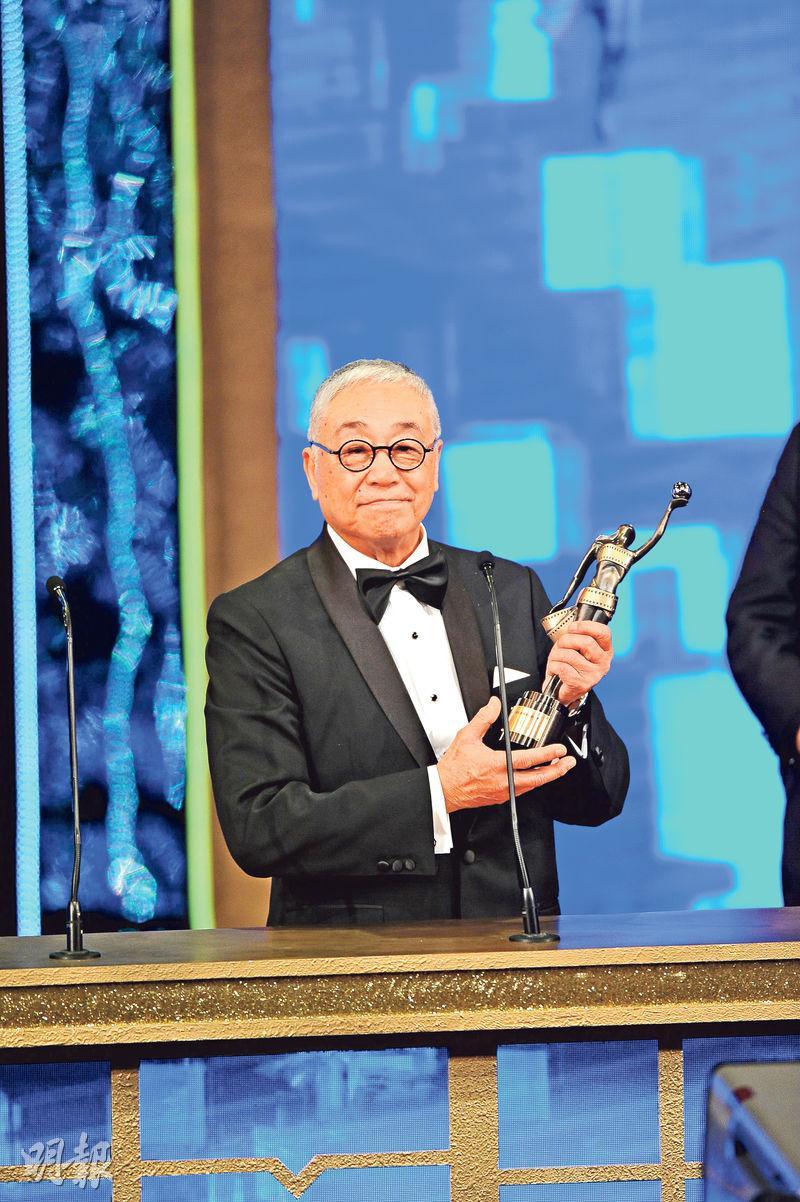 After 50 years in film, veteran actor Kenneth Tsang in 2015 with OVERHEARD 3 played a New Territories country land baron Luk Hon To and won the Hong Kong Film Award Best Supporting Actor. At the time he thanked Heaven for granting him health, so he would still be able to enjoy acting.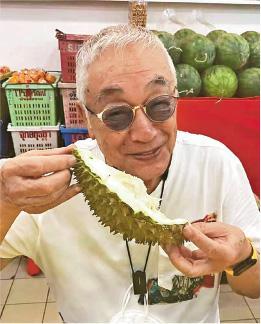 Before returning to Hong Kong Kenneth Tsang visited Singapore and Malaysia and enjoyed durian in Malaysia.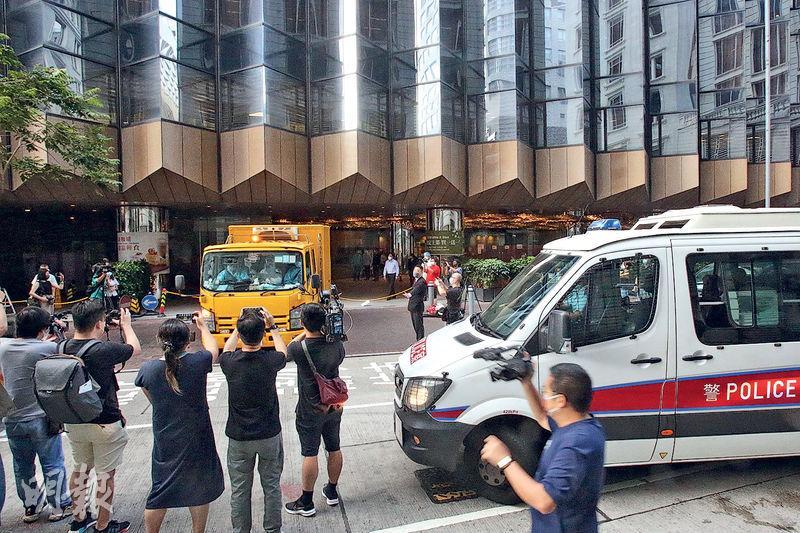 Kenneth Tsang on Monday checked into the Kowloon Hotel for quarantine. Yesterday morning he was found unconscious and confirmed dead on site. A hearse took the remains to the morgue in the afternoon.
Some of Kenneth Tsang's classic roles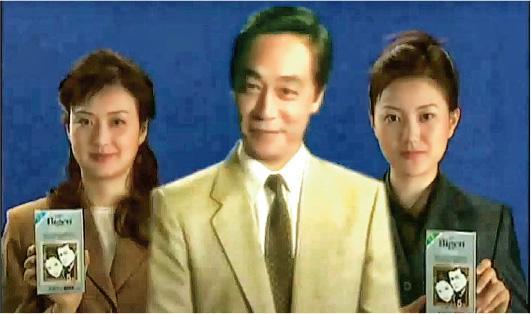 1980's Bigen hair color commercial with Kenneth Tsang remains the collective memory of Hong Kong people.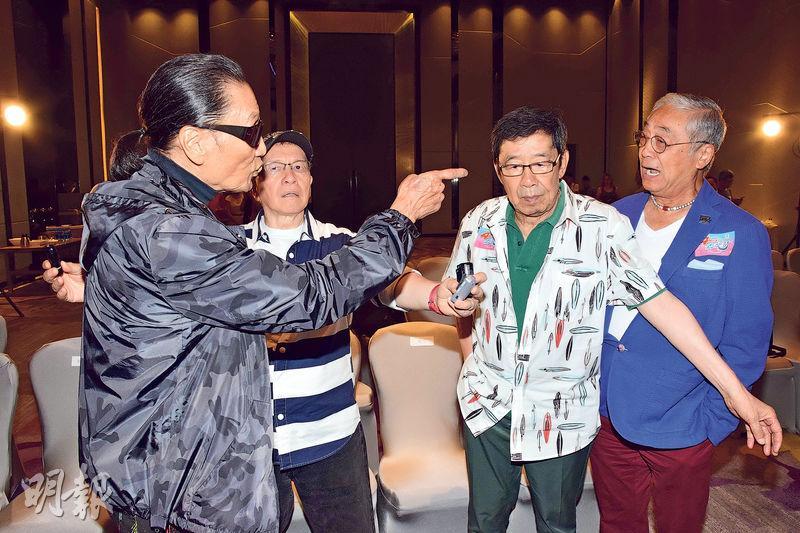 In 2015 Patrick Tse slapped Kenneth Tsang and became the talk of the town. At the 4 AMIGOS BON VOYAGE press conference, Tse Yin claimed that Tsang Kong pretended to be sick and got rough. Wu Fung tried to intervene and in the chaos his glasses flew off.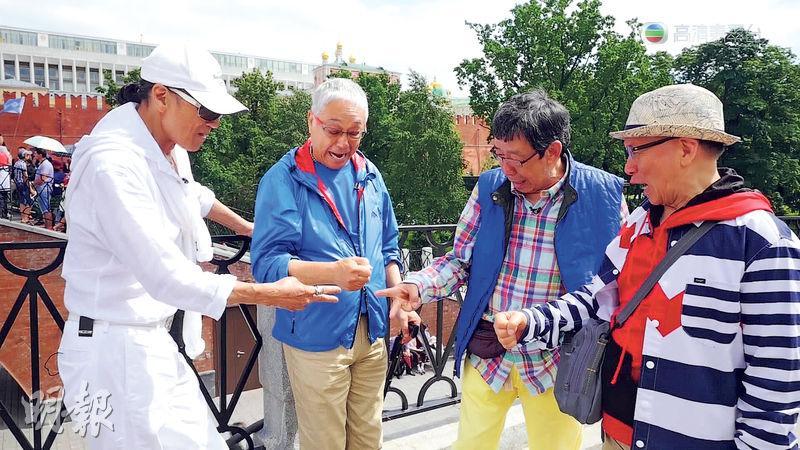 Patrick Tse, Kenneth Tsang, Wu Fung and Joe Junior in 2015 worked on the TVB program 4 AMIGOS BON VOYAGE. At the press conference after the slap incident with Tse Yin took place. 3 years later they on separate occasions said that they were "acting". Wu Fung later took both Tse Yin and Tsang Kong to dinner, shattering the dispute rumors.
Chiao Chiao is Kenneth Tsang's third and current wife. They wed in 1994 and have always been very loving.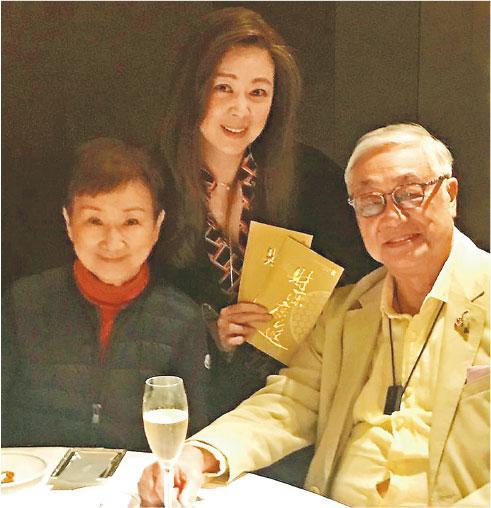 Linda Wong is Kenneth Tsang's niece and often visits her uncle and aunt. Currently in Taiwan dealing with her father's funeral, Linda Wong posted on Instagram, "We will miss you, Dear Uncle. You were truly too carefree...We will always remember you."
Kenneth Tsang and his second wife Tang Kung Pik had a daughter Tsang Mo Suet.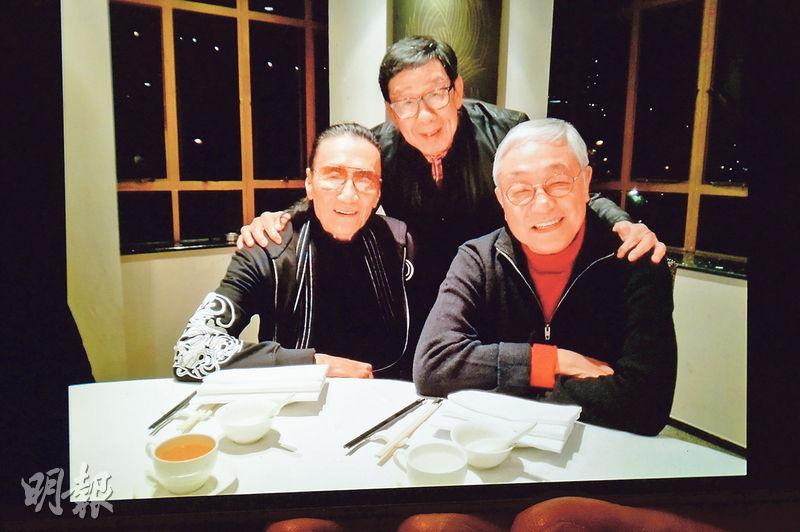 Kenneth Tsang in 2015 worked with Patrick Tse, Wu Fung and Joe Junior on 4 AMIGOS BON VOYAGE, at the press conference of which the Tse Yin slap incident took place. 3 years later they on separate occasions expressed that they were "acting". Pictured is a photo Wu Fung posted from a dinner with both Kenneth Tsang and Patrick Tse in 2018.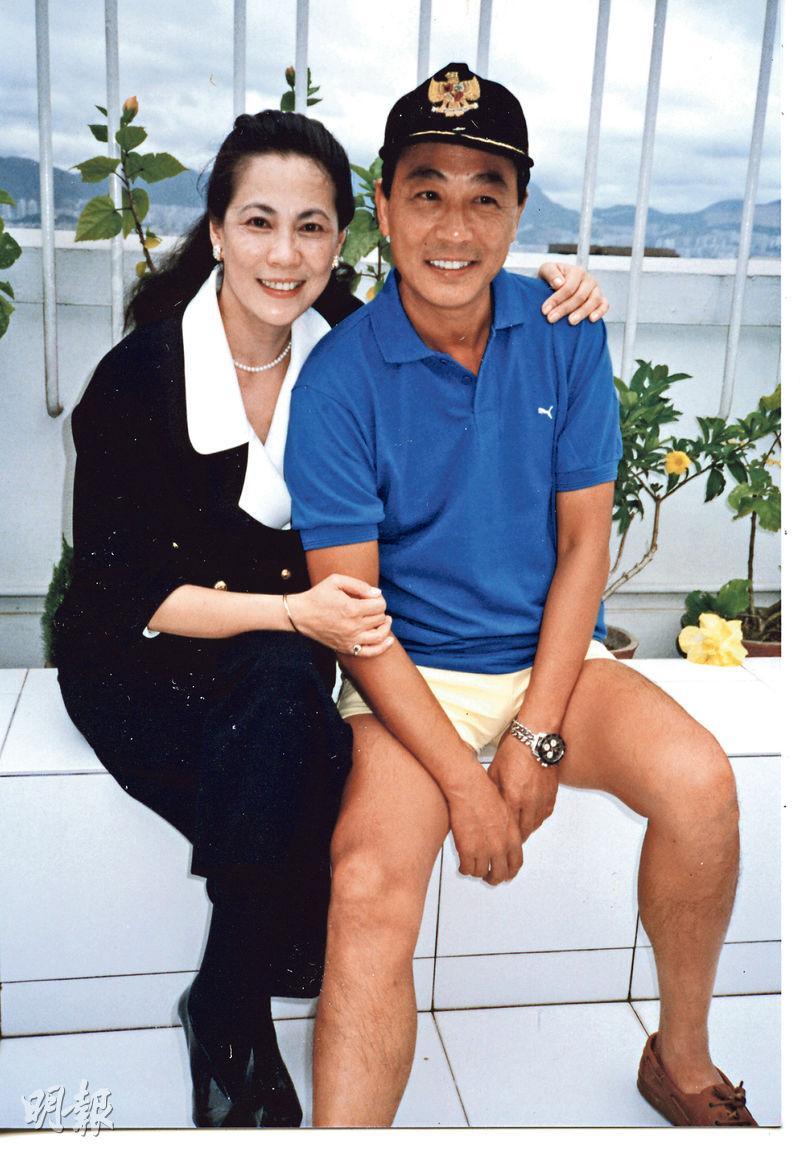 The late star Jeanette Lin was Kenneth Tsang's sister and Linda Wong's mother
courtesy of mingpao.com
Yesterday veteran actor Kenneth Tsang Kong was found dead in a Kowloon quarantine hotel at age 87. After an initial investigation the police classified the case as "found body", the cause of death would wait for autopsy to determine. Tsang Kong this month went on holiday in Singapore and Malaysia, a leisure trip on which he also visited old friends. He was in show business for over 60 years and never said retirement. Because his heart was always with the Hong Kong film industry, he felt that at this difficult moment he should do his part. No one expected that after this trip to Singapore and Malaysia, he would sudden pass away at a hotel during the quarantine period. The news shocked the entertainment circle.
Yesterday around noon, an elderly man was found unconscious in a Tsim Sha Tsui hotel room. When the emergency medical team arrived it confirmed the death of the victim. The police entered the hotel in protective gear to investigate and was contacting his family and friends for an understanding of his health condition. According to on site information, the victim was veteran artist Kenneth Tsang Kong. Tsang Kong on the 25th returned to Hong Kong from Singapore and checked into the quarantine hotel. On the 26th his novel coronavirus rapid test result was negative. Tsang Kong's second wife, columnist Tang Kung Pik revealed two nights ago Tsang Kong called his stage actress second daughter Tsang Mo Sue and said that he had a dull pain in his chest. His son in law immediately brought medication to the hotel and asked the hotel staff to present it to his father in law. During the period Tsang Kong felt hungry, his son in law also agreed to arrange for the hotel to send a meal to the room. Yesterday morning Tsang Mo Suet called her father again but no one answered. She asked the hotel staff to check on him but still had no response. Tsang Kong's family demanded the hotel to open the door, but because Tsang Kong was in quarantine the Department of Health must be notified. The Department of Health personnel on patrol this morning found no response at Tsang Kong's hotel room. When the hotel employee opened the door Tsang Kong was found unconscious in his room. When the paramedics arrived on scene they confirmed his death.
Tsang Kong in the past would update his social media with his current status. For example on April 18th he shared a video of his solo trip to Malaysia. He wrote, "When I am free I would act a little and do what I like to do. I like new things, I like to walk around and try the delicacies." In addition on his trip to Singapore and Malaysia, he had local cuisine and of course did not miss the durian. However when he grew tired from walking, Tsang Kong would walk with a cane. He told the Malaysia media, "At my age, I have someone to take care of me wherever I go. This time I hope to take care of myself. Under the conditions of the lack of mobility, easily getting tired, and unfamiliar with tech products, I want to find the world I can touch." Tsang Kong even said at the time that if he felt that he could not take it he would return to Singapore then fly home. If he needed to be in quarantine then so be it. No one ever expected that this would be the final journey of his life.
Originally named Tsang Kun Yat, artist Tsang Kong was in the film industry for over 60 years. Born in 1934 in Shanghai, 1949 he emigrated to Hong Kong with his family. He was the brother of famous actress Jeanette Lin Tsui, the uncle of Linda Wong Hing Ping and Chan Shan Ho. Tsang Kong in his youth was educated in Hong Kong, then went to high school in the U.S. After form 5 he participated in some film productions and even went to the University of California at Berkeley to study architecture. After graduation he returned to Hong Kong and worked as an architect. However Tsang Kong thought the job of an architect was too dull. In the 60s he returned to show business.
A top Cantonese film era star, he played many classic roles like Wong Yeuk Si in the TVB series LEGEND OF CONDOR HEROES, Lung Sing Bong in THE GREED OF MAN (DAI SI SOI), Luk Kwok Wing in THE FINAL VERDICT (SAI BUK DAI TAU) and Uncle Kin in A BETTER TOMORROW (YING HUNG BOON SIK). The most memorable impression the audience had would certainly be his hair dye commercial. His line, "It can gradually turn black, it can also immediately turn black, it's done!" has become classic. Later Tsang Kong in 2013 and 2019 again worked on hair coloring commercial. He worked with Alex Fong Chung Shun in the 2019 one; Tsang Kong's final commercial was last year with MIRROR member Stanley Yau.
With his outstanding acting, Tsang Kong even caught the eyes of Hollywood. He was in big productions like TOMORROW NEVER DIES, MEMOIR OF A GEISHA and RUSH HOUR 2. In 2007 at the 16th Hong Kong Drama Awards he won the Best Supporting Actor (Tragedy/Drama) award. In 2015 with the film OVERHEARD 3 (SIT TING FUNG WON 3) won the Hong Kong Film Award Best Supporting Actor.
Tsang Kong at the time said, "Thank you to those who love Hong Kong film. Their hearts and effort made Hong Kong Film Award smashing. Many people neglect their work. We as the film industry should thank them. Of course I have to thank the voters, thank the partners at work over the years. Without their tolerance, assistance and cooperation, how can we do our jobs well? Whether the partners at work are on or off screen, I thank them. Even more so I of course thank viewers who have supported me over the years. The most important is to thank Him (pointing at the sky). Thank Him for giving me good health. Without health how can I work? I wish that He would continue to support me and grant me good health. Here I see so many familiar faces, I am very happy to be together at a time and place, to share this honor with me. Thank you." In 2019 he received the 9th Asian Pop Up Cinema's Lifetime Achievement Award in Chicago.
Despite his age, his need for a hearing aid and a cane to move round, Tsang Kong admitted that he was unwilling to retire. The reason was that the Hong Kong film industry was in a difficult period, he felt that he still needed to do his part. Last year he participated in 3 movies including THE ATTORNEY (YUT CUP JI HUNG)and 3 internet films.
Tsang Kong talked about life and death in his Phoenix Entertainment interview. "Death, I feel it's an ending. I would like the hope to not have too many regrets before this end, that would be good. I also have one more wish, when I go, I would spend all my money. I hope it's not spent on doctors and hospitals. I don't care what else it would be spent on, whether it's food, clothes, it doesn't matter. I just hope not to be in the hospital too much."
Wu Fung knew Ken for several decades and could not believe that this was true. After receiving the news he was at a loss. Many in the industry expressed sorrow and regret over the passing of Brother Ken.
Brother Sau after hearing the news of Brother Ken's passing, due to how sudden it was he could not believe it for a long time. He kept saying to himself he hoped it was not true. When Wu Fung heard that he had a problem at the quarantine hotel, he instead asked whether he "caught it (novel coronavirus)"? Brother Sau sadly said, "At this moment my emotions are all over the place, I just saw Brother Ken several months ago. (Was he hospitalized before?) I haven't heard about that." Because Brother Sau was too saddened, he did not want to speak more.
Linda Wong Hing Ping was Tsang Kong's niece. She often visited her uncle and aunt. Currently in Taiwan for her father Jimmy Wang Yu's funeral, Linda responded via text to the media that it was very sudden and she was heartbroken. "I am sorry, I have no idea what happened...Hong Kong reporter friends all just notified me. I am in Taipei, handling my father's affairs. At this moment I am not at liberty to say anything."
Joe Junior at first did not believe that Tsang Kong passed away. Later he read the report that confirmed the news and felt very saddened and upset. He missed his buddy who suddenly passed.
Joe was the youngest when he flew overseas with Wu Fung, Tse Yin and Tsang Kong for a program. He was under the care of three other "older brothers". Even when they had a little conflict, it was very minor and no one held a grudge.
After the program, they would occasionally have dinner and catch up. Although not everyone would be present, they would text each other to check in. The last time the "Four Amigos" met was a private dinner in August last year. At the time they could not stop chatting as they looked back at past experience on the set. Joe said, "On the screen, Tsang Kong played many roles and perhaps gave people the impression that he was not easy to get close to. The person I knew actually was very emotional, direct with words, true to nature, he didn't like to be coy. So being friends with him was very pleasant. At dinners, Brother Sau and I would sing nostalgic songs. Tsang Kong and Sei Gor would mostly listen, but Tsang Kong occasionally would sing a few verses when he felt like it."
Joe lamented that his buddy left without saying goodbye and reminded everyone to pay more attention to their health. Lately he loved to hike with his wife for exercise and remembered to maintain a positive state of mind.
As for Patrick Tse Yin, his phone went directly to voice mail. As of the article's deadline no reply has been received.
Having worked with Tsang Kong many times, friend Law Kar Ying was very surprised to hear the news and lamented, "Hong Kong has lost another multi-talented actor." Brother Kar Ying said that he admired Tsang Kong's performance skills the most. He said, "Tsang Kong's acting had a presence, a style, only he had this type of dignified presence that others could not learn no matter what. This was a very rare aura." Brother Kar Ying also praised him for really knowing how to performance, his Putonghua was fine, Cantonese decent, English was good too. He was able to use different languages at will. His passing truly was a loss to the film and television industries.
Best Actress Teresa Mo Shun Kwan said at the "Makerville" press conference, "He was my elder. I think he had health issues. It's not whether hotel quarantine was hard to handle. I guess it wouldn't be a issue due to the quarantine. However I don't what happened to him so I am not at liberty to speak. I am very saddened. (When was the last time you worked together?) A very long time go, on television. I don't even remember how long ago."
Che Suk Mui felt the passing of Tsang Kong was sudden. She wrote online, "Brother Tsang Kong passed away, Heaven took away our beautiful man who was true to nature, highly educated and a great actor! He graduated from UC Berkeley in the US and returned to join the film industry...the most memorable for me was that he mentioned in an interview, after diving he would wear all the diving gear and flappers to the streets of Causeway Bay to wait for a ride. He cracked up and his laughter shook the studio! This was the Brother Tsang Kong we would miss! Have a safe journey..."
Having worked with Brother Ken on a hair coloring commercial, Fong Chung Shun said, "Mr. Tsang Kong, have a safe journey. I will always remember you." Joel Chan Shan Chung said that he grew up watching Tsang Kong. The news was heartbreaking and he wished a safe journey for Tsang Kong. He said that elder Tsang Kong respected his profession, took every detail very seriously and did not need to bring the script to the set.
Monica Chan Fat Yung said, "I am really very saddened. We worked together on the television series A DREAM NAMED DESIRE (MEI LAI CHUEN SUET), he played the mean father in law. However privately he was very easy going, a invaluable elder. Mr. Tsang, have a safe journey! You will be missed forever!" Michael Tong Man Lung said, "The forever master of the East Evil's Peach Blossom Island, Brother Ken, have a safe journey!" Other artists who remembered Brother Ken included Damien Lau Chung Yan, Yeung Chiu Hoi, Clifton Ko Chi Sum, JJ Jia, Michelle Ye and Toby Chan Ting Yan. Wan Lau Mei was saddened over Tsang Kong's passing and remembered when they worked together on RTV and RTHK programs. She felt he was very "handsome".
Toby Chan Ting Yan on Instagram posted a photo with Tsang Kong, Tse Yin and others. She wrote, "I just saw the news and heard about the great elder Mr. Tsang Kong, fans must be hurting very much. I wish you a safe journey! I am grateful that I was able to be the host of the press conference that Mr. Tsang Kong was a part of. It was destiny."
TVB issued a statement. "Veteran artist Mr. Tsang Kong (Originally named Tsang Kun Yat) was a performing art elite, Hong Kong film and television legend. Mr. Tsang's final work for this station was the variety program FOUR AMIGOS BON VOYAGE. When the bad news arrived this afternoon, everyone at this station are saddened over Mr. Tsang Kong's passing and send its condolence to his family."
Helena Law Lan kept asking why did it happen and stated that she was upset. "We worked together since black and white films, at TVB we worked together on many series. He was very professional, direct, with this buddy we have worked together for so long that we only saw less each other less in the past few years. Last year at Wu Fung's 2021 concert we saw each other. At the time he was very healthy, spoke loudly and didn't give the impression that he was sick. Instead I have aches and pains all over. I am 88, life is really very hard to predict -- just peacefully live day by day."
Justin Cheung Kin Sing worked with Tsang Kong on THE ATTORNEY and played father and son. He said that despite his lack of hearing, he still worked very hard on the set. Aside from following the script he would add his own ideas about character designs. May he rest in peace in Heaven, sharing joy and happiness. Everyone should properly cherish those around them.
Michelle Yim (Mai Suet) heard the news and admitted that she was upset. She mentioned that she worked with Tsang Kong on EAGLE SHOOTING HEROES early on. Tsang Kong was the director, while at CTV they worked together often. Later they were each busy on their own. When they saw each other again it was many years later. Most recently they said that they should meet and catch up but he passed before they were able to. As for her impression of Tsang Kong, Mai suet felt that having studied abroad he was very gentlemanly. She met him when she was very young. At the time she knew nothing at all and received a lot of guidance from him, whether it was acting, fight scenes and even table manners. He was like a teacher so she really respected him. The most memorable was when they worked together on location in Nepal. Because of cleanliness Tsang Kong would not eat casually. He would bring eggs to the shoot out of safety. When they were on location and dined together, Tsang Kong would teach her how to order food. She has seen many of his films with Connie Chan Bo Chu and Josephine Siao Fong Fong.
Best Actor Louis Koo Tin Lok who worked with Tsang Kong on the film OVERHEARD said, "He was a good actor and a good elder who span different eras. I just heard the news and haven't been able to digest it. Of course I felt very saddened and sorrowful. I wish the elder a safe journey."
Simon Yam Tat Wa worked with Tsang Kon on the film MAN ON THE EDGE and YUEN SUN JUI. Yam Tat Wa was shocked and heartbroken. "He was an elder I respected very much, an elder who would always shine in show business. I would always and forever respect and miss him. Mr. Tsang Kong, have a safe journey. He was very humorous. Working with him was very pleasant. Earlier I kept flying all over, sometimes I would run into him in the boarding area. We would chat even without touching our coffee. From him I learned a lot about life. It truly is very regrettable."
Eddie Cheung Siu Fai posted a photo to remember Tsang Kong online. They worked together on the series SIBLINGS OF VICE AND VIRTURE, the first that Cheung Siu Fai was the lead in. He wrote, "At the time I was very nervous. When I saw Tsang Kong, an elder who always looked serious, I was even more scared. After becoming familiar over a week, he turned out to be an elder who was very humorous and glad to help the young generation. Thank you for your lessons, I was fortunate to have worked with you on my first series. Have a safe journey, I will miss you..."
Patrick Tam Yiu Man remembered Tsang Kong, "Brother Ken: Son! Life is like a soccer match, before it ends you don't know whether you would win or lose! You have to keep fighting! This was Brother Ken's advice to me once upon a time, I still remember it now! I remember when I first got into the business, the naivety of being curious about you not bringing a script to the set and still be so amazing! From you I learned that passion and professionalism. Although you rarely spoke and act more, your cool yet a little carefree ways already were the perfect demonstration for us. Actors actually need to have this scent. Brother Ken benefit us a lot, and made deep contributions. #always missed #have a safe journey #you would always be the good elder we respect."
Bowie Lam Bo Yi worked with elder Tsang Kong on many series, but he has not seen him in a long time. The last time was in 2016. He described him as an international actor who was well versed in English. "Very regrettable, it was like yesterday. At the time the two directors responsible were very afraid of elder actors. I said not to be. I was present everyday. When Tsang Kong arrived he already memorized the script. He was very professional, he even hurried the directors to work. His passing was a tremendous loss to the film and television world." Speaking of Tsang Kong slapping him in the series, Bowie said that Tsang Kong was very professional and held back. The result however was very realistic and just took one take.
MIRROR member Stanley Yau who worked with Tsang Kong on a commercial last year posted a story on his Ig. "It's very sudden, RIP Uncle Tsang Kong, thank you for your guidance." Stanley saw that the news was very shocking. At the time he did not sense anything different with Uncle Tsang Kong's health. His mind was crystal clear, and he was able to walk and move. Stanley said that Uncle Tsang Kong was very willing to advise the younger generations. Although it was only a commercial, he paid attention to every detail and even took the initiative to communicate with the director. He admired the elder.
Family and friends have been taking calls on the phone of Tsang Kong's wife Chiao Chiao. They pointed out that "Mrs. Tsang currently is busy" and hung up.
The handsome Tsang Kong had three marriages in his life. His first wife was THE BIG CIRCUS' co-star Cheung Loi Tai (also known as Nam Tai(Lan Di)). They wed in 1969 and had one son, but the marriage lasted 10 years before ending in divorce. Their son followed his mother and settled in Canada. Tsang Kong's second marriage was with columnist Tang Kung Pik in 1980 and they had a daughter, stage actress Tsang Mo Suet. The marriage also lasted 10 years and ended. Tsang Kong with Taiwan actress Chiao Chiao wed in 1994. The third marriage lasted 28 years until now.
Tsang Kong in 2014 participated in the Mainland version of GRANDPAS OVER FLOWERS, visiting over 10 cities in France, Switzerland and other locations. Tsang Kong on the program told Liu Ye's wife about his view on life and death, saying that those around him passed away one after another. He has already prepared himself mentally, he would be the most worried about his wife.
He also described himself as being under his wife's full control. For his wife to be at ease, he revealed that in Europe he would always call his wife just to check in. "She wasn't too worried about my health, but she was more worried about my personality. I don't get along with others easily."
In 2015 Tsang Kong, Patrick Tse Yin, Wu Fung and Joe Junior worked on the TVB travel program FOUR AMIGOS BON VOYAGE. Tsang Kong during the shoot had a gout attack and needed a cane. Due to an accident in a Jeep he had a nose bleed for four hours and was hospitalized. Later he had to be in a wheel chair to complete the shoot, with Sei Gor, Sau Gor and Joe Junior taking turns to push him around.
The quartet later on the program press conference bought the matter up again. Sei Gor said that during the shoot he was already upset, saying that Tsang Kong was pretending to be sick. During the program dubbing Tsang Kong accused him of keeping them from getting off work. Sei Gor got more emotional as he spoke and even wanted to slap Tsang Kong. Sau Gor who sat between Sei Gor and Tsang Kong intervened. In the chaos Sau Gor's glasses were knocked off, as Sei Gor stormed off in a rage.
The incident shocked show business. Sei Gor years later revealed that slapping Tsang Kong was just acting, a marketing tactic. He was set up. He and Tsang Kong were actually very close. Afterward he took Tsang Kong for ice cream. However Tsang Kong said that they did not coordinate before hand. When he was slapped he was very surprised. 3 years after the slap, Tse Yin and Tsang Kong put their differences aside and had dinner with Sau Gor.