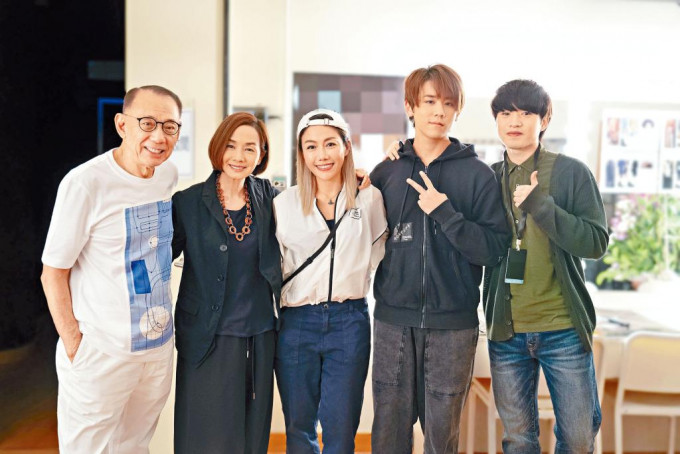 courtesy of singtao.com
Jer Lau, Teresa Mo and Keung To are encouraged by the Audience Choice Award
courtesy of mingpao.com
The Kearen Pang Sau Wai directed, Keung To, Jer Lau Ying To, Teres Mo Shun Kwan starred film MAMA'S AFFAIR (AH MA YAU JOR DAI YI GOR) at Chicago's 14th Asian Pop Up Cinema received the "Audience Choice Award". Film festival founder Sophia Wong Boccio earlier this month after watching MAMA'S on the official social media wished Keung To and Lau Ying Ting continuing success and hoped that they would personally come to Chicago for their future films. Pang Sau Wai expressed thanks on her social media after hearing the news. "Thank you Chicago Asian Pop Up Cinema, thank you to all the friends who supported this film festival screening, and congratulations to our entire team! The film's official release version is still working out its details, this award is a special encouragement to our team that still needs post production work!"
Sister Mo happily expressed, "Thank you! It's an enormous encouragement for our team! Thank you!"
Making his film debut, Keung To sincerely expressed his appreciation. "I am very happy MAMA'S AFFAIR was able to receive the Chicago Asian Pop Up Cinema's Audience Choice Award. Thank you to the film festival and the audience for their enthusiastic support of MAMA'S AFFAIR. As an actor, this is a tremendous encouragement. In the future I would continue to work hard. Thank you everyone!"
Jer was full of appreciation for the film's success at the overseas film festival. "First, thank you Chicago Asian Pop Up Cinema for inviting MAMA'S AFFAIR to participate, at the same time I want to thank the audience for attending and voting in support. I hope in the future with different film festivals, even more overseas viewers would be able to enjoy MAMA'S AFFAIR. Of course I am looking forward to its Hong Kong release as soon as possible too, so everyone would be able to provide their valuable opinions!"