Simon Yam plans to write, direct and star in an authentic Hong Kong film
Kathy Yuen praises husband Maverick Mak for being better at acting than she is
courtesy of on.cc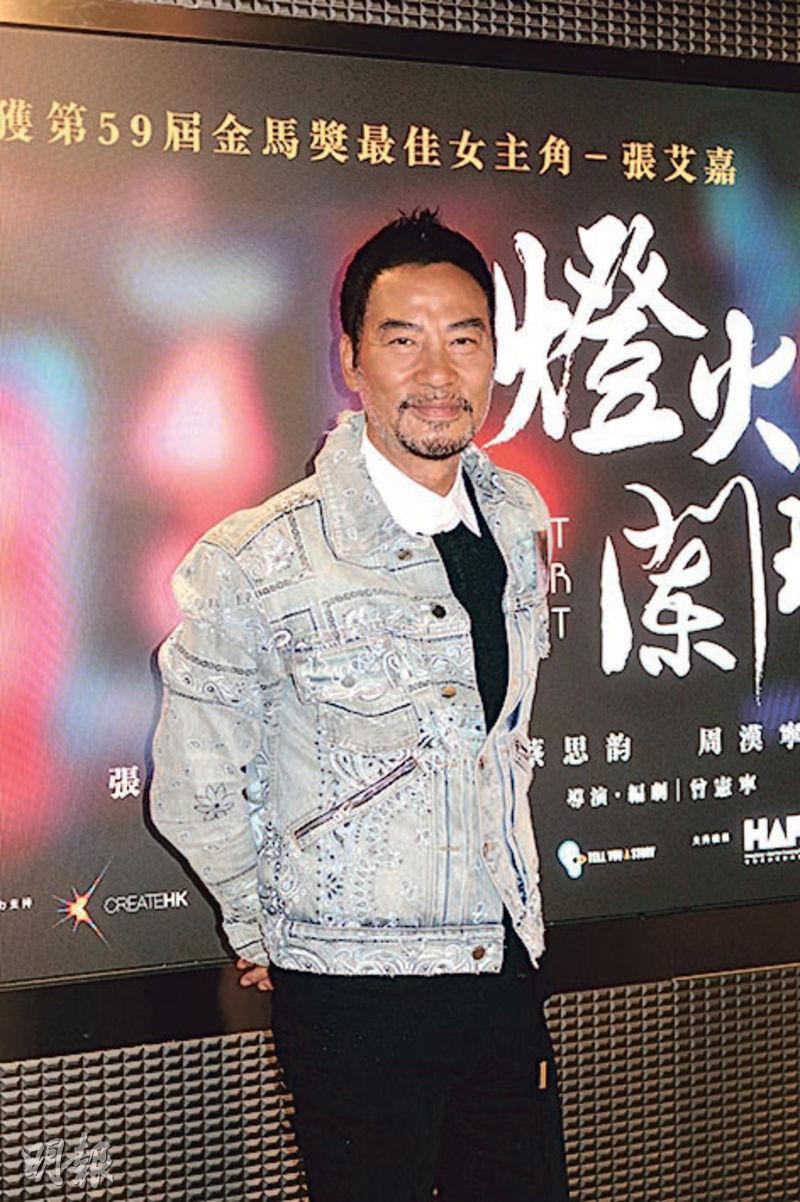 courtesy of mingpao.com
Simon Yam Tat Wa, Henick Chou Hon Ning, Maverick Mak Chau Sing and his wife Kathy Yuen (Tong Yee), Ben Yuen Fu Wa and others two nights ago attended the film A LIGHT NEVER GOES OUT (DUN FOR LAN SHAN)'s advanced screening event. Speaking of Sylvia Chang's Golden Horse Best Actress victory with the film, Yam Tat Wa stated that she truly deserved it. He also praised her for sparing no effort to help the new generation.
Brother Wa praised this film for being made with a lot of sincerity and quality. "Cheung Ngai Ga and I, even everyone have a lot of effort into helping young directors, actors and behind the scene people. The film's subject was the neon lights of the 60's. Although this industry has fallen, but now another kind of light is shining ton this Pearl of the Orient, Hong Kong. It could continue to radiate and shine, so movie friends around the world all like to come to Hong Kong and shoot on location!" Brother Wa even felt that what was special about Hong Kong would not exist anywhere else in the world, which was where the charm of Hong Kong lay and also gave rise to the idea of him directing again. He said that currently he is writing a screenplay for a Hong Kong film that he would direct and star in next year. "I would shoot the back alleys of Hong Kong, (the movie) would be a reflection of ordinary life, and show the beauty of Hong Kong!"
Brother Wa revealed that in the film would be a collaboration between middle aged actors and young rising stars. He also intended to ask Yuen Wah and Kara Wai Ying Hung to work with him. "I have always really admired him. His acting had a kind of charm. In addition i too want to ask good actor Sister Hung. Later I would ask some young actors to perform, but first I would have to finish the screenplay." Would he permit his daughter Ella Yam Ching Kai to perform? He laughed and said that he would tailor a script for his daughter next time.
Mak Chau Sing said that it was his first movie role, so he was very nervous. He was waiting for his wife to give him her opinion. However Tong Yee said that although acting wise she had more experience, she still did not dare to give any opinion. She only joked that he still had room for improvement. Luckily she rehearsed with him. Tong Yee praised her husband's acting to be better than hers. "However sometimes during rehearsal he wouldn't be able to keep himself from laughing."
She actually would not mind working with her husband on a movie, but instead she would not want to dance with him. Mak Chau Sing joked, "Then we have to make a dance movie together, I have been secretly training her in dance, feeling that she is pretty well coordinated!"