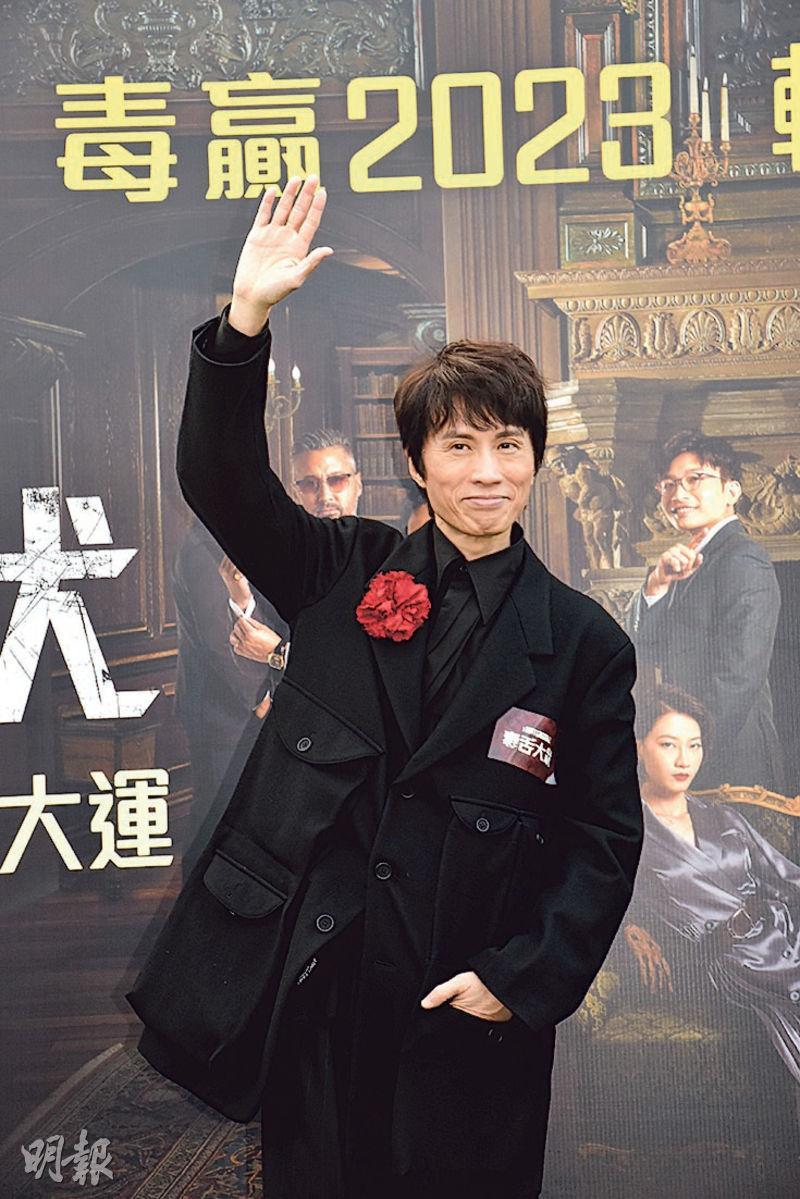 Dayo Wong appears at Central to promote his Lunar New Year film A GUILTY CONSCIENCE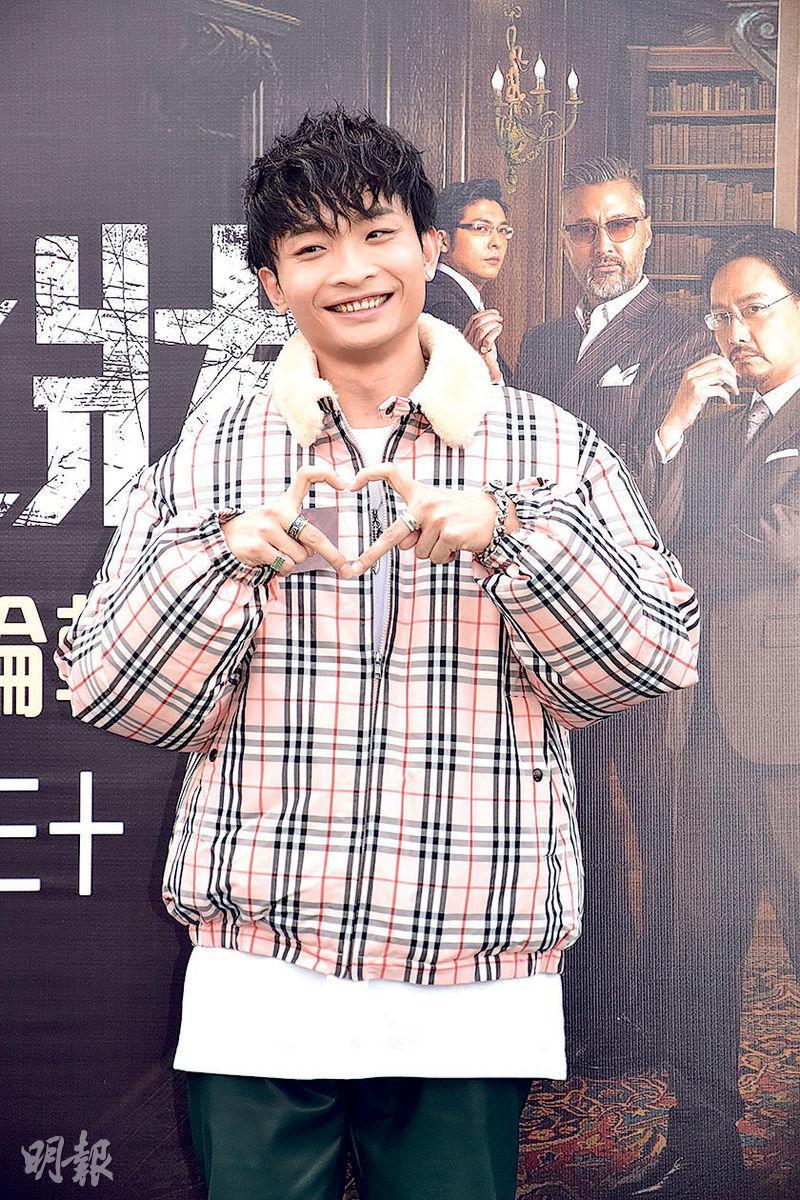 Dee Ho jokes that since he takes off his pants everyday, he would not doing it once more and would even sing and dance.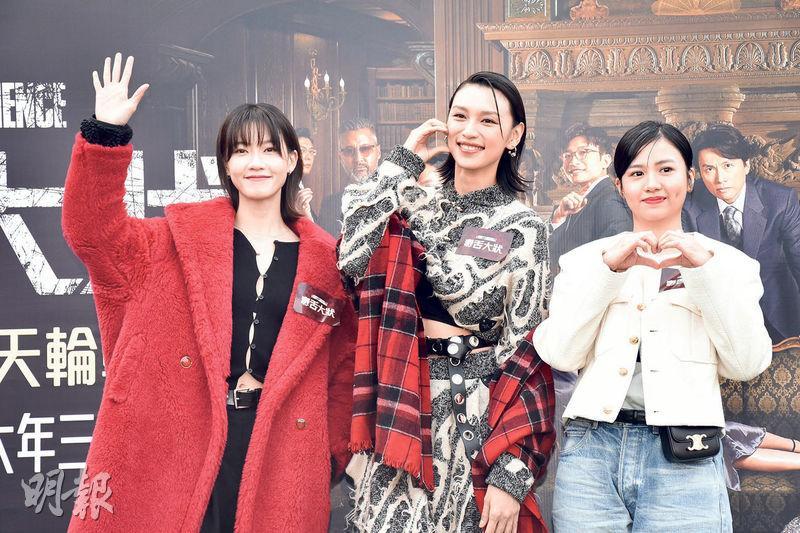 Fish Liew, Louise Wong and Renci Yeung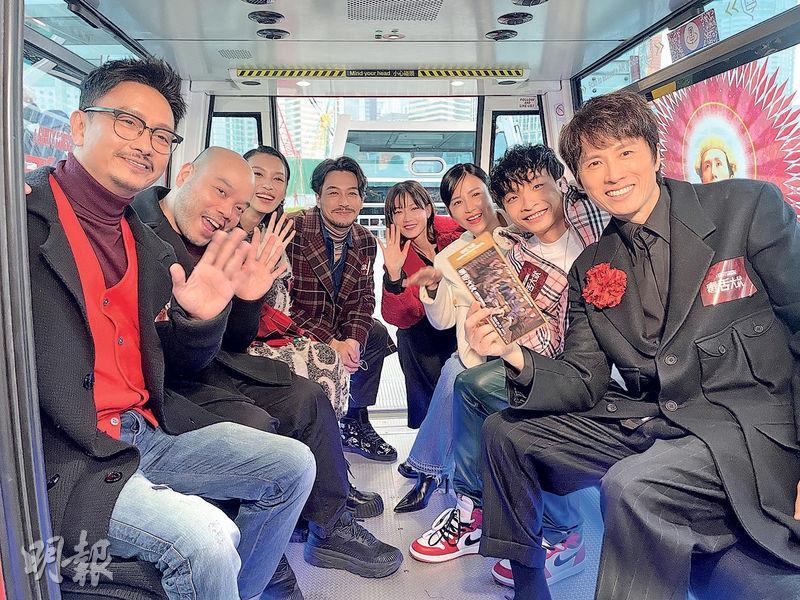 Dayo Wong leads the cast on a ride on the wheel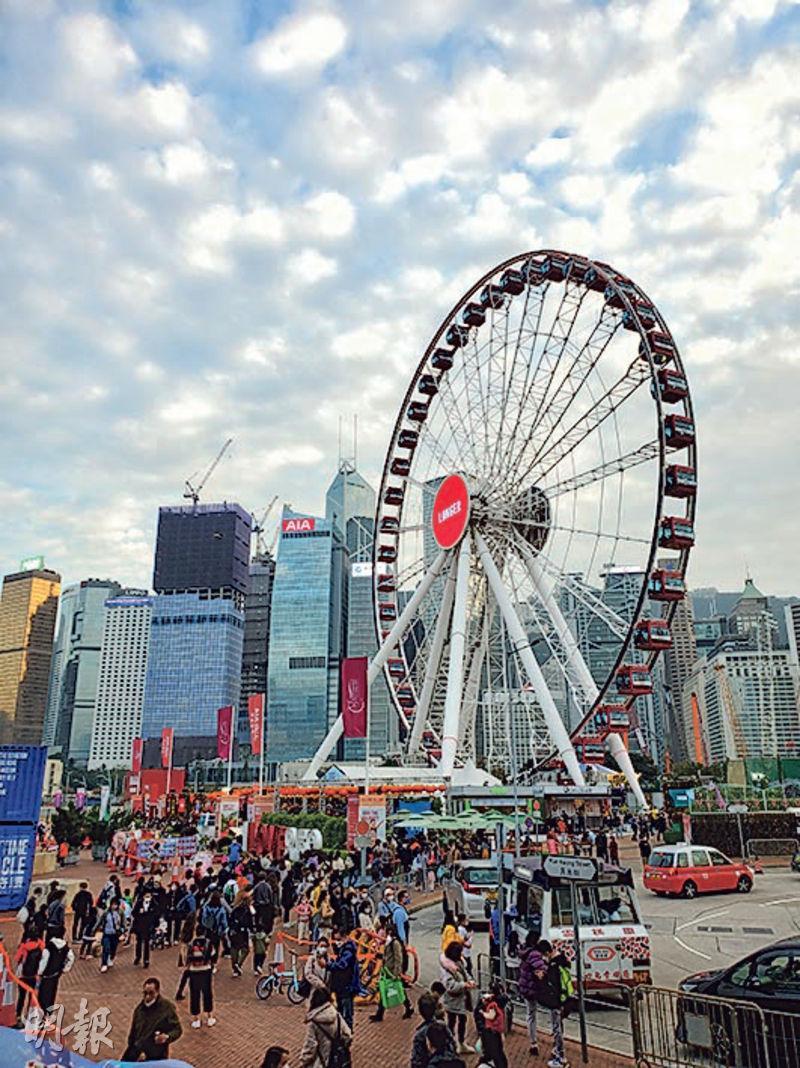 The film company yesterday treated everyone to a free ride on the Hong Kong Observation Wheel, which drew quite a crowd
courtesy of mingpao.com
The Dayo Wong Tze Wa starred Lunar New Year film A GUILTY CONSCIENCE (DUK SIN DAI JONG) yesterday treated everyone in Hong Kong to a free ride on the Hong Kong Observation Wheel on New Year's Eve. Wong Tze Wa along with Louise Wong Dan Nei, Renci Yeung Si Wing, Fish Liew Chi Yu, Dee Ho Kai Wa, Adam Pak Tin Nam and Gardner Tse Kwan Ho made appearances to promote and rode the wheel together for a turn of luck. Wong Tze Wa pointed out that with Ah Dee's performance, he believed that the box office would at least make HK$ 30 million. However due to the expensive production cost, the movie would have to make at least HK$ 40 million to break even. Ah Dee joked that if the box office would reach HK$ 30 million he would take off his pants then sing and dance.
Wong Tze Wa would spend the Lunar New Year in Hong Kong to promote A GUILTY CONSCIENCE. He said, "I can't leave Hong Kong, I have to hold down the fort in Hong Kong. With a good box office performance, I can even not leave the house." He said that breaking even would not be easy for the movie. It would have to make more than HK$ 40 million to be able, because of how expensive the production cost was, all the actors in the cast and many actual location shoots. "It can't lose money, only then would investors be willing to start productions; only then would viewers have more good movies to watch and the industry would thrive." If the film would become a hit, would he have any bonus? Tze Wa said no. He would wait for the next one and always look forward to tomorrow. He revealed that even when TABLE FOR SIX (FAN HEI GUNG SUM) made HK$ 77 million he did not get a bonus. "There is not reason to keep playing when losing but cashing out after every win, but I wouldn't mind getting lai see."
Wong Tze Wa felt that with Ah Dee's performance, A GUILTY CONSCIENCE's box office would basically make HK$ 30 million. Wong Dan Nei, Liew Chi Yu and Yeung Si Wing all said that with a good box office performance we would like to see Ah Dee remove his pants. Ah Dee said that he would not mind and joked that everyday he would remove his pants. It would only be one extra time, so no big deal. If the box office would be strong enough he would dare to strip. "If the box office would reach HK$ 30 million I would immediately take them off, then I would sing and dance." Speaking of MIRROR captain Lokman Yeung would be unable to attend the Ultimate Music Award ceremony due to a possible positive test, he said that he has already consoled Lokman. Tze Wa joked, "I tested positive earlier too, but no one consoled me. I just treated it like nothing happened." With a box office performance for GUILTY, would Tze Wa remove his pants with Ah Dee to thank the audience for their support? He joked, "If I take off my pants, I am afraid that all the Hong Kong viewers would run away."
Yeung Si Wing earlier went skiing with boyfriend Owen Cheung Chun Long in Italy. Did they have an advanced honeymoon? She said that this time she was a film festival opening ceremony guest, and her boyfriend Cheung Chun Long just happened to be there. She showed off her swimsuit photos on social media. Would she share more if A GUILTY CONSCIENCE would become a box office hit? She said, "Leave the back showing to me. With an HK$ 80 million box office I would show the back. With HK$ 70 million I would leave it to Liew Chi Yu." Wong Dan Nei admitted that she was conservative. "For HK$ 100 million I would show my ankles, then start slowly show upward." They joked that they wanted to Ah Dee remove his pants. Wong Dan Nei said, "Tze Wa God cannot be sullied."
Wong Dan Nei said that her husband Sheldon Lo (Law Hau Yung) already returned to Hong Kong before Christmas. Their family went to a theme park for fun. How did Law Hau Yung rate her GUILTY performance? She said that she and her husband had an agreement to not discuss work in private, which would avoid meaningless arguments. "How my performance is should be rated by other people." Liew Chi Yu praised how convincing Wong Dan Nei was as a prisoner. Off camera she still sensed her tragedy. Liew Chi Yu earlier publicized her romance with Lo Chun Yip. Have they become more relaxed? She said, "No, instead we have become more tense. We re afraid that we would break up in a few years. Although we have already dated for several years, relationships are hard to say. Fate comes and goes, so whatever would happen with us in the future no one should be too tense about it." She denied that she deliberately hid the romance. Friends like Wong Dan Nei, Yeung Si Wing all knew that they were dating. Wong Dan Nei said, "Finally I don't need ot keep this secret anymore!"