Hins Cheung is the big winner despite being unable to accept in person
How can MIRROR be without any award?
The highly popular Gigi Yim wins a Song award and raises victory signs during the group photo
Joyce Cheng truly deserves her Female Singer Award
After Class' Yumi Chung wins two Rookie awards

Only 9 members of MIRROR attend the award. Keung To due to his injury sends a video to show his support.
Hins Cheung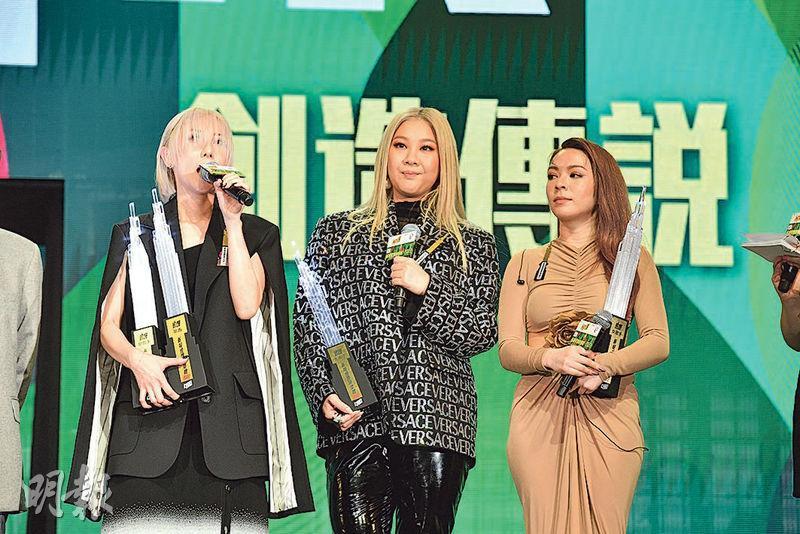 Vincy Chan, Joyce Cheng, JW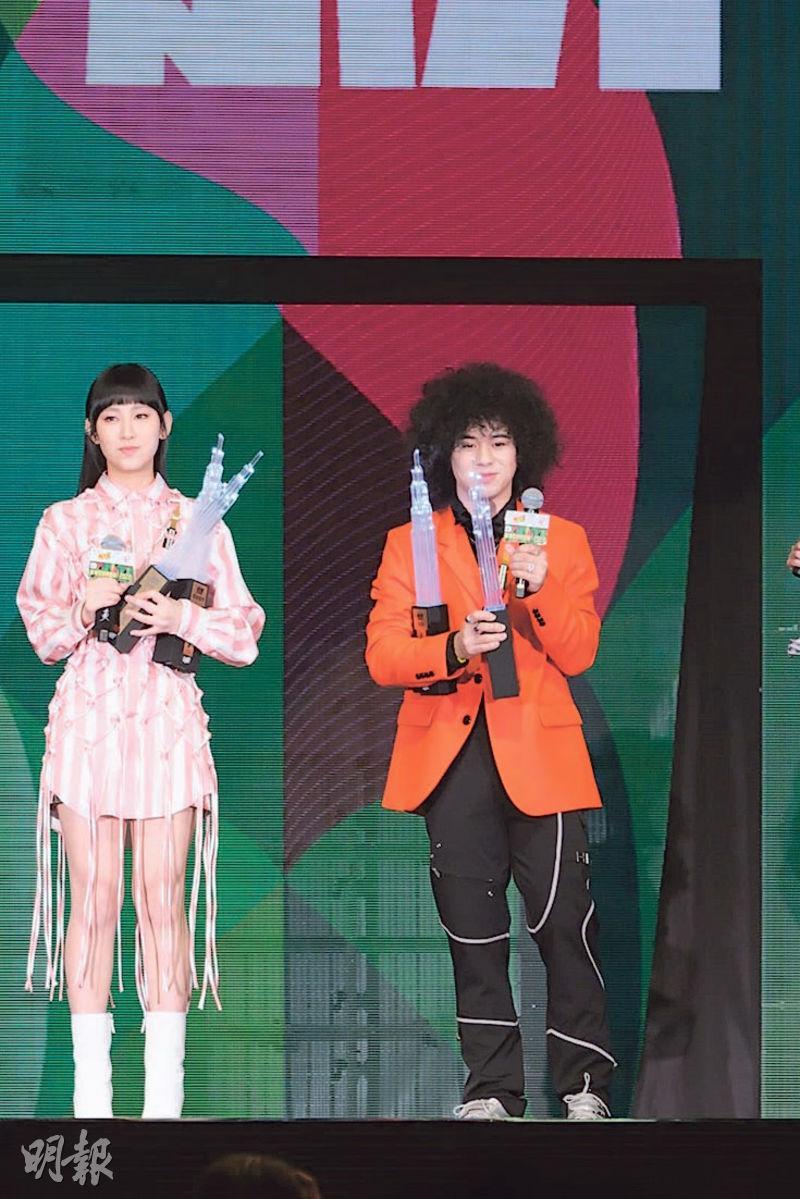 Gigi Yim and Mike Tsang both win Hit Breakthrough Singer and a Hit Song Award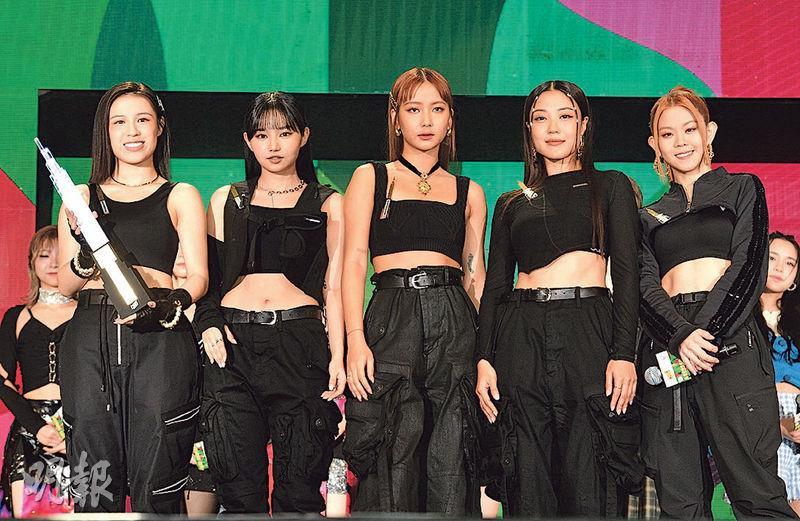 5 members of COLLAR, Winka, Day, Marf, Sumling and Gao accept the rookie award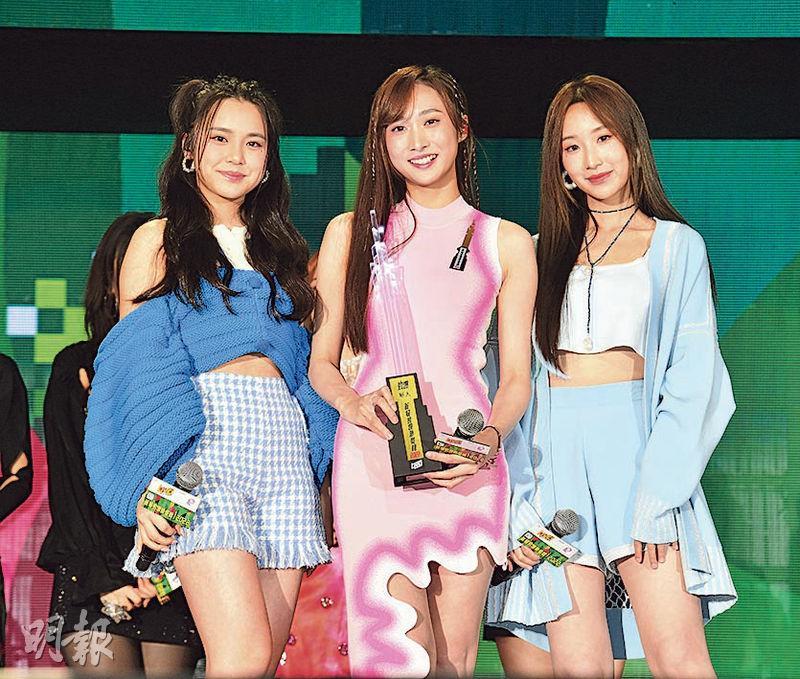 After Class' Chantel Yiu, Yumi Chung and Windy Tsim win Hit Rookie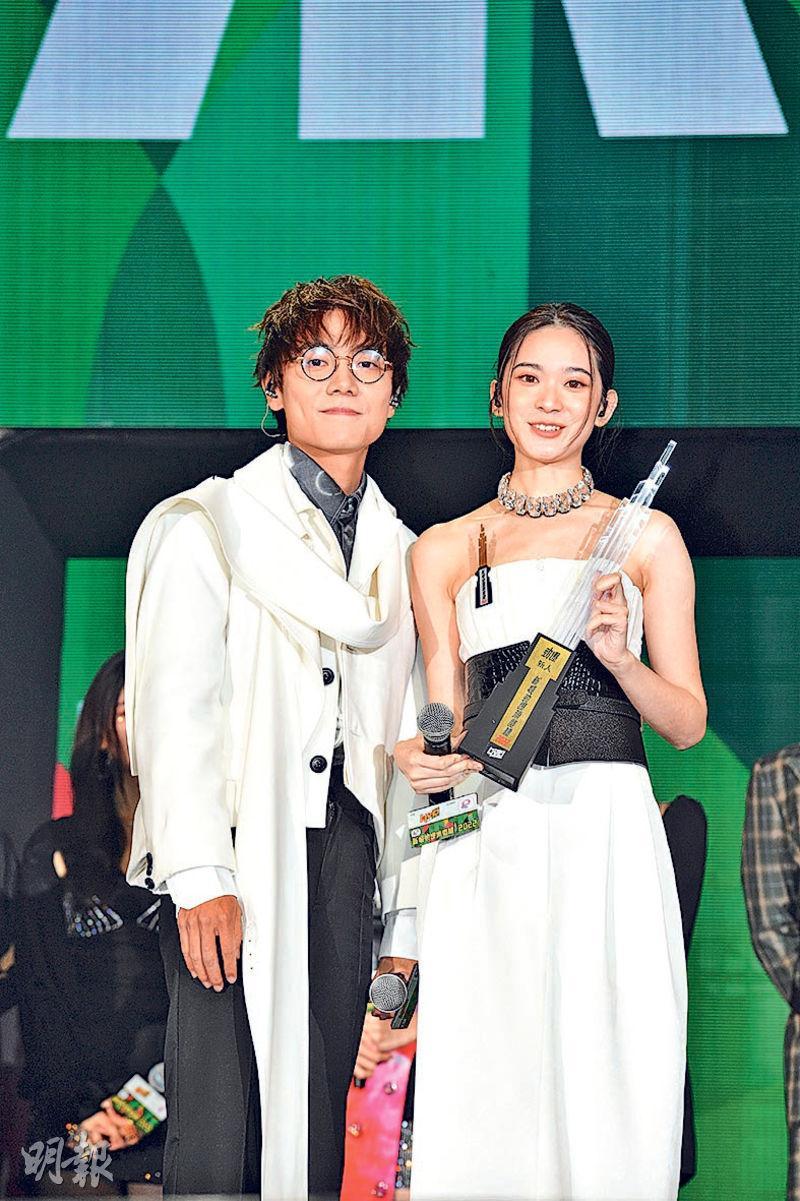 Terence Lam presents an award to rookie Cloud Wan
courtesy of mingpao.com
The Metro Hit Awards 2022 took place last night at the Hong Kong Convention Center. This year 63 awards were presented. Recently tested positive, Hins Cheung King Hin won 3 awards to become the big winner; popular guy group MIRROR won 9 awards. STARS ACADEMY students also performed decently with 5 awards. "Hit Male Singer" winners were Terence Lam Ka Him, Jay Fung Won Him and Keung To; "Hit Female Singer" winners were Joyce Cheng Yun Yi, Vincy Chan (Wing Yi) and JW. Gigi Yim Ming Hei and Mike Tsang Pei Tat won their first "Hit Breakthrough Singers".
Performed two concert series this years, Hins Cheung with CHERLAS won "Hit Airplay Index Song". At the same time he also won "Hit Performance Award" and "Hit Singer of the Year" to become the big winner among male singers, but because he recently tested positive he was unable to accept the award in person.
Attending singers and groups included Jay Fung, Terence Lam, Mike Tsang, Alfred Hui, Jason Chan, Joyce Cheng, Vincy Chan, JW, and "STARS ACADEMY Popularity King" Gigi Yim. As for record companies, MIRROR and COLLAR's label Music Nation Group won 12 awards. Emperor Records won 8 awards, and Media Record and TVB Music Group both won 7 awards.
During the opening many singers appeared on the stage for the group photo. Jay Fung, Joyce Cheng, Vincy Chan, JW, Terence Lam and others were in the front and center, popular guy group MIRROR were in the second row center. When they appeared the crowd cheered, but not the entire group was present. Keung To was recovering from an injury. Alton Wong announced on social media that he would be absent due to illness. Tiger Yau was absent as well. Opening the show, girl group COLLAR again was not in full force as only Gao, Winka, Day, Sumling and Marf attended. Gigi Yim and Mike Tsang stood in the third row but still in the center. Warner's singers after missing the earlier award show press conference continued to be absent last night. Despite having many songs on the chart this year, Panther Chan Lui, MC Cheung Tin Fu, Kaho Hung and others were absent.
Terence Lam presented "Hit Rookie". The 12 winners were After Class, COLLAR, Sabrina Cheung, Cloud Wan, Yumi Chung, Phoebus Ng@P1X3L and others. The "Hit Music Production" award winner On Chan Kin On said that at first he was not able to accept the production ward, because the production award represented music, lyrics, arrangement, producer and others. It was a very heavyweight award and he felt that he has not reached the goal. He has only produced himself and has not worked with other singers. He hoped to have the opportunity to in the future. Cloud admitted that she has thought about winning the rookie award, and felt truly very happy to. She was also very pleased with and liked her work. She hoped in the future she would also be able to release a song that she would create.
The Ten "Hit Songs" included MY PLACE (Joyce Cheng), SONG FOR THE ABSENTEES (Jay Fung), SHY AND SILENT (Kira Chan), HAVE ME (Jason Chan), NOBODY BUT YOURSELF (Alfred Hui), REGRESSION (Terence Lam), BLOODY WARMTH (Vincy Chan), PERHAPS I AM STILL NOT DIFFICULT ENOUGH (Mischa Ip), FLAME (Gigi Yim), and I THOUGHT (Mike Tsang).
"Hit Male Singers" winners were Terence Lam, Jay Fung and Keung To; "Hit Female singers" winners were Joyce Cheng, Vincy Chan and JW.
STARS ACADEMY member Chantel Yiu with #BFF won "Hit New Media Song"; Gigi Yim aside from FLAME's Hit Song Award also won "Hit Breakthrough Singer"; Mike Tsng as with I THOUGHT won "Hit Song" and "Hit Breakthrough Singer".
In addition, this year the award show theme was "Music New Leaf, Create Legend". With the goal of attentively cultivating "new leaves" as the goal, the event enabled music fans to truly focus and enjoy how a group of "new leaves" brightened up the stage, like "leaves become trees, trees become forests" they would make up the Hong Kong music future. This year broke through limitations and added digital creative elements, setting up the firs Hong Kong "Hit Metaverse voting" for a group of music fans to vote for Hit Songs on the Metaverse.
METRO HIT AWARDS 2022
HIT SONGS
MY PLACE (Joyce Cheng)
SONG FOR THE ABSENTEES (Jay Fung)
SHY AND SILENT (Kira Chan)
HAVE ME (Jason Chan)
NOBODY BUT YOURSELF (Alfred Hui)
REGRESSION (Terence Lam)
BLOODY WARMTH (Vincy Chan)
PERHAPS I AM STILL NOT DIFFICULT ENOUGH (Mischa Ip)
FLAME (Gigi Yim)
I THOUGHT (Mike Tsang)
HIT AIRPLAY INDEX SONG:
CHERLAS (Hins Cheung)
HIT SINGER OF THE YEAR:
Hins Cheung
HIT PERFORMER OF THE YEAR:
Hins Cheung
HIT I SUPPORT ROOKIE:
Jeremy Lee
HIT I SUPPORT SINGER:
Anson Lo
HIT I SUPPORT SONG:
INNERSPACE (MIRROR)
HIT POPULAR IDOL:
Jer Lau, Anson Kong, Edan Lui
HIT SONG WRITING:
Phil Lam (PERHAPS I AM STILL NOT DIFFICULT ENOUGH)
HIT LYRICS:
Wyman Wong (MY PLACE)
HIT SONG ARRANGEMENT:
JNYBeatz (GOOD VIBES ONLY)
HIT PRODUCER:
T-MA (WHY NOT BOTH)
HIT MUSIC PRODUCTION:
On Chan (THE CREATOR'S SHOWER and YOUR CATALOGUE OF MY DISGRACE)
HIT ALBUM:
THE FIGHT GOES ON (Jason Chan)
HIT INDEPENDENT MUSICIAN:
Alfred Hui
HIT MALE SINGER:
Terence Lam, Jay Fung, Keung To
HIT FEMALE SINGER:
Joyce Cheng, Vincy Chan, JW
HIT BAND:
ONE PROMISE
HIT GROUP:
MIRROR, ERROR, P1X3L
HIT CREATIVE SINGER:
Cath Wong, Ian Chan
HIT BREAKTHROUGH SINGER:
Gigi Yim, Mike Tsang
HIT NEW MEDIA SONG:
FF (JW),
#BFF (Chantel Yiu),
INSENSITIVE (Aiden Hung)
HIT DANCE SONG:
RISE (ANSONBEAN), MY1STCAR (Zaine Sze)
HIT LEAPING SINGER:
Simon On, Lagchun, Anson Poon, Paula Au, Ivan So, Kochun Tse
HIT ROOKIE:
After Class, COLLAR, Lolly Talk, DEZ Yu, Poki Ng, Phoebus Ng, Sabrina Cheung, CY Chan, Cloud Wan, Dark Wong, Andy Lai, Yumi Chung