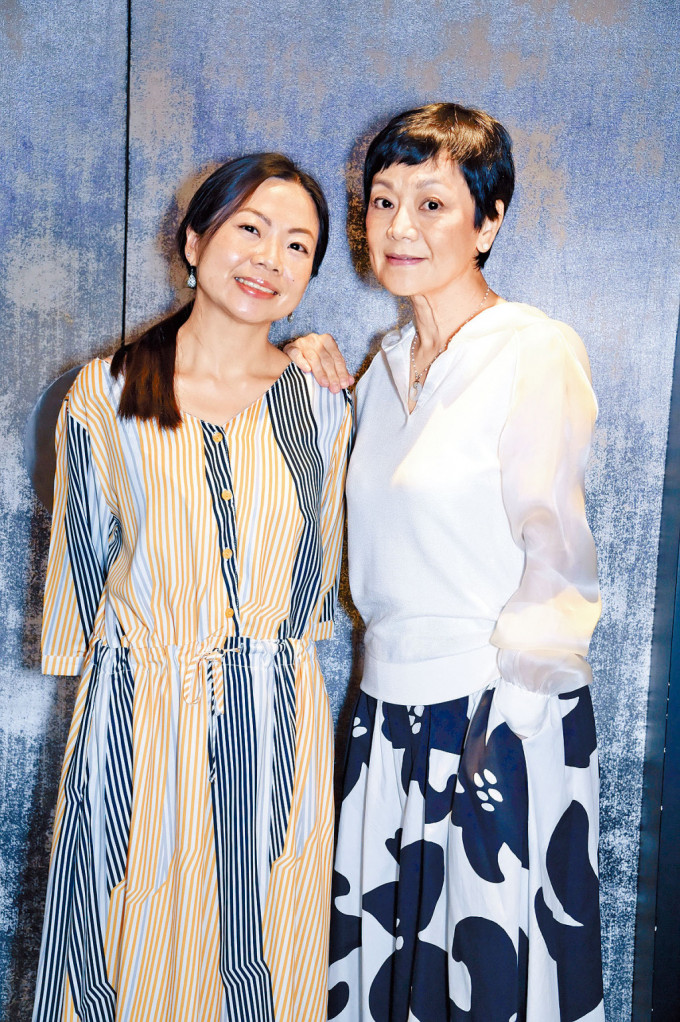 Sylvia Chang has been very supportive of new director Anastasia Tsang
courtesy of singtao.com
Sylvia Chang earlier with A LIGHT NEVER GOES OUT won the Golden Horse Best Actress Award. When she was on the stage she admitted that she was very afraid that small screens would replace film. She wished that film would forever exist. LIGHT just happened to be related to "loss" and "change". Sylvia Chang hoped to find her childhood innocence, let go of the baggage that growing up has brought her, and continue to contribute to film with the purest of heart.
Director Anastasia Chan Hin Ning's first feature film A LIGHT NEVER GOES OUT (DUN FOR LAN SHAN) earlier was chosen to be the 19th Hong Kong Asian Film Festival closing film. At the 59th Golden Horse Award last month, lead actress Sylvia Chang even won the Golden Horse Best Actress Award with the film. Tsang Hin Ning and Sister Chang earlier spoke about the film. When asked about inviting Best Actor Simon Yam Tat Wa and Best Actress Sylvia Chang to be in her first feature film directing debut, Tsang Hin Ning said that she was very honored. She never thought that they would agree to perform. She stated that before seeing Sister Chang she felt the pressure. When they truly worked together she sensed Sister Chang's respect. "She would advise me, I am very grateful for her willingness to pass the torch and share her experience. However she would also let go and let you try, she feels like Mama."
The film opens with the lost of a mate, then adds in the element of the vanishing neon lights. The director admitted that at first she only wanted to find some visuals that were related to Hong Kong. One day her mother asked her if she remembered the neon light picture she drew as a child, thus she was inspired to add the subject of neon lights to the subject. She never thought that it would be able to bring back a lot of memories for the audience. Sister Chang praised the story and the character for being very attractive to her. In addition she has always liked to work with different people, when she was able to run into a good story of course she was willing to support it. "Many new directors' stories are very painful, seemingly they are about growth and youth. The sudden appearance of an even more layered subject would be very attractive to me, especially when people of my era are the most familiar with the neon lights. When the disappeared feeling has changed, how would people face the changes of the environment and the family, I feel each time when I make a movie it would be a life journey.
LIGHT brought Sister Chang her third Golden Horse Award for Best Actress. Would she look forward to the performance after the film's release? She said, "Box office is hard to say, we don't have MIRROR; I am joking. Many things are beyond our control. All we can do are our parts, and just leave the rest to their natural course. I hope the audience would have a type of nostalgia for Hong Kong's lost industries." When Sister Chang won the Golden Horse Award Best Actress with LIGHT earlier, she lamented that many things were disappearing and changing. She said that neon light was once the most brilliant symbol of Hong Kong, but it has been replaced with LED. She was very afraid that small screens would replace film, as she wished that film would always and forever exist. Yet, the eruption of the novel coronavirus made everyone lose a lot. Sister Chang sentimentally said, "Everyone after the pandemic have lost their past quiet lives. They would have to start over in a lot of things, adjust new, but adjustment might not be the worst. What you learn from it is the most important. For example my character after losing her husband started to learn a lot of things over again, like she didn't know her husband was still working on neon lights behind her back, didn't know that her husband's resilience with neon lights. When she saw the Millie's neon light sign again, saw the lights on again, the affection and the happiness she felt in her heart made her feel that she and her husband finally have a connection again. That happiness wasn't there before. Sometimes when you lose something you would also gain something."
We cannot hold onto people, events and things that have already vanished, but if she is able to find something again Sister Chang would like to find her childhood innocence. The director would like to find her time with her Grandma, saying that it was an utopia. Grandma's love for her was unconditional. However instead of purely reminiscing about the past, she would choose to find the feeling again through creative means.